This homemade breakfast sausage is a great make-ahead dish and so easy to make. Also paleo, Whole30, GAPS-friendly and egg-free.
First of all, apologies to my vegan / vegetarian readers! I very rarely post meat recipes and now I've posted two in a row. It won't be a regular thing! I'll get back to sweets next week. :)
If you're doing Whole30, breakfast is tough. At least it was for me when I did it. And now that I'm only eating fruit, veggies and meat, it's still tough. I normally eat leftover soup or broth and some fermented veggies to get the day started. Don't be jealous! ;)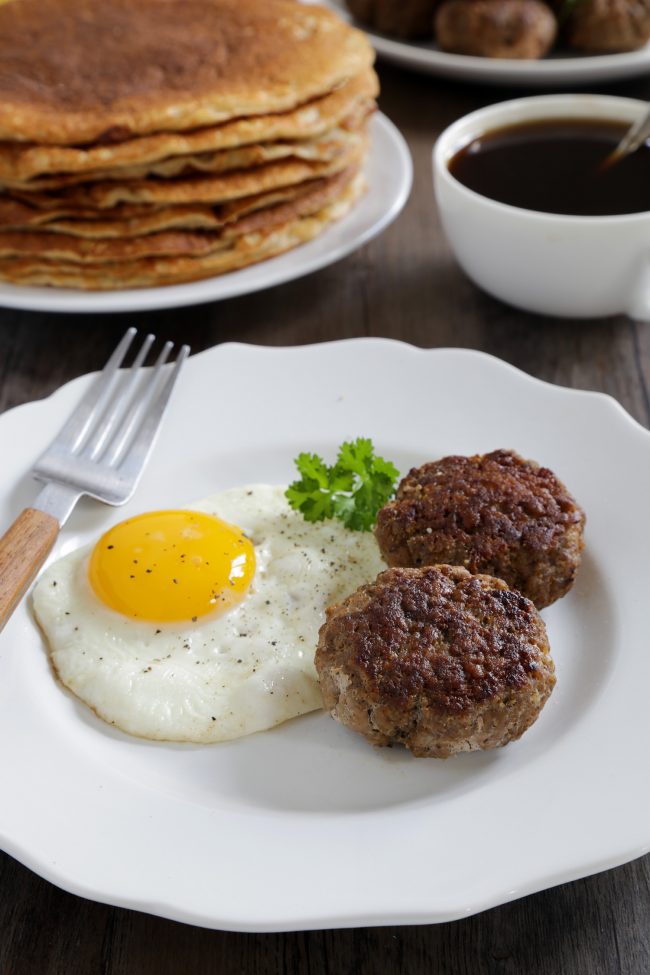 I don't actually like soup, broth or fermented veggies so every now and then, I'll have some of this homemade breakfast sausage. I love that you can control exactly what goes into these sausages and leave out all the additives that you typically find in store-bought ones.
If two pounds of breakfast sausage is too much for you to eat within a few days, you can freeze them and reheat. I actually prefer to freeze the uncooked patties, defrost them overnight in the refrigerator, and then cook them fresh in the morning.
Having fresh homemade breakfast sausage all prepared and ready to cook is one easy way to make mornings easier! You can of course also freeze the patties after cooking.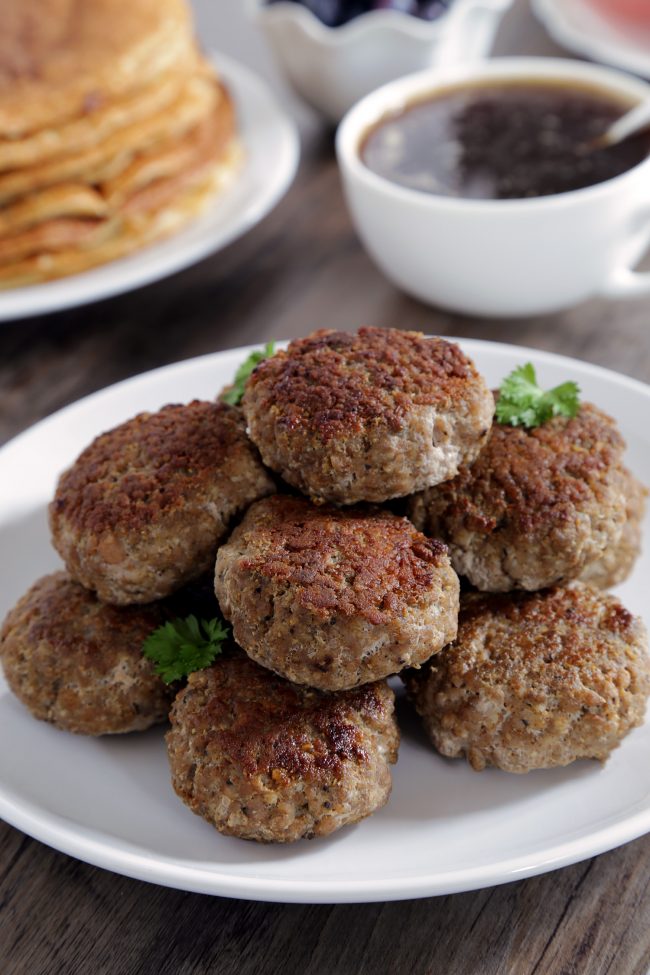 Another thing I love waking up to are these paleo blueberry muffins. They're almost like angel food cake and seriously the best gluten-free muffins I've ever had.
Looking at the recipe, you might think it looks like a lot of seasoning for two pounds of meat. At least I did! I've made these sooo many times with varying amounts of spices and they weren't flavorful enough with a smaller amount.
You can play around with the spices. I originally tried this breakfast sausage recipe with smoked paprika but much preferred them with the hot paprika.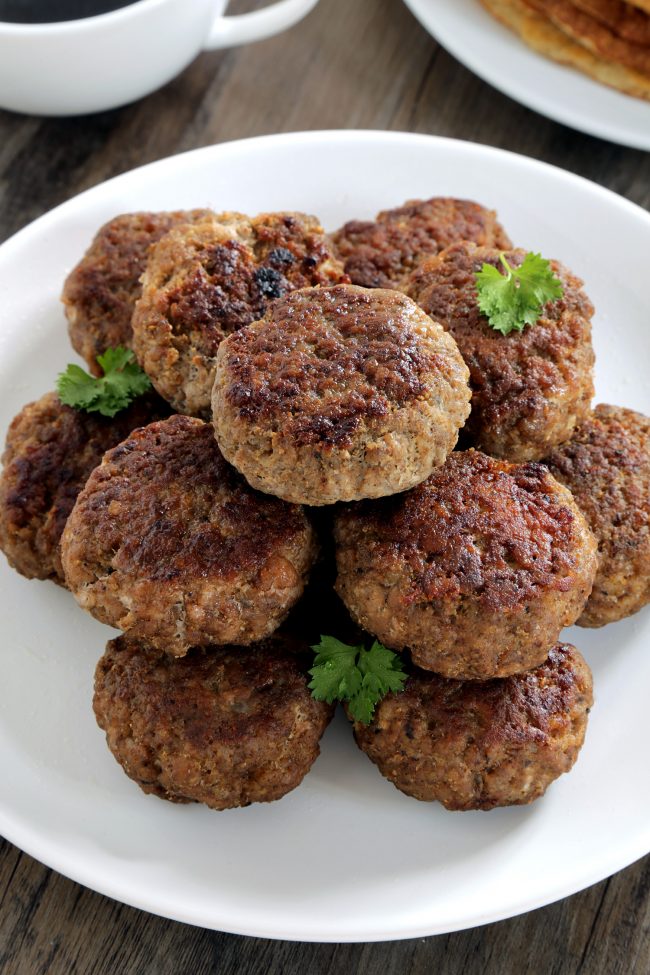 They're spicy, but not overly so. If you want them with more of a kick, you can up the paprika to 2 teaspoons or add some red pepper flakes.
They're also great with a 50/50 mix of ground pork and ground beef. I haven't tried them with ground chicken so if anyone experiments and tries that out, I'd love to hear how it goes!
This homemade breakfast sausage goes awesome with the paleo buttermilk pancakes you see in the background of the pictures but they go well with just about anything like this sweet potato breakfast hash or eggs. This hashbrown breakfast casserole would also go great with these homemade breakfast sausages!
❀
Homemade Paleo Breakfast Sausages (Whole 30, GAPS, egg-free)
Prep Time:
Cook Time:
Ready in:
Yield:

18
Ingredients
4 teaspoons garlic powder
4 teaspoons ground fennel
4 teaspoons ground sage
2 teaspoons freshly ground black pepper
1 1/2 teaspoons hot paprika
1 1/2 teaspoons kosher salt
2 pounds (32 / 907 grams ounces) ground pork (or 1 pound ground pork and 1 pound ground beef)
Directions
In a large mixing bowl, place all of the ingredients except for the ground meat (all of the spices), and whisk together until well-combined. Add the pork to the mixture and combine everything together with wet hands, taking care not to overwork the meat or it will be tough. Divide the mixture into 18 pieces, each about 2 ounces, and form each into a patty about 2-inches in diameter.
Place a heavy-bottom, dry skillet over medium-high heat. Place as many sausage patties as will fit without crowding or overlapping at all in the hot skillet and sauté until browned on the bottom (4 to 5 minutes). Using a spatula, flip each of the sausages over and continue to cook, undisturbed, until cooked all the way through (about another 4 minutes). Remove the cooked sausages from the skillet, and repeat with the remaining ones.
Source: My post on Gluten-free on a Shoestring – Homemade Sausages