A while back, I wrote about where to stay in Munich. In today's post, I'll share a bit about what to see, do and eat!
The first stop in a new city for me is usually a bakery or some other food related place. While researching desserts specific to Munich, I didn't find much but had read about Prinzregententorte, which has an interesting history.
It was named after Luitpold, Prince Regent of Bavaria who was the de facto ruler of Bavaria from 1886 to 1912. The cake originally had 8 layers of cake and cream to represent the eight districts of the Kingdom of Bavaria. After WWII, the American military government split off one of those districts and Bavaria was left with 7 districts. And so one layer was knocked off the cake.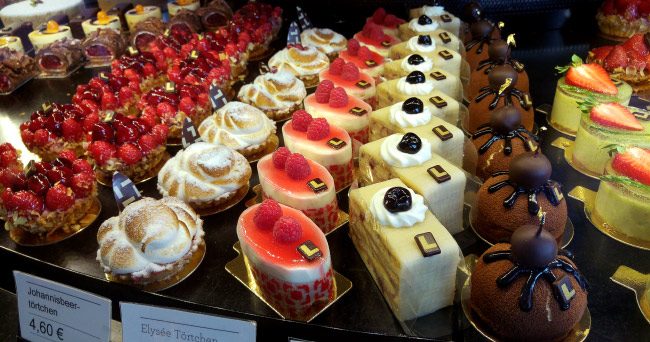 So I read tons of bakery reviews and settled on the one you see above. Everything looked just magical! We got a piece of the Prince Regent cake (pictured below) and one other thing but I'm sad to say that we didn't like either one.
It seems as though I'm just not a fan of German sweet baked goods. I thought the situation would be better in Bavaria than it is in Berlin but the baked goods always look so much better than they taste! Even my German husband was disappointed by all the bakery goodies we tried on this trip.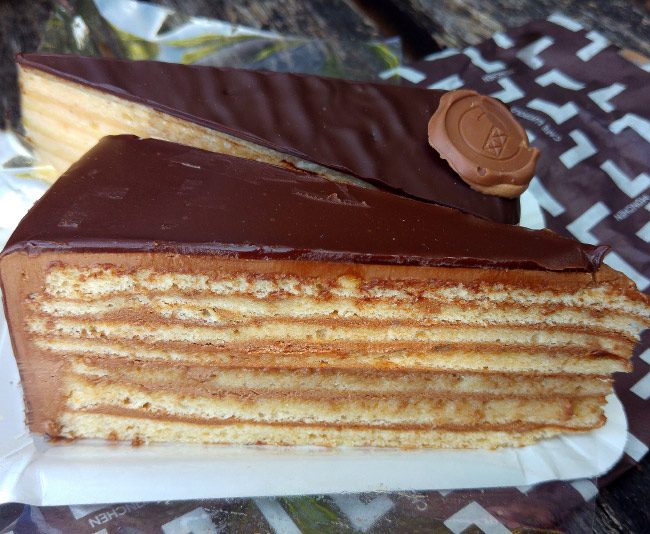 If you travel to Germany, I recommend saving your calories for the ice cream and gelato. You get pretty generous scoops for only 1 euro or maybe 1.20€ and they're almost always amazing! Just as good as in Italy.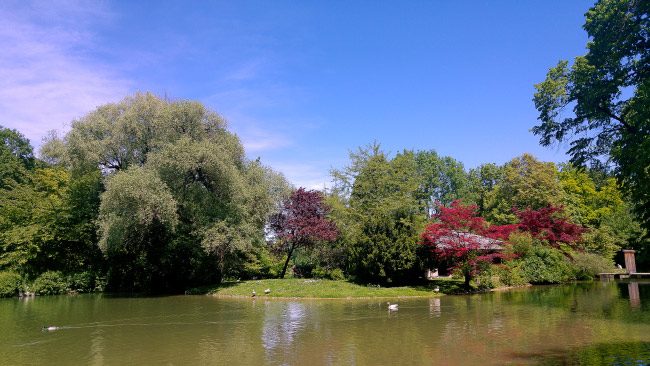 We took our cake to go and ate in the English Garden, which is one of Europe's largest urban parks and even larger than Central Park in NYC.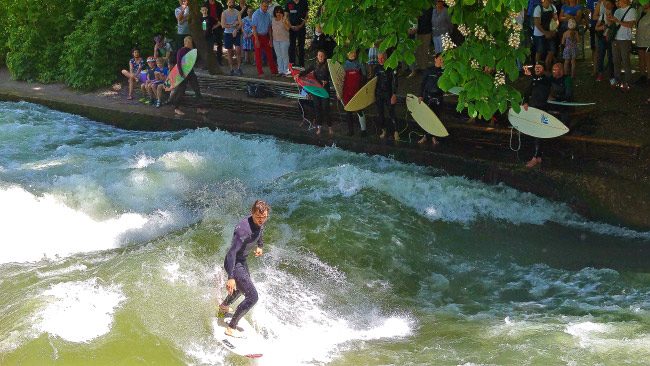 There were two spots where surfers gathered for their chance to ride the wave of the small channel of the Isar River that runs through the park. I'm not too interested in surfing but it was pretty fun to watch.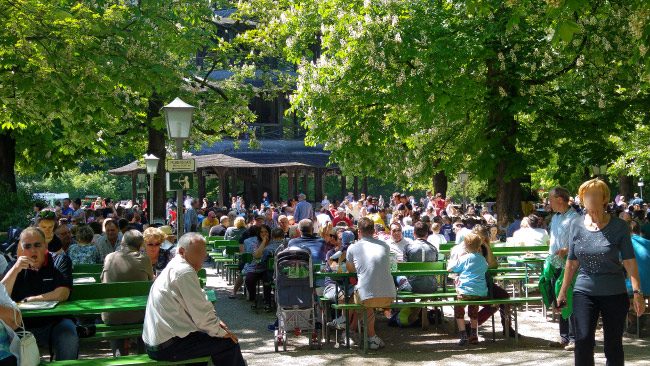 Walking further into the park, you come across the Chinese Tower beer garden. They had all kinds of beer and food there and it was super crowded, which I'm guessing is normal for days with good weather.
Before I visited Munich, I didn't think much of beer gardens. I definitely wouldn't have thought of them as a cozy place to hang out. But I was wrong! They're totally family-friendly and serve more than just beer. One thing you'll often find is Apfelschorle, which is a mix of apple juice and carbonated mineral water.
And you can bring your own food (at least to a lot of them)! Many beer gardens have a self-service beer garden section and a restaurant section, where you're served by waiters and waitresses (and hence shouldn't bring your own food).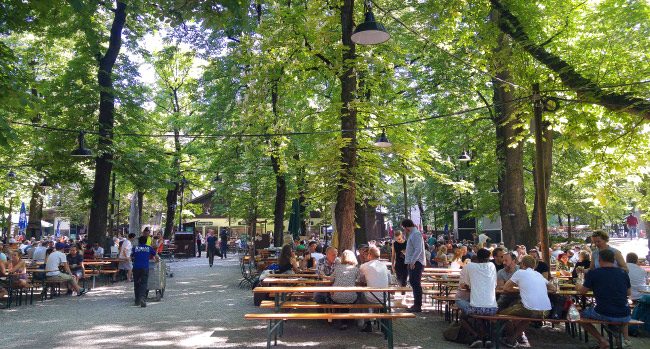 As we were riding away from the park on the tram, I noticed Bayerische Eismanufaktur (Bavarian Ice Cream Manufacturer) and immediately pressed the STOP button! Like I said before, German ice cream usually doesn't disappoint and this was no exception. :)
Mr. T had done a bit of beer research before we went to Munich and decided that Augustiner's beer garden was the one we should go to so we went to the Augustiner Keller, which is close to the main train station. There are some other Augustiner locations in Munich but I don't believe they're beer gardens so be sure to look for the location on Arnulfstr. 52!
Augustinian monks began brewing beer in their monastery near the Cathedral of Munich in 1328, where they continued to brew it for another 500 years. It's Munich's oldest independent brewery and the last major Munich brewery that's not owned by an international beer conglomerate. Augustiner doesn't even do any commercial advertising but instead relies on their reputation. I'm guessing it must be good! I didn't try it as I don't like beer at all but Mr. T enjoyed a Augustiner Heller Bock, a seasonal specialty.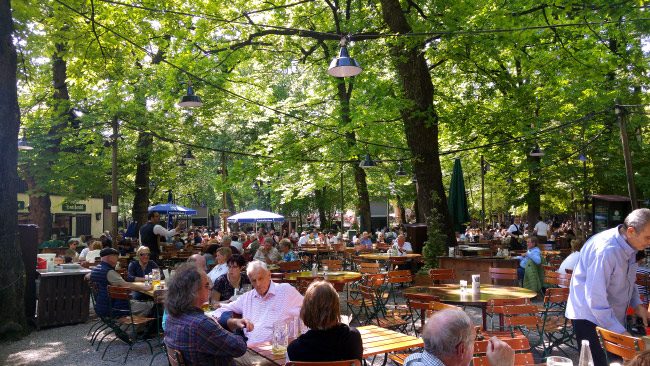 Fun fact! You'll see lots of chestnut trees in Munich. Before the times of refrigeration, brewers dug stone cellars underground to store beer during the summer. To keep their beer cellars cool they planted chestnut trees above the cellars, which are known to provide a dense shade. And speaking or refrigeration – that's actually something that came about thanks to brewers looking for a better way to keep their beer cool!
By the time we got to Augustiner Keller, I was starving and wanted something more substantial than just a pretzel so we went to the restaurant portion, which has a nicely shaded outside area.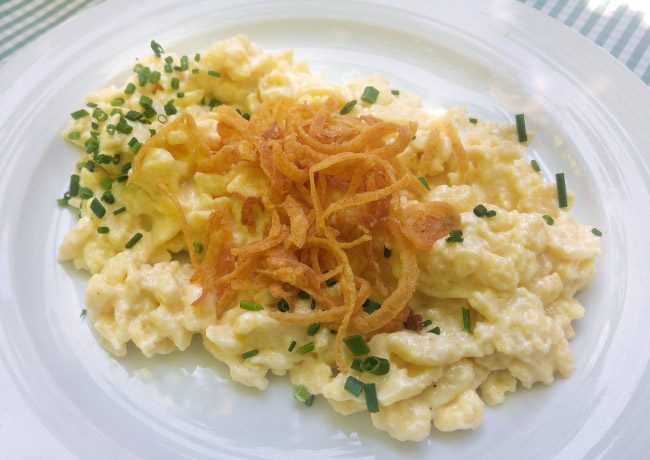 I really wanted to try Kässpatzen (more commonly known as Käsespätzle), which is a specialty of Swabia, a region which encompasses southern parts of the states of Baden-Württemberg and Bavaria.
Spätzle is a special kind of egg noodle / dumpling that's popular in Germany, Austria, Switzerland, and Hungary. And Käsespätzle? Cheese Spätzle! Cheesy sauce is pretty much one of my favorite things ever and when you put it together with something carby, I have to have it.
It was really good! Just don't expect mac and cheese because it's really not all that similar. Less cheesy probably describes it well.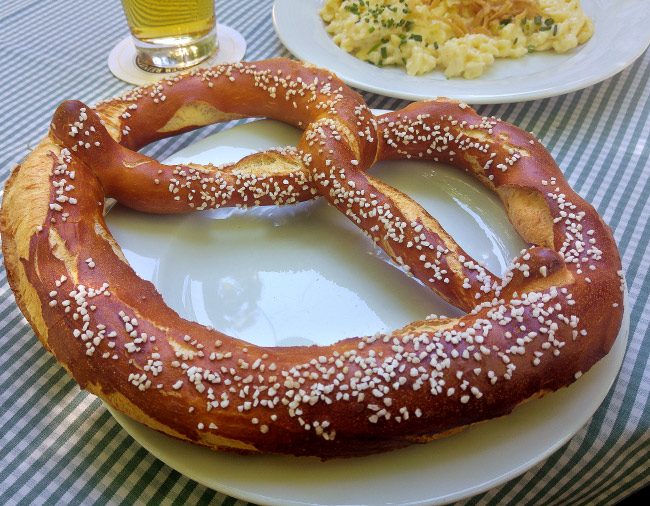 One thing to note is that German pretzels (at least the ones I've had) aren't quite as soft as American pretzels. Also keep in the mind that if you're served a basket of pretzels, they're usually not free! Sometimes it says that on the menu, but sometimes not. We picked up this giant pretzel from the self-service section of the beer garden. I think it was maybe 3.50€ or 4.50€.
After that carb-feast, we walked back to our hotel to take a little nap before heading out again for One Hour Left – a live escape game. Have you ever played an escape room game before? They're oodles of fun!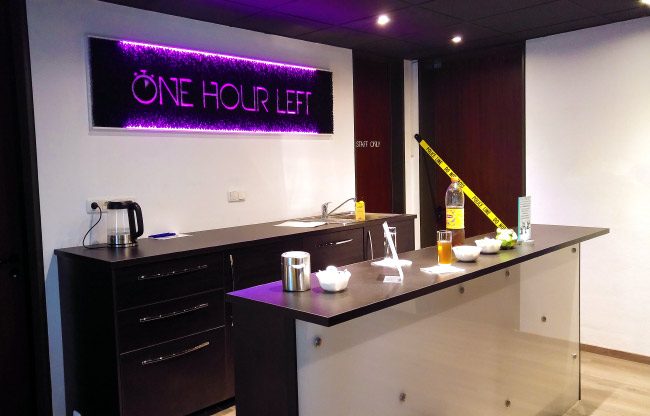 Your team (from 2-5 players) is "locked" in a room, where you have a predetermined amount of time to "escape." By interacting with physical objects and piecing together clues you solve puzzles and challenges, moving along in the story. Some of them are impossible to accomplish on your own, so teamwork is of the essence. You're alone in the room with your team members but there's a camera in there, so if you get stuck and need help, they'll either see it and give you a hint or you can just ask for help.
We really liked One Hour Left because of the way the game was laid out. The sequence of clues was logical and one thing followed the other naturally. The difficulty was just right as we finished with only seconds left. We'd been to one room where it was much harder to connect the dots, we didn't get hints at the right time and consequently didn't even get close to finishing.
That's not us below, by the way. ;) You're not allowed to bring your phone or anything into the room so I asked the One Hour Left folks to send me a picture to give you an idea of what it's like in there.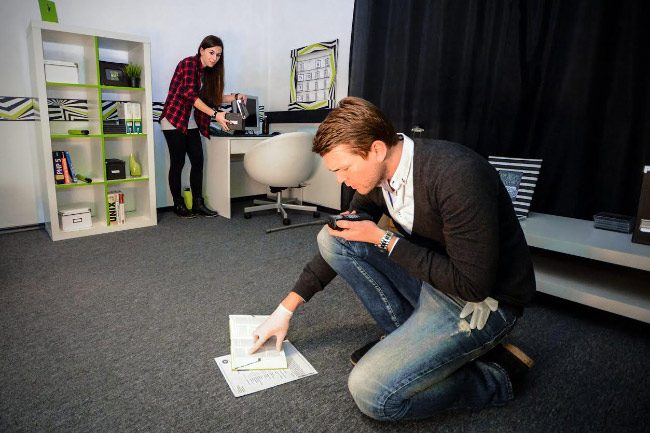 I chose One Hour Left because of the great reviews I read on Trip Advisor and because of the price. I checked out some other escape games and for two people, they were charging up to 40 euros per person (as opposed to the 25-30 euros One Hour Left charges).
If you make your way to Munich, I definitely recommend One Hour Left as a fun afternoon or evening activity! It's not in central Munich but was very easy to reach with public transportation. You can book here. Also, they're looking for people interested in opening up their own One Hour Left franchise, should you be interested.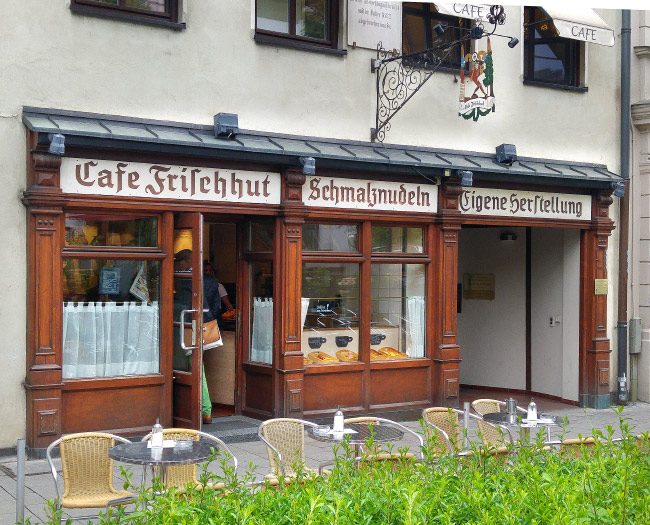 The next day, our first stop was for donuts! Or rather, fried dough thingies at Cafe Frischhut.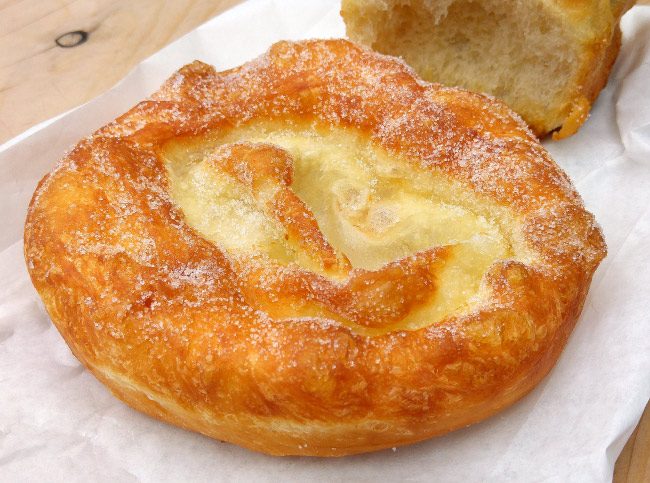 I'm not really sure how to describe Schmalznudeln other than hardly sweet dough, fried and coated in sugar. Definitely worth a try!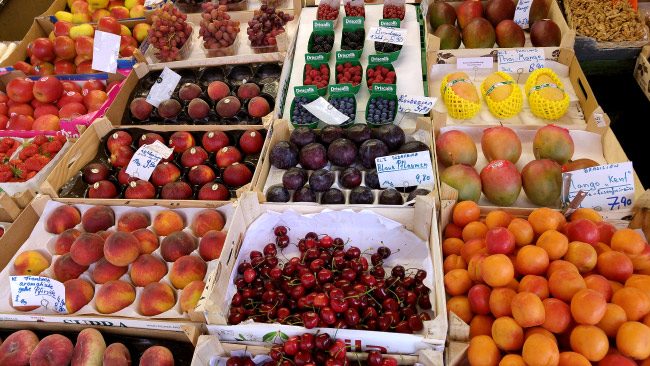 The Viktualienmarkt, a large farmer's market founded in the 19th century, is across from Cafe Frischhut and we had to stop and admire the fruit and other goodies.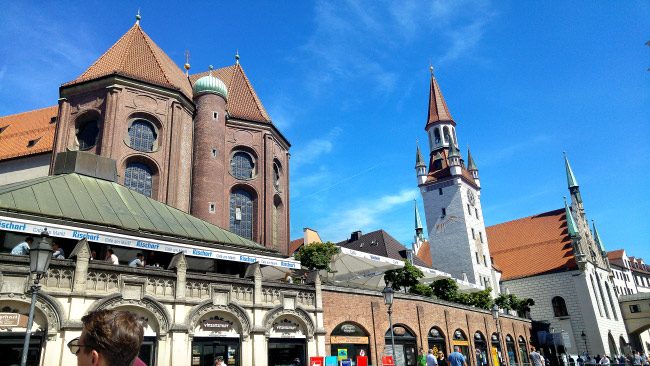 I probably wouldn't go out of my way just to visit it but if you're in the old town, it's right there, amongst all the pretty buildings, so you'll probably stumble upon it at some point.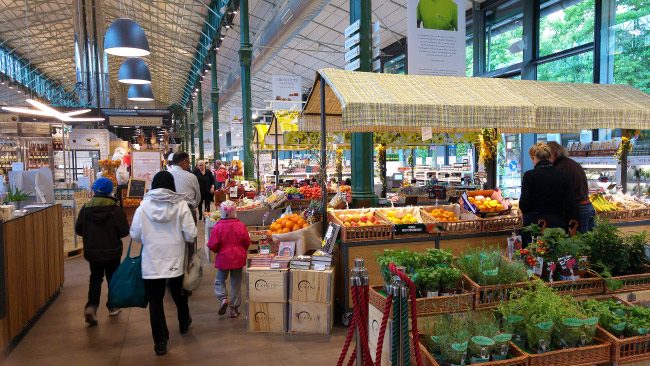 And here's the most important tip – where to pee for free! :D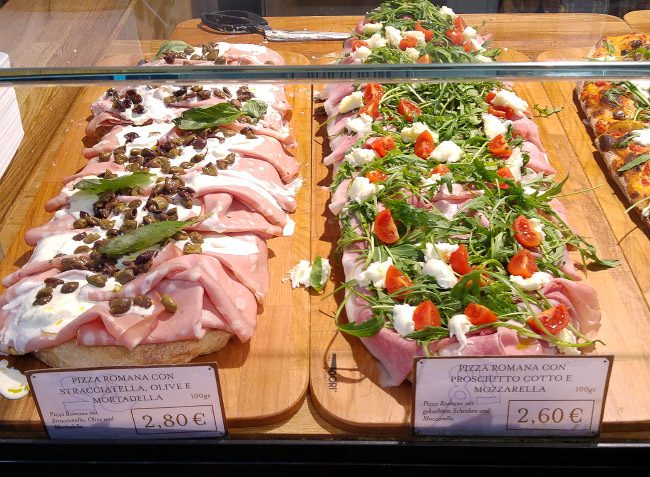 Eataly is directly across the street from the cafe and is a huge Italian food market hall. We had some amazing focaccia pizza, strolled around and looked at the pretty food and came across some very clean free restrooms. If you're lucky, you even get to try molten chocolate from a fountain on your way there. :)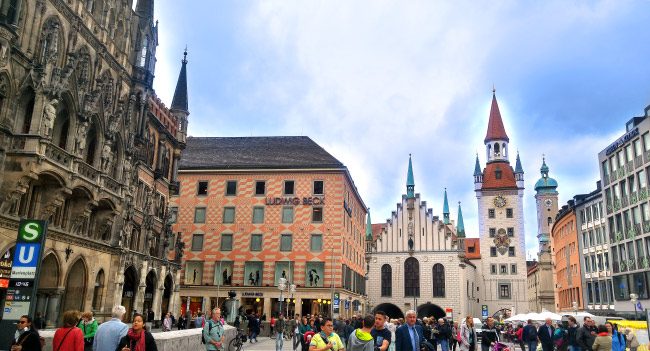 We did a tip-based walking tour with Sandemans, as we always do in a new city, and learned lots of things we would have never learned otherwise. It started off at Marienplatz, which is in the heart of the old town.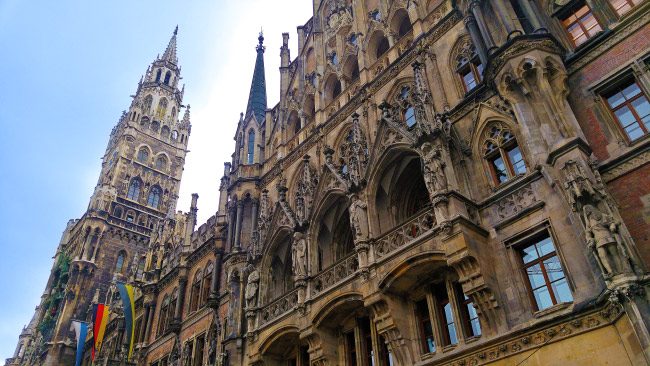 This is the Neues Rathaus (New Town Hall), where you can see the Glockenspiel, with its figurines depicting some stories from Munich's history.
I couldn't get a good picture of it so here's a video I found on Youtube. I think I have to agree with the first line of the description: "The Munich Glockenspiel is definitely one of the most overrated shows on Earth."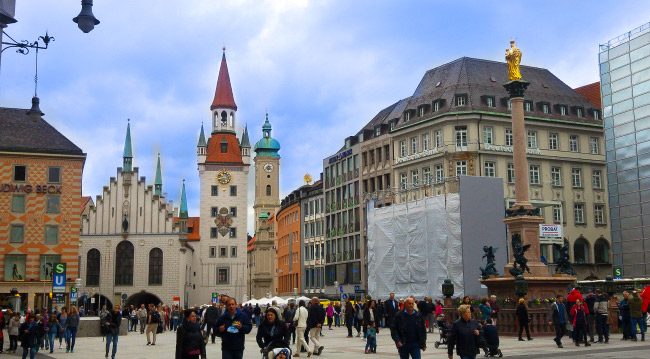 The Mariensäule, the column topped by a golden statue of the Virgin Mary on the right side of the picture, celebrates the end of Swedish occupation during the Thirty Years' War. The corners of the column's pedestal each show a cherub fighting a different beast, symbolizing the city's overcoming of adversities such as war and pestilence.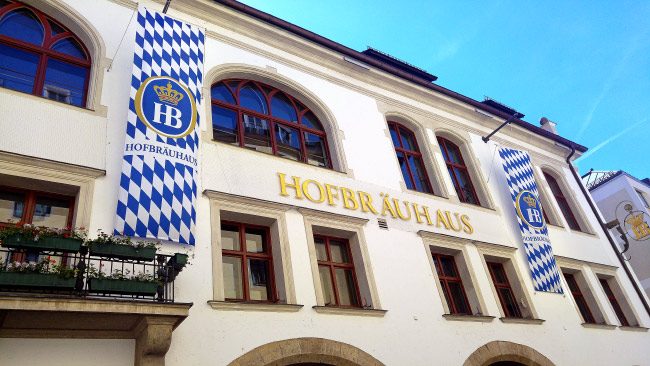 During one part of the tour, we went inside the world-famous Hofbräuhaus beer hall, which was originally built in 1589.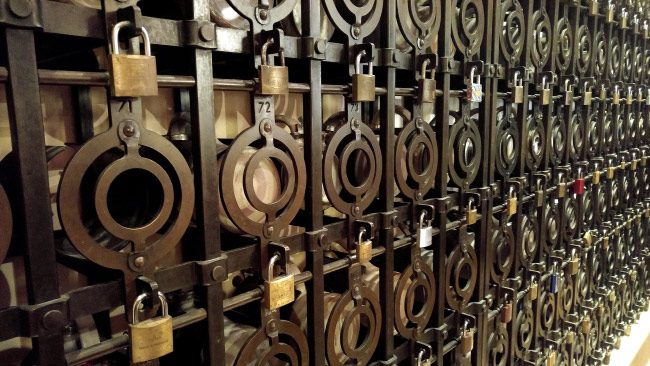 When you walk in the beer hall and turn left, you'll see this interesting site. It's where some of the locals lock up their beer stein! These stein storage lockers are supposedly passed down from generation to generation (though I've read you just have to be on a waiting list for some years).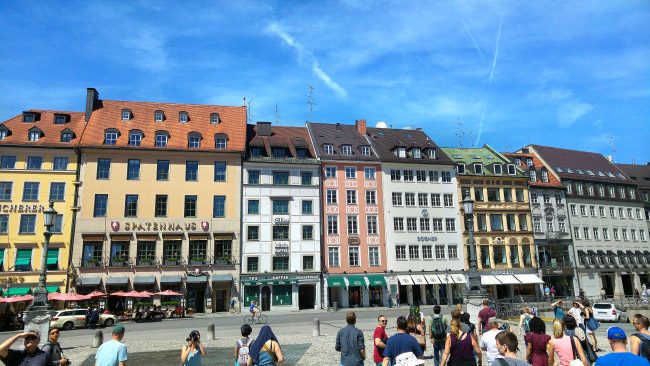 By the way, Munich is quite small but we found a metro pass handy. We got a 3-day ticket that's valid for up to 5 adults for only 28.20€! I think that's a steal, even if it's just two people traveling on the ticket.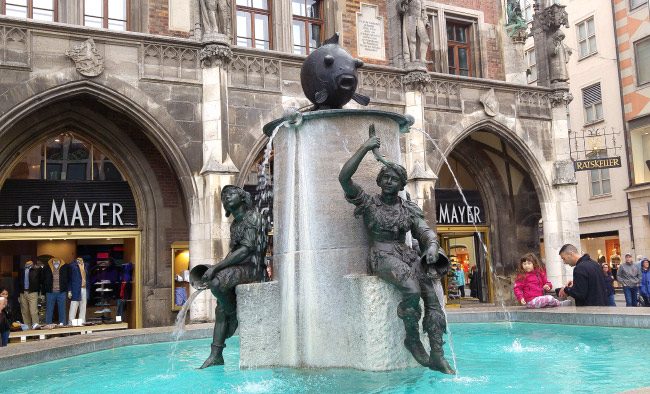 If you're not familiar with public transportation in Europe, it's totally clean and safe. :)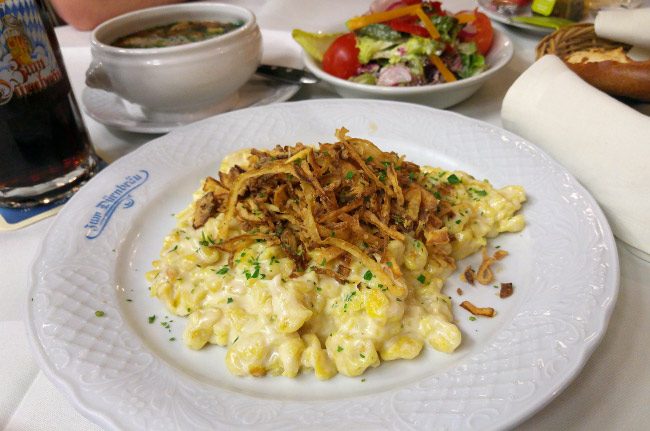 One night we went to the German restaurant Zum Durnbräu. I had cheese Spätzle again (just because it was the only thing on the menu I wanted to try) and was happy with my choice. But if you're into German food – they have loads of Bavarian specialties! Like the Altbayrische Bier-Brotsuppe (bread soup) Mr. T enjoyed together with a Löwenbräu Triumphator Bock beer.
I have to admit that traditional German food isn't too high on my list of favorite cuisines, it is just too heavy and fatty. Italian, however, is at the very top! Munich is only about a 3-hour drive to the Italian border and the close proximity seems to explain all the amazing Italian options in town.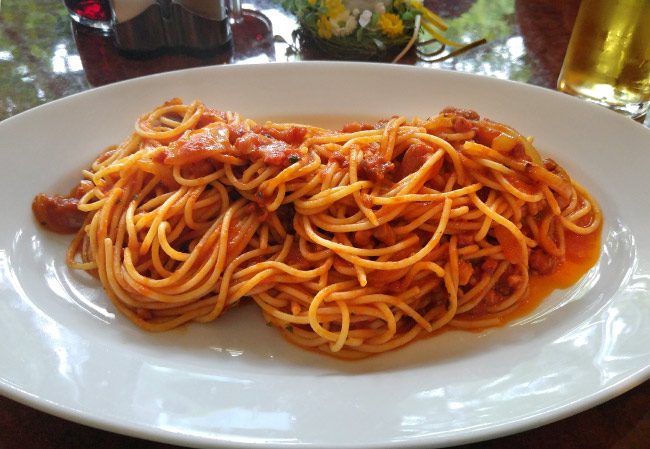 Like I mentioned in my review of Hotel Bavaria, where we stayed in Munich, there's a lovely little Italian place run by an older Italian couple that we loved so much that we ate there twice. There's great food at excellent prices (like 6.50€ for a huge plate of pasta) and it's quite entertaining to watch them bicker in Italian. :D It's certainly not a fancy restaurant, but rather small and charming in an unusual way.
We're planning on going back soon so if I missed something that's a must-do in Munich, let me know!