These paleo hazelnut muffins have lots of nutty flavor and a great texture! Plus a review of Hotel Bavaria in Munich.
At the end of May, we travelled to Munich for a healthier baking class that I was giving. Since I had never been to Munich before, we made a trip out of it.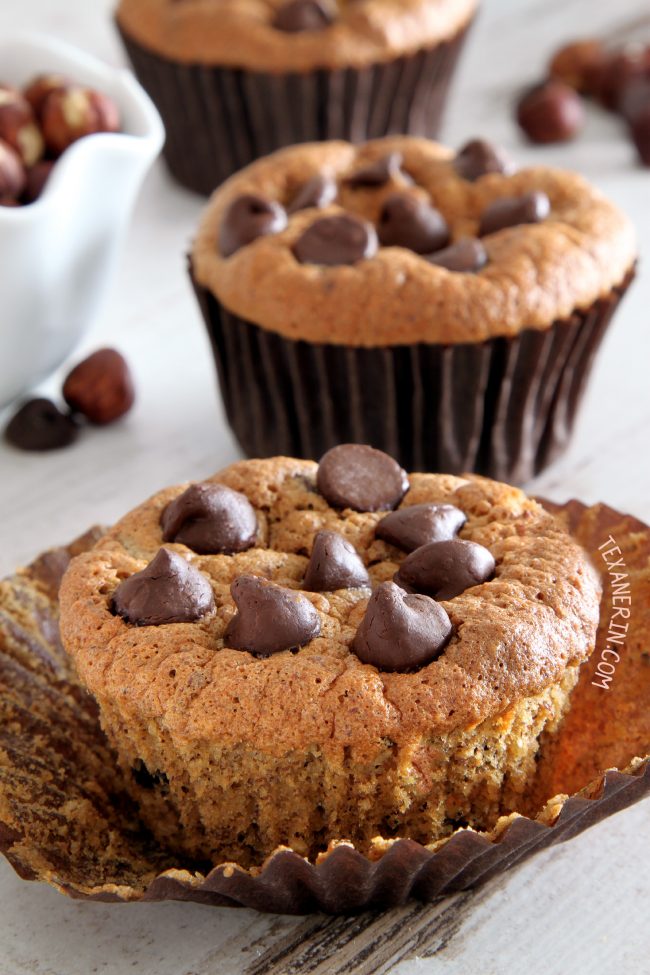 We stayed at Hotel Bavaria, which I found when searching for hotels with great breakfasts in Munich (priorities, right?). And then I saw that they're the only hotel in Munich on Trip Advisor's Top 25 Hotels in Germany list, so my choice was an easy one!
Before we get to the hazelnut muffin recipe, which was inspired by the German Nusskuchen (nut cake) we had at the hotel, I thought I'd share a bit about our experience there. My post about what to do and eat in Munich will be coming soon!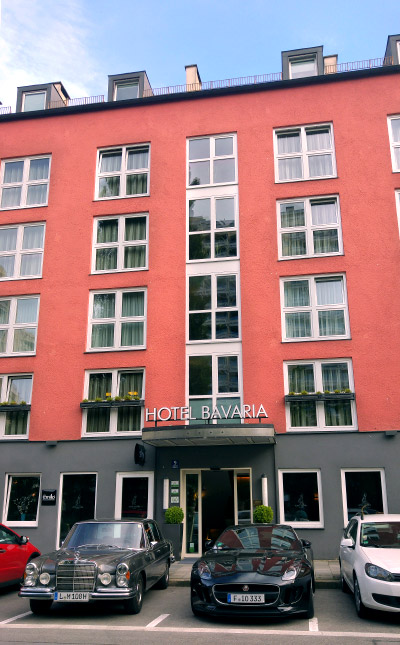 Other than the breakfast, one thing that really drew me to Hotel Bavaria is that it's a family-run hotel with "only" 50 rooms. I'm finding that I much prefer smaller hotels to large, corporate chains where the atmosphere isn't quite as cozy as I'd like.
The staff was super friendly, eager to help in any way they could and were knowledgeable about the area.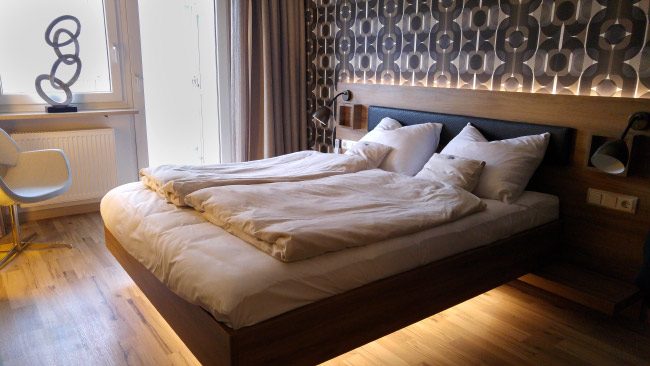 It's located on a quiet street just about a 5-minute walk from the subway, which will get you to the very center of the city in about 5 minutes. Or you can walk, which takes about 20-25 minutes.
And if you're coming in for Oktoberfest, you couldn't ask for a better location! It's a 3-minute walk from the fairgrounds. 3 minutes! After a day at Oktoberfest, I'm guessing you won't want a long trip back to your hotel. ;)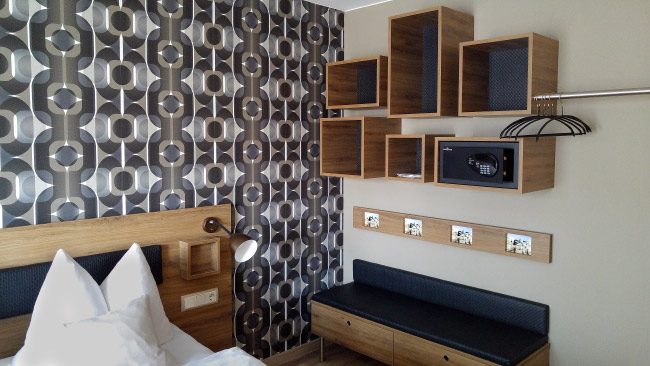 The rooms are nicely laid out and have recently been renovated. I love the modern design! And everything was spotless.
The room had a balcony, a minibar, a safe, free wifi and of course a TV. One thing that we thought was really neat was that there was also an umbrella in the room. It wasn't supposed to rain during our stay but of course it did, for a whole day, so we would have had to buy one otherwise.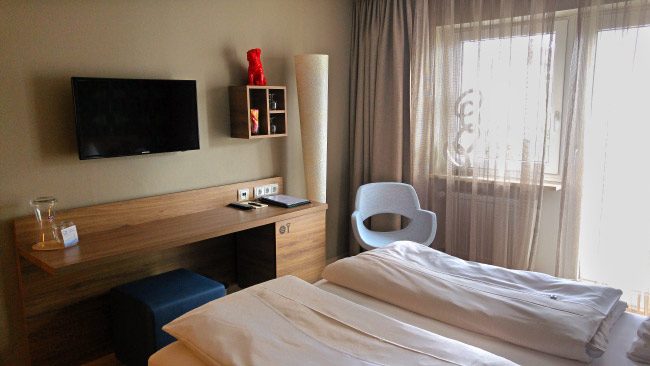 The rates are also reasonable and if you're from the US, I'm thinking you'll be pleasantly surprised. When we were planning our December trip to the US, we were shocked at how expensive hotels are in US!
Electronics, electricity and gas are definitely more expensive here, but it seems like food and accommodations are much cheaper. So there you have it. Come to Germany and eat lots and stay in nice hotels for not that much money. ;)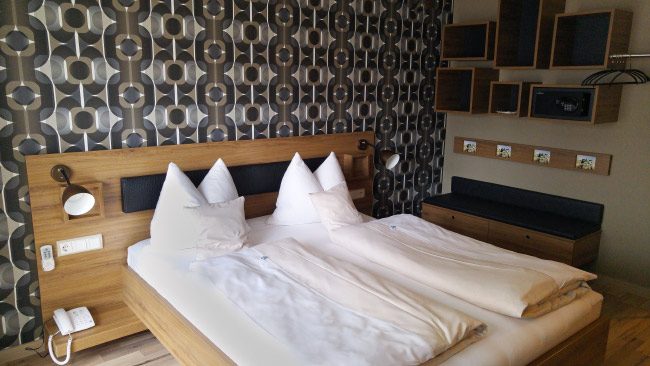 The breakfast, which is included in the rate, was fantastic. It was definitely not your typical hotel breakfast.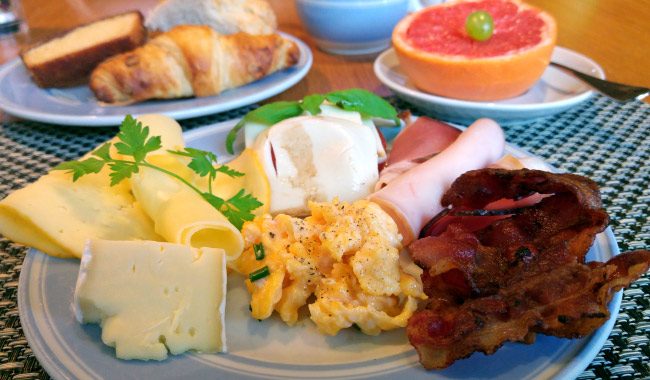 There were loads of savory options. We were really impressed with the bacon. Look at how crisp it is! That's the first time we've had crisp bacon at a hotel buffet breakfast and not the usual greasy stuff.
By the way, these pictures were taken over four mornings and we shared the bacon. :D Just saying so that you don't think I ate like 14 pieces of bacon in one sitting.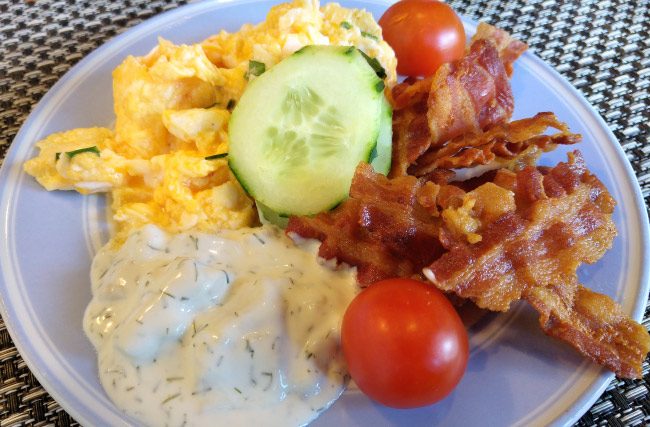 If savory breakfast food isn't your thing, you'll still find plenty to eat! See those croissants in the back? They bring them out still warm and I ate an obscene amount of them.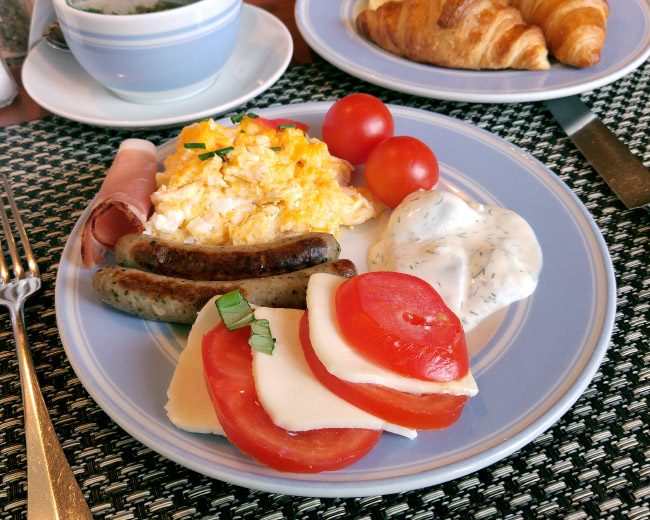 All of these plates were put together by Mr. T, by the way. He had a fun time playing food stylist. He's forced to do it since my plates of croissants and fruit aren't nearly as interesting!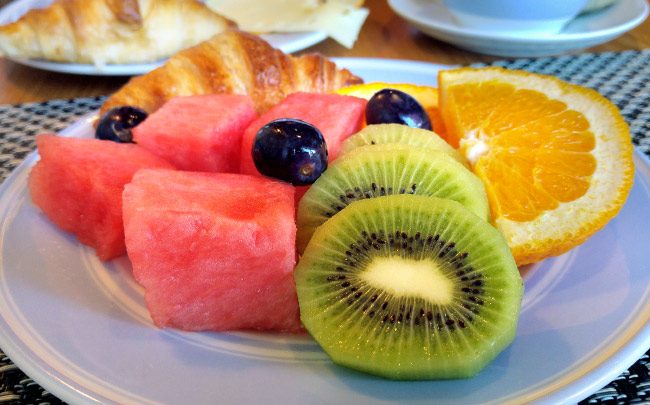 A+ to Hotel Bavaria on the fresh fruit selection. I eat so terribly on vacation so I was happy to be able to start my day with something healthful (along with 4 croissants and bacon).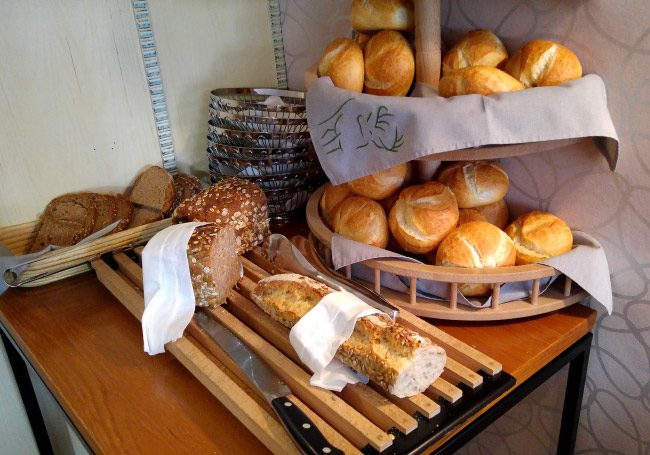 And someone else was in bread heaven. We've stopped buying bread so Mr. T had a glorious carby feast.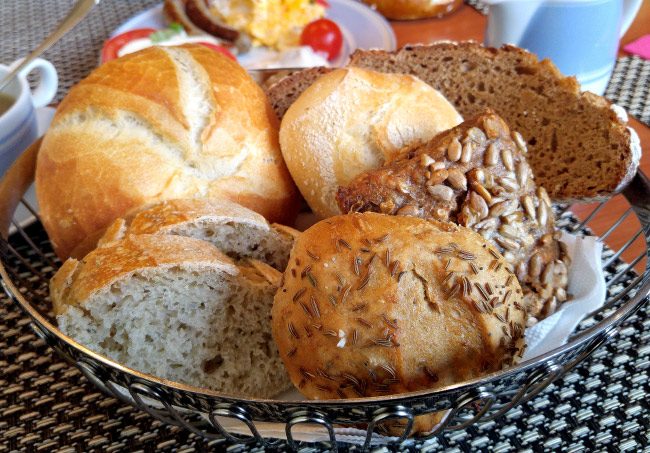 They had seedy, dense and hearty German breads, rosemary bread and some regular white rolls for the folks who want something plainer.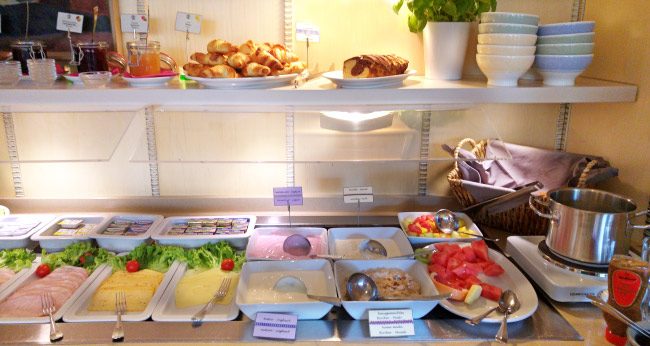 There were several types of cereal, yogurt and even homemade musli.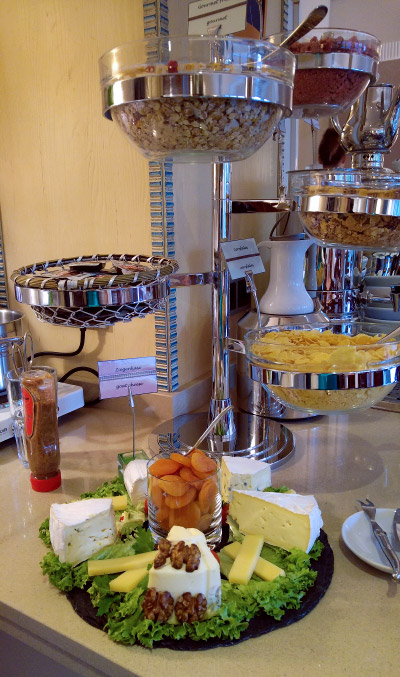 Speaking of food – after a 6 1/2-hour train ride to Munich, we were relieved to find that there are lots of great restaurants within walking distance of the hotel. You'll want to make sure to go to the Italian restaurant, Da Maria, which is only a 10-minute walk away.
It's run by an older Italian couple and it feels like you're in their living room. A part of the charm is watching them interact and bicker in Italian. But there's also great food at excellent prices! Seriously. Huge plates of amazing pasta for 6.50 euros. We actually ate there two nights in a row because we knew it'd be hard to beat Da Maria.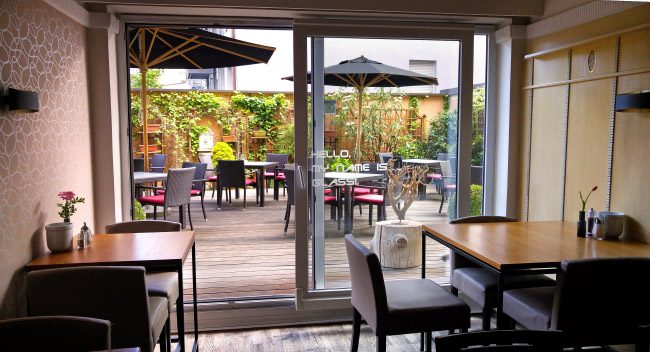 But back to the hotel! You can eat in the breakfast room or on nice days, outside. We had breakfast at a different time every morning and it was never overcrowded.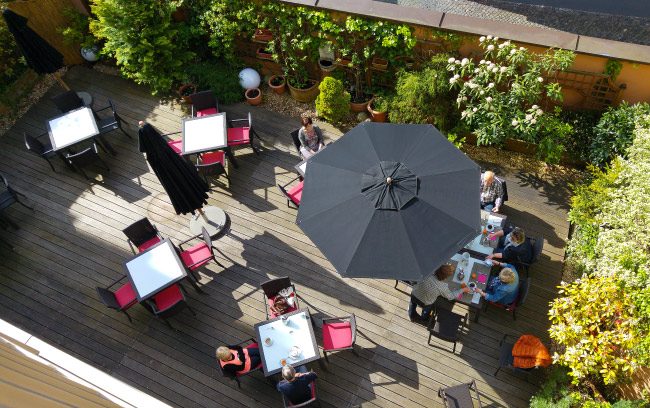 They've also got a nice, cozy bar downstairs. We spent one morning down there while we worked and waited for the rain to pass.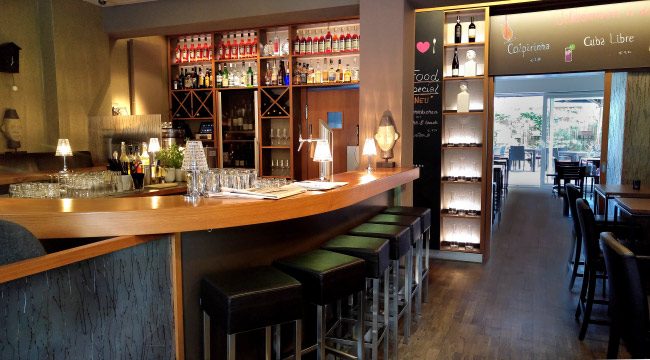 We had a great trip overall and a large part of that was due to our experience at Hotel Bavaria. I urge you to check them out if you're planning a trip to Munich! You can check them out here. Thanks to the hotel for hosting us!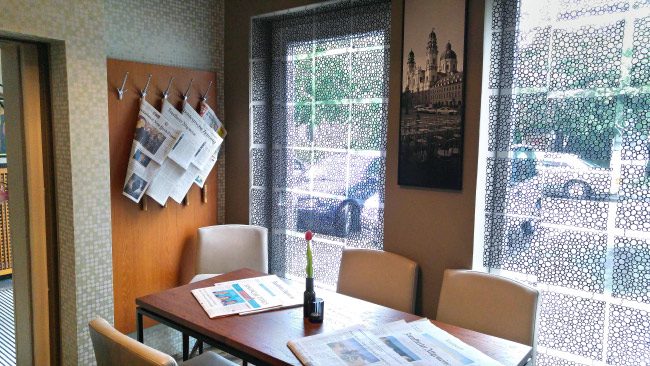 And now for the recipe! One of the goodies we enjoyed at Hotel Bavaria was nut cake. Today's version isn't at all similar to the hotel's but it's no less delicious.
I made these muffins once a day for a week. I used the same exact ingredients and went by weight so there was no variation there. Despite that, they came out ever-so-slightly different every time.
Sometimes their texture was a bit like angel food cake and sometimes they were more like normal muffins. They were always great, though, so don't be afraid to make them!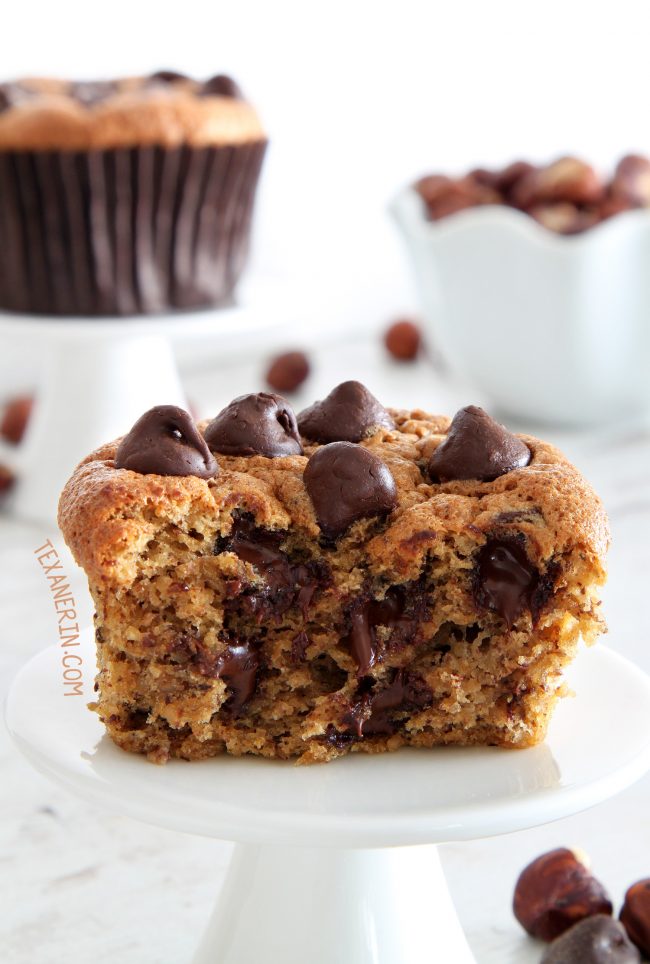 One time, the muffin tops collapsed just a tad (which you can see in the pictures). I'm guessing the variation has to do with exactly how much the egg whites are beaten. And the weather (really!).
They've got some almond extract in there, which I originally thought would be a weird combination, because… hazelnuts + almond extract? But it's surprisingly tasty and I liked it better than the version I tried with vanilla.
I haven't made these muffins with any other nut flours so if you want to experiment with that, I'd love to hear how it goes.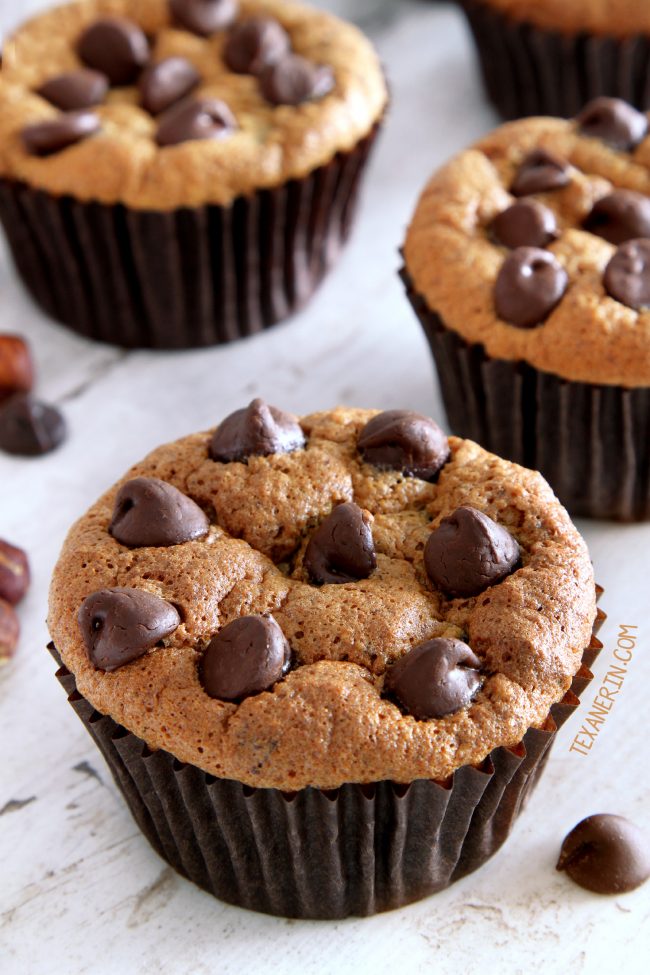 I really don't recommend skipping on the chocolate chips. I tried a few muffins without and they just weren't as exciting. Just don't load too many chocolate chips on top or the tops will collapse.
And since someone will ask, the only sugar sub I'm confident will work is granulated sugar. Liquid subs almost definitely won't work.
If you can, let the muffins sit for about 2 hours before serving. They're a bit dry straight out of the oven but once they sit, they're nice and moist and the flavor is better, too. I hope you'll enjoy them!
Are you like me and love chocolate chip treats for breakfast? Then try this chocolate chip coffeecake – made with pancake mix, from Vegetarian Mamma!
❀
Paleo Hazelnut Muffins (grain-free, gluten-free, dairy-free)
Prep Time:
Cook Time:
Ready in:
Yield:

12 muffins
Ingredients
4 large eggs, room temperature
1/2 cup (100 grams – I really recommend weighing this) coconut sugar
3 1/2 teaspoons water
1 1/4 teaspoons almond extract
160 grams (this is about 1 cup + 9 1/2 tablespoons) hazelnut flour
1/8 teaspoon salt
1/2 cup (85 grams) semi-sweet chocolate chips (make sure to use paleo-friendly chocolate chips, if necessary) + additional chocolate chips for sprinkling on top
Directions
Preheat the oven to 325 °F (167 °C) and line a muffin pan with 12 liners.
Place the egg whites in a medium glass mixing bowl and the egg yolks in a large mixing bowl (glass or plastic is fine). If you don't have a glass bowl for the egg whites, make sure your plastic mixing bowl is super clean and free of any oil residue as this can interfere with beating the egg whites.
Beat the egg whites and 2 1/2 tablespoons (31 grams) coconut sugar at high speed until stiff peaks form (about 30-60 seconds). Keep the beaters in the mixer.
In the bowl with the egg yolks, add the remaining 69 grams coconut sugar, water and almond extract. Beat for about 30-90 seconds at high speed or until thickened and lighter in color. Mix in the salt and then use a silicone spatula to fold in the hazelnut flour.
Fold in the egg white mixture to the egg yolk mixture just until combined. Do not over mix but make sure it's thoroughly combined.
Stir in the chocolate chips. Fill each liner almost all the way full and then sprinkle a few chocolate chips on top, if desired.
Bake for 18-23 minutes or until a toothpick inserted in the center comes out clean and the tops of the muffins no longer appear wet.
Immediately remove the muffins from the pan and cool completely on a wire rack. Let sit for 2 hours before serving for best taste and texture.
Cover and store at room temperature.