This easy no-cook chocolate peanut butter pudding is a healthy and guilt-free dessert! Naturally gluten-free and grain-free with paleo, vegan and dairy-free options.
I have a weird issue with bananas. For years, I seemed to be allergic to them. Then the allergy disappeared for a while and now it comes and goes. When I first made this pudding in 2012, I was fed up with all the banana-based smoothies and puddings, which is kind of funny because basically all of my smoothies nowadays use bananas.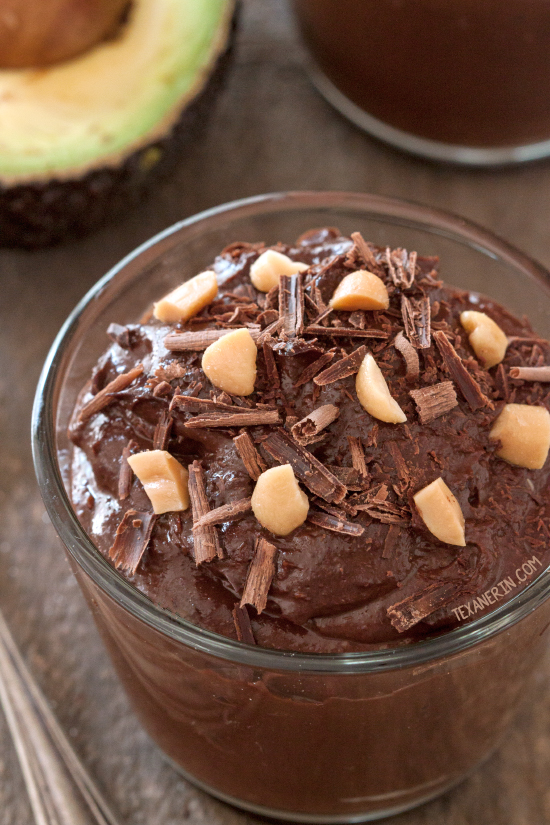 The original version of this pudding used honey or coconut sugar as sweetener, but I recently found Natural Delights in a local store and wanted to incorporate some of them into this pudding. I'd seen Medjool dates before in an open bin at the organic shop but let's just say that they looked on the unappetizing side. So I was excited to finally get my hands on some delicious Medjool dates!
If you don't want to use dates, you can use whatever sweetener you'd like in its place. And if you don't want to use peanut butter or another nut butter, simply don't use it. It works without any kind of nut butter!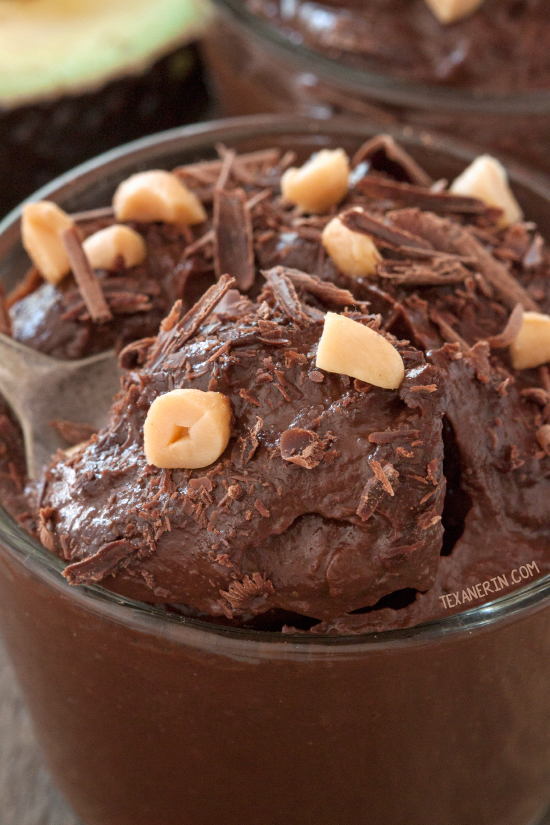 The only thing I'm not totally in love with is the amount of peanut butter flavor. It's always the same when you combine cocoa powder and peanut butter. I did think about making a cocoa powder-free version but avocado + peanut butter pudding? It might taste good but I don't even want to think about what that would look like.
I used Greek yogurt but regular yogurt will do unless you want it ridiculously rich and thick like what you see in the pictures. For a vegan and paleo version, make sure to use dairy-free yogurt.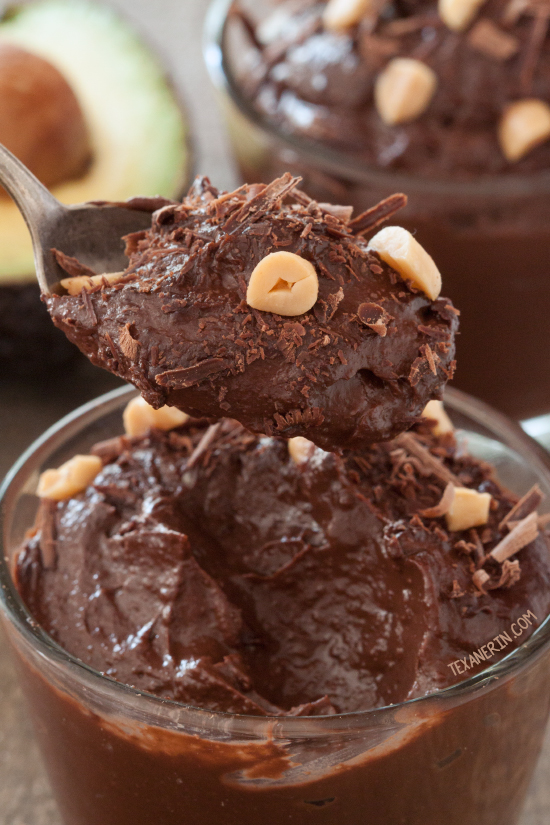 I've made this several times and only once did I have an issue with it tasting less than stellar the next day. I think my avocados were just too old. So to be on the safe side, I recommend you enjoy the pudding on the first day, or at least within 12 hours. Making it in the evening for a school lunch the next day would definitely be fine.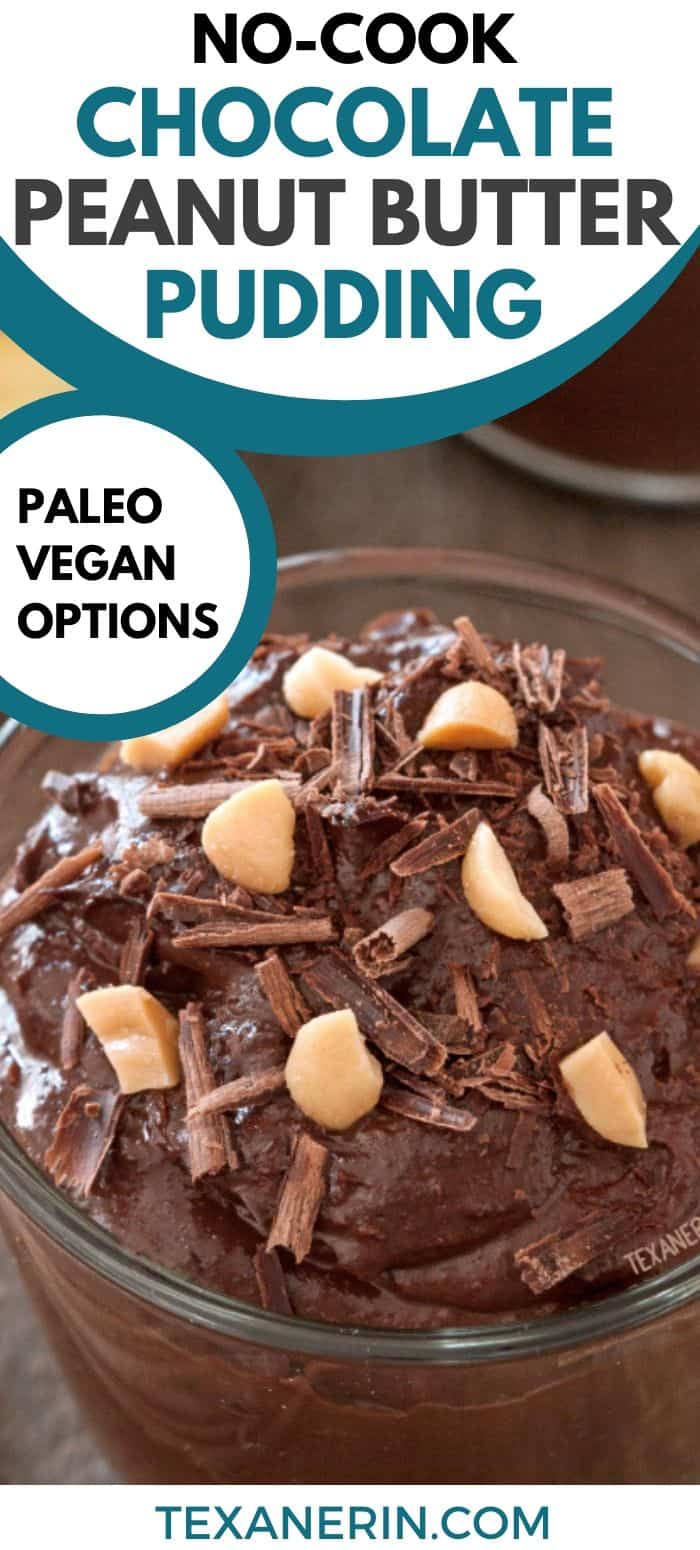 ❀
No-cook Chocolate Peanut Butter Pudding
Prep Time:
Cook Time:
Ready in:
Yield:

2 servings
Ingredients
1 Medjool date (23 grams) or 4 regular dates (23 grams)
6 tablespoons (96 grams) natural salted peanut butter (use almond butter or another type of nut butter for paleo or just omit it)
1 ripe avocado (140 grams of flesh)
1/2 cup + 2 tablespoons (150 grams) plain Greek or regular plain yogurt (use coconut milk yogurt for a vegan / dairy-free / paleo version)1
1/3 cup (38 grams) Dutch-process cocoa powder
1 1/2 teaspoons vanilla extract
1 medium banana (mine was 120 grams peeled), optional
3 tablespoons coconut sugar, optional (you could also add more dates) – if not using a banana you'll likely need more than 3 tbsp of sugar
milk of choice for thinning down the pudding, optional
peanuts and shaved chocolate as garnish, optional (omit the peanuts for paleo)
Directions
Pulse the date(s) and peanut butter in the bowl of a food processor using an S-blade until there are no longer any large chunks of date(s) remaining. If not using peanut butter, pulse the date(s) and avocado before adding the Greek yogurt and the other remaining ingredients.
Add the avocado, Greek yogurt, cocoa powder, vanilla and if using, banana to the bowl of your food processor. Process until totally smooth and creamy. There shouldn't be any lumps remaining.
Add sweetener to taste. If it's too thick for your liking, add a little milk at a time until it's the desired consistency.
Spoon into a container and let chill for an hour in the refrigerator. Best enjoyed on the first day but will also be fine if prepared in the evening and eaten for lunch the next day. Garnish with peanuts and shaved chocolate, if desired.
Notes
I used Greek yogurt, which resulted in extremely thick pudding. If you want yours a bit thinner, like regular pudding, use regular plain yogurt. Or use Greek yogurt and add some milk to thin it out.