Healthy peanut butter and jelly fudge made in peanut butter cup form! Naturally vegan and gluten-free and sunflower seed butter can be used for a paleo / nut-free version.
I'm super excited about today's recipe! I've never actually had a peanut butter and jelly sandwich that I enjoyed but I love the combination.
I made peanut butter and jelly peanut butter cups a few years ago but this PB&J fudge is way easier. And it's pure PB&J taste – no pesky chocolate to fiddle with!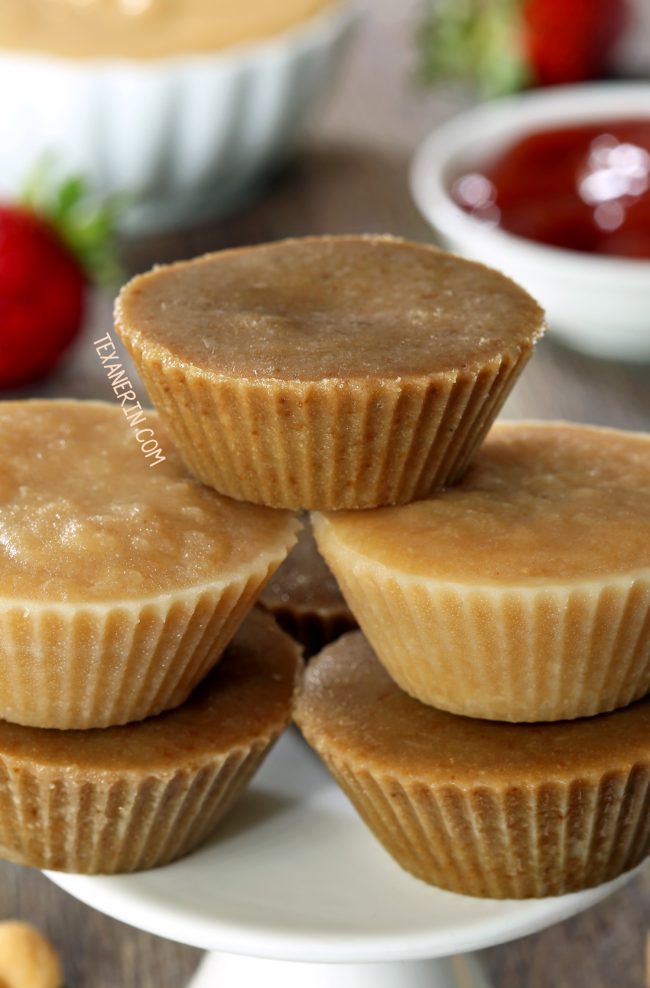 As with lots of paleo / vegan fudge recipes, this one has to be refrigerated. Or better – frozen. That way you don't risk the jam going bad.
Speaking of jam, I usually like to make my own honey-sweetened strawberry jam but I've been low on time recently.
So I was thrilled when I found this organic strawberry jam that's sweetened with apple juice and the only other ingredient is pectin. It's what I used in this peanut butter and jelly fudge and it was perfect. Not disgustingly sweet like some other brands.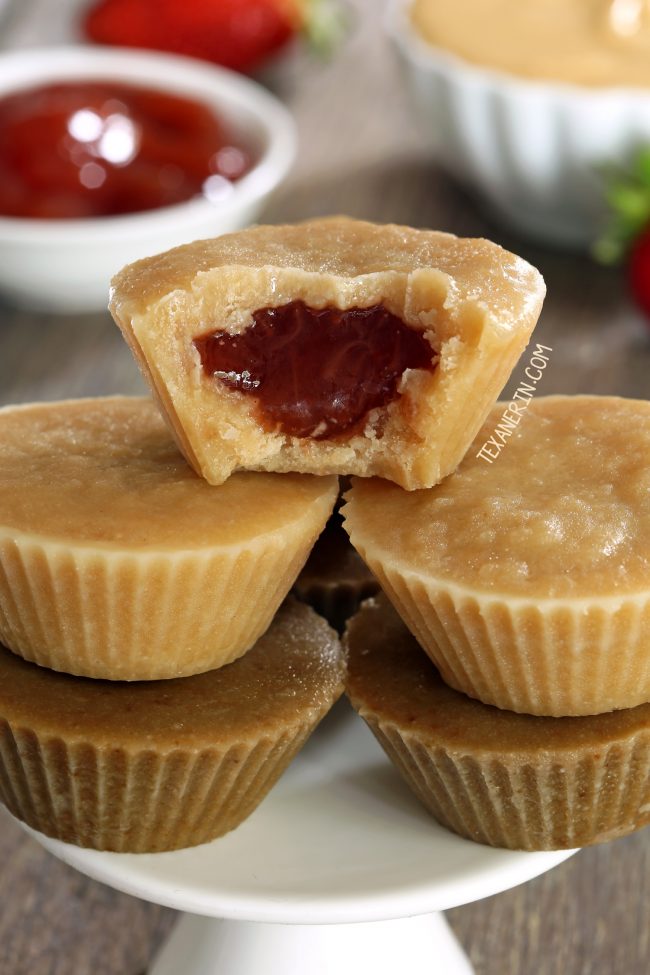 You also have to try their apricot jam! Best jam I have EVER had. I was so excited after buying apricot that I went and ordered 14 other varieties.
As for the fudge portion – I don't recommend just melting everything together. Or even melting together the coconut butter and coconut oil. I tried and at first it looked okay, but then the oil started to separate a bit.
A few of the cups in the pictures are the ones where the oil separated and you can't even tell. But still… just don't do it. :)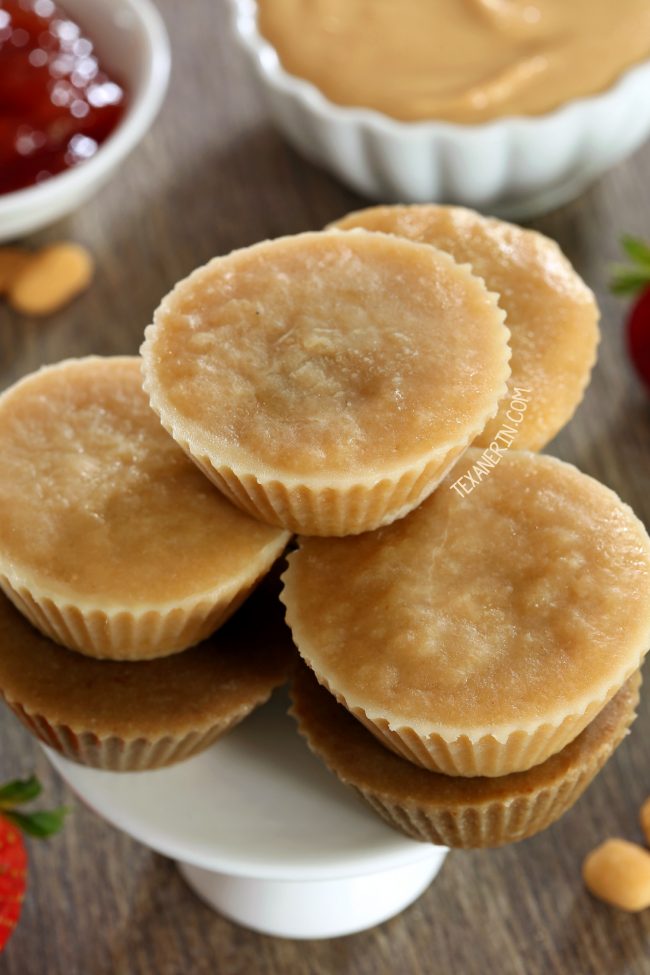 The darker fudge pieces are made with sunflower seed butter! I used a kind that's just sunflower seeds. No salt (I had to add quite a bit more extra salt to the fudge in comparison to the peanut butter version!), fat or sugar.
I used homemade peanut butter in this fudge but store-bought (the kind with just peanuts and salt) works just as well. Here's how to make peanut butter! There's also a video included. All you need is peanuts and a food processor.
Maybe it's just me, but peanut butter seems quite a bit more naturally sweet. So I added 2 tablespoons of coconut sugar to the sunflower seed butter version. You might be happy without the sugar or maybe just need a little.
For some other healthy PB&J treats, try these healthy peanut butter and jelly muffins from Family Food on the Table or this raspberry peanut butter smoothie from The Food Charlatan!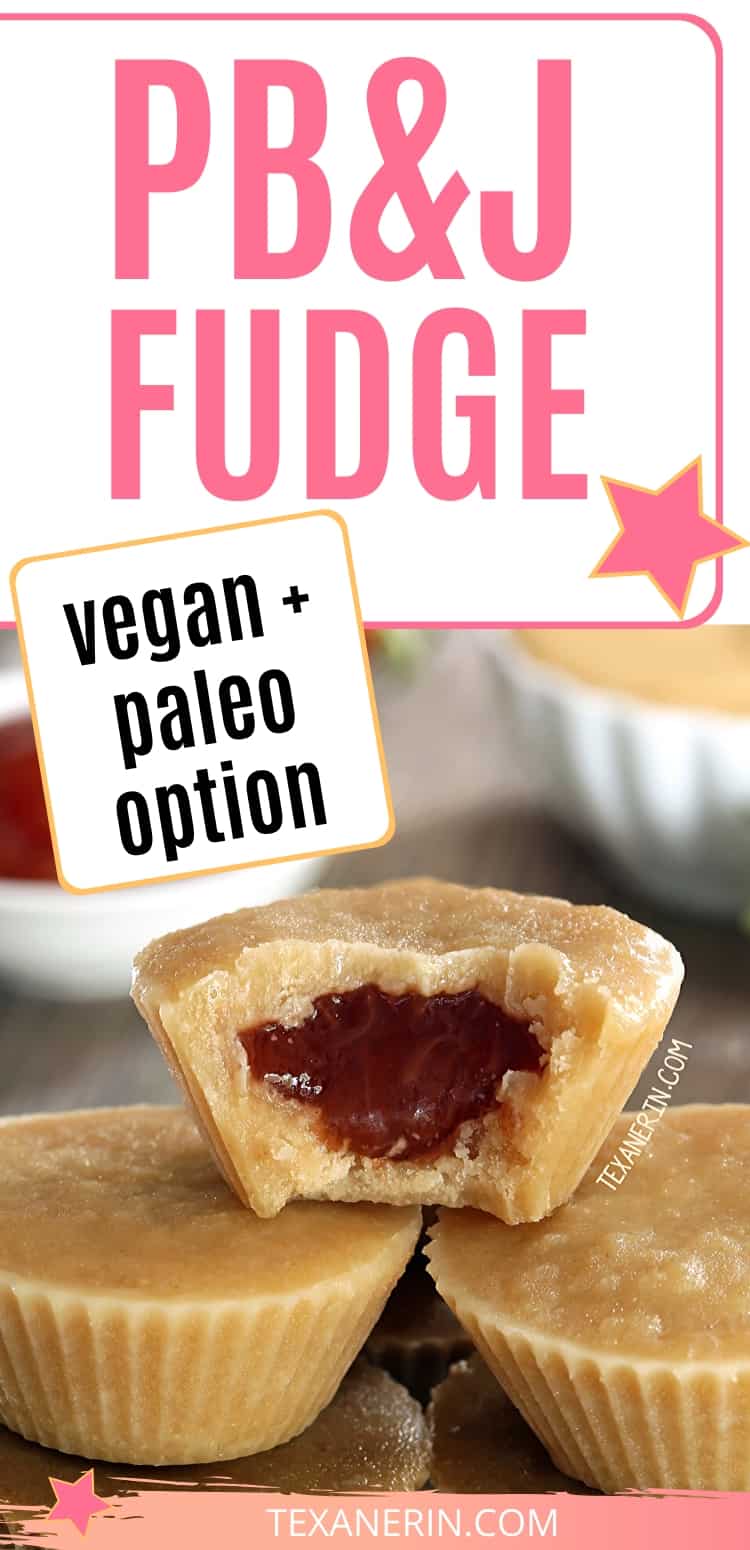 ❀
Peanut Butter and Jelly Fudge (vegan, paleo option, grain-free, gluten-free, dairy-free)
Prep Time:
Cook Time:
Ready in:
Yield:

16 pieces
Ingredients
6 tablespoons (90 grams) coconut butter (shouldn't be hard or lumpy but stirrable - lightly heat, if needed - you can buy it or make your own homemade coconut butter)
2 tablespoons (28 grams) coconut oil (should be softened like room temperature butter, I don't recommend using melted)
1 teaspoon vanilla extract
pinch of salt (will depend on how salty your peanut butter is but make sure to add enough so that the peanut butter taste pops!)
1/2 cup (128 grams) natural peanut butter (the kind with just peanuts and salt) or natural sunflower seed butter (with just seeds and salt) for paleo / nut-free
4 1/2 tablespoons maple syrup
optional - for the sunflower seed butter version, you may want to add up to 2 tablespoons of coconut sugar
1/3 cup (95 grams) strawberry jam (or whatever kind you like with peanut butter)
Directions
Line a mini muffin pan with 16 liners.
Mix everything, except for the jam, together in a small bowl and stir with a spatula until well combined. There should be no lumps.
Pour the liners about 1/3 full, add 1 teaspoon of jam per piece, and then cover with more fudge mixture.
Chill for about 2 hours or freeze for about 30 minutes or until firm enough to remove from the liners.
Store refrigerated for up to 3 days or freeze for up to 2 months.
As an Amazon Associate, I earn from qualifying purchases. For more info, see my disclosure.