These healthier chocolate peanut butter Rice Krispies treats are nice and chewy, naturally sweetened and incredibly quick and simple to put together! With gluten-free, 100% whole grain, vegan and dairy-free options.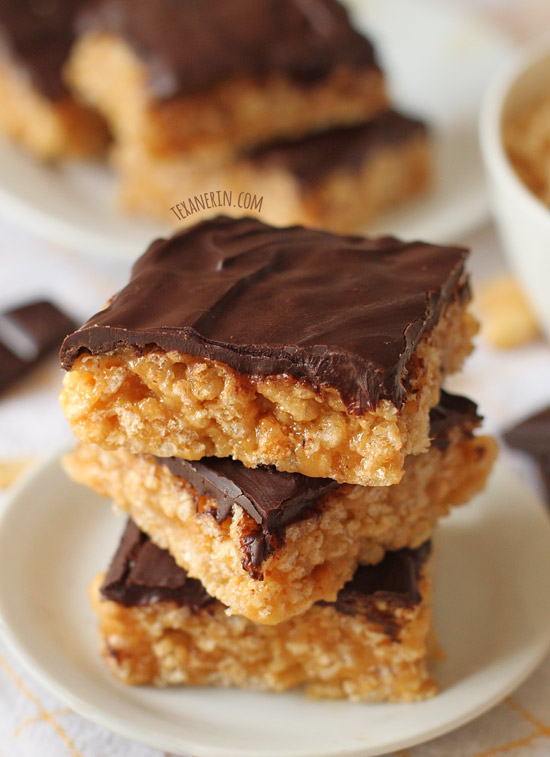 These bars are the perfect solution to a peanut butter and chocolate craving. Just toss all the liquid stuff together in a pot, melt, and stir in the Rice Krispies. Couldn't be simpler!
These peanut butter Rice Krispie Treats use brown rice syrup in place of corn syrup or granulated sugar or whatever it is that most people use in Rice Krispie treats. I suppose sugar is sugar but still, I prefer using brown rice syrup over corn syrup. I know brown rice syrup isn't something most people have at home (I got mine at an organic shop but also found it here so I also tried these bars with honey, but the honey flavor was too strong. I'm guessing you could use agave if that's something you have on hand, but I haven't actually tried it so I can't say for sure.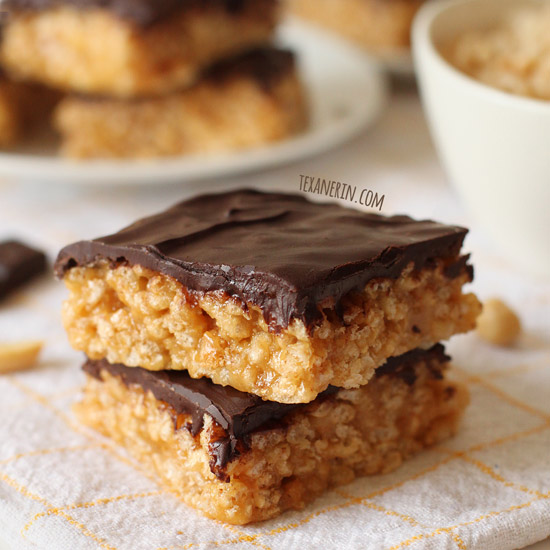 I actually did try an all maple syrup version but they weren't nearly chewy enough. It seems as though some type of thicker syrup is needed for chewiness. And chocolate peanut butter Rice Krispie treats without chewiness is just sad.
This makes a relatively small batch but it's super easy to double or triple or whatever you want. I prefer small batches because… you know. I'd eat them all in one sitting. A small batch minimizes the damage. :D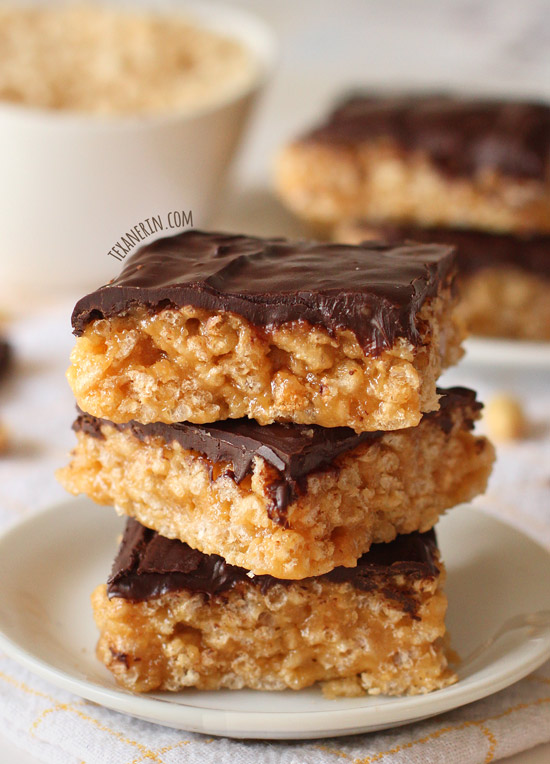 If you need these to be gluten-free, make sure you buy GF brown rice cereal. They're made with whole grain brown rice so that'd make these treats 100% whole grain + gluten-free. I'm sure any other brown rice cereal would work!
And because I didn't use any honey here, these peanut butter Rice Krispie treats are vegan, too. And dairy-free. So basically: you can make these peanut butter treats gluten-free, 100% whole grain, vegan, and dairy-free. Yeah! Despite their dietary friendliness, these are still awesome. So don't let it hold you back from making these!
For a more classic version, try these chocolate dipped krispie treats from Allergylicious!
❀
Healthier Peanut Butter Chocolate Rice Krispie Treats (vegan, gluten-free options)
Prep Time:
Cook Time:
Ready in:
Yield:

8 bars
Ingredients
1/3 cup (87 grams) natural peanut butter (click here for an easy homemade peanut butter recipe), almond butter or Sun Butter
1/4 cup (75 grams) brown rice syrup
2 tablespoons maple syrup
2 teaspoons vanilla
2 cups Rice Krispies (60 grams) (use GF brown rice cereal for a GF version)
1/2 cup (90 grams) chopped semi-sweet chocolate, melted (Enjoy Life chocolate chips for a dairy-free version)
Directions
Get out a piece of parchment paper (mine was about 9"x5").
In a medium pot over low heat, mix together the peanut butter, rice syrup, and maple syrup.
Heat until the mixture bubbles, remove from the heat and stir in the vanilla.
Add the Rice Krispies and carefully stir until the Rice Krispies are well coated.
Scoop the mixture onto the parchment paper and pat into your desired shape.
Pat down so that the mixture is relatively compact. My bars were about 3/4" thick.
Let it cool for 10 minutes and then spread on the chocolate.
Refrigerate for an hour and then cut into bars.
Place in an airtight container and keep at room temperature (or refrigerate) for up to 1 week.