These peanut butter rice krispie treats are nice and chewy, naturally sweetened and incredibly quick and simple to put together! Gluten-free, 100% whole grain, vegan and with a nut-free option. With a how-to recipe video.
This recipe is the perfect solution to a peanut butter and chocolate craving. Just toss all the liquid stuff together in a pot, melt, and stir in the crisp rice cereal. Couldn't be any simpler! My peanut butter oatmeal bars are also super easy and no-bake.
These healthier rice krispie treats use brown rice syrup + maple syrup in place of corn syrup or granulated sugar. I suppose sugar is sugar but still, I prefer using natural sweeteners over corn syrup.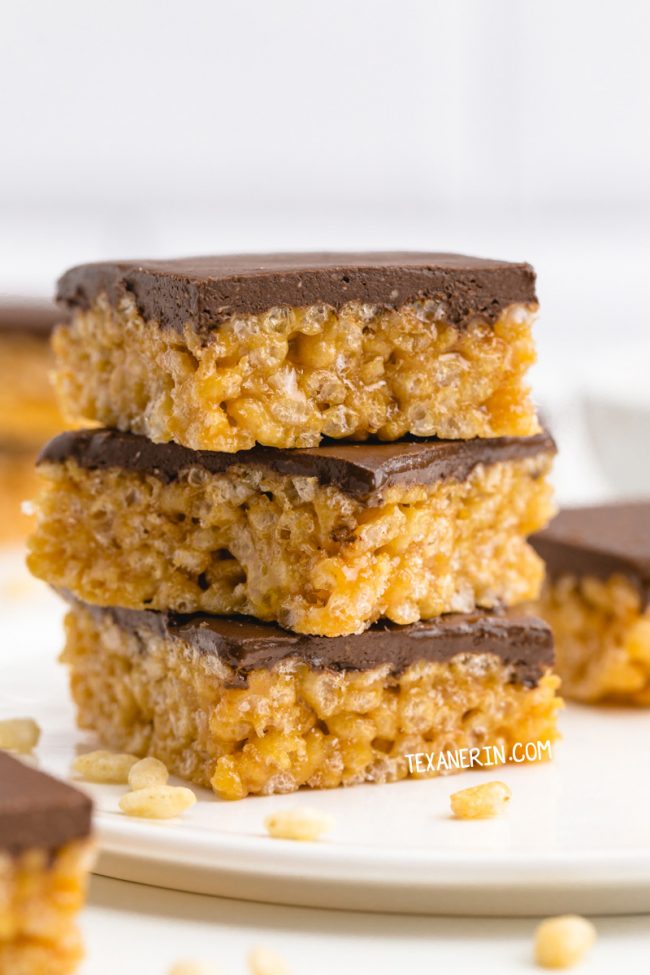 I know brown rice syrup isn't something most people have at home (I got mine at an organic shop but it's also easy to get online) so I also tried these bars with honey, but the honey flavor was too strong.
I'm guessing you could use agave if that's something you have on hand, but I haven't actually tried it so I can't say for sure (and probably never will since I don't use agave).
I actually did try an all maple syrup version but they weren't nearly chewy enough. It seems as though some type of thicker syrup is needed for chewiness. And chocolate peanut butter rice krispie treats without chewiness is just sad.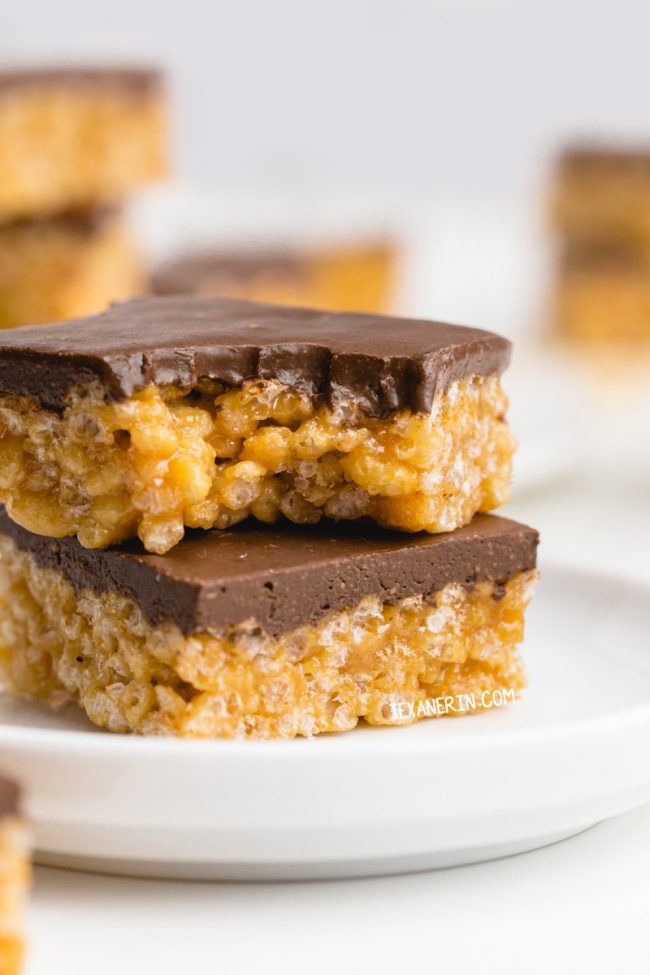 If you need these to be gluten-free, make sure you buy gluten-free rice cereal. Rice Krispies are not gluten-free due to malt flavoring (but I still call this recipe rice krispie treats because nobody googles peanut butter crisp brown rice cereal treats!).
I recommend this Crispy Brown Rice Cereal from Erewhon as it's certified gluten-free. I've seen some other gluten-free crisp rice cereals but they were processed in facilities that also process wheat so I haven't tried them.
And these bars are easy to make nut-free. Just use sunflower seed butter. I've made them that way and they taste pretty close to the peanut butter version! If you like using sunflower seed butter, be sure to try my gluten-free and vegan sunflower seed butter cookies or PB&J fudge.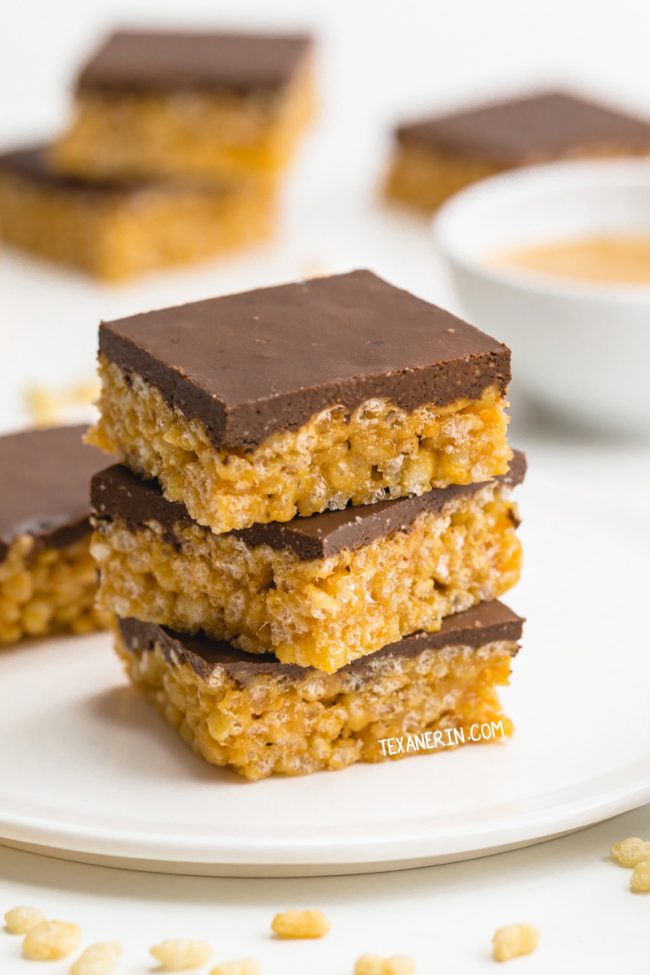 I used homemade peanut butter and it worked great. Here's a recipe + video on how to make peanut butter. I love making a huge batch of that and then I use it for these gluten-free peanut butter cookies, peanut butter fudge, and these protein balls.
If you're after a classic version of rice krispie treats, try these chocolate dipped krispie treats from Allergylicious!
Questions about these healthier peanut butter rice krispie treats?
Can I use something other than peanut butter or sunflower seed butter? Those are the only two I've used but I'm assuming other types of natural nut butter, without any added fat or sugar, would work fine.

Nut butters aren't always exchangeable but since this a simple no-bake recipe where you just mix everything together, I think it'd be fine.



Can I use something else other than brown rice syrup? I've tried honey (for a non-vegan version) but the flavor was way too strong. I've also tried all maple syrup instead of part brown rice syrup + part maple syrup but then the bars weren't sticky enough. Agave could possibly work!


Can I reduce the sweetener? You can definitely play around with this recipe. I tried it out a bunch of times and thought it was best as written below.


Can I use something in place of the crisp rice cereal? I haven't tried it but oats might work, or a combination of shredded coconut and oats. Just keep adding a little at a time unless the consistency seems right to you.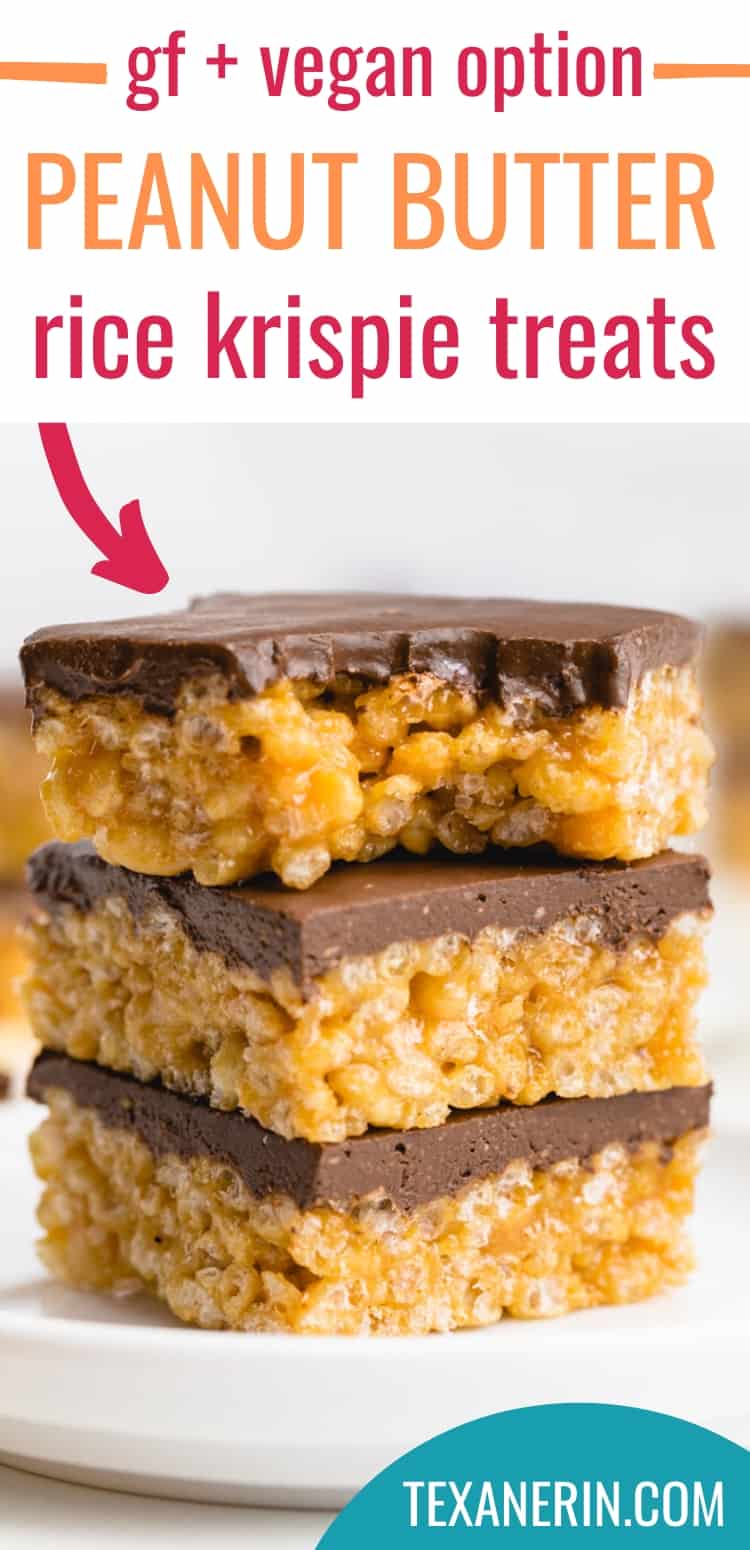 ❀
Peanut Butter Rice Krispie Treats (vegan, gluten-free options)
Prep Time:
Cook Time:
Ready in:
Yield:

16 bars
Ingredients
2/3 cup (174 grams) natural peanut butter or sunflower seed butter for nut-free (with just salt - no added sugar or fat)
1/2 cup (150 grams) brown rice syrup
1/4 cup (60 milliliters) maple syrup
1 tablespoon vanilla extract
pinch of salt
4 cups (120 grams) crisp rice cereal (make sure to use GF cereal, if needed)

For the topping:

1 cup (170 grams) chopped semi-sweet chocolate (make sure to use vegan chocolate, if needed)
6 tablespoons (96 grams) natural peanut butter or sunflower seed butter for nut-free (with just salt - no added sugar or fat)
Directions
Line an 8"x8" pan with a piece of parchment paper.
In a medium pot (one big enough for all the ingredients except for the chocolate) over low heat, mix together the peanut butter, rice syrup, maple syrup and a pinch of salt.
Heat until the mixture bubbles (it shouldn't come to a full boil but should have some bubbles around the sides and in the middle, too), remove from the heat and stir in the vanilla.
Add the cereal and carefully stir until the cereal is well-coated.
Scoop the mixture onto the parchment paper and pat down so that the mixture is relatively compact.
Let it cool for 10 minutes. Melt the chocolate and peanut butter together and spread over the peanut butter layer.
Refrigerate for 1-2 hours and then cut into bars.
Place in an airtight container and keep at room temperature (or refrigerate) for up to 1 week.
As an Amazon Associate, I earn from qualifying purchases. For more info, see my disclosure.