These vegan fajitas make a hearty and healthy meatless dinner the whole family will enjoy (as they're not very spicy). They've got an amazing flavor combination packed with earthy portobello mushrooms, caramelized onions, bright bell peppers, garlic, and a squeeze of lime all wrapped up in a warm tortilla. With a lettuce wrap, they're also paleo, whole30, and keto-friendly!
Also, if you're looking for a drink to go with these fajitas, check out the Frozen Pineapple Margarita I posted over on Food Doodles today! There's NO added sugar. It gets its sweetness from frozen pineapple and 100% pineapple juice.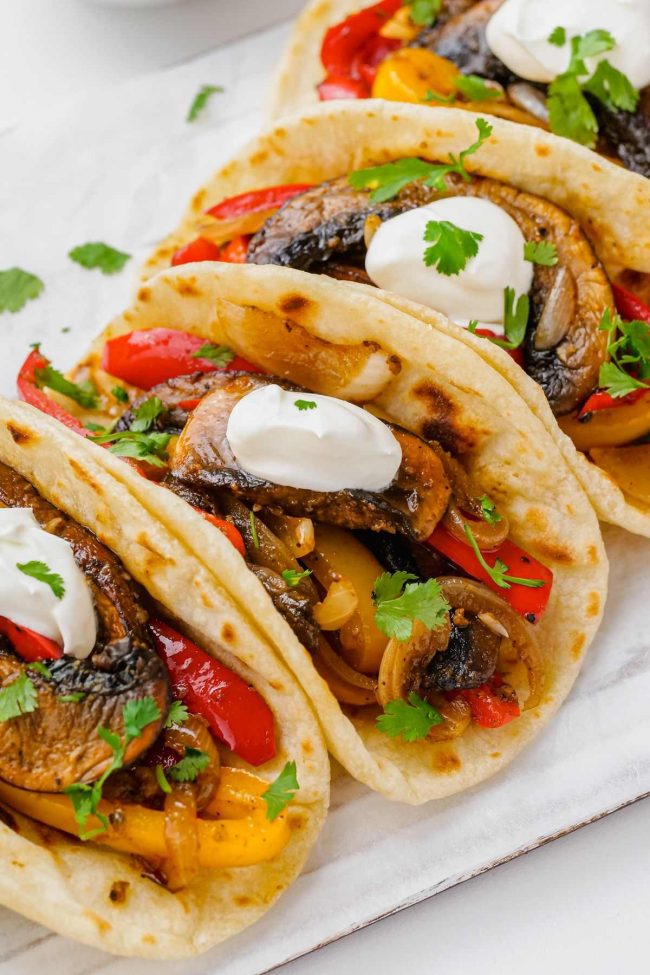 Which veggies to use
I've tried these fajitas with broccoli and zucchini but thought that with the spices and seasoning, they were a bit strange. So for today's recipe, I went basic and just used portobello mushrooms, onions, and red and yellow bell peppers.
If you don't have portobello mushrooms, you can use the smaller types. Did you know that button mushrooms (the really common white ones), cremini mushrooms (those are the brown ones) and portobello are all actually the same type of mushrooms?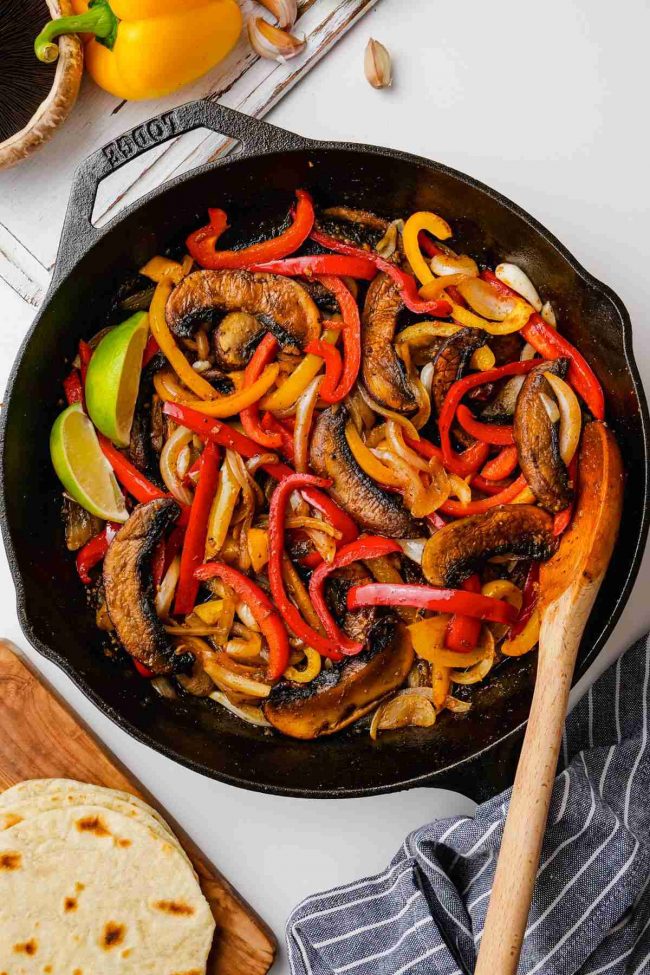 Difference between mushrooms types
The difference between white mushrooms, cremini mushrooms and portobello mushrooms is age. The older the mushroom, the heartier and tastier they become.
White button mushrooms are the youngest and have been cultivated for the white color and soft texture.
Cremini mushrooms are like the teenagers of the group. They're moderately mature and have a similar flavor to the younger white button mushrooms.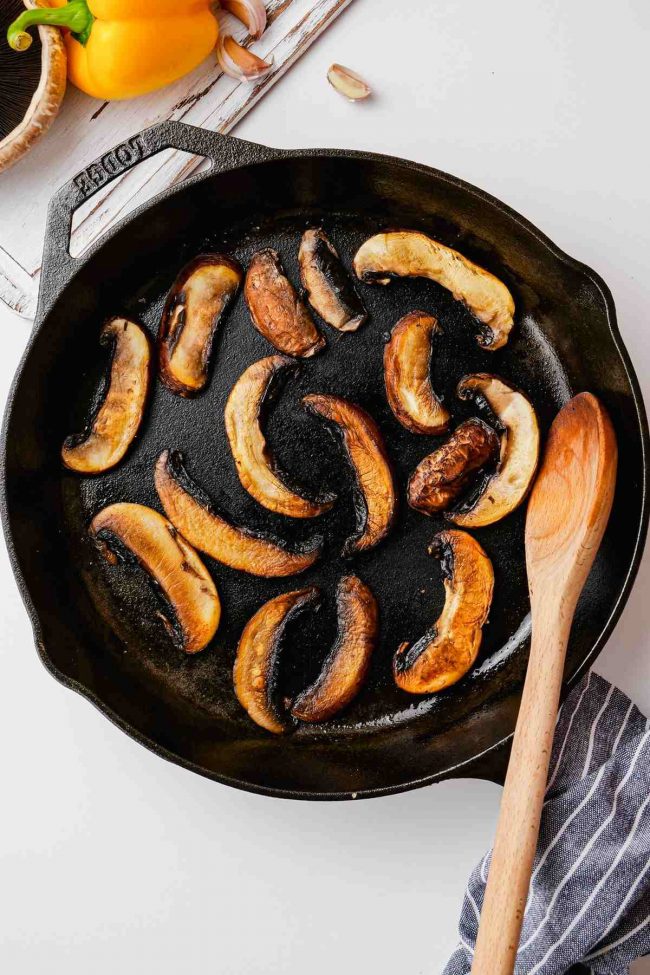 Portobello mushrooms are the most mature and generous of the lot. They're button mushrooms that have been left to grow until they spread out into that big meaty cap. They're so meaty they make a great meat substitute.
Both cremini and portobello mushrooms have a robust savory flavor.
All three of these mushrooms can be used without changing the taste much. So in this case it comes down to size.
Portobello mushrooms are the biggest and meatiest so you get more substance into these veggie fajitas by using the portobellos, which are also great in these Air Fryer Stuffed Mushrooms.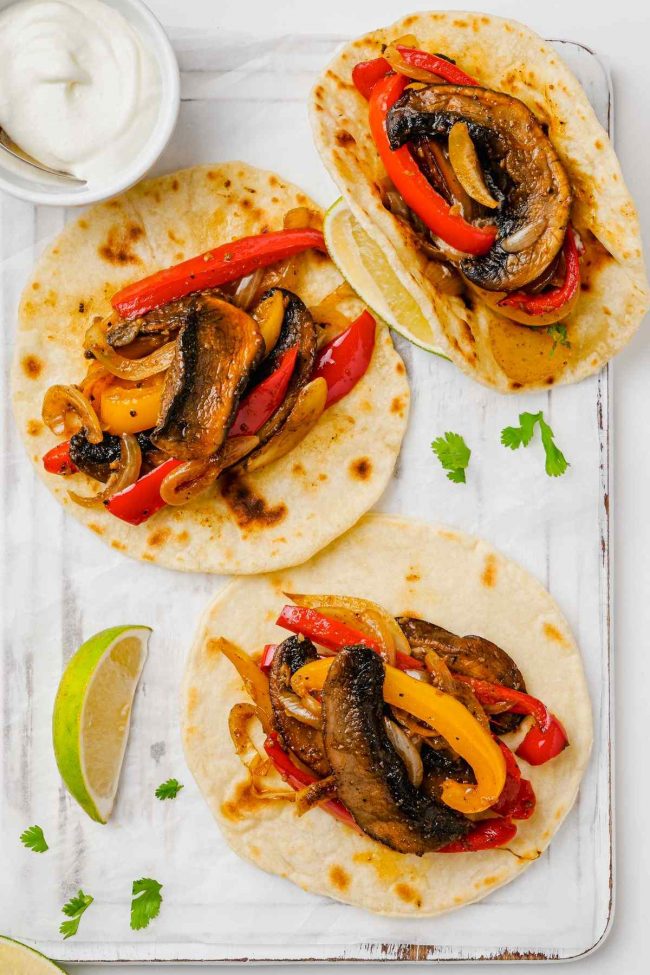 How to clean mushrooms
Mushrooms have a lot of water content so it is not suggested to soak them because it could make them soggy. I just peel away the top layer of the cap.
First, twist off the stem. Then using your fingers, take the edge of the cap where the gills are and peel off the top layer of skin. It should come off easily. Then you can do the same to the stem.
Gently rinse before cutting into strips.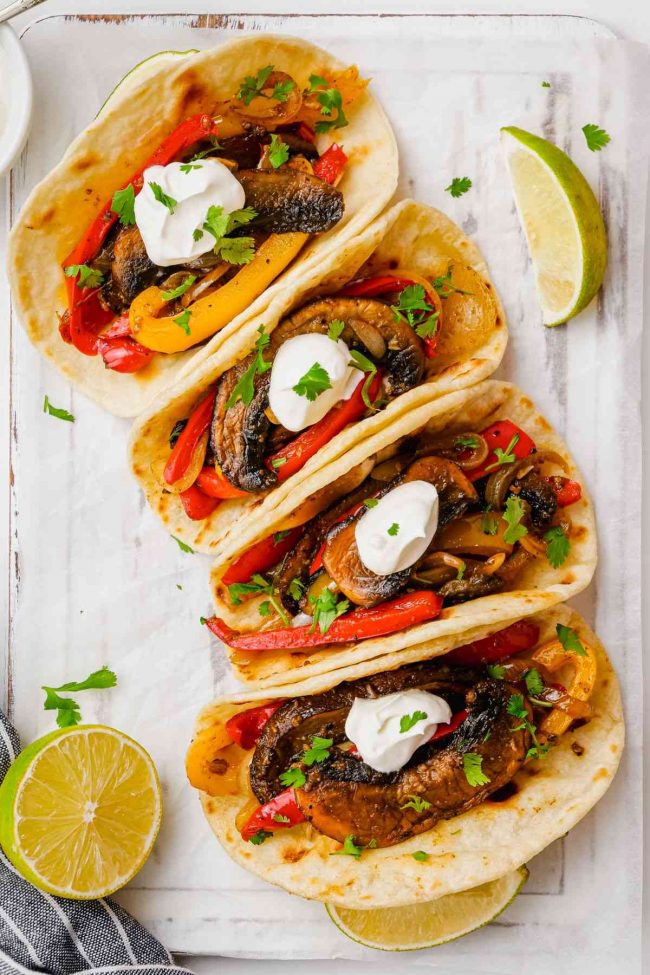 Fajita seasoning
For this tasty and milder fajita seasoning, I used smoked paprika, onion powder, black pepper, cumin, and smoked sea salt. But you can also use regular sea salt.
You can season the fajitas lightly for a kid-friendly meal or spice it up by adding a pinch of cayenne to the mix. Though I wouldn't exaggerate it and miss out on the fresh taste of the veggies.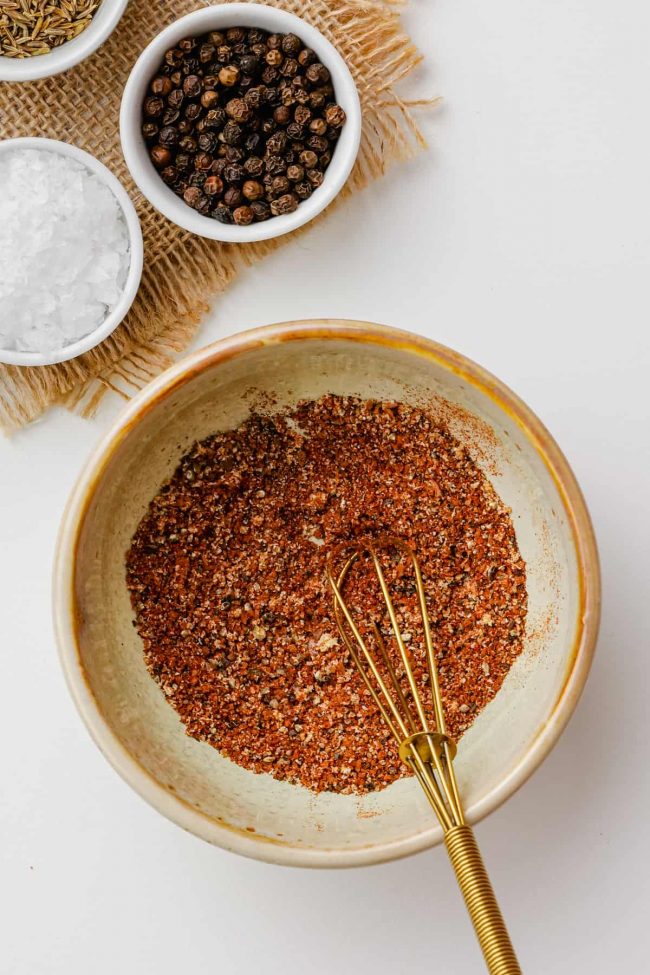 Keto, paleo and whole30
The recipe is all three as is. No changes are needed!
Just pay attention to what kind of tortilla you use.
Paleo: I love cassava flour tortillas but haven't found a recipe that's perfect. And I've tried almost every cassava flour tortilla posted online! (I'm serious) I haven't found a good almond flour recipe. Lettuce also works.


Keto: Lettuce would be easiest. I've tried several keto recipes but none that I liked. They all taste so coconutty and eggy, despite the recipe saying that they don't. So good luck with that. ;) This keto tortilla recipe looks promising!


Whole30: I do believe lettuce is your only option. Any other ideas? Also, for another lettuce wrap recipe, check out these Paleo Chicken Lettuce Wraps!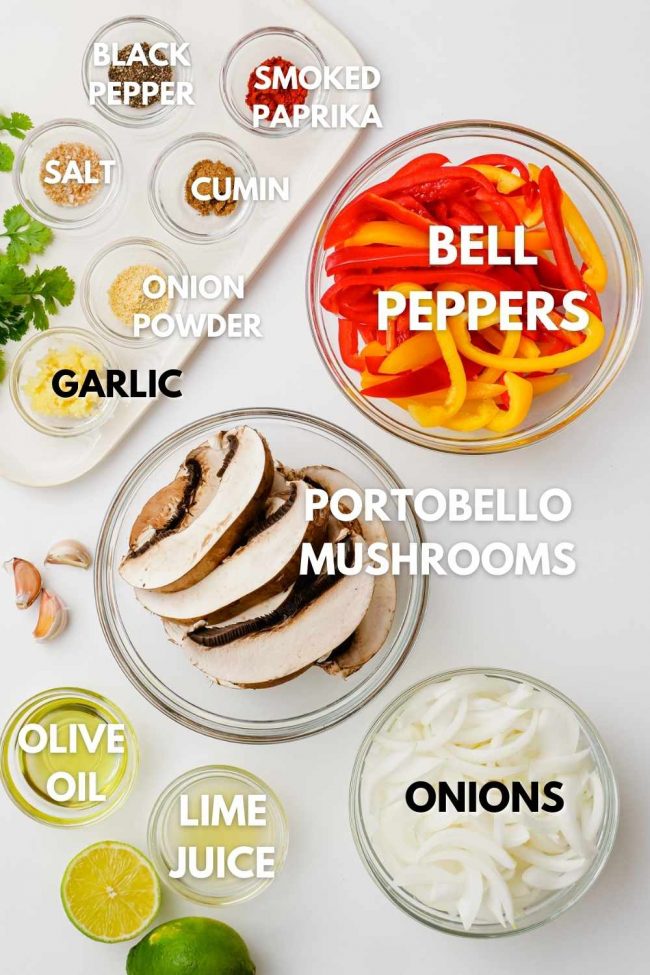 There's a reason why I haven't posted any gluten-free or paleo tortillas. Tortillas are one of my favorite things and very difficult to get perfect.
I've been making gluten-free, usually, paleo, tortillas a few times a month for maybe six years and still haven't found or come up with a recipe worth sharing.
If you don't want to go to too much effort, just use lettuce.
If you're not gluten-free, be sure to try these Vegan Tortillas, which is what you see in the photos. They use all-purpose flour. Sorry to most of my readers who don't use that! I really am.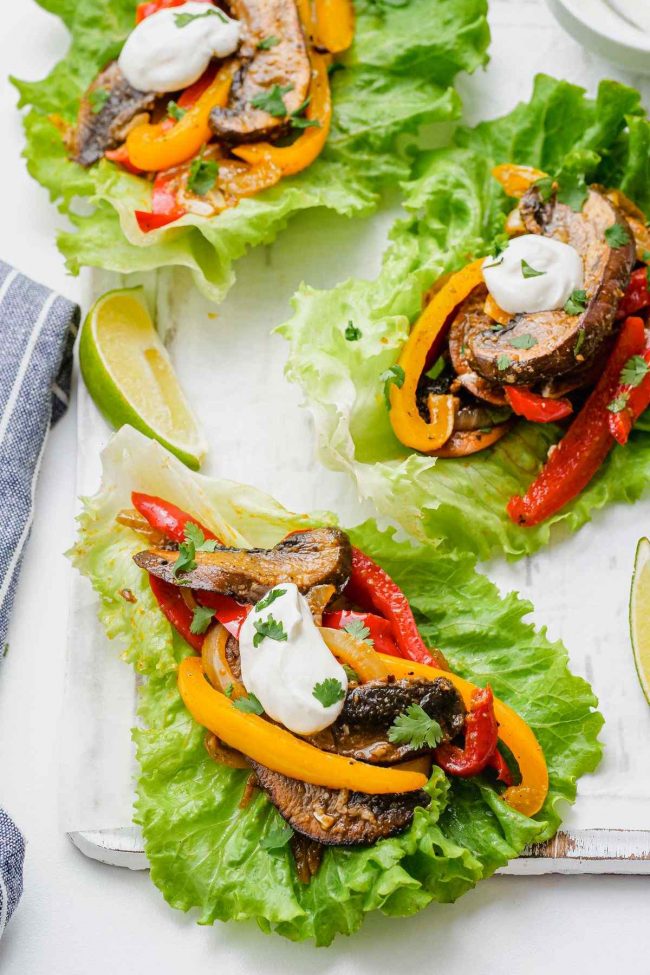 The pan
I really recommend using a 12″ cast-iron skillet for these fajitas. You need one that large to fit all the vegetables.
You can, of course, use a smaller one but you'll have to fry them up in several batches. Even with a 12″ pan, I did two batches to ensure that none of the pieces were overlapping so that they could get nicely browned.
Why use a cast-iron skillet for fajitas?
If you have ever ordered fajitas at a restaurant, the best ones are always sizzling on a hot cast-iron platter. This is important because the cast-iron gets really hot and gives the vegetables that amazing char you expect from any good fajita.
Cast-iron skillets also help keep the veggies warm without them getting cold and soggy.
If you don't have a cast-iron skillet then, by all means, use what you have, but don't expect that same crispy sensation of a good hot sear that comes from a well-seasoned iron skillet.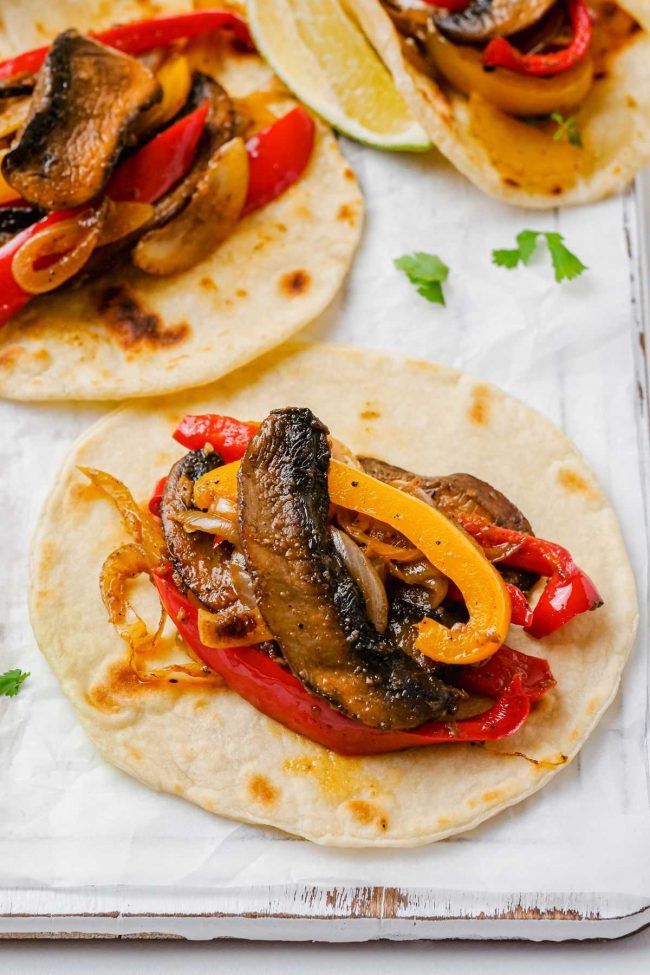 Want to de-veganize these?
I know that not all of you are vegan and would like to add some protein to this recipe, so here's my suggestion.
Make another 1/2 of the spice mix.
Mix that, 2 teaspoons of olive oil and a pound of chicken breast which has been cut into strips.
Cook the chicken separately from the veggies and then mix the cooked chicken into the veggies once they're done.
If you just want the chicken and don't want the veggies, I don't recommend using this recipe because a lot of flavor is added through the vegetables.
I also haven't tried steak but bet it'd be delicious!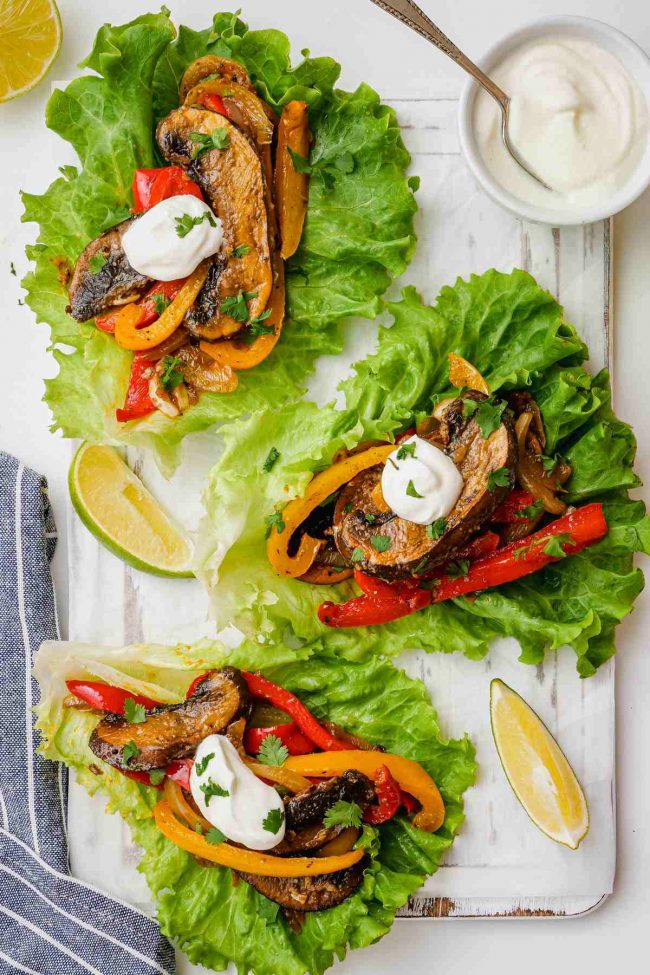 What to serve with these vegan fajitas
To top off the fajitas you can use sour cream (use vegan or paleo, if desired), cilantro, or lettuce. This guacamole recipe also looks great. But if you feel like you need a little extra on the side, you can try one of these:
Nutritional info
The following information is provided as a courtesy and is an estimate only. I'm not a nutritionist nor a dietician. This information comes from online calculators. Although I do everything to attempt to provide accurate nutritional information, these figures are only estimates. Be aware that varying factors such as product types or brands used can change nutritional information in any recipe.
Here's the label for the fajitas, using 1 teaspoon of salt, and for the recipe yielding 8 servings. Net carbs = 3.88 grams. Net carbs = total carbs (5.18) – fiber (1.25) – sugar alcohols (0.05).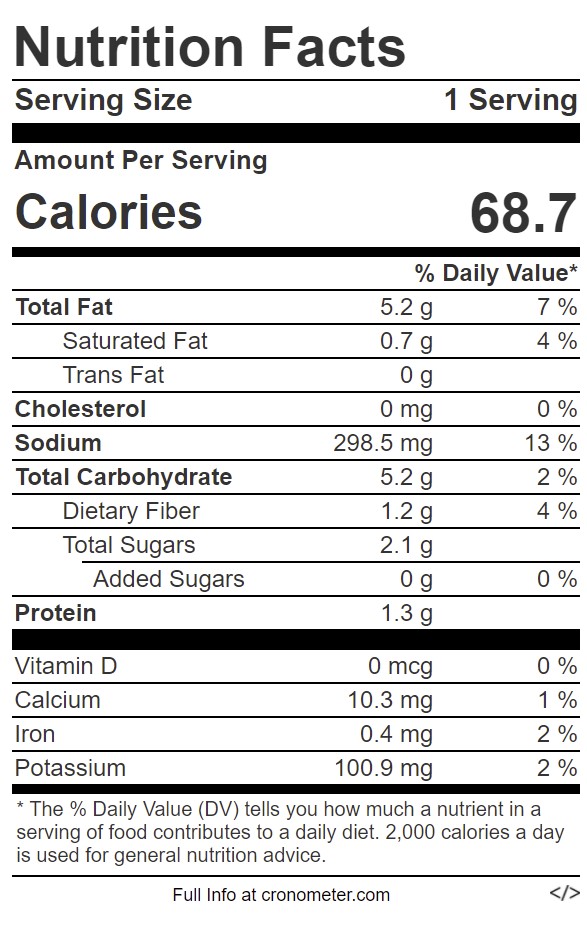 I hope you'll enjoy these delicious vegan fajitas! If you make this recipe, I'd love to see 📸 pictures of your creations on Instagram, Facebook and Twitter! Please hashtag them #texanerin so I can find them. :)
❀
Veggie Fajitas (vegan with paleo, keto options)
Prep Time:
Cook Time:
Ready in:
Yield:

6-8 meals
Ingredients
3/4 teaspoon smoked paprika
3/4 teaspoon onion powder
1/2 teaspoon black pepper
1/2 teaspoon cumin
3/4-1 teaspoon smoked salt or regular salt, divided
3 tablespoons (up to 4 1/2 tablespoons, if needed) olive oil, divided
2 portobello mushrooms
2 bell peppers1 (1 red and 1 yellow), sliced about 1/3" thick
1 large onion2, sliced into 1/3" slices
2 garlic cloves, minced (1 tablespoon or 11 grams of minced garlic)
2 tablespoons lime juice

For serving:

tortillas or lettuce
sour cream (use vegan or paleo, if desired)
cilantro
more lettuce
Directions
In a small bowl, mix together the smoked paprika, onion powder, black pepper, cumin and 1/2 teaspoon salt. Set aside.
Remove the stems from the mushrooms. You can remove the gills if you want to but it's not needed (I don't).
Cut the caps into 1/2" slices. You can also cut up the stems and use those.
Once all the vegetables are prepared, preheat a 12" cast-iron skillet over medium-high heat.
Once it's very hot, add 1.5 tablespoons of olive to the pan.
Add a mushroom slice. It should immediately start to sizzle. If it doesn't, wait a bit and try again. Once you know the pan is really hot enough, add the mushroom slices. They should be in 1 layer - it's okay if a few are stacked on top of the others. You might need to do this in 2 batches, depending on how big your mushrooms are. If doing them in 2 batches, add another 1.5 tablespoons of oil to the pan.
Cook the mushrooms for 2-4 minutes, without stirring, until browned on the bottom. If you think they're starting to burn, you can flip them and turn down the heat.
Flip over each mushroom slice and let them cook for another 2-4 minutes. They should have shrunk and be nicely browned. Sprinkle 1/4 teaspoon (if doing 2 batches, then use 1/8 teaspoon over each batch) salt on top, stir to coat the mushrooms, and place the mushrooms in a bowl.
Add another 1.5 tablespoons of olive oil to the hot pan.
Once it's very hot, add the bell pepper and onion. Sprinkle the spice mix over the top and stir well. Let sit about 2 minutes or until browned then stir again. Continue cooking, stirring occasionally, for another 4-6 minutes or until the vegetables are browned and tender to your liking. When it's almost done cooking, add the garlic. You don't want to add it too soon or it might burn. Turn the heat up or down as needed. There will be some bits stuck to the pan but you'll be able to deglaze that when you add the lime juice.
The bowl of mushrooms might have a bit of water in it. Drain off the water and add the mushrooms to the pan. Stir to combine them with the other vegetables.
Sprinkle the lime juice over the vegetables, stir to combine, and saute for another minute. Taste and add more salt, if needed. I used a wooden spatula to scrape up the browned bits that are stuck to the pan. They have a lot of flavor!
Place the fajitas in the tortilla (or lettuce) and add your toppings.
Refrigerate any cooled leftovers in an airtight container for up to 4 days.
Notes
After deseeding them, I had 275 grams of bell peppers
Mine was 210 grams whole and 195 grams once peeled