Did you know that cinnamon buns supposedly originate in Sweden? Kanelbullar are Swedish cinnamon buns, making these the forefathers of the fluffy, soft and usually pretty sweet American version.
It's difficult to compare these with American cinnamon buns, but kanelbullar aren't as fluffy and not nearly as sweet as your typical cinnamon bun. My kanelbullar dough is only lightly sweetened and most of the sweetness comes from the pearl sugar on top. Kanelbullar are also often filled with almond paste but I wanted to keep things simple here as there are already enough not so usual ingredients!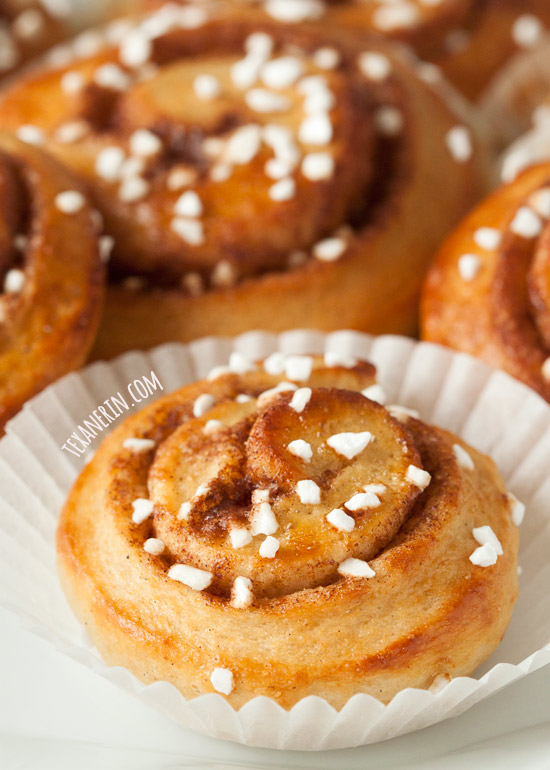 Another difference is that there's cardamom in the dough, which is what gives kanelbullar their distinctive taste. I bought cardamom just for this recipe and I'm so glad I did! While the buns were baking, it smelled like Sweden. Seriously. When you get off the plane or train in Sweden, there's sure to be a convenience store like 7-11 within only steps that sells newspapers, drinks, chips and of course… kanelbullar – the quintessential Swedish pastry!
So every time I smell something with cardamom baking, it brings me back to happy times. I was an exchange student in the 10th grade and as a junior in college and have been there almost every year since that first exchange year 14 years ago. I ♥ Sweden.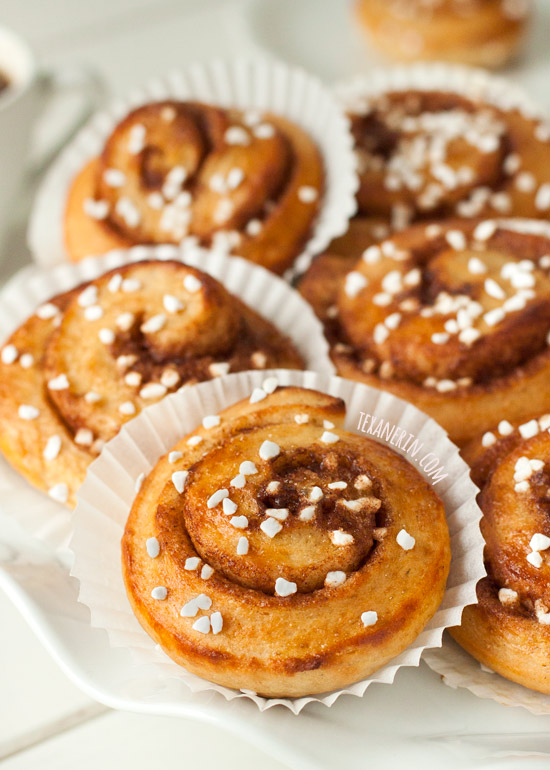 If you've never used cardamom before, don't be surprised if it smells like lemon liquid dish detergent! I find it really off-putting but once mixed with other ingredients, it's really dreamy.
I used Platinum Red Star Yeast, because as always, I love what it does to my bread recipes, especially the whole grain ones. Plus I really had to dig into my goodies-I-brought-with-me-from-the-US-stash for these kanelbullar. To guarantee that my results would be the same as yours, I used American yeast, vital wheat gluten, white whole wheat flour, potato flour, and all-purpose flour. If I'm going to use my super limited ingredients, I don't mess around with any other yeast!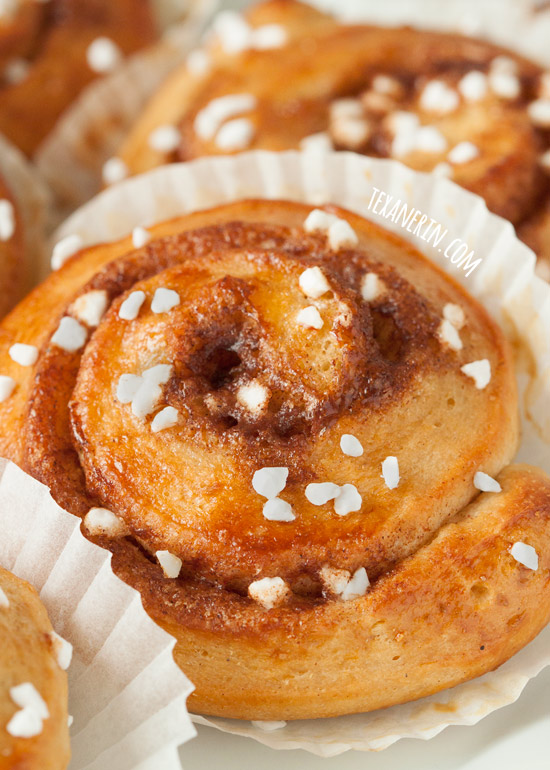 It took me quite a few tries (um, 7 ;)) to finally achieve what I wanted – a kanelbulle that's actually good on the second day! I've had a lot of homemade and commercially prepared kanelbullar in Sweden and they're just not very good on the second day. My previous attempts were great on the first day but were depressingly dry and crumbly on the second day. Even my vital wheat gluten + potato flour trick I used in this chocolate babka didn't work. But I played around with the recipe and while these aren't as good as fresh from the oven on the second day, they're definitely pretty good! And past the second day, I'd probably toss them in the microwave for a few seconds to soften them up.
If you like homemade whole grain bread baking, I definitely suggest buying some potato flour, which helps bread stay fresh and softer for longer. It's not the same as potato starch and you can find it on Amazon. I've seen vital wheat gluten at my local grocery store in Texas but if you can't find it, here's the Amazon link. It helps the chewiness and crumb. If you don't have either then you can use all-purpose, but don't expect these to be very good on the second day. A quick spin in the microwave should resolve that, though!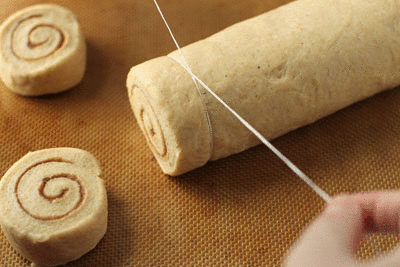 Like my cool method of cutting cinnamon buns? :) No matter what dough I used, I'd get ugly, smushed buns when using a knife. These came out perfect when using dental floss!
For the sugar, Swedes use pearl sugar but I don't have access to that so I used hagelzucker (hail sugar). You can also find it under the name of nib sugar. You can certainly just leave it out but for someone who is so used to having those bright white nibs of sugar on my kanelbullar, it's a must. ;) You also have to remember that most of the sweetness comes from the added sugar on top. The types of sugar I just mentioned don't melt at super high temperatures and I'm not so sure if the same is true of unrefined sugar. If you want to use that as a replacement, bake one test bun before putting unrefined on all of them.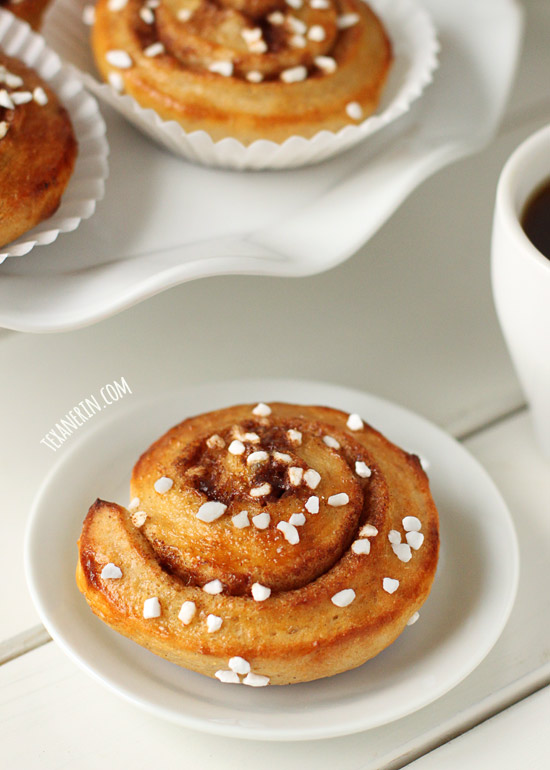 The white muffin liners are another typically Swedish thing. If you just toss them in a bag like I did after the buns have cooled, it'll keep the kanelbullar from making each other soggy but you can definitely skip on the muffin liners.
A gluten-free version of this exact recipe isn't possible (sorry!) but these gluten-free vegan cinnamon rolls look pretty awesome. Add some cardamom, toss some pearl sugar on top and you've got yourself some fluffy kanelbullar. :)
This is a classic yeasted dough recipe. You mix, let it rise, shape and let it rise again. If you're interested in refrigerating the dough to slow down the process, check out how to postpone baking. And if you have any issues with your dough or bread, this troubleshooting guide is super helpful. It's helped me more than once!
❀
Whole Wheat Kanelbullar (Swedish Cinnamon Buns)
Prep Time:
Cook Time:
Ready in:
Yield:

14-18 kanelbullar
Ingredients
Kanelbullar:

1/3 cup (75 grams) unsalted butter
1 cup + 1/2 tablespoon (260ml) milk
1 tablespoon Red Star Platinum yeast
1/3 cup (67 grams) granulated or unrefined sugar
1 1/4 teaspoons ground cardamom
1/2 teaspoon salt
1 1/4 cups (156 grams) white whole wheat flour1
2 tablespoons + 2 teaspoons potato flour
1 tablespoon vital wheat gluten
1 1/4 cups (156 grams) all-purpose flour, plus additional if needed

Filling:

3 tablespoons unsalted butter
2 tablespoons granulated sugar
2 teaspoons ground cinnamon

Garnish:

1 egg, lightly beaten
2 tablespoons pearl sugar
Directions
In a small saucepan over low heat, melt the butter. Stir in the milk and heat to between 120°F and 130°F (49-54°C).
While the milk is heating up, mix together the yeast, sugar, cardamom, salt, white whole wheat flour, potato flour and vital wheat gluten in the bowl of a stand mixer.
When the milk mixture has reached the correct temperature, pour it into the flour mixture and use a silicone spatula to stir it in until well combined.
Mix the dough on low and gradually add the 1 1/4 cups of all-purpose flour. Let the flour be fully incorporated before adding more flour. The dough should still be a little sticky and won't completely pull away from the sides of the bowl. Add more all-purpose flour, if necessary, one tablespoon at a time. Depending on the day, I've had to add up to 1/4 cup additional flour.
Knead on low for 10 minutes.
Form a ball with the dough and place in a lightly oiled mixing bowl and cover the bowl with plastic wrap or a thin kitchen towel.
Let the dough rise in a warm place until doubled, about one hour.
Meanwhile, prepare the filling by mixing together all the ingredients in a small bowl.
After the dough has doubled, punch the dough down, and knead a few times on a lightly floured clean surface.
Roll the dough into a 10"x12" rectangle, spread the filling evenly on top, and then carefully roll into a log.
Use a piece of unscented dental floss to cut 3/4" pieces. Try to keep the pieces the same size.
Place the kanelbullar in baking cups or on two parchment lined baking sheets.
Cover with a lightly greased piece of plastic wrap and let rise in a warm place until doubled, about 45 minutes.
The last 10 minutes of rising, preheat the oven to 450°F (232°C).
Once the kanelbullar have doubled in size, brush the egg over the buns and sprinkle the tops with pearl sugar.
Bake on the middle rack for 6–9 minutes or until evenly browned. Keep a close eye on them after the first 6 minutes – they burn quickly!
Remove from the oven and put in the second sheet of kanelbullar.
Let the kanelbullar cool completely on the pan.
Store in an airtight plastic bag for up to 3 days. Refrigerate or freeze after that.
Notes
If you don't have white whole wheat flour (or any of the other ingredients), I do not recommend making this recipe! These kanelbullar would come out harder and drier with regular whole wheat.
Be sure to follow Red Star Yeast on Facebook and Pinterest for some more delicious yeasted recipes!
I was compensated by Red Star Yeast for the development of this recipe but as always, my opinions are my own.
As an Amazon Associate, I earn from qualifying purchases. For more info, see my disclosure.