These moist, zingy and light blueberry lemon curd muffins are sure to brighten your day! Can be made 100% whole grain and dairy-free.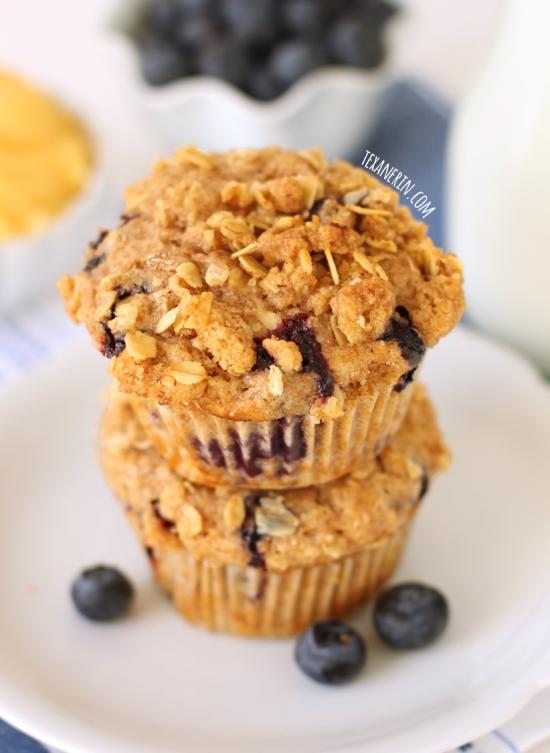 Now that we have Valentine's Day out of the way, I can go back to celebrating all things lemony!
I was in the mood to stuff things a few weeks ago. And because I had so much leftover lemon curd and there was an awesome sale on blueberries, how could I not go with blueberry lemon curd muffins? :)
So the question was how to stuff the muffins. I did some googling to see if more people piped lemon curd into muffins after baking or if they did it how I wanted to do it – which is by filling the muffin liners half-way with batter, dolloping a tablespoon of curd into the center, and then pouring in more batter. I couldn't really find anyone who did it this way and I can't understand why. It's so easy! And you don't need to get out a piping bag. I'll do anything to avoid doing more cleaning!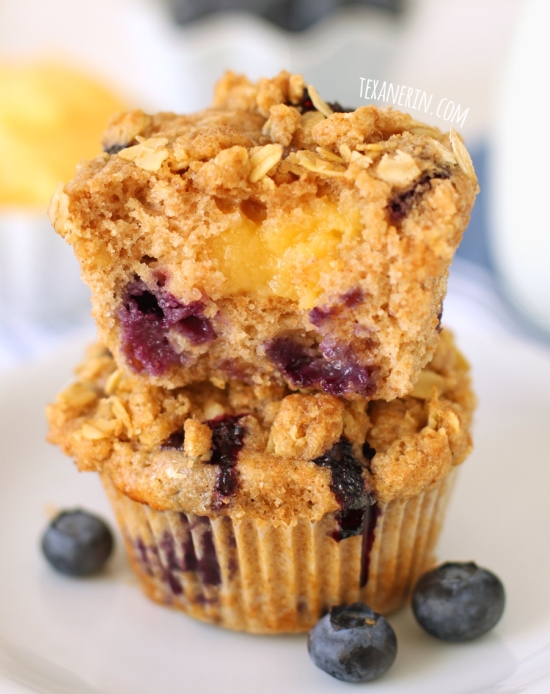 I've made these blueberry lemon curd muffins with white whole wheat, whole spelt and regular whole wheat flour. The muffins came out great with each one, but if you don't like the whole grain taste, definitely go with white whole wheat! Or whole spelt. There's quite a bit of lemon zest in there which covers up the whole grain taste, but not completely with regular whole wheat.
I really didn't care about the calories when I was making these muffins but if you do care, you'll probably want to avoid the streusel. And lemon curd. But that's all the fun, isn't it? ;) I vote for eating one of these with some fruit on the side, rather than eating 4 muffins and nothing else. Which is usually how I roll.
Blueberry muffins are great on their own but the lemon curd is a such a fun surprise. You can't tell that these are lemon curd blueberry muffins just by looking at them.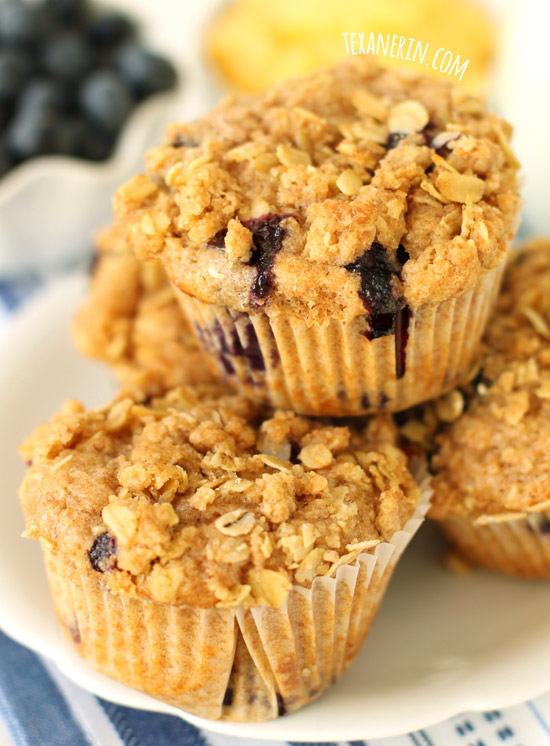 If lemon isn't your thing (I'm really sorry because that's all I'm really interested in right now!) you can make these lime curd muffins! Or even orange curd muffins. Replace the lemon zest, extract and curd with lime or orange zest, extract and curd. I bet an orange curd version with strawberry chunks instead of blueberries would be amazing. :)
Or to skip the citrus all together, try these old fashioned blueberry muffins!
These blueberry muffins stay soft for days and they're also vegan if you skip the lemon curd and streusel. If you need a dairy-free alternative, make sure to use my homemade honey sweetened and dairy-free lemon curd.
These muffins would be amazing for Mother's Day, brunch or tea! The same is true of these lovely-looking lavender cookies.
I hope you'll enjoy these muffins! If you give them a try, I'd love to hear how you liked them in the comments below. Thanks!
❀
Blueberry Lemon Curd Muffins (100% whole grain, dairy-free options)
Prep Time:
Cook Time:
Ready in:
Yield:

16 muffins
Ingredients
For the muffins:

2 1/4 cups (281 grams) white whole wheat, whole spelt flour, whole wheat flour or all-purpose flour
3/4 cup (176 grams) unrefined sugar
3/4 teaspoon salt
1 teaspoon baking powder
1/2 teaspoon baking soda
1 tablespoon lemon zest
1 1/4 cup (3 dl) blueberries, fresh or frozen
1 teaspoon lemon extract
1/3 cup canola oil or light olive oil
1 1/2 cups (354ml) buttermilk1
1 cup lemon curd (if not making mine, make sure yours is dairy-free, if necessary)

For the streusel:

1/2 cup (100 grams) unrefined sugar
1/2 cup (50 grams) rolled oats
1/3 cup + 1 tablespoon (50 grams) white whole wheat, whole spelt flour, whole wheat flour or all-purpose flour
4 tablespoons (56 grams) cold unsalted butter (or 3 1/2 tablespoons (49 grams) coconut oil for a dairy-free version)
Directions
First, prepare the streusel. Mix all the ingredients together until it resembles coarse crumbs. You can use a pastry cutter but I prefer to use my fingers.
Preheat the oven to 400°F (205°C) and line 2 muffin pans with 16 muffin liners.
In a large bowl, mix together all the dry ingredients, including the blueberries.
In a medium bowl, mix together the lemon extract, oil, and buttermilk.
Add the wet mix to the dry mix and stir just until combined.
Fill the muffin liners halfway, dollop 1 tablespoon of lemon curd on top, and then fill with more batter, almost all the way to the top.
Sprinkle the streusel over the tops of the muffins.
Bake the muffins for 18 - 20 minutes or until a toothpick comes out clean. Make sure not to insert the toothpick in the very center where the curd is! It'll come out wet, if you do.
Let the muffins cool for 5 minutes in the pan and then remove to a wire rack to cool completely.
Cover and refrigerate in an airtight container for up to 5 days.
Notes
To make dairy-free and vegan buttermilk: add 1 tablespoon of lemon juice or apple cider vinegar to a 1 cup measuring cup. Fill with milk of choice. Add another 1 1/2 teaspoons of lemon juice or apple cider vinegar to a 1/2 cup measuring cup. Fill with milk of choice. There's your 1 1/2 cups of dairy-free and vegan buttermilk!
Muffin recipe adapted from 100% Whole Wheat Blueberry Muffins from King Arthur Flour