Quick and easy to put together, this healthier 100% whole grain cookie tart has a creamy Greek yogurt, white chocolate and cream cheese filling! Can also be made with all-purpose flour.
When I arrived back home a week ago, Mr. T had made this awesome tasting but very high in calorie fruit pizza for me. And we decided that I had to recreate it and make it a little bit healthier!
The filling in this one is made out of Greek yogurt, cream cheese and white chocolate. It's super quick and easy to whip up and a breeze to decorate, which is always a score for someone like myself who has no decorating skills. Just toss on some blueberries and strawberries and you've got a great little dessert for July 4th.
I made two versions of this Greek yogurt cookie tart. One with a more traditional crust with very little sugar and some coconut oil. I used all whole wheat pastry flour, which I had brought back with me, and it was a huge failure.
And then I tried again but with a cookie crust. And with butter and a lot more sugar. I guess it shouldn't be a surprise that this version was SO much better.
The crust isn't too hard and not too soft. I'd say it's kind of like a Lofthouse cookie. While I really loved the tart Mr. T made for me, I found myself leaving the crust behind.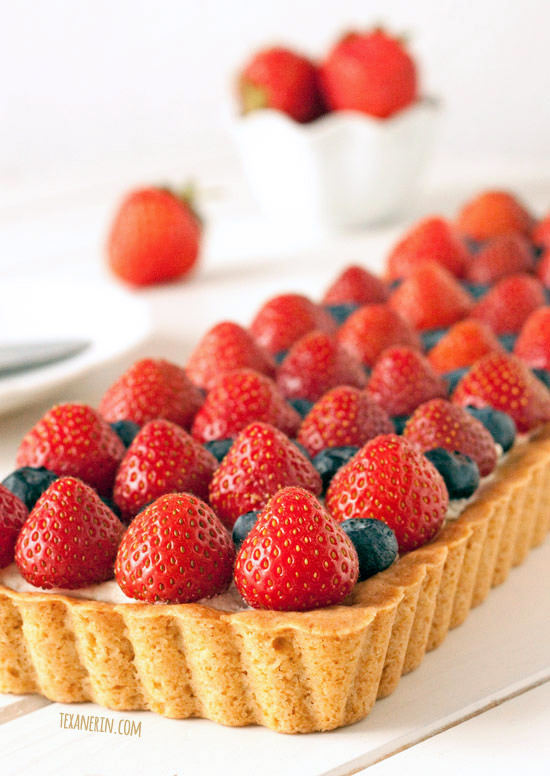 It just wasn't soft enough for my liking. With this version, the crust is just as good as the topping! No wasted calories here.
This time I went with half white whole wheat and half whole wheat pastry flour. I don't recommend using regular whole wheat flour for your cookie tart crust unless you want your cookie base to taste healthy.
Can't eat wheat? Try this gluten-free fruit tart!
I was worried that there might still be a slight whole wheat taste, even with my combination of the two flours, so I used some lemon extract and zest which resulted in a crust that's light and lemony. No whole wheat taste here!
Now we need to talk about white chocolate. While I was living in the US, I wasn't really into baking like I am now. And I never used white chocolate, just because I didn't come across any white chocolate recipes I really wanted to try.
Then I moved to Germany and started experimenting with white chocolate. I buy the cheapest brand and even that's amazing. I always shrugged and admittedly rolled my eyes at the warnings on recipes from other bloggers. "Make sure to use a high quality white chocolate!"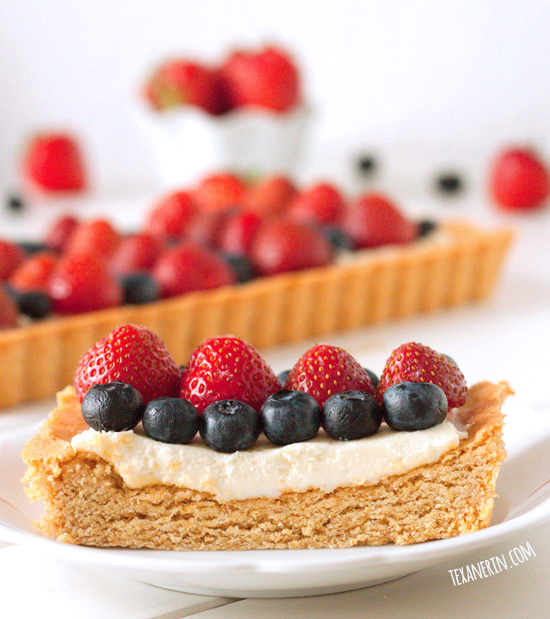 And so many people wrote comments on my blog about how they didn't like white chocolate. I just couldn't understand it. To me, it was like saying you don't like puppies or little ducklings or something. It just couldn't be.
But now I understand.
White chocolate in the US? That stuff was pretty gross. It tasted like plastic and chemicals. My mother had a few different brands in her pantry and I didn't like any of 'em.
From what I've read and heard, Ghirardelli is the best. So please… do not make this recipe with the cheap stuff! (unless you live in Europe, where the cheap stuff is good :))
And one final thing to note is that your filling will be thicker than what you see here. I might have eaten about… a third of it waiting for my cookie crust to cool. It was just too good. So I apologize for the unrepresentative picture! Just imagine the filling being as thick as the crust.
Prefer a grain-free version? Check out this grain-free blueberry tart from My Whole Food Life!
❀
Greek Yogurt Berry Cookie Tart
Prep Time:
Cook Time:
Ready in:
Yield:

12 servings
Ingredients
For the cookie crust:

5 tablespoons (70 grams) butter
1/2 cup + 2 tablespoons (125 grams) unrefined or white sugar
1 egg, room temperature
2 teaspoons lemon zest
1 1/2 teaspoons lemon extract
3/4 cup (93 grams) white whole wheat flour (or all-purpose flour)
3/4 cup (93 grams) whole wheat pastry flour (or all-purpose flour)
1/4 tsp salt
1/4 tsp baking soda

For the filling:

3/4 cup (110 grams) white chocolate
8 ounces (225 grams) cream cheese
1/2 cup Greek yogurt

To decorate:

strawberries and blueberries
Directions
For the cookie crust:

Preheat the oven to 350 degrees F (176 degrees C).
Beat together the butter and sugar until fluffy.
Add the egg, lemon zest and lemon extract and mix until well combined.
Add the remaining ingredients (white whole wheat, flour through baking soda) and mix for a minute or until well combined.
Press into the bottom and all the way up the sides of a 14"x5" tart pan and bake for 15 minutes.
Let the tart cool completely before filling.

For the filling:

In a large microwave safe bowl, melt the white chocolate on half power in 20 second increments, stirring after each 20 seconds, until melted.
Add the cream cheese and Greek yogurt and with a hand mixer, beat together until well combined. Spread this over the cooled cookie crust.
Cover and store in the refrigerator until serving.
Before serving, add the strawberries and blueberries or any other fruit you'd like.
Notes
If you add the berries the night before, I'm afraid that they'll bleed and look rumply in the morning. So please decorate just before serving!
Only use a high quality white chocolate. If it's not good enough to eat on its own, it's probably not good enough to use in this tart.
As an Amazon Associate, I earn from qualifying purchases. For more info, see my disclosure.