I am SO excited to share this recipe! It's the first of my "healthier" sweets. It still uses honey but I can live with that. And compared to the loads of white sugar and the sugar in chocolate that you normally find in fudge, it sounds healthy to me.
It doesn't taste exactly like traditional fudge, the texture isn't the same and obviously it's not as sweet, but if I had to choose between the two, I would pick this. I just feel better eating it. And I love the taste and texture although it's not the same as the really unhealthy stuff. So instead of making some horribly fat and sugar filled goodies for Valentine's Day (although they're incredibly delicious!) I suggest making this.
If you also dislike coconut – don't worry. It doesn't taste like coconut! And this marks the first time that I've used natural peanut butter in something and actually liked it. I have to admit that I prefer commercial peanut butter, but I don't think you could tell the difference with this recipe. It's all melted together and that results in a subtle peanut butter taste.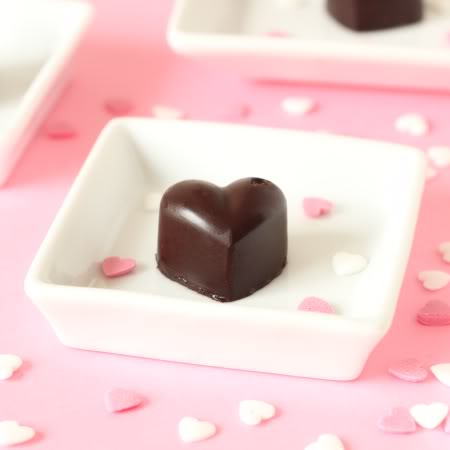 I tried creating a chocolate peanut butter icing but it didn't really turn out very icing like. So it's fudge! I got a silicone heart mold for Christmas and poured it into that. They get a little melty if you leave them out of the fridge for too long.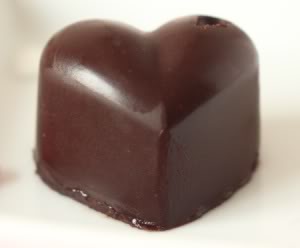 But I like them melty!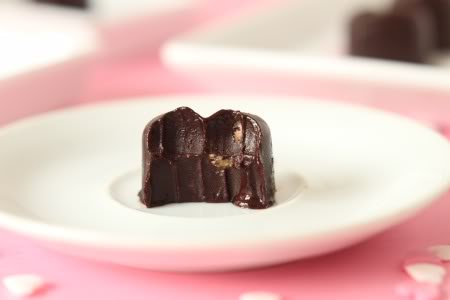 It's oozing! :)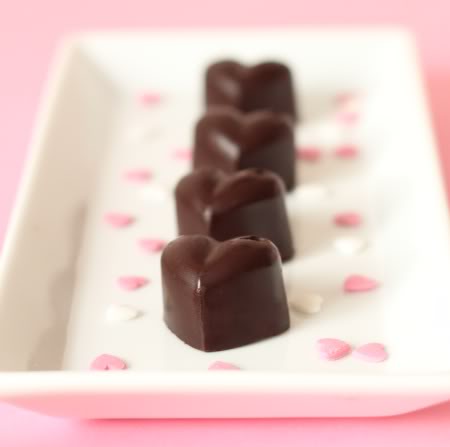 I'm so enthusiastic about this recipe that when editing, I removed four uses of "Yay!"
Ingredients:
6 tablespoons (84 grams) refined coconut oil
1/2 cup (~128 grams) natural peanut butter (recipe here)
1/2 cup + 2 tablespoons (~50 grams) Dutch-process cocoa powder*
1/4 cup (80 grams) honey
* In Germany, we only have
Dutch-process cocoa
so I can't say how this would work with normal Hershey's cocoa powder. Hershey's Special Dark Cocoa would work.
Directions:
Melt the coconut oil, natural peanut butter and cocoa powder together in a pot or pan over low heat. When it's completely melted and smooth, take it off the heat and add the honey and stir until well combined. Immediately pour into a silicone mold or into mini muffin tins which have been lined with mini muffin liners. Place in the refrigerator until set. Mine took a few hours. If you're in a hurry, stick them in the freezer. Store in the refrigerator but if you'd like them gooier, take them out about an hour or even longer before serving. At that point, like you see in the pictures, you might even need a fork to eat them. They're just too messy.
Yields: About 30 candies
German bakers: refined coconut oil is called Kokosfett and can be found everywhere except the discounters, although I did find it at Netto Marken Discount. It's next to the butter and in my area it costs about .89 per 250 gram block.