This matcha bubble tea is made with traditional black or maple-sweetened tapioca pearls and creamy matcha milk tea to boost your day. It's also naturally gluten-free, vegan and even paleo-friendly if you buy the right tapioca pearls.
This tea is also known as tapioca milk tea, matcha milk tea, and boba tea. Whatever you call it, it's a great drink that is super fun for the whole family.
The chewy tapioca pearls are made with tapioca flour, a starch from the cassava root. It's naturally gluten-free and vegan, usually flavorless unless sweetened, giving the drink a special chewy globulous enhancement.
My recipe calls for unsweetened tapioca pearls. You follow the package instructions to prepare them, and once they're ready, you sweeten them with maple syrup.
If your package doesn't have directions (they usually do), this post tells you everything you need to know about how to prepare boba and it has tons of tips.
You can also, of course, buy instant boba. That's already sweetened, often with brown sugar, but also often with a bunch of funky ingredients. It is convenient, though!
And the matcha portion is super easy to make by vigorously shaking the ingredients in a cocktail shaker or jar.
Then you just add the boba to the matcha, and your drink is ready.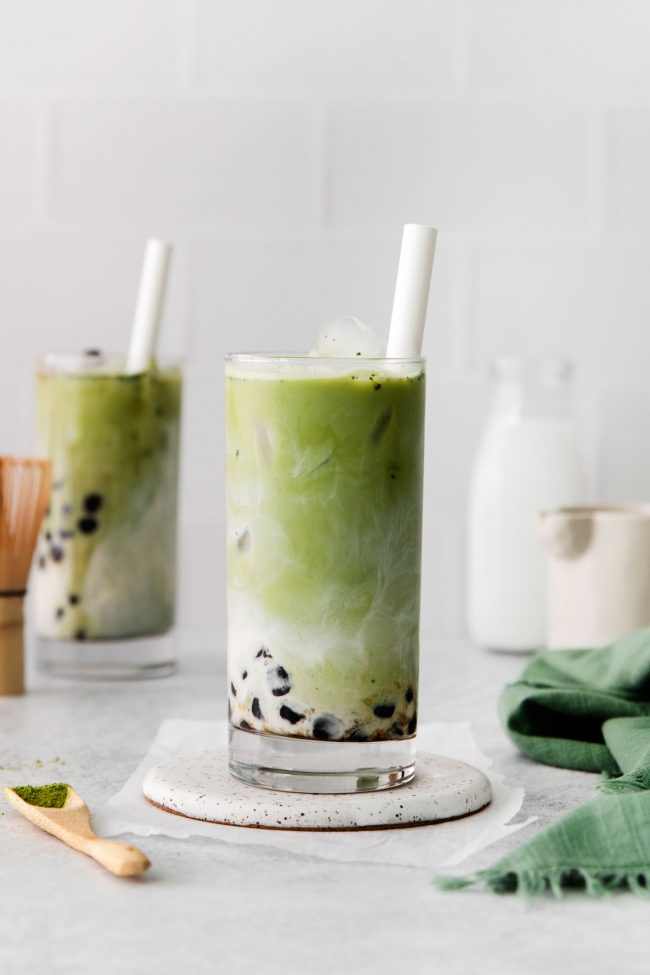 Tips
You might want to transfer the tea to something that pours well. I first poured straight from a jar and got it all over, and I couldn't make a nice layer with that method. The next time I transferred it to a container with a spout and achieved better layers.


When it comes to matcha, quality varies, as does the price. If you're trying it for the first time, buy a small amount of premium matcha for a reasonable price. Then, if you love it, you can upgrade or buy it in bulk. The good news is you can bake with it, too.


If you buy sweetened instant tapioca pearls, you don't need to add the maple syrup as they're already sweet enough.


You can make the tea sweeter by adding more maple syrup to taste, if needed.


Give the pearls at least 5 minutes to absorb the sweetener. Then you can assemble the drink.


It's best to enjoy the boba pearls soon after making them, as they will harden within a few hours.


If you really want to go all out and make tapioca (boba) balls from scratch, then check out this post.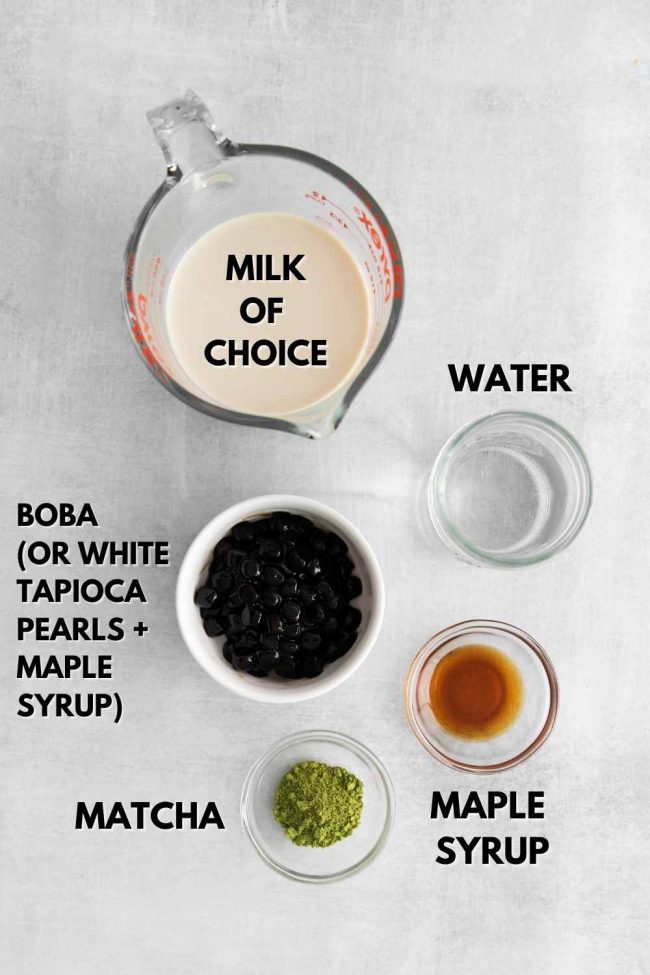 What is matcha?
Matcha is a bright green Japanese tea made from pulverized tea leaves. It's shade-grown, which adds to its robust texture and hearty, earthy flavor.
Matcha comes in two grades: ceremonial and culinary, of which there are 5 subtypes.
Each grade comes with a different price and application. Ceremonial grade is the highest quality of matcha and is meant to be enjoyed mixed with hot water – not to be used in drinks like this with multiple ingredients.
And it's great in baked goods, like my Matcha Brownies, Matcha Cake and Matcha Cheesecake. Some people say to use culinary matcha for baking, but I think the resulting color is awful. And I don't like the bitter taste you get with culinary matcha.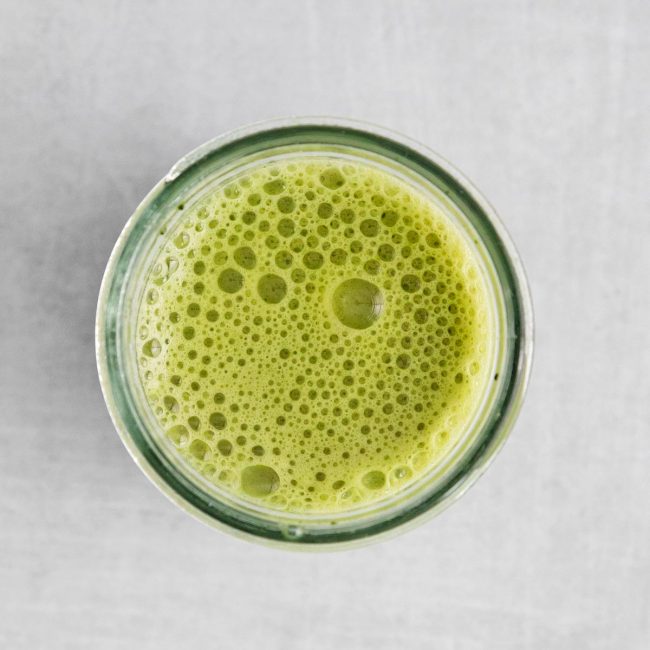 I did just have a commenter on my matcha cake recipe say that she actually likes the bitter taste of culinary grade. So if you like bitter, you might prefer culinary grade. She also said it was "the best recipe ever," so if you needed some motivation to make it, there you go. ;)
Premium culinary grade is the highest quality culinary grade option. The leaves are harvested from the top of the plant and have a more delicate flavor than the other types of culinary grade matcha. It's consumed as a daily tea and has a fresh flavor.
This is the type I'd recommend for this and any other drink.
I go into more detail, highlighting the differences in the color using different types of matcha in this Vegan Matcha Cookies post.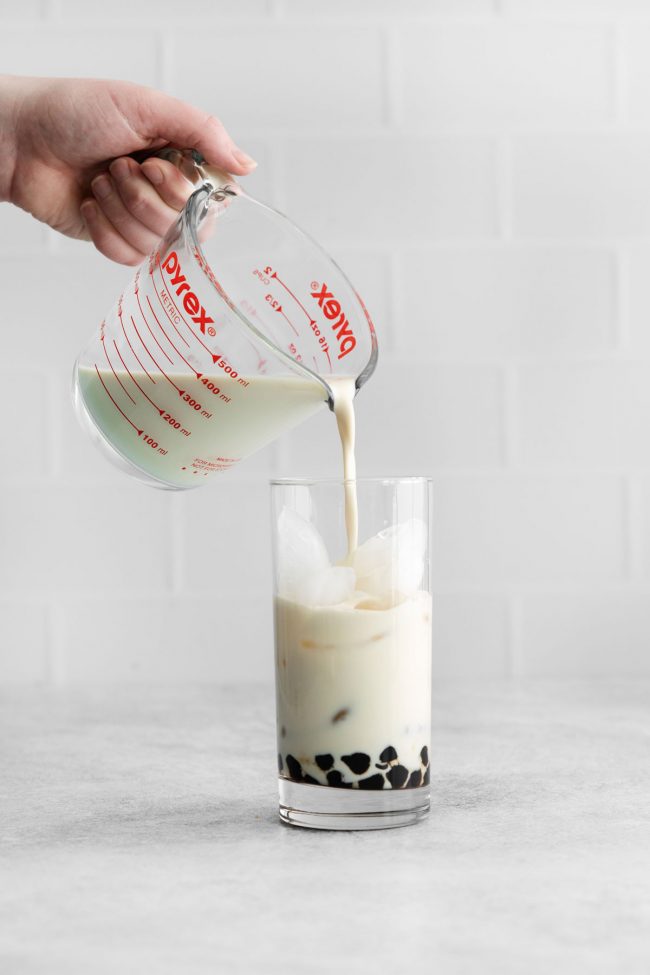 Costco carries a large bag of matcha labeled vegan, gluten-free and non-GMO. You get 225 servings from 1 bag! If you haven't tried matcha before, you might want to go for a smaller quantity to ensure you like its particular taste.
But buying in bulk is a good deal if you're a matcha lover. It should keep well if you store it in an airtight container out of sunlight. Just make sure you use a dry scoop or spoon when dishing it out so you don't add moisture to the tea powder and have it spoil.
You'll know if matcha has gone bad as it will lose its vibrant green color and flavor.
What are tapioca pearls?
A tapioca pearl is an edible, translucent ball of chewy starch extracted from the cassava root. It's also known as boba when added to tea.
The color and texture can vary by adding honey or maple syrup. When soaked in something sweet, they become sweet and chewy and add to the enjoyment of this tea.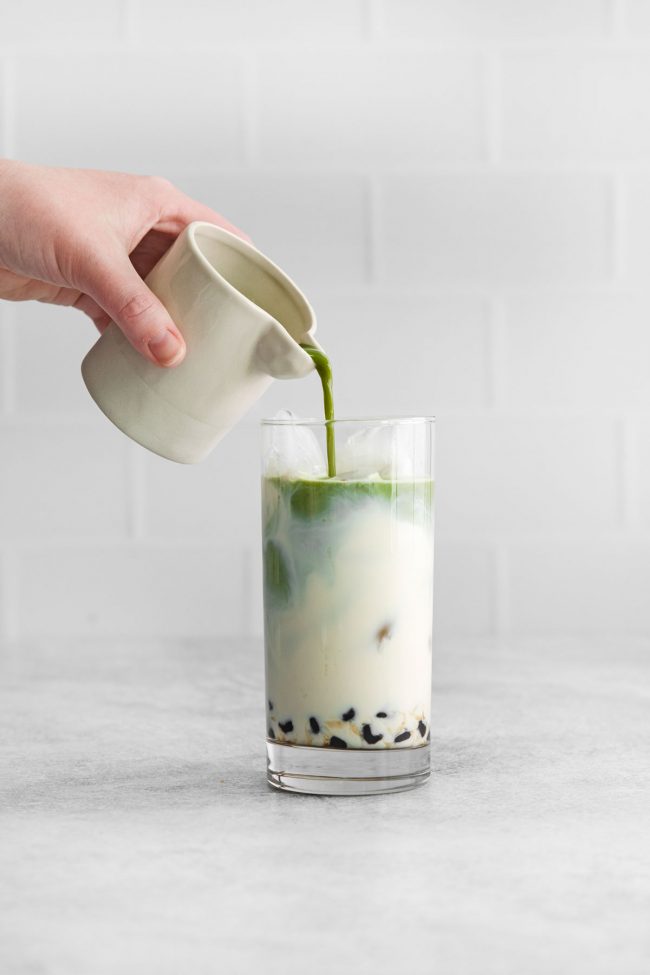 What kind of milk should I use?
Use whatever you like. I used cashew milk because I like the flavor and creaminess it adds, but matcha with almond milk is also good. Oat milk will be less sweet but still nice in this drink, especially if you love the taste of matcha.
Coconut milk would also work nicely here by cutting the bitterness of the matcha and adding a bit more depth and creaminess.
If you don't need plant-based milk, add regular or condensed milk for even more sweetness.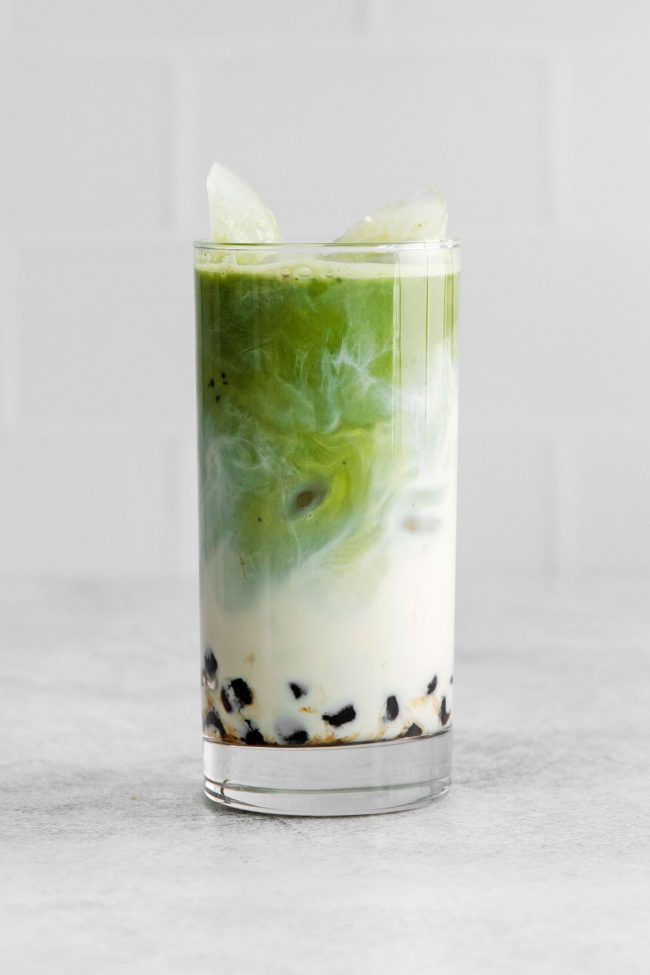 Is this drink healthy?
If you make your own maple-sweetened boba, I think it's relatively okay. With matcha, you're actually drinking pulverized tea leaves with potent nutrients you can't get with steeped green tea. So that part of the drink is definitely healthy (source).
It's rich in antioxidants that help to protect against heart disease and cancer. It has amino acids and loads of vitamins and minerals like vitamin C, selenium, magnesium, fiber and chromium, all of which have amazing benefits.
Moreover, it boosts metabolism and helps curb cravings.
Matcha has been shown to reduce cortisol, a stress hormone that drives appetite and increases belly fat, so drinking matcha can lower inflammation and reduce impulsive eating.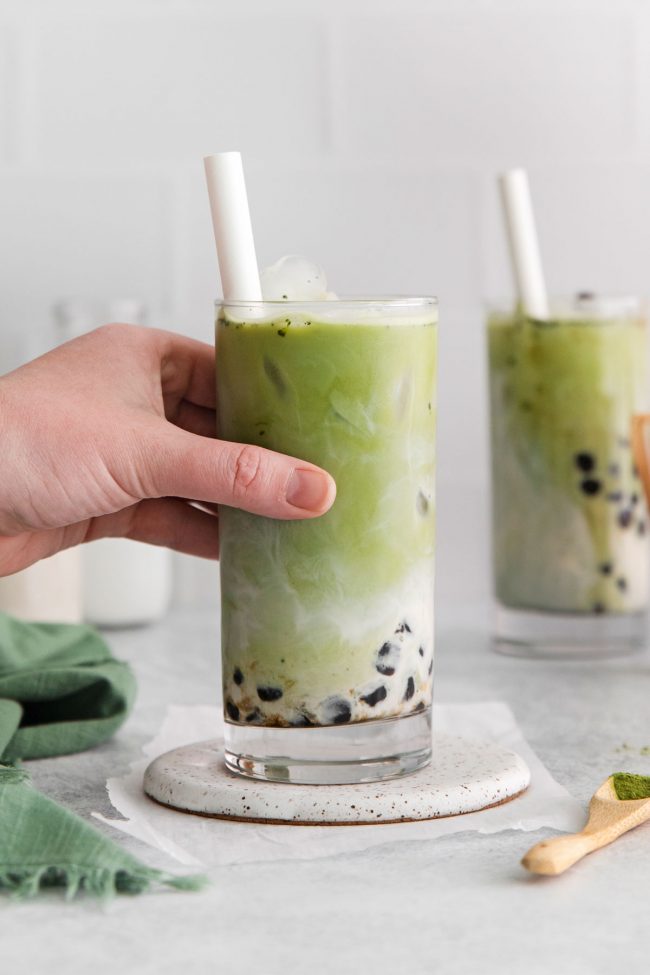 The polyphenols in matcha manage blood pressure to promote good circulation and can help reduce and control blood sugar levels.
Theanine in matcha improves memory, concentration, and mental function and reduces anxiety and stress.
It does have caffeine, about the same as a brewed cup of coffee. But those devoted to matcha say there is a difference in that matcha is calming while giving you a steady energy source without the abrupt crash.
So you can stay mentally alert yet calmly relaxed.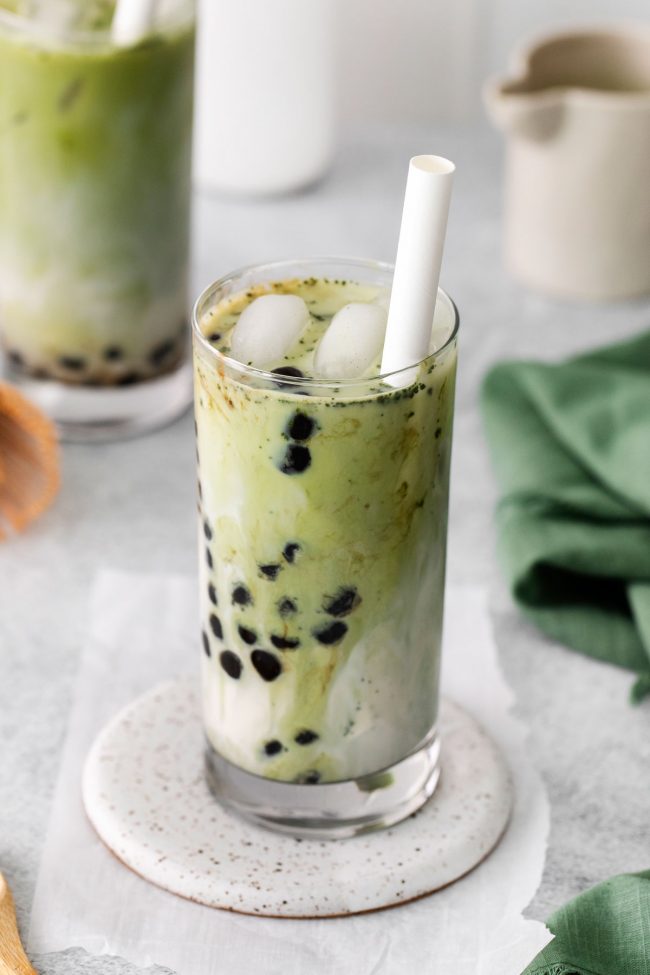 Paleo and vegan?
You need to use an appropriate milk. I used unsweetened cashew milk.
A few might say that the tapioca pearls add no nutritional value and thus wouldn't be considered paleo. Some say that they are paleo because tapioca pearls, just like tapioca starch, which is widely used in paleo baking, don't contain any grains, dairy, sugar, etc.
So it's really up to you. BUT! You need to buy the white kind of tapioca pearls, and not the black kind. They're naturally white and to make that color, black food coloring and/or brown sugar and/or caramel coloring is used. Definitely not paleo.
The tapioca pearls only add a little chew, so you can leave them out altogether. They just add a hint more sweetness and fun to the drink.
Tapioca is also vegan and the processing methods are animal-free. Still, it's best to check the packaging.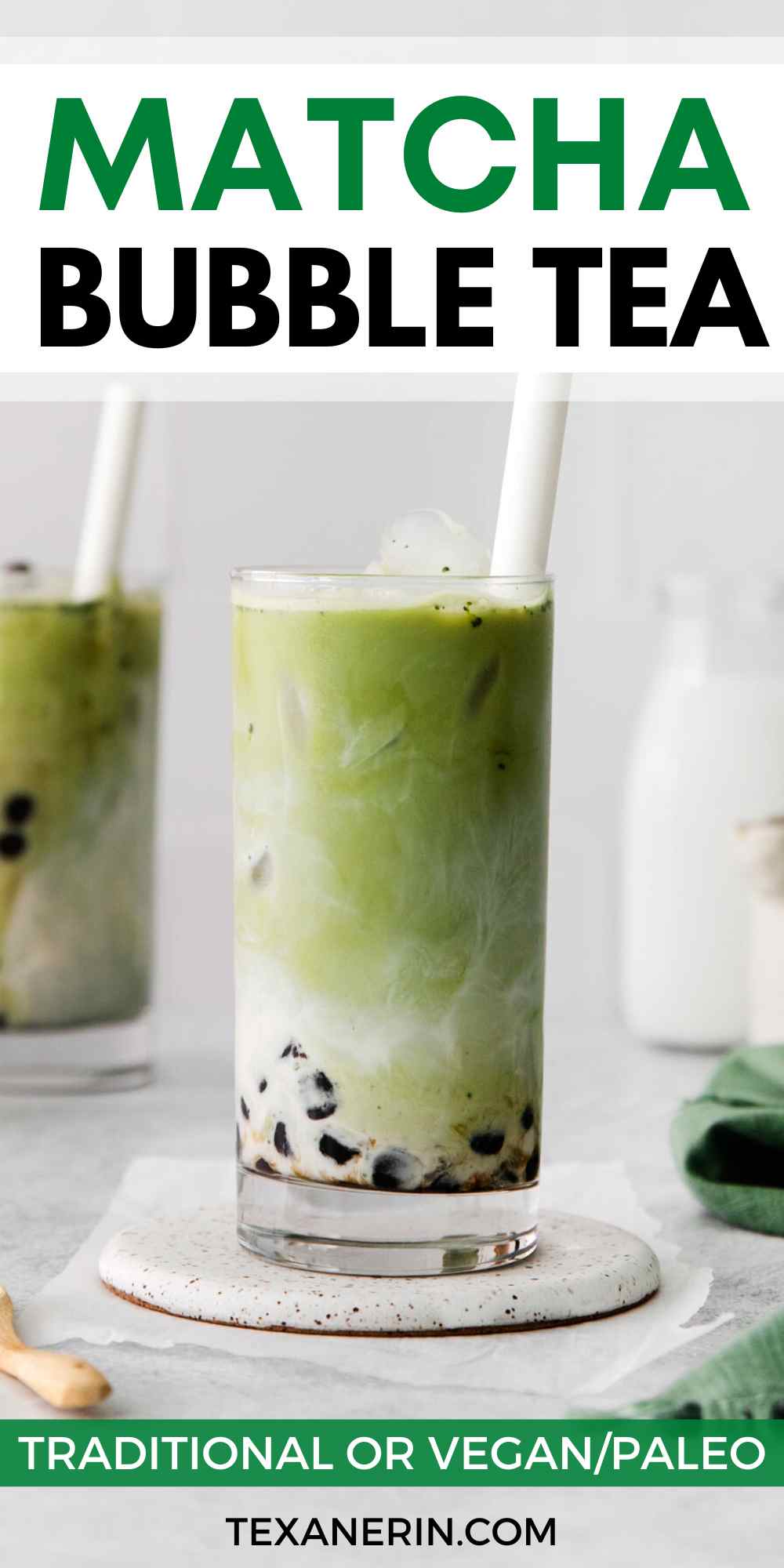 More healthy drink recipes
If you try this matcha bubble tea, I'd love to hear what you think! Please comment below and let us know your thoughts! Thanks. :)
❀
Matcha Bubble Tea
Prep Time:
Cook Time:
Ready in:
Yield:

2
Note that the cook time will vary depending on your tapioca pearl package instructions and will be around 1 minute if using instant boba.
Ingredients
For the tea:

2/3 cup (160ml) cold water
2 teaspoons matcha
2 teaspoons maple syrup, plus more to taste

For the boba:

1/2 cup (80 grams) white unsweetened tapioca pearls or 1/2 cup pre-sweetened boba
2 tablespoons maple syrup (if using white unsweetened tapioca pearls)

For assembly:

2 cups (440 grams) ice
1 1/2 cups (355ml) milk of choice (I used cashew)
Directions
Make the tea:

Pour the cold water, matcha and maple syrup into a cocktail shaker or a jar with a lid on it. Shake for 10-15 seconds until totally combined. Add more maple syrup, if desired.

Make the boba:

Cook the tapioca pearls according to package directions (this is assuming you use the plain unsweetened tapioca pearls and not the already sweetened instant kind). If your package doesn't have directions, this post tells you everything you need to know).
After draining, pour into a bowl and stir the maple into the pearls (only if you used the plain tapioca and not pre-sweetened). Let them absorb the maple syrup for 5 minutes.

Assembly:

Divide the pearls between 2 glasses.
Pour the ice on top, and then the milk.
You might want to transfer the tea to something that pours well if you want a neat layer. Very slowly and gently pour the tea over the top. Serve immediately as the pearls harden after about 4-6 hours of being placed in a cold drink.
Notes
If you're paleo, make sure to use unsweetened cashew or almond milk without any additives/preservatives/etc., and to use the white unsweetened tapioca pearls.
If you're vegan, use plant-based milk and make sure your boba is vegan.