These chocolate covered pecans are single-dipped, bite-sized snacks that are perfect treats to have around the holidays or any other day. They're easy to prepare and make excellent gifts, too. With paleo, keto and vegan options.
I've posted a lot of chocolate covered nut recipes lately that were actually supposed to be spread out over a year. I've been waiting for my videographer to deliver some more Christmas dessert recipes, but it looks like it isn't happening.
So here are some more nuts. Sorry, everyone!
I wanted to post something today so I could wish everyone happy holidays and a great start to 2023!
I made a triple batch of these pecans the other day, along with chocolate-drizzled macaroons, vegan flapjacks, and vegan peanut butter cookies to give out as gifts this year.
Perhaps some unusual choices, but one of my son's teacher is vegan, so I wanted to make everything vegan.
It took a while to dip all those pecans, but they were so pretty, making it worth the extra time. If you need a last-minute gift, these pecans would be great!
You dip them individually, so it can take a little longer to dip than these Pecan Clusters, but I think the result is quite pretty.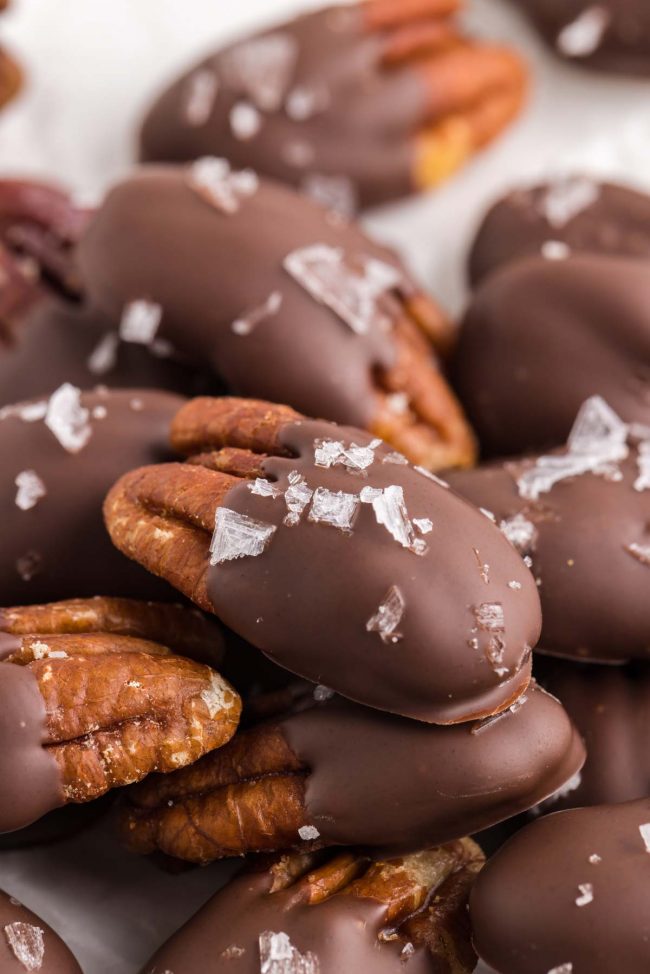 Ingredients
Unsalted butter or coconut oil — soaks into the pecans as they toast and brings out more flavor.


Raw pecans — you can substitute any nut you like.


Salt — and chocolate are a great combination, giving these snacks a little boost in flavor.


Chocolate — Semi-swee, milk, or dark chocolate all work in this recipe. See below for more variations.


Coconut oil — makes the chocolate a bit softer.


Flaky sea salt — adds sparkle and brings out the flavor.
For full instructions, scroll to the recipe box at the bottom of the page.
Equipment
There's no need for any fancy tools to make these!
You can use a saucepan on a stove to melt the chocolate or use a double boiler which might take a little longer. You can make one with a saucepan and a bowl if you don't have a double boiler. A microwave also works. See below on how to melt chocolate.


Tongs are needed to dip the toasted pecans into the chocolate. When I make these for my family, I just use my freshly cleaned hands.


You can use a silicone mat, parchment paper or wax paper for easy clean up.


If you're in a hurry for the chocolate to set, you'll need a baking sheet or cookie tray that will fit inside the fridge or freezer. But, if you have time, you can let them sit at room temperature to harden.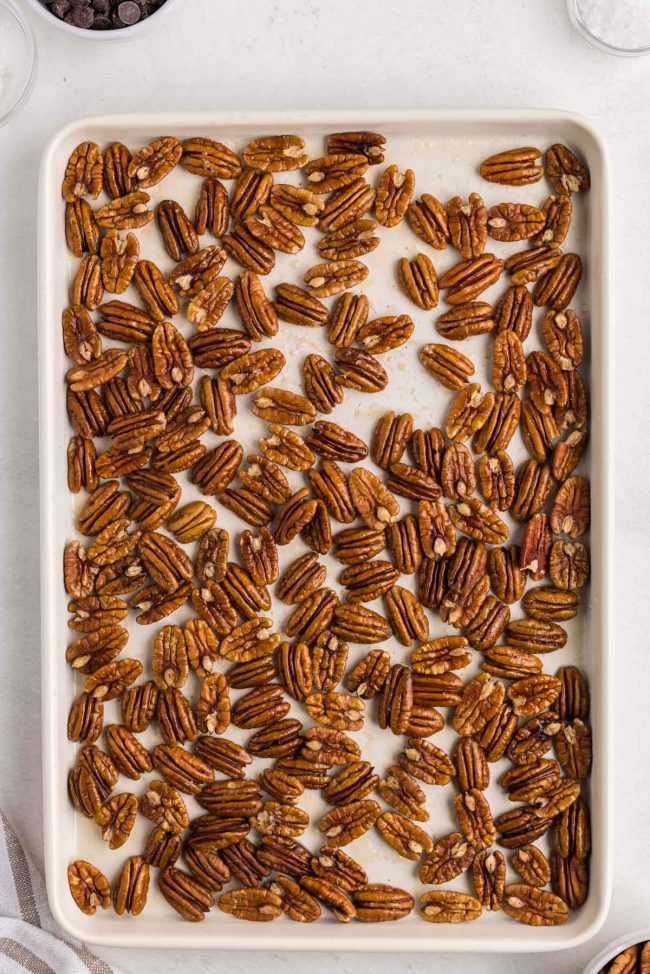 How to store
Store these chocolate pecans in an airtight container at room temperature for up to 1 week.
Or you can store them in the refrigerator for a few weeks.
If you want to make them ahead, store them in the freezer; they should be good for up to three months. If you freeze them, set them on the counter and let them come to room temperature before setting them out for guests.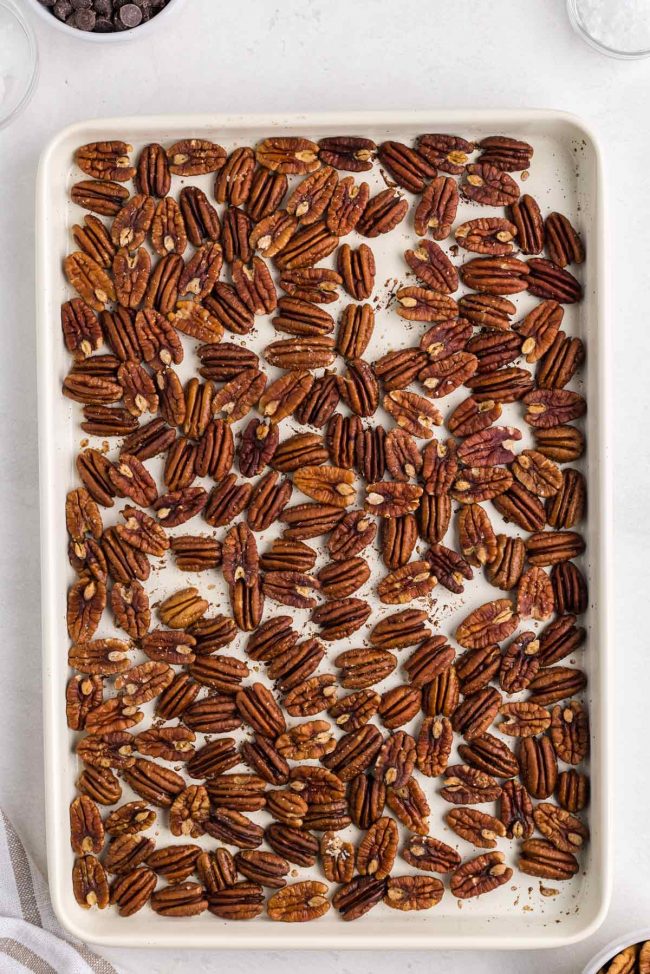 Do I have to toast the pecans?
It's not an obligation, but toasting pecans gives them a deeper flavor and makes them crisp.
I tried them raw, and I didn't much care for them, so, to me, it's a must to toast them first.
It doesn't take much, so if you need to divvy up your time, you can toast them one day and dip them in chocolate another day.
It takes less than 15 minutes to toast the pecans, so it's not that time-consuming, and the result will be much better than dipping them raw.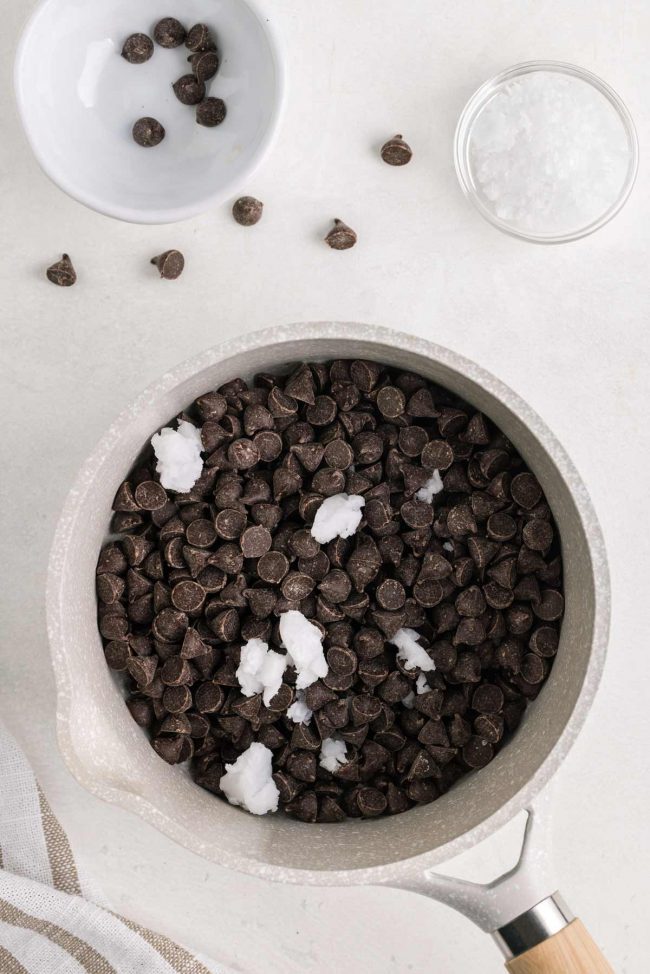 Variations
This chocolate covered pecans recipe is highly versatile in that you can use whatever type of chocolate you want and whatever nut you like.
If you're not a milk, dark or semi-sweet chocolate lover, you can make white chocolate pecans by using a bar of white chocolate. It can be trickier to melt because it doesn't melt well with direct heat sources, so if you're using white chocolate, see below for the best methods to melt white chocolate.
Vegan option
To make these chocolate pecans vegan, use coconut oil or vegan butter instead of butter to roast the pecans.
And, of course, use vegan chocolate.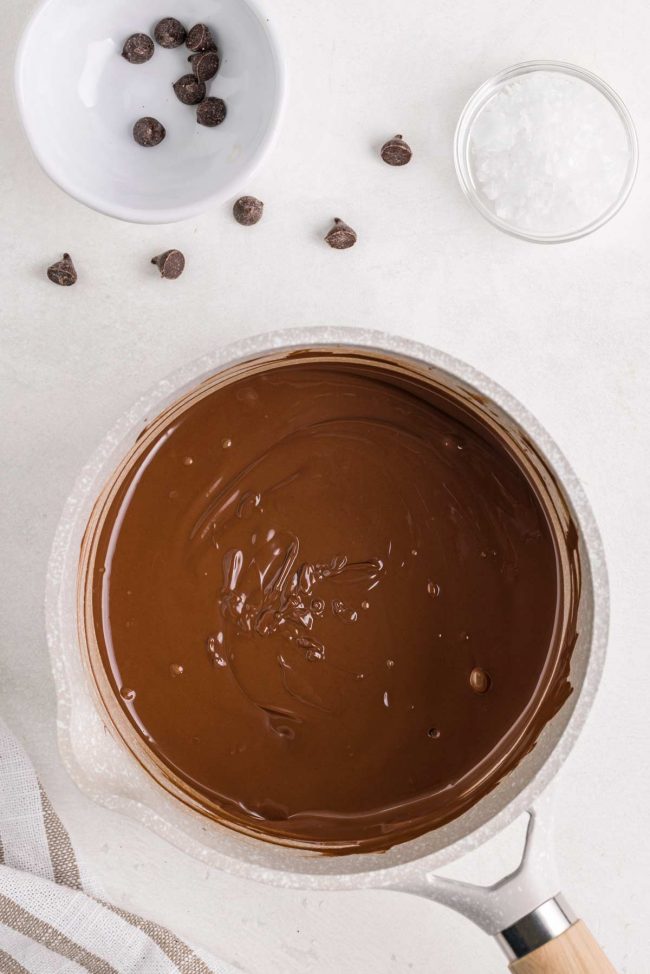 Paleo option
To make this paleo, use coconut oil instead of butter and paleo chocolate.
I tried Hu Gems, and they work great!
I have more paleo treats to make this season like these Paleo Peanut Butter Balls which are actually made with sunflower seed butter, but taste much like the original. And this Paleo Vegan Fudge tastes just like traditional fudge!
Keto option
To make these pecan snacks keto, you only have to use keto chocolate; everything else stays the same.
I tried ChocZero Dark Chocolate Sugar-free Chocolate Chips for these pecans and liked them, but any brand of keto chocolate should work well.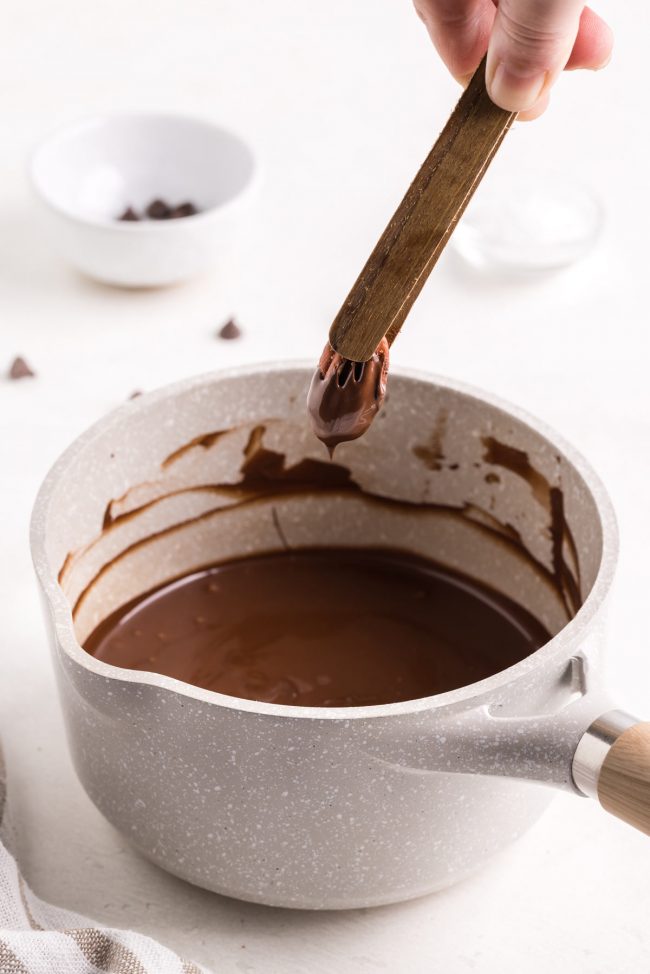 How to melt chocolate
I melt chocolate in a saucepan on the stovetop over low heat, and I've never had any issues burning the chocolate. But some people do, and if that is you, the microwave might be your best bet.
A double boiler is also a good method, and if you don't have a double boiler pot, you can make one using a saucepan and a metal or tempered glass bowl that fits on top of the saucepan.
The most important tip when melting chocolate is to avoid mixing chocolate and water! Use dry utensils to stir, and don't allow water droplets to come into contact with the chocolate, or it will seize up and be clumpy.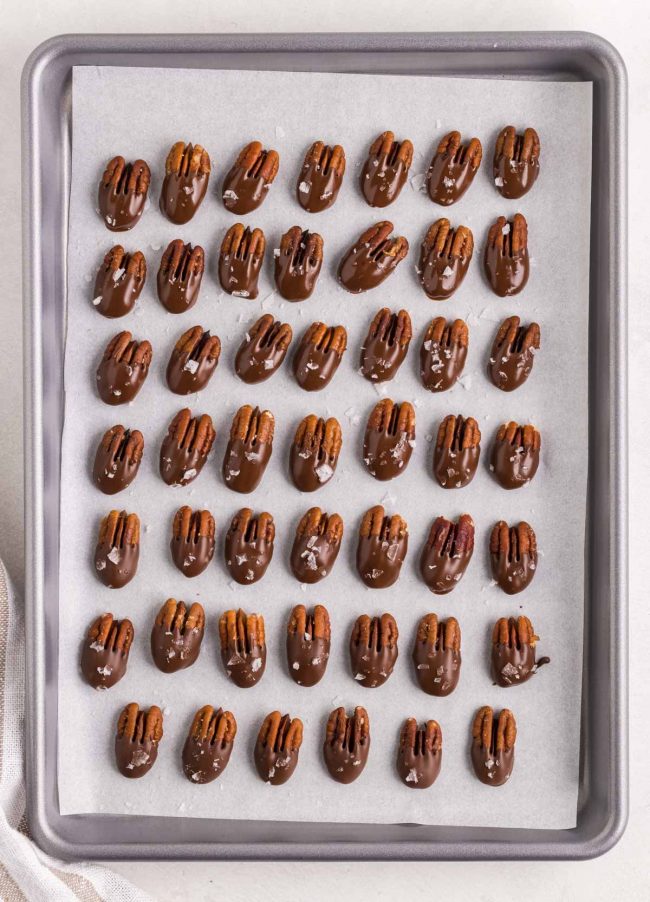 How to melt chocolate chips using a double boiler
Whether you're using chocolate chunks, broken chocolate bar pieces or chocolate chips – milk, white, semi-sweet or dark chocolate, you can use a double boiler.
Fill a saucepan with 1 or 2 inches of water and bring it to a boil.


Place the heat-safe bowl on top of the saucepan, ensuring it is large enough that it doesn't fall into the pot. It just needs to rest on the saucepan without touching the water.


Place chocolate in the bowl on top of the saucepan and frequently mix to incorporate all of the chocolate so that it melts consistently.


It should take about 2 to 3 minutes, depending on how much chocolate you have in the bowl.


Once fully melted, remove the bowl from the double boiler and wipe off any water condensation with a towel.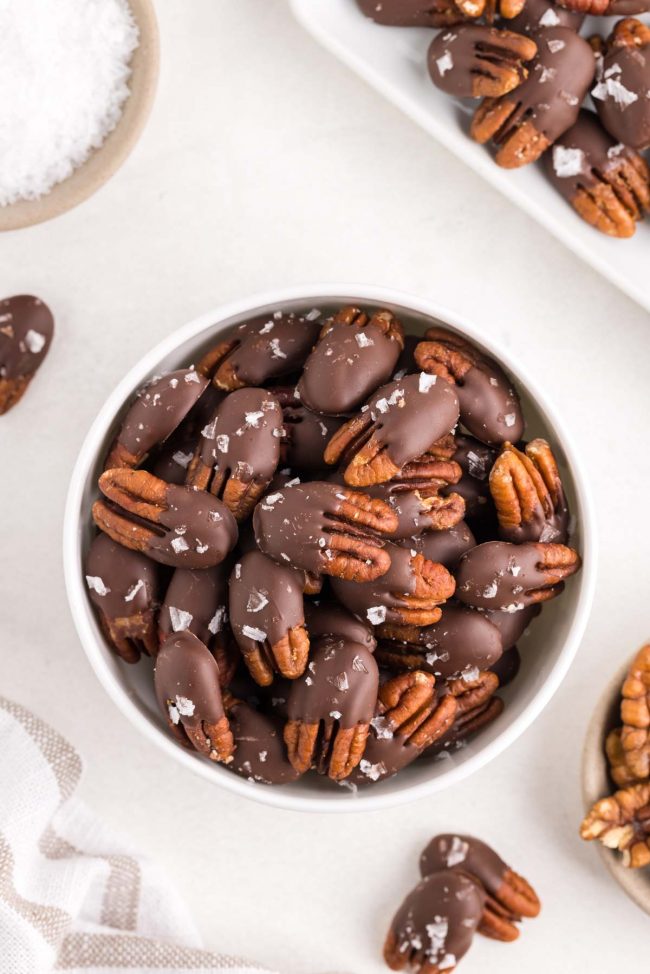 How to melt chocolate chips in a microwave
An easy method to melt chocolate is to use a microwave, especially if you get distracted easily. It's faster than on the stovetop, but it's still important not to overcook the chocolate, which will cause it to seize, and will have lumpy texture.
The key to success is microwaving at 30% or 50% power so you can easily monitor the chocolate. Allow it to melt evenly and slowly. If the microwave is at full force, the chocolate can melt too quickly and burn or get clumpy.
Also important is to stir frequently!
Place chocolate in a microwave-safe bowl.


Microwave for 30 seconds at 30% power.


Stir well and continue to microwave and stir in 30-second intervals until it is completely melted and smooth.
If you notice lumps in the chocolate, microwave again for only 15 seconds so you don't burn the chocolate.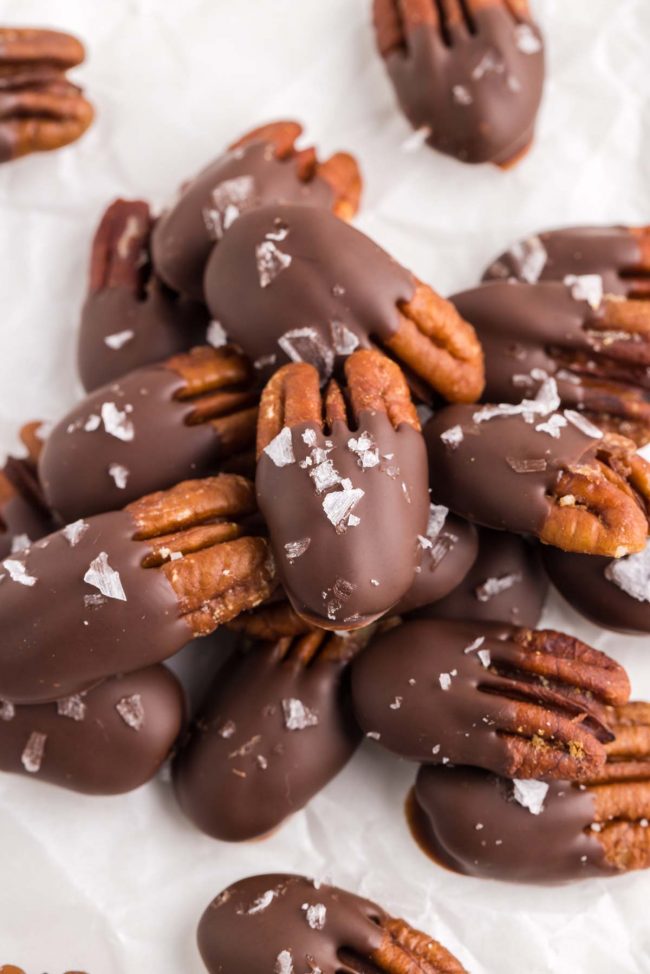 How to melt white chocolate
All chocolate whether it's dark, white or milk chocolate melts mostly in the same ways, except you have to be a little more careful with white chocolate as it can be finicky.
Use a bar of white chocolate or chocolate chunks to get that smooth texture of melted chocolate. Just break it into chunks.
White chocolate chips have stabilizers to keep their form, and they don't melt as easily.
The best method to melt white chocolate is the microwave. Just place the white chocolate chunks into a microwave-safe bowl and heat at 30% and no more than 50% in 20-second intervals. Each time you heat the white chocolate, take it out and stir and heat it again until it's fully melted.
If you're a white chocolate lover, you might also like these White Chocolate Cranberry Cookies as an extra holiday treat.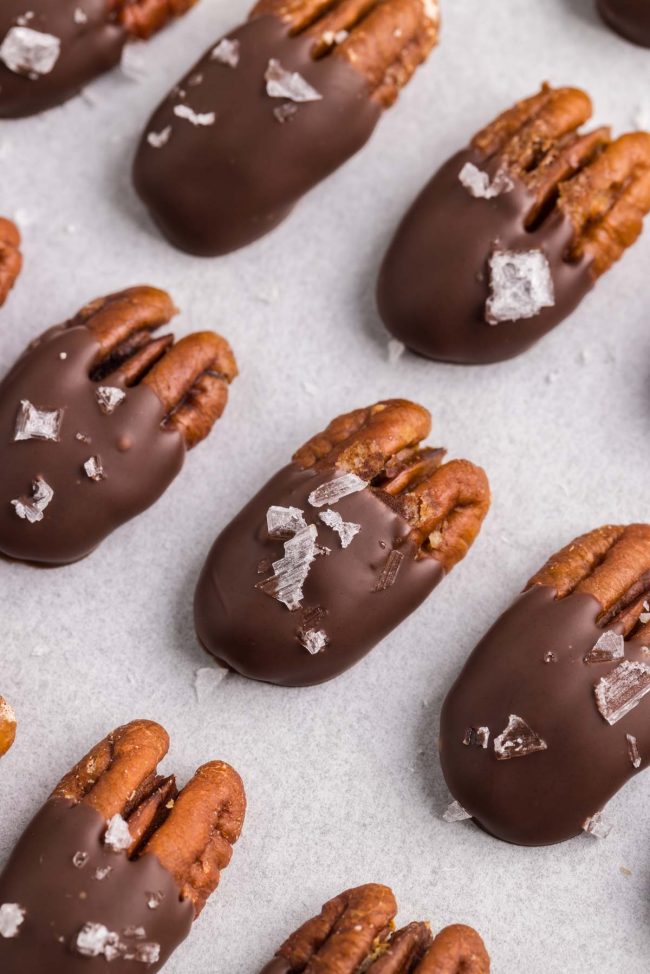 How to melt chocolate in a crock pot
If you've got time and a crock pot, you can melt the chocolate in the slow cooker, which is pretty foolproof and requires stirring occasionally.
I'm not a fan of using the crock pot because it's too time-consuming and fussy for me, but you can melt different types of chocolate all at once, so it has its benefits.
Put the chocolate in mason or wide-mouthed glass jars and set them in the slower cooker.


Add hot water to the slow cooker to about halfway up the sides of the jars.


Do not get any water inside the jars, so be careful pouring the water. Water in chocolate will make the chocolate seize and thicken.


Turn the slow cooker on high. Do not cover it with a lid because you don't want any moisture in the chocolate.


After 30 minutes, stir the chocolate using a long spoon. Let it go longer if it isn't smooth and completely combined. Continue to stir, and once melted, use a potholder or towel, take the jars out of the slow cooker, and wipe the bottom of the jars dry.


Pour the chocolate into a bowl, and you're ready to dip and make pecan clusters.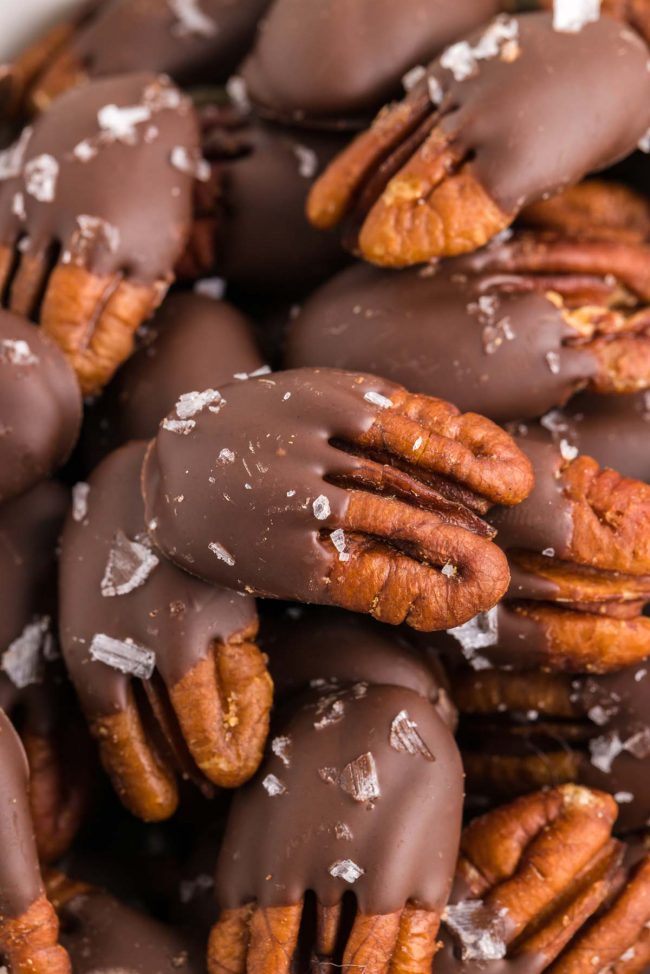 If you want to use this method with the jars for dipping fruit like strawberries, you can reduce the heat to low, so the chocolate remains melted, and your guests can dip as they like. The consistency of the melted chocolate should last for 2 to 3 hours.
Mini crock pots usually don't have a setting to lower the temperature, so be aware because it could bring the chocolate to a boil, and you'd have burnt clumpy chocolate. I would use the microwave, stovetop, or a large crock pot instead of a mini crock for melting chocolate unless you've got one specifically made to melt chocolate.
Do I have to use salt flakes?
Adding salt flakes gives you a burst of flavor and adds sparkle to these treats, so I would add them once the pecans have been dipped.
If you have sea salt, you can also use it instead.
But if you want to reduce salt, you can leave it off altogether.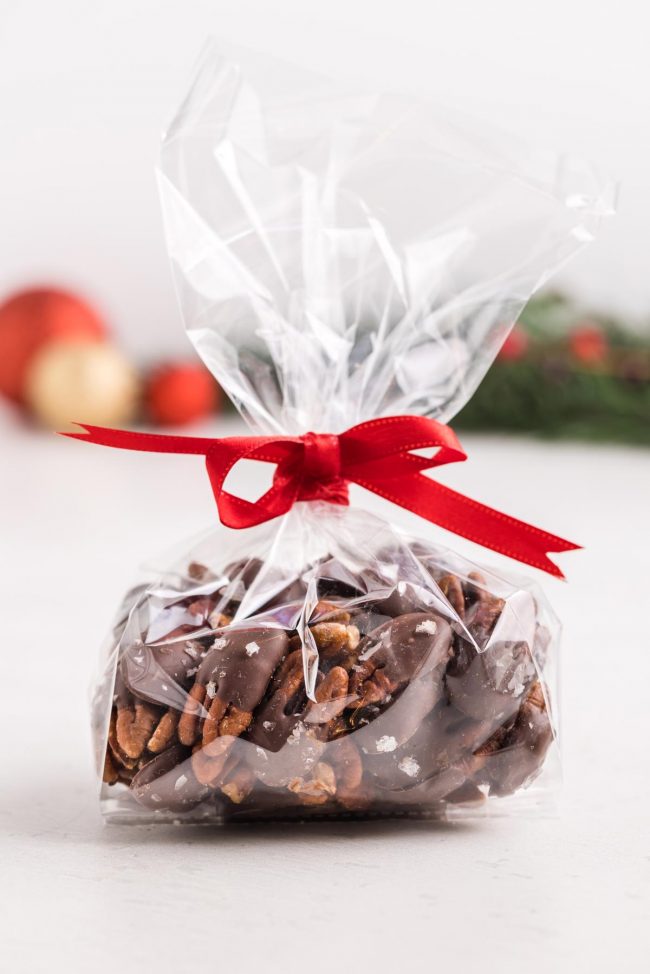 Other nutty treats that make great gifts
These sweetened nuts make great snacks and are perfect edible Christmas gifts to make in advance.
I wouldn't gift the toasted pine nuts because that would actually be a costly treat, but I would use them for making Pignoli Cookies which are easy to make and amazing holiday cookies.
I also have several easy-to-make nut butters that make incredible holiday gifts, so check those out, especially my Macadamia Butter and Pistachio Butter Recipe!
I hope you enjoy these chocolate covered pecans! If you try them, please let us know how they turned out in the comments below and share the recipe with family and friends. If you loved the recipe and you want to share it on social media, feel free to tag #texanerin so I can be sure to see your creations. Happy holiday snacking!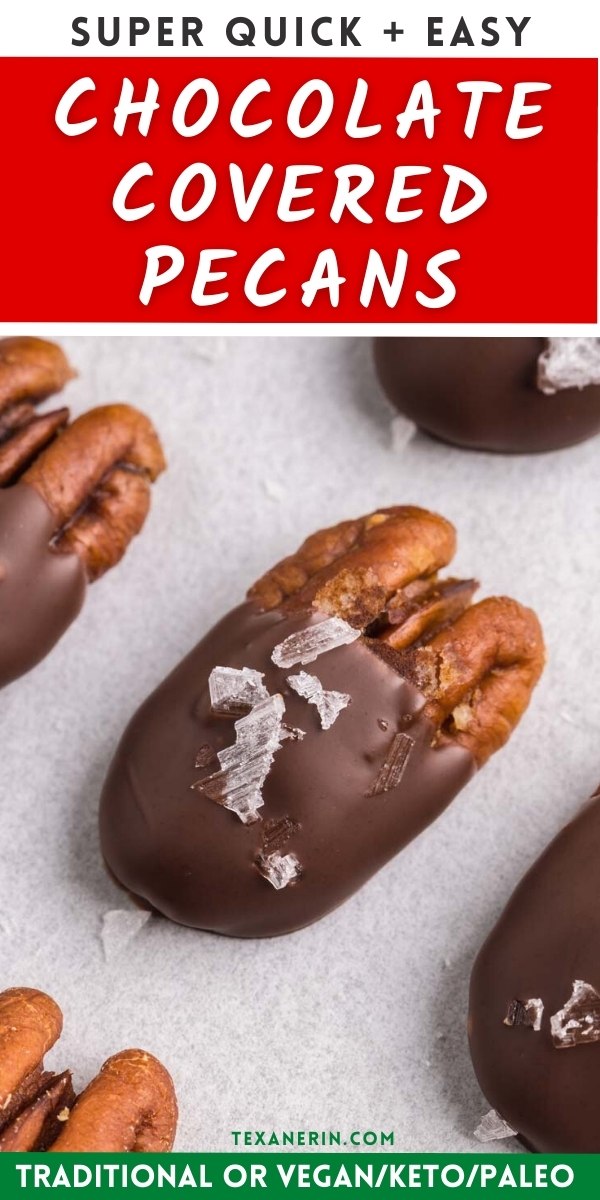 ❀
Chocolate Covered Pecans
Prep Time:
Cook Time:
Ready in:
Yield:

1 3/4 cups
Ingredients
1 1/2 tablespoons (21 grams) unsalted butter or refined coconut oil for paleo/vegan1
1 1/2 cups (165 grams) raw pecans
1/8 teaspoon salt
1/2 cup (85 grams / 3 oz) semi-sweet chocolate, chopped or chocolate chips (use keto/vegan/paleo chocolate, if desired)
1 teaspoon coconut oil
flaky sea salt
Directions
Preheat the oven to 350 °F (175 °C). After turning it on, place the butter or coconut oil in a 10"x15"x1" jellyroll pan (or any pan with a rim). Place in the oven so that it melts.
Once the fat is melted, remove the pan from the oven, sprinkle the salt over the fat, and toss the pecans on top. Stir to coat the pecans thoroughly.
Bake for 8-12 minutes or until toasty, stirring after every 4 minutes. They'll have absorbed the butter.
Remove from the oven and let cool completely - about 20 minutes.
Melt the chocolate and coconut oil in a small pot over low heat, stirring frequently.
Place a piece of parchment paper or wax paper over the pan that was used to toast the pecans.
Use tongs to dip each pecan halfway or a bit more in the chocolate.
Top with flaky sea salt.
Place in the fridge for about 1 hour to firm up. Or they can firm up at room temperature for a few hours. Store them in an airtight container at room temperature for up to 1 week. You can also refrigerate them for a few weeks. If you want to make them in advance, store them in the freezer (don't salt the tops), and they should be ok for up to 3 months. Once they've fully thawed, then you can top them with flaky salt.
Notes
You can use unrefined coconut oil if you don't mind the coconut taste.