This healthy chocolate peanut butter fudge couldn't be any easier! You just melt everything together. Naturally vegan with a paleo and nut-free option. With a video.
Note: I originally posted this fudge recipe back in 2012 but decided to make some changes to the recipe to make it a little more allergy and dietary-friendly by testing it with sunflower seed butter and maple instead of honey!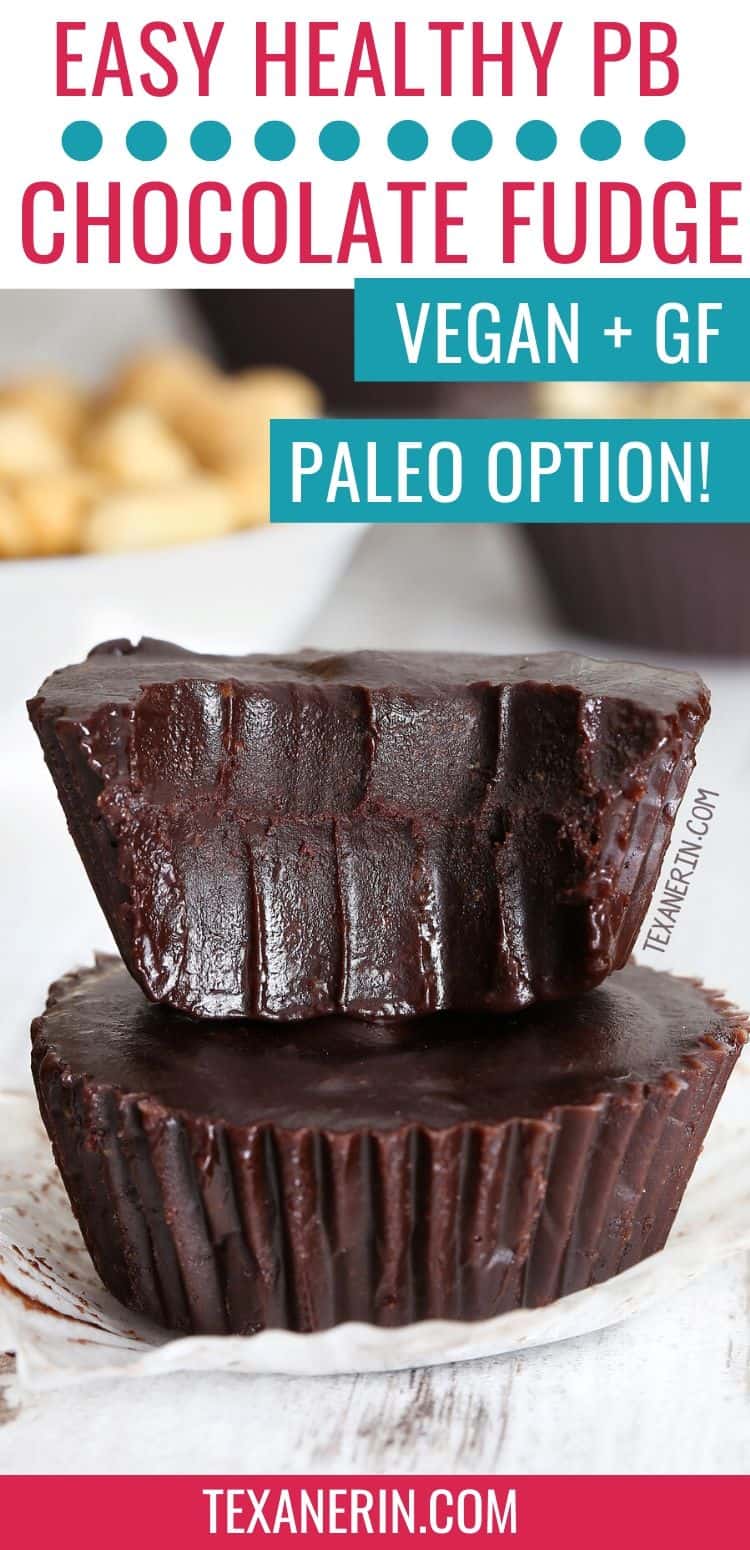 I've gotten a lot of comments over the past few months about sunflower seed butter that made me curious. I know a lot of you have peanut allergies, can't send peanuts to school or are paleo so I thought I'd try it out (here's a recipe for homemade sunflower seed butter). You can also buy SunButter on Amazon!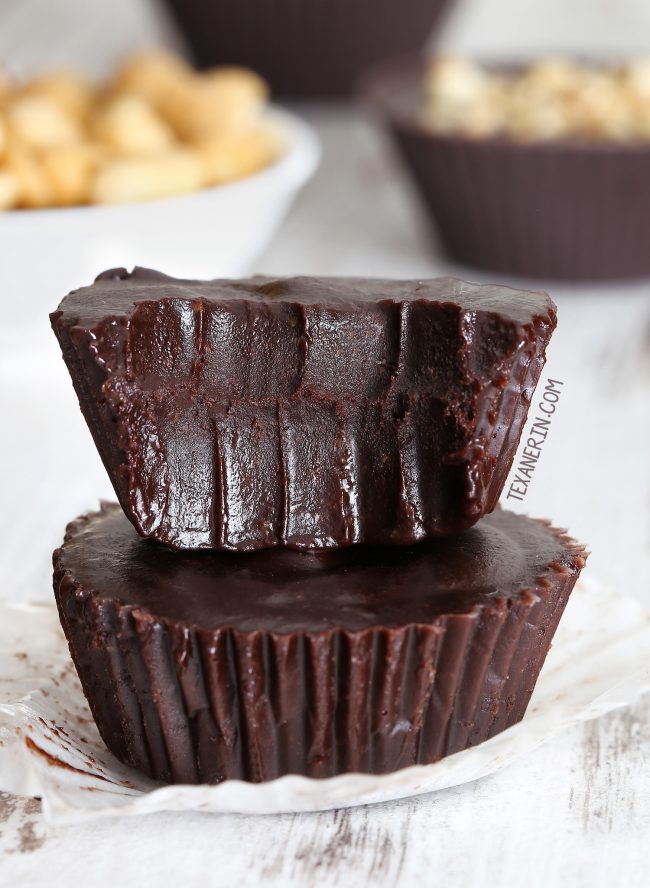 This fudge, by the way, can't be sent to school! It needs to be kept refrigerated or frozen.
One thing you don't want to skip on is the salt. It just calls for "salt to taste" because I think I like things a lot saltier than most people. It really intensifies the peanut butter taste!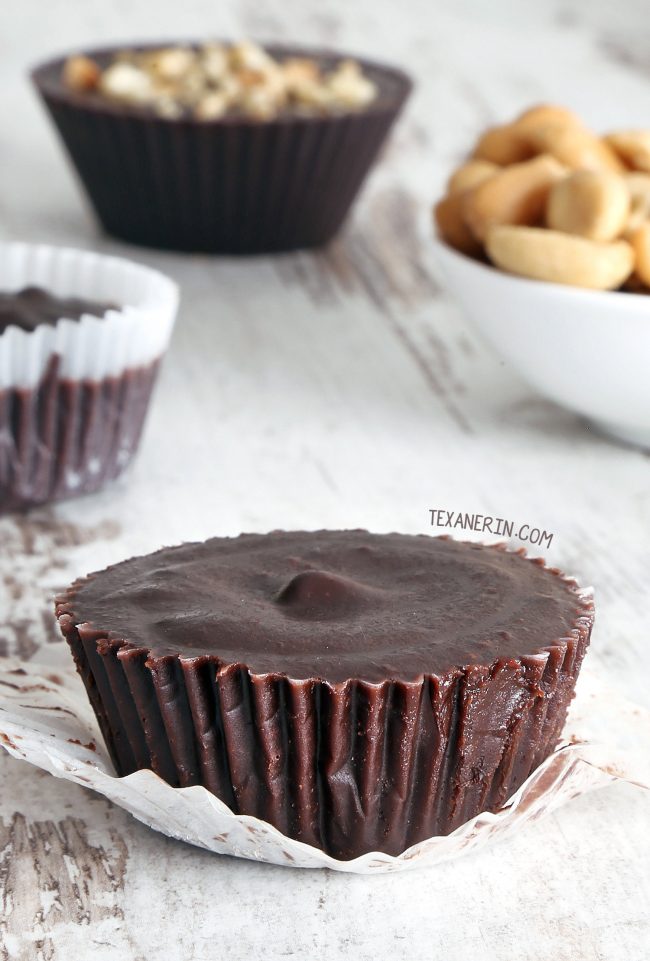 If you don't have a mini muffin pan or a silicone mold, you can pour the mixture into a small parchment-lined tupperware container or the like. I just went with a mini muffin pan because it seemed the least messy.
This chocolate peanut butter fudge doesn't taste exactly like traditional fudge – the texture isn't the same and obviously it's not as sweet, but if I had to choose between the two, I would pick this.
I just feel better eating it. And I love the taste and texture although it's not the same as the really unhealthy stuff.
I've also tried this healthy peanut butter chocolate fudge with hazelnut butter and it was tasty but it's hard to beat chocolate + peanut butter, right? ;)
If you prefer some peanut butter fudge without the chocolate, I highly recommend this maple peanut butter caramel fudge! It's also vegan (but not paleo because of the peanut butter). :)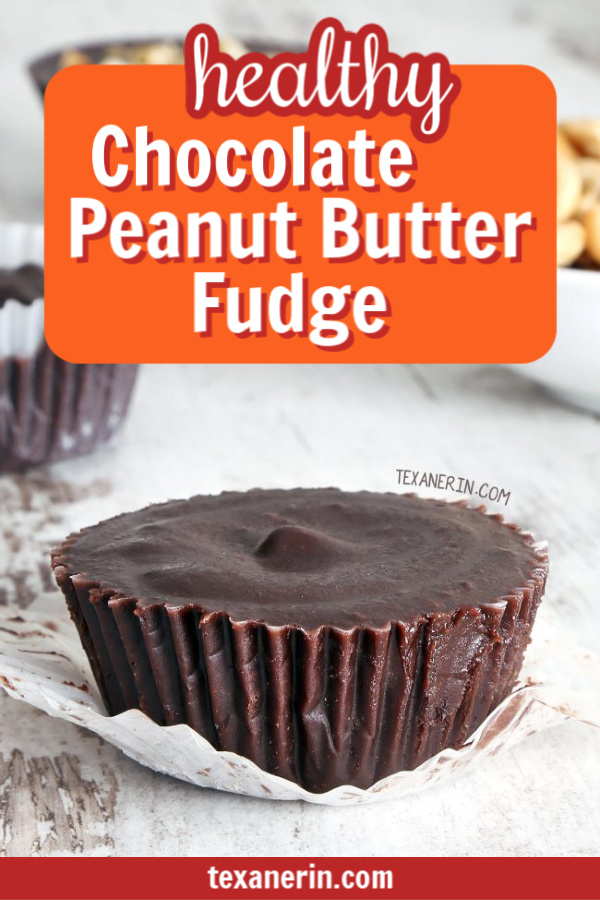 ❀
Chocolate Peanut Butter Fudge (vegan, gluten-free, grain-free with paleo and nut-free options)
Prep Time:
Cook Time:
Ready in:
Yield:

12-16 pieces of fudge
Ingredients
1/2 cup (113 grams) refined coconut oil1
1/2 cup (128 grams) natural peanut butter or sunflower seed butter for paleo / nut-free (use the kind with just nuts / seeds and salt)
1/2 cup + 2 tablespoons (72 grams) cocoa powder
1 teaspoon vanilla extract
salt to taste (be sure to add this! It really brings out the peanut flavor)
1/3 cup + 2 teaspoons maple syrup
if using sunflower seed butter: coconut sugar to taste (I used 5 teaspoons)
Directions
Melt the coconut oil in a small pot or pan over low heat. Add the nut butter, cocoa powder, vanilla extract and salt and stir together. When it's completely smooth, take it off the heat and add the maple syrup and stir until well combined.
If using sunflower seed butter, add coconut sugar to taste. Put the pot back on the burner and set to the lowest setting. Stir until the coconut sugar is dissolved.
If using peanut butter, you don't need additional sugar. Once the maple syrup is combined, immediately pour the fudge into a silicone mold or into the liners.
Place in the refrigerator until set. Mine took a few hours. If you're in a hurry, stick them in the freezer. If using a silicone mold, remove the set candy from the mold so that the fudge doesn't take on the taste of the mold.
Store in the refrigerator or freezer.
Notes
If you use unrefined coconut oil, this fudge may have some coconut taste to it.
I updated this recipe on 6/9/16. Here's the original recipe (in case you've made it in the past): 6 tablespoons (84 grams) refined coconut oil, 1/2 cup (128 grams) natural peanut butter, 1/2 cup + 2 tablespoons (72 grams) Dutch-process cocoa powder, 1/4 cup (80 grams) honey
As an Amazon Associate, I earn from qualifying purchases. For more info, see my disclosure.