I made some healthy chocolate peanut butter pudding. It's got an avocado in it and is pretty nifty but I just have to complain a bit first.
Everything's breaking. The oven popped the other night and wouldn't go back on. It turns out there was a broken fuse, which we replaced last night and the oven then appeared to work. Turned it on in the morning and POP! It's out again. So we put in another fuse and it's working at least for now. Then I moved on into the bedroom and tried putting on my laptop. That didn't work either and still isn't working. Then I tried to take some pictures (of course unsuccessfully) and I thought to myself, "We don't have a TV… what else could do wrong? Oh, I know. I could break my camera." I got up a second later and when I returned, I sat on a lens. But I didn't break it. YAY! Something went right today.
Anyway, here's some food.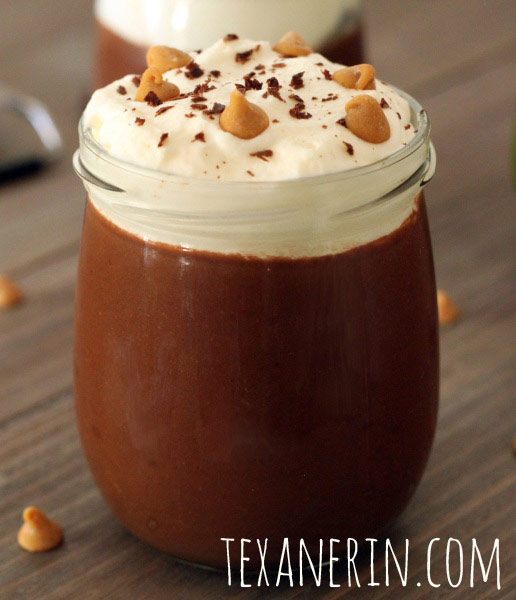 The one food allergy that I really hate having is bananas. If you see a really healthy recipe for pudding or fudge or something raw and creamy, it seems like there's always bananas in there. It drives me crazy. You can make this with or without banana. It's thick like normal pudding with the banana, but without, it's even thicker. But if you don't use the banana, you need to use extra sweetener.
I ordered a ton of jars recently and was so excited to use them with this pudding. I thought I'd make layers – a layer of pudding, bananas, pudding, whipped cream and so on. That didn't work. It doesn't need whipped cream, but I so wanted to make it pretty.
I always have issues with things where peanut butter and chocolate are combined. The peanut butter is never strong enough for me and it's the same with these. But 3/4 cup of peanut butter is already kind of ridiculous so I'm not adding more. The banana-less version has more peanut butter flavor so I have that in my favor, at least. ;)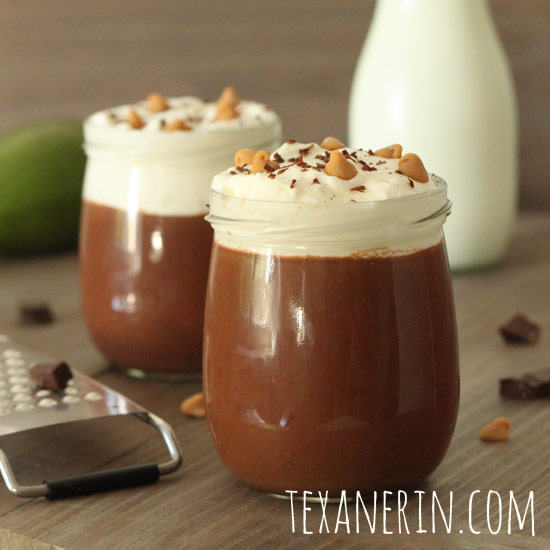 No Cook Chocolate Peanut Butter (Banana) Pudding
Prep Time:
Cook Time:
Ready in:
Yield:

4 large servings
Ingredients
~2 ripe avocados*, peeled (mine were 562 grams total, unpeeled and 380 grams peeled)
¾ cup natural peanut butter (185 grams)
two 5.3oz (150 gram) containers plain Greek yogurt
1 tablespoon vanilla
2 bananas (mine were 370 grams total, unpeeled), optional
¼ cup – ½ cup (80 – 160 grams) honey / coconut sugar / white sugar
Directions
Add the avocados, peanut butter, Greek yogurt, cocoa powder, vanilla and if using, bananas to the bowl of your food processor.
Process until totally smooth and creamy. Now you can start adding your sweetener. I used ¼ cup of honey without the banana and it was sweet enough for me but I'm guessing other people will want more.
Process again until thoroughly combined and then spoon into a container and let firm up for 3 hours in the refrigerator. Best enjoyed on the first day.
Notes
I left my pudding overnight in the refrigerator and had no problem with liquid or anything funky as a result of the avocado. I wouldn't let it sit longer than 2-3 days in the fridge, though. And it could also depend on your avocados. Mine were super soft and I thought they were about to go bad, but my pudding is still fine two days later.