This 100% Whole Wheat Carrot Cake is incredibly moist and nobody will believe it's whole grain!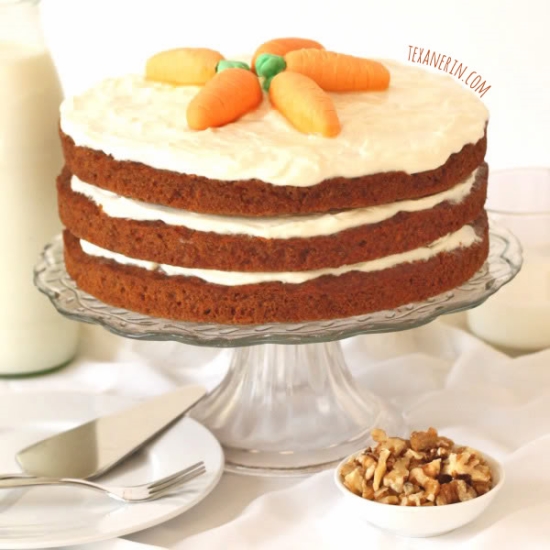 I've seen a lot of carrot cake recipes around lately and most of them claim to be the best carrot cake recipe ever. And here's another one! Seriously. The best carrot cake I've ever had. If you prefer carrot cakes without chunks of carrots, pineapple, nuts and other stuff, this is your recipe!
I really do not like carrots. You might already realize that since I've mentioned I dislike all vegetables except for corn and potatoes, but I do. I couldn't possibly have carrots in my cake unless they were undetectable, so I used the really fine grater of my food processor. I've also used a Microplane zester but that took a long time!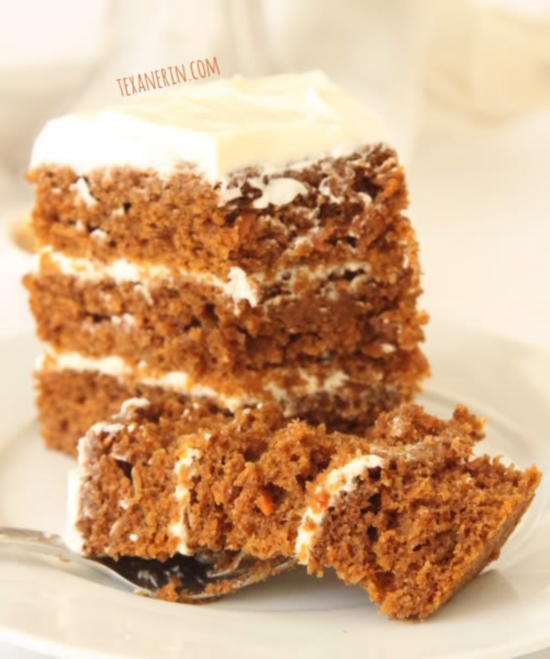 I've brought this cake into work several times and all the Americans recognized it as carrot cake. But nobody has any idea that it was a whole wheat carrot cake! That should mean something, right? So this tastes like awesome carrot cake but doesn't taste like vegetables! There. :D
I don't think they don't have carrot cake here in Germany (it might be at Starbucks or something like that) and whenever I give this to Germans, they say it's the "best Christmas cake ever!" At first I thought it was absurd, but then I realized they have a point. This has cinnamon and ginger. That is kind of Christmas-y. Do we associate carrot cake with Easter because the Easter Bunny eats carrots? I've googled it and couldn't find an answer. It's because of the bunnies, right? :D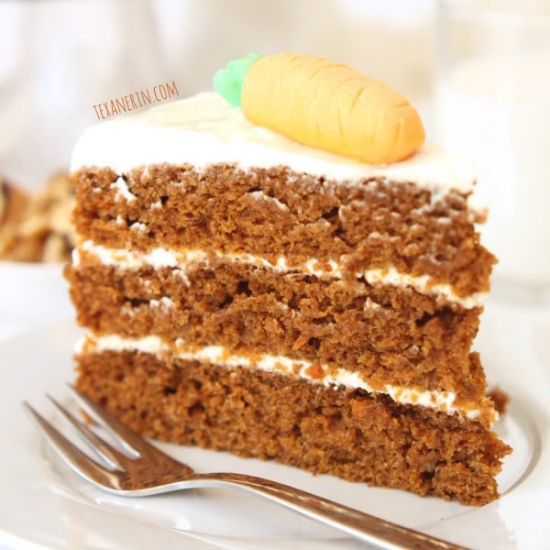 The Greek yogurt cream cheese frosting is kind of tangy. I only used 1/2 cup of sugar, but the more you add, the less tangy it is. It is made a little healthier, though. We all know that Greek yogurt instantly makes stuff healthier, right? :) If you prefer a traditional recipe, this one is my favorite.
❀
100% Whole Grain Carrot Cake
Prep Time:
Cook Time:
Ready in:
Yield:

12-16 slices
Ingredients
2 cups (240 grams) whole spelt flour or whole wheat flour
2 teaspoons baking soda
3/4 teaspoon salt
2 teaspoons ground cinnamon
1/2 teaspoon ground nutmeg
1 teaspoon ground ginger
4 large eggs
1 cup (200 grams) granulated sugar or coconut sugar (159 grams)
3/4 cup (183 grams) unsweetened apple sauce
1/2 cup (118ml) canola oil or light olive oil
14.5 oz / 410 grams grated and peeled carrots1

Frosting:

8 ounces (225 grams) cream cheese
1 6-ounce container (170 grams) Greek yogurt
1/2 – 1 cup (60 – 12 grams) powdered sugar
Directions
Preheat your oven to 350°F / 175°C and grease three 8″ pans or line them with parchment paper.
In a medium bowl, combine the flour, baking soda, salt, cinnamon, nutmeg and ginger.
In a large bowl, whisk the eggs and then add the sugar, apple sauce, and olive oil and mix until combined.
Add the dry ingredients to the wet and stir just until combined.
Then fold in the carrots, again only until combined.
Bake for 13 – 17 minutes or until a toothpick inserted in the middle comes out clean. I accidentally had the fan on so these minutes could be off. It might be longer, but just check it at 13 and see how it is.
Let cool for 5 minutes in the pans, and then turn onto a wire rack to cool.
Frost when completely cooled.
For the frosting, beat together the cream cheese and Greek yogurt. When combined, add the powdered sugar, a little bit at a time. This frosting isn't pipeable, but if you refrigerate it overnight, it it sets a little more than when first made. This recipe only makes enough to fill the two layers and the top. You can see that the layers also only had thin layers of icing. I used a little less than 1/2 cup per layer. If iced, store in the fridge. The cake stays moist for several days.
Notes
I used the fine grater of my food processor. I can't say if this would work if you grate them coarsely. It might lose some of its moisture. Mine was almost like a puree.
Adapted from Carrot Cake with Maple Cream Cheese Frosting