This healthy carrot cake recipe is incredibly moist and nobody will believe it's whole wheat! Recipe includes a less sugary cream cheese frosting. Can also be made with all-purpose flour or gluten-free flour.
Please note that although the video says Gluten-free Carrot Cake – this video is also how this healthy carrot cake is made! It just uses a different flour.
I accidentally republished my whole wheat rolls recipe last week and it went out to my email subscribers. Sorry about that! I don't normally post recipes without gluten-free options. All I wanted to do was update the photos.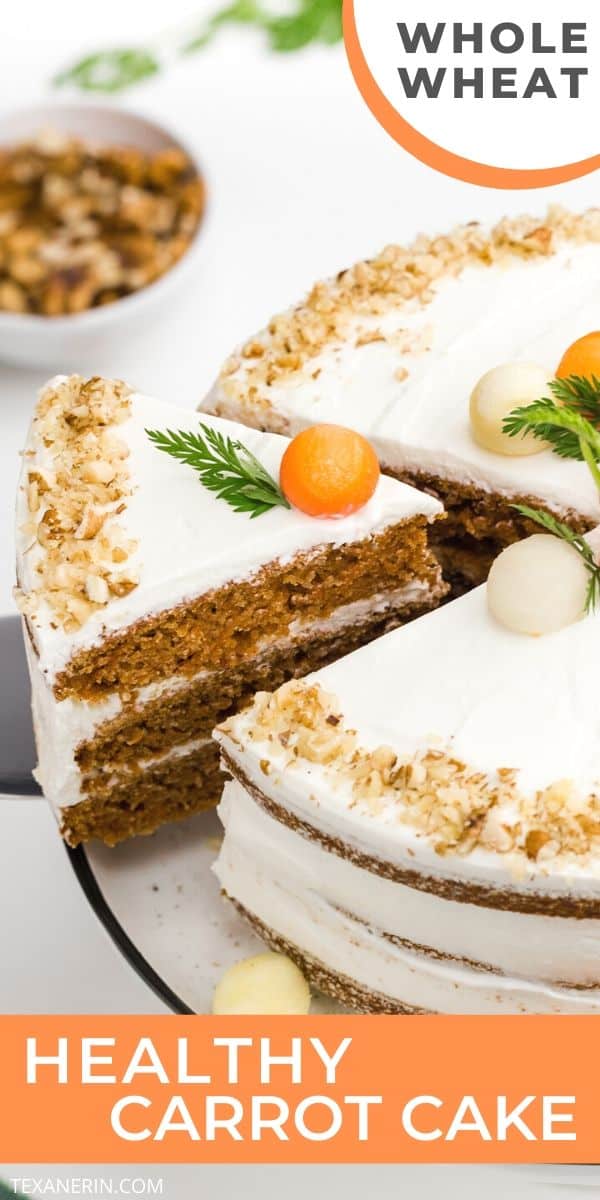 Today's recipe can be made with whole wheat but also with gluten-free flour. The gluten-free option isn't a whole grain healthy option but it is crazy delicious. All-purpose flour also works great.
And all three versions are just as delicious! And nobody can tell the difference between the three.
I have to say that I'm not a fan of carrots. I wanted them to be undetectable in this cake, so I used the really fine grater of my food processor. I've also used a Microplane zester but that takes a long time.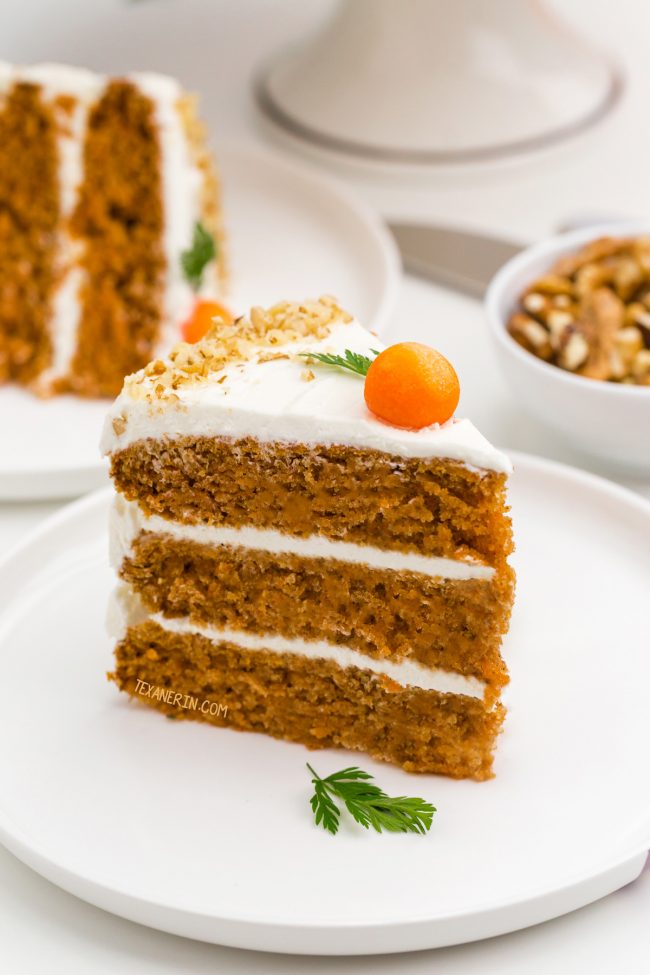 I used to bring this carrot cake into work every Easter and the Americans recognized it as carrot cake. But nobody has ever had any idea that it was a whole wheat carrot cake!
I don't think they have carrot cake here in Germany (it might be at Starbucks or something like that) and whenever I give this to Germans, they say it's the "best Christmas cake ever!"
At first I thought it was absurd, but then I realized they have a point. This has cinnamon and ginger. That is kind of Christmasy.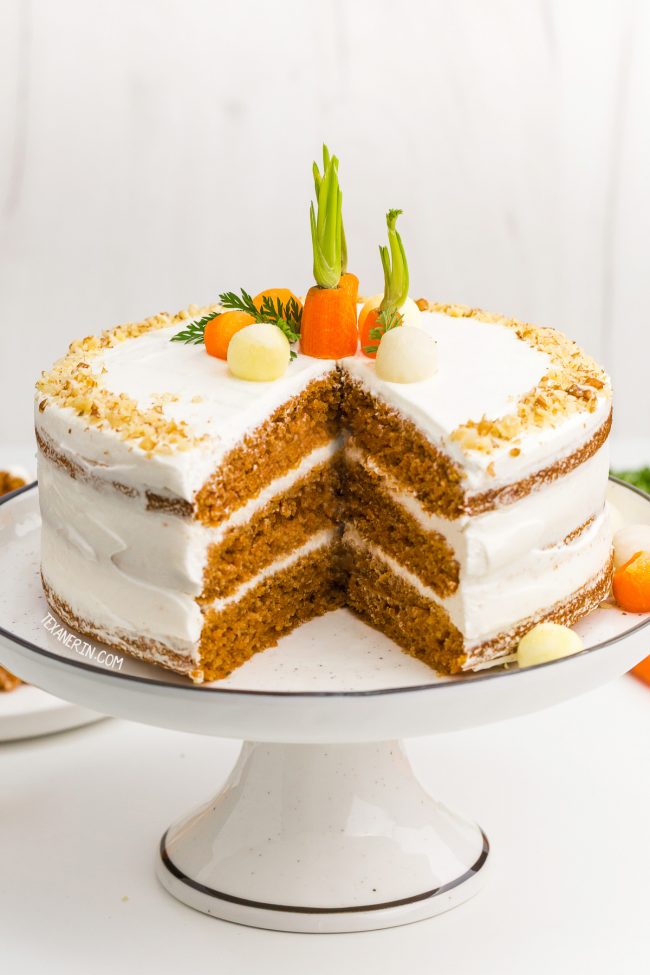 Do we associate carrot cake with Easter because the Easter Bunny eats carrots? I've googled it and couldn't find an answer. It's because of the bunnies, right? :D
To turn this carrot cake into a healthy carrot cake, in addition to the flour change, I reduced the sugar (by quite a lot!) and used coconut sugar. You can use granulated sugar if you prefer.
Instead of all oil, you use a mix of oil + applesauce. But unlike some other recipes that use applesauce, this change didn't make this healthy carrot cake any drier or less tasty.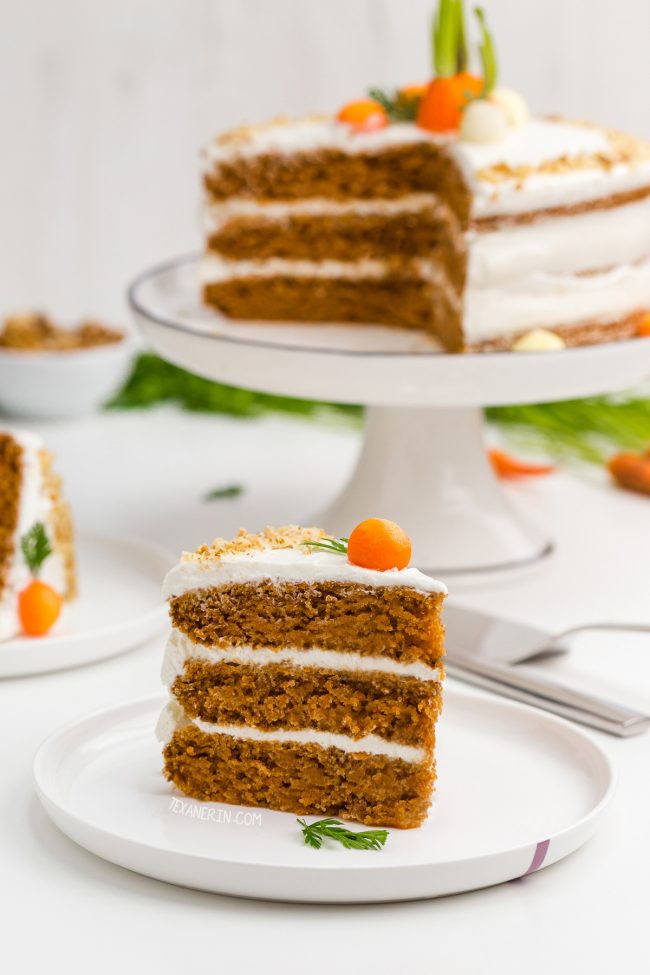 I also healthified the frosting! A lot of cream cheese frosting recipes use a ton of sugar. Not this one.
I reduced the sugar by quite a bit and now it tastes more like a cream cheese tart filling than super sugary frosting.
It's a 1.5x version of my healthier cream cheese frosting. If you just want to frost the top of each layer and nothing on the side, check out the notes below for how much to use.
By the way, if you're wondering what else to make for Easter, this scalloped potatoes and ham recipe from A Mind "Full" Mom look incredible! And if you prefer a sheet cake, try this maple carrot sheet cake from Healthy Seasonal Recipes!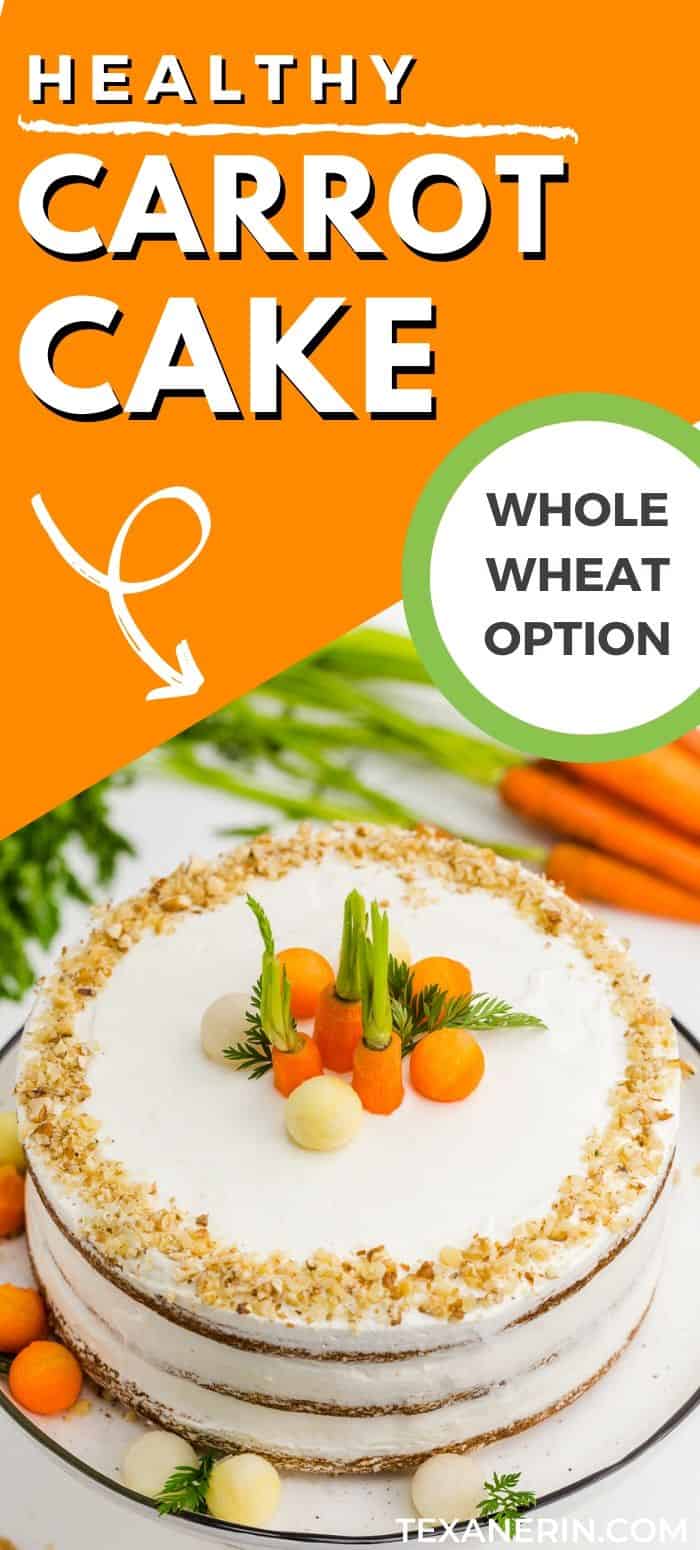 Questions about this healthy carrot cake?
Fat
Can you taste the olive oil? I used extra-virgin olive oil and you can taste it in the batter and while the baked cake is still hot. Once it cools, you can't taste it. If you're worried about it, use light olive oil (the light refers to the taste and not calories).

Can I use another oil other than olive? You can use canola oil, vegetable oil, grapeseed oil, etc. Anything neutral tasting. I haven't tried coconut oil but if you do, I'd recommend using refined coconut oil unless you want some coconut taste in your cake.

Can I use butter? I bet you could use butter in this cake but it wouldn't be as moist (butter is 80-82% fat and oil is 100% fat).

Flour

Can I use a different gluten-free flour? I've only used the one listed in the recipe. If you have another brand that works as a sub for all-purpose flour, then you could probably use it here. I can't say the texture would be as perfect as with the flour mix I used, though.

Sweeteners

Can I use a liquid sweetener? Unfortunately not without experimenting!

Can I reduce the sugar? This carrot cake recipe already calls for a lot less sugar than a regular cake. Reducing sugar also reduces moistness so unless you want a dry cake, I wouldn't recommend reducing the sugar any more.

Frosting

How can I make the frosting dairy-free? You could use dairy-free cream cheese and butter in the below recipe or you could make my vegan cream cheese frosting (it doesn't actually use cream cheese!).

Does the cream cheese frosting pipe well? You can pipe it if you double the amount of butter.

Random

Can I use a different sized pan?

Here's a super handy pan conversion chart that should be able to help. Looks like a 9″x13″ should work well, though I haven't tried it.

Can I make this recipe into cupcakes? Yes! This recipe will yield 24 cupcakes. Bake for 15-20 minutes. Use the smaller amount of frosting found in the recipe notes (the one that uses 12 ounces of cream cheese and not 16). This will yield about 2 cups so that means 4 teaspoons of frosting per cupcake.

Can I freeze the layers / frosted cake? Freezing the layers would definitely work. Freezing frosted layers, though? I'm not too sure about that. Does anyone know if freezing cream cheese frosting works well?

Can I add pineapple, walnuts, raisins, etc.? Walnuts or raisins wouldn't be a problem but I'm a little doubtful of crushed pineapple or anything liquidy. The cake is already so moist that I'd be afraid that pineapple would make it soggy. I could be wrong, though! If you try it out, please let us know in the comments and I'll update this. :) You could also alternatively try this carrot cake with pineapple!
If you try out this healthy carrot cake, I'd love if you could leave a comment with some feedback! Thank you and enjoy. :)
❀
Healthy Carrot Cake (gluten-free, whole wheat options)
Prep Time:
Cook Time:
Ready in:
Yield:

12-16 slices
Ingredients
2 cups (250 grams) whole spelt flour or whole wheat flour or all-purpose flour or for a gluten-free version, 2 cups (276 grams) Bob's Red Mill 1-to-1 Gluten-free Baking Flour
2 teaspoons baking soda
3/4 teaspoon salt
2 teaspoons ground cinnamon
1/2 teaspoon ground nutmeg
1 teaspoon ground ginger
4 large (50 grams each, out of shell) eggs
1 cup (200 grams) coconut sugar1 or granulated sugar
3/4 cup (183 grams) unsweetened apple sauce
1/2 cup (118ml) olive oil (canola oil or another vegetable oil would work fine)
14.5 oz / 410 grams grated and peeled carrots2

For the frosting: (see note below)3

18 ounces (510 grams) cream cheese, room temperature4
4.5 tablespoons (63 grams) unsalted butter, room temperature
1 1/2 cups (180 grams) powdered sugar
pinch of salt
3/4 teaspoon vanilla extract
Directions
Preheat your oven to 350°F / 175°C and grease three 8″ pans or line them with parchment paper.
In a medium bowl, combine the flour, baking soda, salt, cinnamon, nutmeg and ginger.
In a large bowl, whisk the eggs and then add the sugar, apple sauce, and olive oil and mix until combined.
Add the dry ingredients to the wet and stir just until combined.
Then fold in the carrots, again only until combined.
Bake for 13 – 17 minutes or until a toothpick inserted in the middle comes out clean. I accidentally had the fan on so these minutes could be off. It might be longer, but just check it at 13 and see how it is.
Let cool for 5 minutes in the pans, and then turn onto a wire rack to cool.
Frost when completely cooled.
For the frosting, beat together the cream cheese and Greek yogurt. When combined, add the powdered sugar, a little bit at a time. This frosting isn't pipeable, but if you refrigerate it overnight, it it sets a little more than when first made. This recipe only makes enough to fill the two layers and the top. You can see that the layers also only had thin layers of icing. I used a little less than 1/2 cup per layer. If iced, store in the fridge. The cake stays moist for several days.
Notes
Note that it's best to weigh coconut sugar! Some brands are light and coarse and some brands (like the one I use) are very fine and dense.
I used the fine grater of my food processor. I can't say if this would work if you grate them coarsely. It might lose some of its moisture. Mine was almost like a puree.
This is enough to frost it like in the pictures, with about 2/3 cup on top of each layer and some frosting for the sides. If you just want to frost the top of each layer, use 12 ounces cream cheese, 3 tablespoons butter, 1 cup of powdered sugar, a pinch of salt and 1/2 teaspoon vanilla
We have a different type of cream cheese in the US that's firmer and meant for baking, rather than for toast, like in Europe. For 8 ounces (225 grams) of cream cheese, buy a 300-gram package (the stuff at Aldi, Lidl, etc. works just as well as Philadelphia), put it in the center of a clean tea towel or cheesecloth, and squeeze out the liquid until you have 225 grams of cream cheese. You can now make cream cheese frosting without issue. So for this recipe, buy 675 grams of cream cheese and squeeze out the liquid until you have 510 grams.
This recipe was updated on 3/14/18 with a new frosting recipe. The previous was called for 8 ounces (225 grams) cream cheese, 1 6-ounce container (170 grams) Greek yogurt, and 1/2 – 1 cup (60 – 12 grams) powdered sugar.
As an Amazon Associate, I earn from qualifying purchases. For more info, see my disclosure.