This limoncello spritz is such a fresh, bright and sunny cocktail made with only four ingredients. Made with limoncello, sparkling wine, a splash of sparkling water and a squeeze of lemon juice, you've got yourself a lightly boozy, sipping cocktail that's citrusy sweet and refreshing.
I sadly couldn't come up with any Easter desserts this year. It's been crazy. Check out my Easter recipes if you're still looking for something.
These Birds Nest Cookies are my favorite treat! Super quick, easy and cute.
I wanted to share this drink quickly before Easter, for those of you celebrating. It'd also be great for Mother's Day!
I don't know about you, but I'm ready for warmer weather, and this cocktail is a sunny twist on a classic Aperol spritz. If you've been to Italy and noticed those vivid orange drinks, maybe you know what I'm talking about.
This cocktail is based on that classic aperitif, but instead of using Aperol, we've replaced it with limoncello!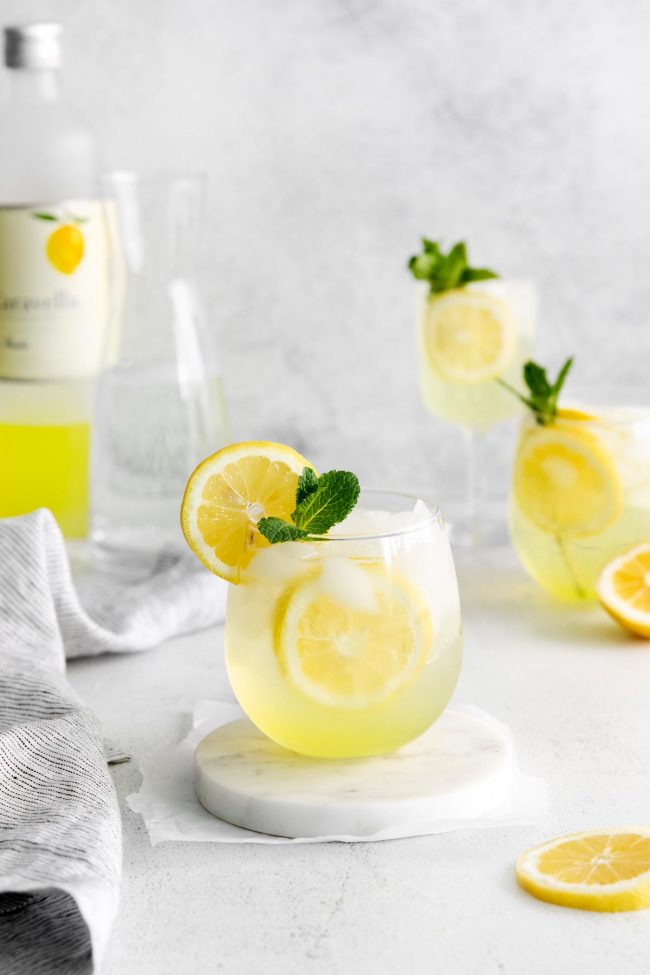 Ingredients
Limoncello – an Italian lemon liqueur that is full of sweet lemon flavor. It's a bit too sweet for my liking when on its own, but I love it in this drink!


Sparkling white wine – you can keep it Italian by using Prosecco, but Champagne or Cava would work just as well.


Sparkling water – adds elegant effervescence and helps balance the taste. You could alternatively use soda water or club soda.


Lemon juice – for an extra burst of flavor and evenness.


Garnish of choice – a slice of lemon is all it needs, but feel free to make it fancy.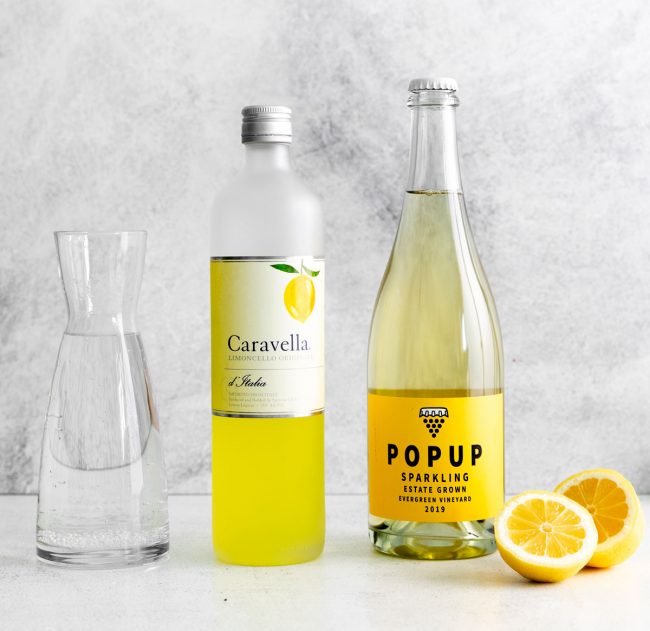 Tips
You'll definitely want to measure the ingredients rather than just squeezing a lemon and pouring the sparkling wine into the glass, as you see in the photos.


This drink is especially good on sunny days, so consider using chilled ingredients. Limoncello has enough alcohol in it so that it can be stored nicely in the freezer.


If it's really hot outside, you can also chill the glass by wetting the glass and frosting it in the freezer before pouring this colorful spritz.


There's no need for a cocktail shaker because of the carbonation. Just pour everything right into the glass and stir. It makes it a terrific choice cocktail for entertaining. You can even make a pitcher and keep it in the fridge if you're entertaining guests.


Don't be confused between limoncello, a bright yellow liqueur, and the crema di limoncello, which looks more creamy because of the added dairy. You want to buy the brilliant yellow liqueur.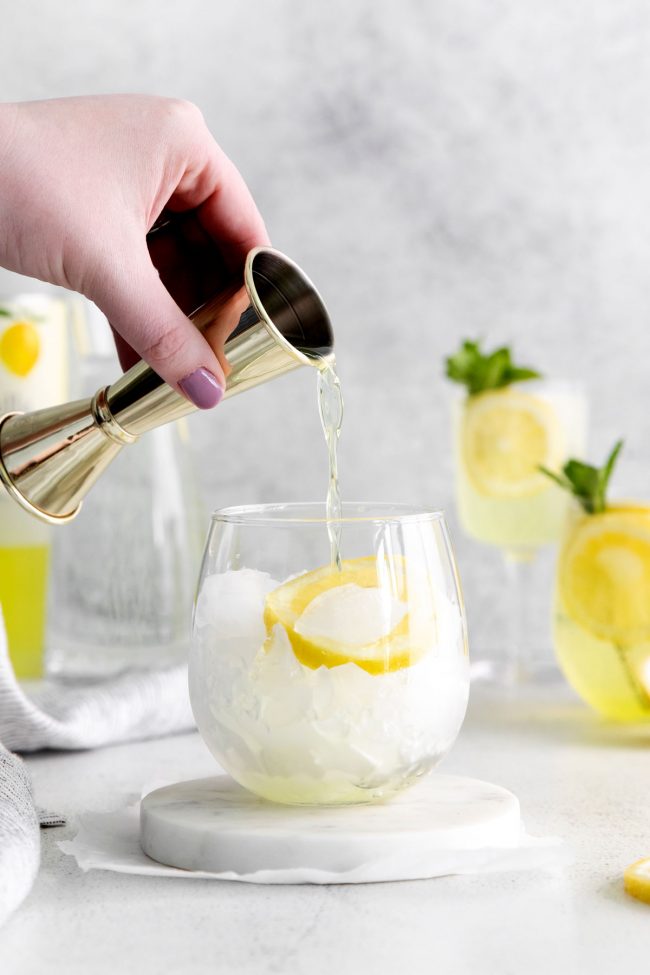 How to garnish
I keep things simple with lemon slices when I'm only entertaining myself, but I do like a good garnish.
I used a sprig of mint which went perfectly well with this lemon cocktail. Fresh thyme or basil would also be good additions.
You can even make lemon ice cubes with chopped mint for an extraordinary delight. If you do that, I would reduce or eliminate the extra fresh lemon juice in the drink because it might be too lemony with lemon ice cubes. Just go according to taste.
Add a little more color with a sliced orange garnish or throw in some fresh raspberries for a pop of color.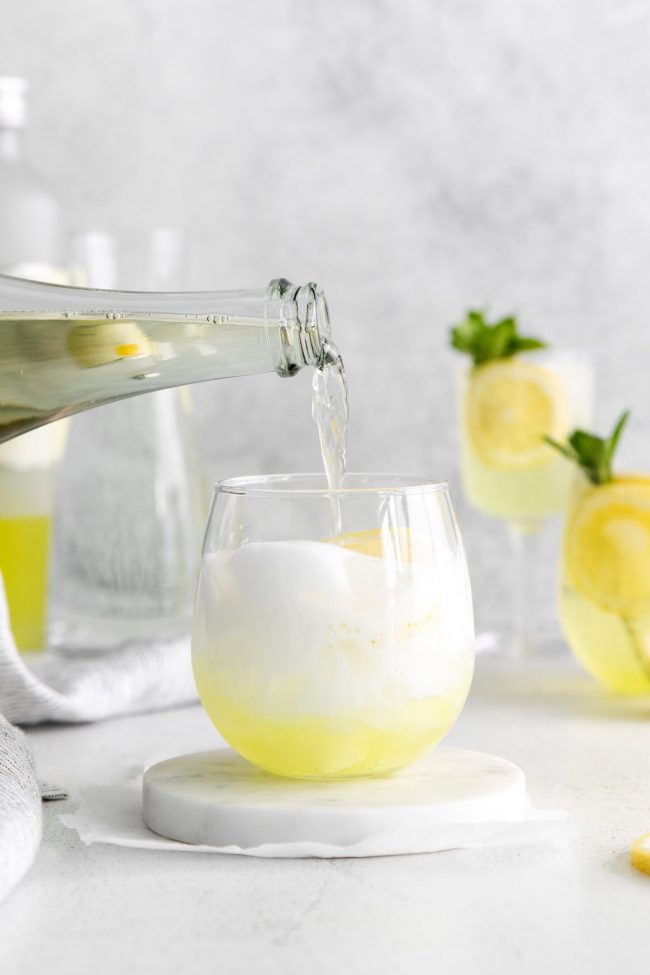 What is limoncello?
Limoncello is a tartly sweet lemon liqueur made from steeping lemon zest, sugar, and alcohol. It's actually really easy to make your own.
It does take a month or so to infuse that fresh lemon flavor from the zest to make an extremely zesty liqueur, so be aware of the time frame.
Limoncello is mainly produced in Southern Italy, with some disputing the origins between the Amalfi Coast or the Gulf of Naples and the island of Sicily. No matter where it originated, it's the perfect cool after-dinner drink known as a digestivo.
Turning limoncello into an aperitivo cocktail is a great spin on an old tradition that gives you the sensation of enjoying a nice Italian holiday.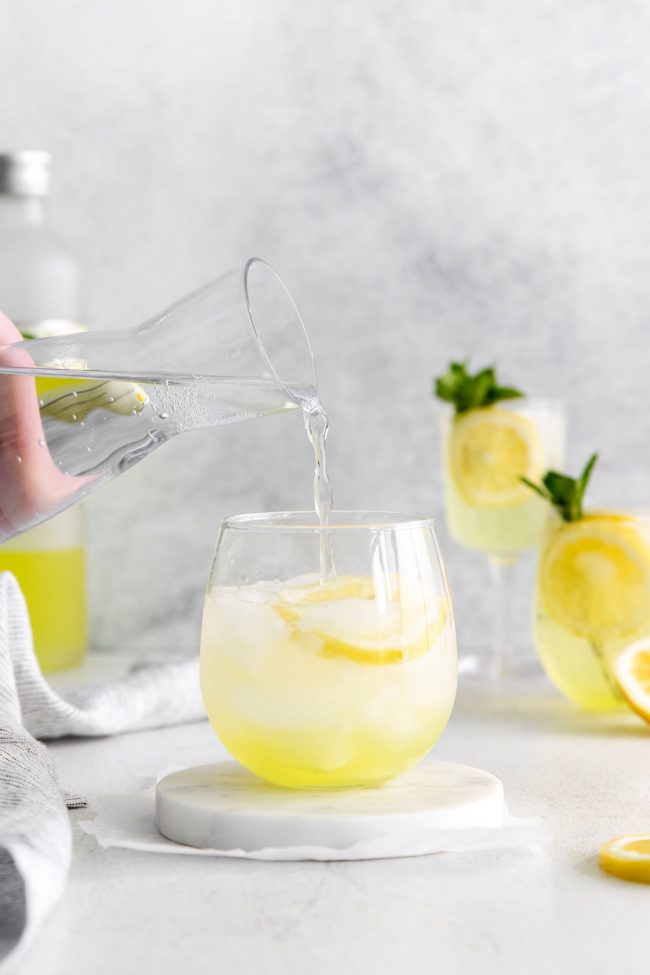 How to store limoncello
Limoncello doesn't need to be refrigerated, but I definitely recommend chilling it for a sweet cold taste!
It makes a great after-dinner drink that is cool and refreshing on its own. As I said above, it can be stored in the freezer.
It makes it easy to pull it out, pour it into a small cordial glass and sip the cool taste of lemon after a great dinner like this Lemon Pesto Pasta!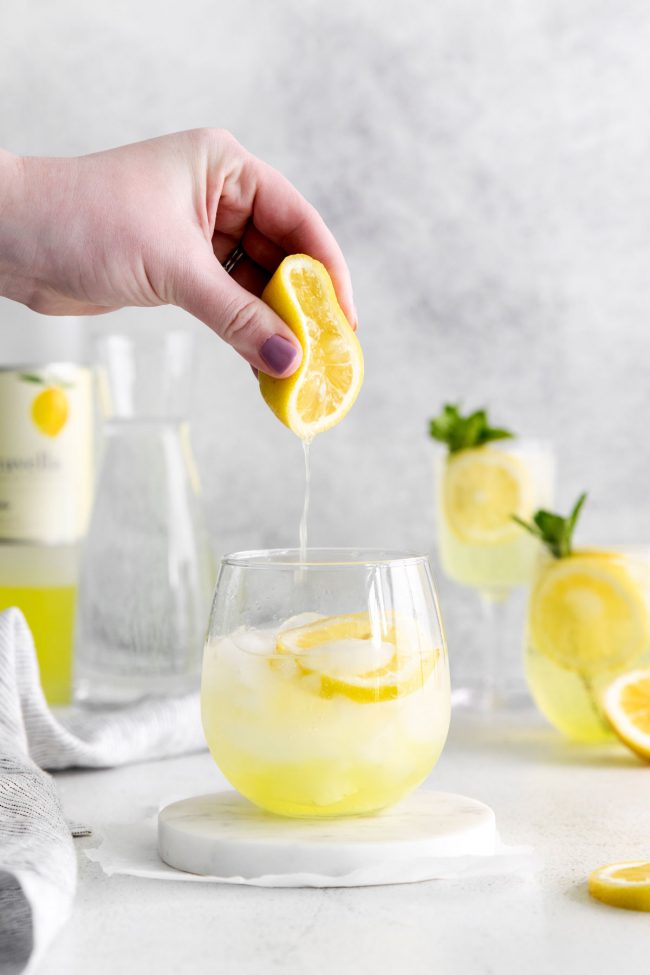 What's a spritz?
Spritz Veneziano is a recognized cocktail with a standard recipe. It consists of Prosecco, Aperol and a splash of soda water.
Traditionally, it is served in a rocks glass with ice, and the ingredients are layered in the glass, stirred and garnished. Today, you will see them mostly served in red wine glasses but whatever you serve it in, just know it's a bonafide classic happy hour drink.
For this tasty limoncello spritz, we've replaced the Aperol with limoncello, kept the splash of fizzy water and added a touch of freshly squeezed lemon juice.
And I didn't use the ratios from the standard recipe. I played around with them until I thought all the flavors were perfect.
You may have had wine spritzers, and while they may be similar to a spritz, there are some particular differences.
Spritzers are made with white or red wine as the drink's base. Then added sparkling water gives it all the bubbles to make a thirst-quenching summertime fizzy wine drink. There's no official recipe and it is meant to have lower alcohol content.
The two are distant cousins. The spritzer is a simple wine + sparkling water drink versus a more developed sparkling wine + sparkling water + liqueur mixture called a spritz.
Is it gluten-free and vegan?
I spent time looking for a limoncello brand that is widely available in the US and that is labelled gluten-free. And then I accidentally bought the wrong one. 🤦‍♀️
I bought Limoncè, which is one of the most common brands in Italy. They say on their website that, "The entire range of Limoncè products is gluten-free thanks to the distillation process during production."
If you need your limoncello to be tested and labeled gluten-free, then try Pallini Limoncello!
Sparkling wine and water are normally always gluten-free, but check your bottles, just to be sure.
Not all sparkling wine is vegan. Some brands use animal products during production.
So be sure to use a vegan brand if you need this drink to be vegan. The other ingredients shouldn't be an issue.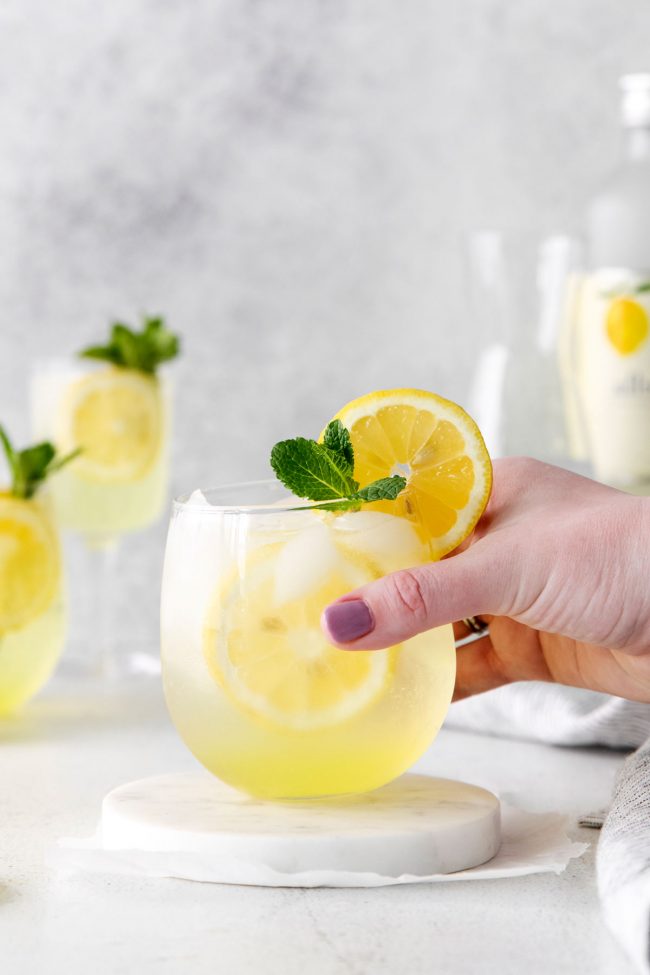 Other refreshing drinks to make at home
If you like this limoncello spritz, take a look at some of my other drink recipes.
What's your go-to spring cocktail?
If you make this limoncello spritz, please make sure to leave a comment below! Thanks. :)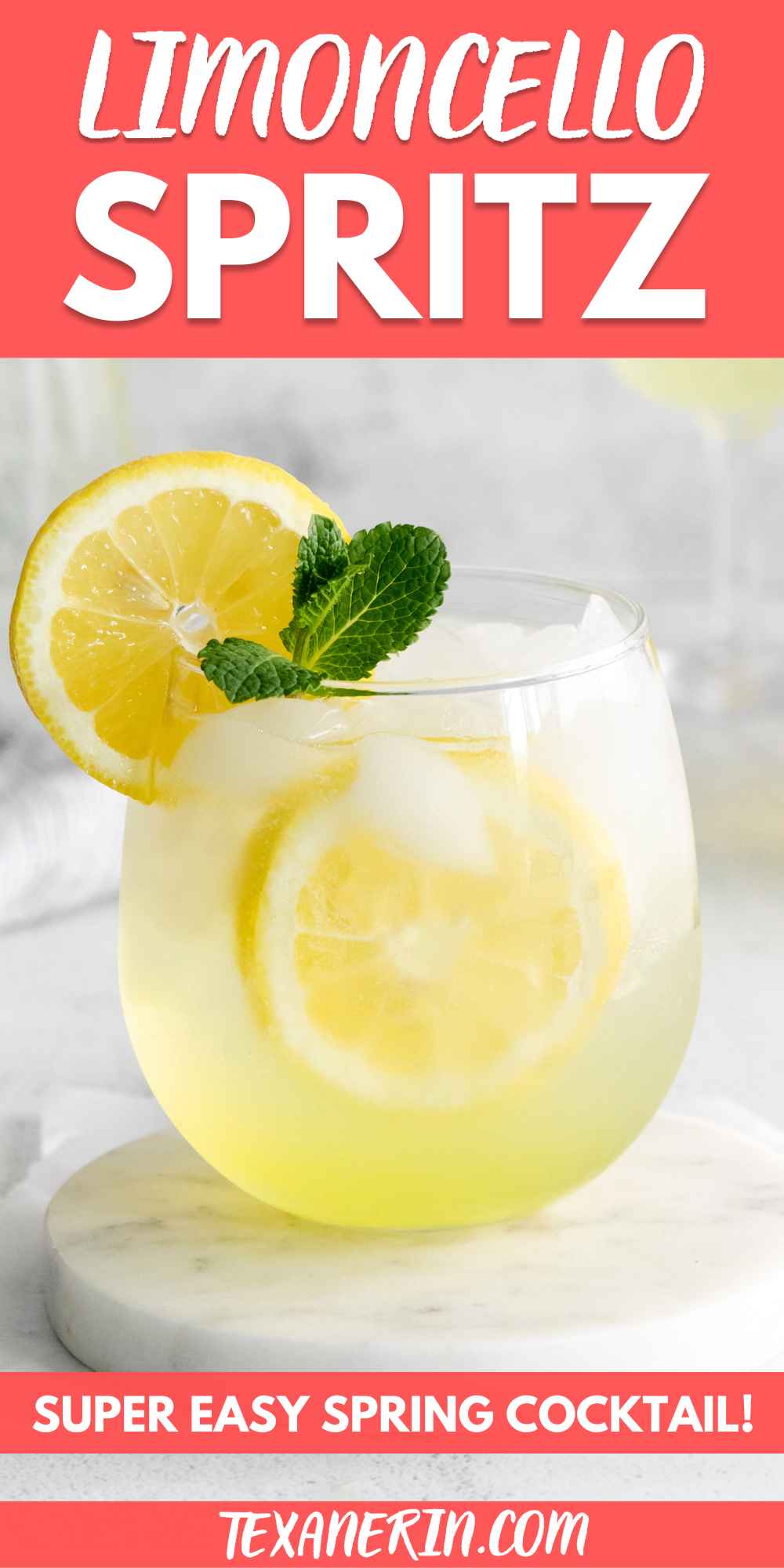 ❀
Limoncello Spritz
Prep Time:
Cook Time:
Ready in:
Yield:

1 drink
Ingredients
3 oz (6 tablespoons) limoncello
2.5 oz (5 tablespoons) sparkling white wine
2 oz (4 tablespoons) sparkling water
2 teaspoons freshly squeezed lemon juice
ice
Directions
This drink yields just under 8 ounces (1 cup). So you'll want to use a large wine glass or a highball glass.
Fill the glass about 1/2 full with ice.
Add the ingredients, in order, and then give it a stir.
Enjoy!
Notes
If gluten-free or vegan, make sure to use gluten-free/vegan sparkling wine and limoncello!