This pumpkin cake is light and moist and has a lightly sweetened maple syrup mascarpone whipped cream topping! Can be made gluten-free, 100% whole wheat or with all-purpose flour.
I don't make many cakes because I think they're too fussy, but this? This is the perfect cake for those of us who can't decorate or have issues in general with layer cakes! Out of all the cakes I've posted, this is definitely my favorite. The pumpkin cake is light and flavorful and the frosting… it's just perfect.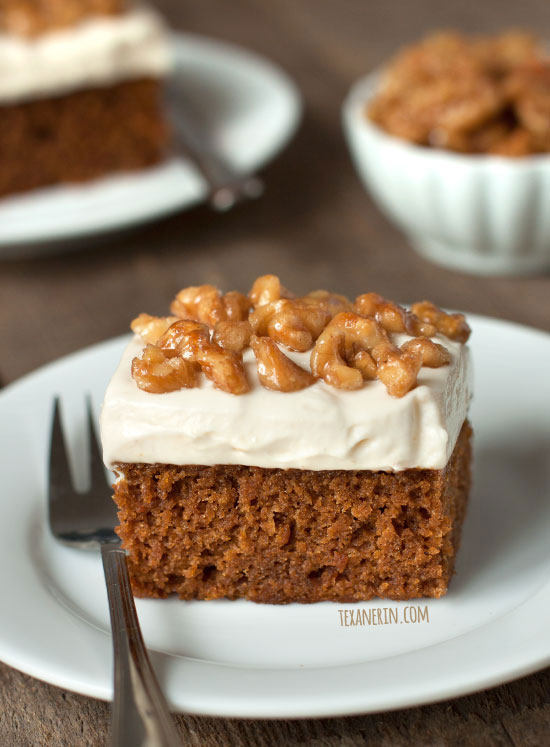 I had a tub and a half of mascarpone cheese leftover and I knew I wanted to use it with pumpkin. Mascarpone isn't the cheapest ingredient out there and I didn't want to waste it by mixing it into something that'd yield just a slight mascarpone flavor. I wanted the mascarpone to be really obvious. At first I tried these pumpkin mascarpone muffins, which were lovely, but the mascarpone filling was a little strange.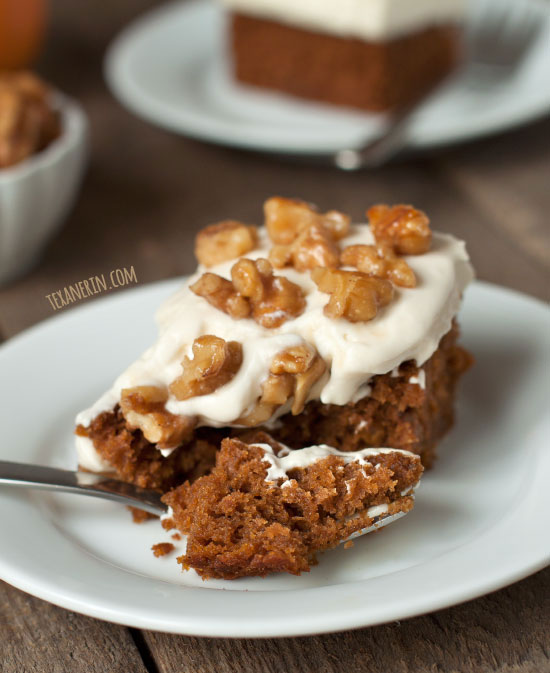 So I decided on this maple mascarpone whipped cream frosting which is now my favorite frosting ever. It's entirely maple syrup sweetened, not too sweet and you can actually taste the maple syrup in the frosting, which I love. I often use maple syrup as a sweetener but it's rare that you actually taste it (unless it's in a glaze or something like that). So here. A perfect use of maple syrup and mascarpone!
Contrary to the picture above, the cake doesn't collapse when you dig in. Here's a picture to prove it!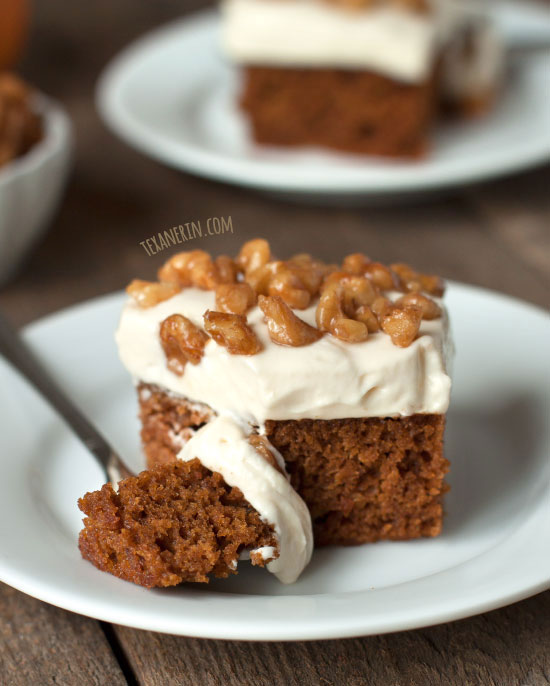 The frosting gets its light and airy texture from the addition of whipped cream. If you have heavy cream on hand, I'm assuming that'll work just fine here.
I used coconut sugar in the pumpkin cake and that's why it came out a little browner and less orange than most pumpkin cakes. It didn't affect the taste, though!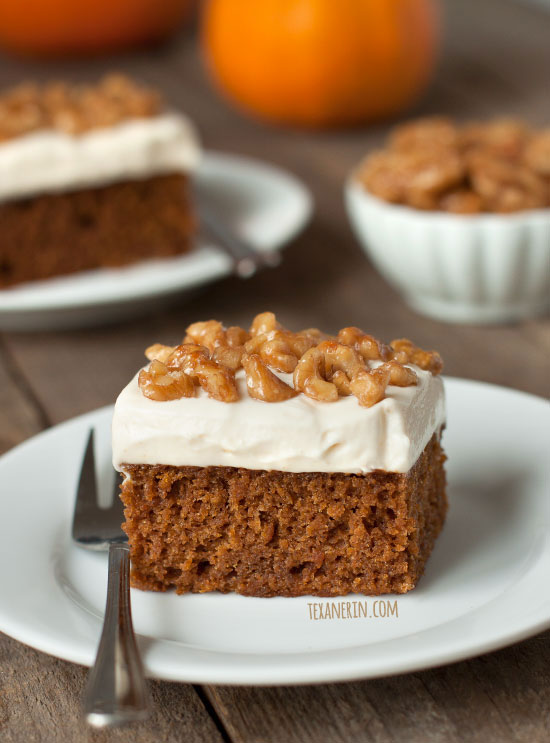 To decorate, I used these healthier maple candied walnuts that I posted the other day. The cake absolutely doesn't need the nuts – it tastes amazing without them! They were just for decoration. Only add them immediately before serving, though, as they'll sweat otherwise.
❀
Pumpkin Cake with Maple Mascarpone Frosting (gluten-free, whole grain, all-purpose flour options)
Prep Time:
Cook Time:
Ready in:
Yield:

12 pieces
Ingredients
For the cake:

1 cup (125 grams) whole wheat flour, whole spelt flour, all-purpose flour or 1 cup (134 grams) 1-to-1 gluten-free baking flour for a GF version
1 teaspoon baking powder
1/2 teaspoon baking soda
1/4 teaspoon salt
1 teaspoon ground cinnamon
1/2 teaspoon ground ginger
1/2 teaspoon ground nutmeg
2 large eggs, room temperature
1 cup (228 grams) canned pumpkin puree
1 cup (200 grams) unrefined, coconut or brown sugar
1/2 cup (120ml) olive oil, canola oil, or melted coconut oil

For the mascarpone whipped cream frosting:

8 ounces (225 grams) mascarpone cheese
1/3 cup (80ml) whipping cream or heavy cream
1/4 cup (60ml) maple syrup
1/2 teaspoon vanilla extract
a dash of salt
maple candied walnuts, as garnish, optional
Directions
For the cake:

Preheat the oven to 350°F (175°C) and line an 8" x 8" (20cm x 20cm) pan with parchment paper or spray with baking spray.
In a medium mixing bowl, stir together the dry ingredients (flour through nutmeg).
In a large mixing bowl, whisk together the remaining cake ingredients (eggs through oil).
Add the dry mix to the wet and stir just until combined. Do not overmix!
Pour into the prepared pan. Bake for 20-25 minutes or until a toothpick inserted in the center of the cake comes out clean.
Let cool completely before frosting.

For the frosting:

In a large mixing bowl using an electric hand mixer or a stand mixer fitted with the whip attachment, beat the mascarpone and whipping cream until fluffy, about 1-2 minutes.
Fold in the maple syrup, vanilla and salt.
Spread onto the cooled cake.
Top with candied walnuts immediately before serving, if desired.
Cover and refrigerate any leftovers for up to 4 days.
Cake part adapted from Ina Garten's Pumpkin Cupcakes