This blueberry cream cheese pie has a creamier and softer texture than a normal cheesecake and a whole grain cookie crust!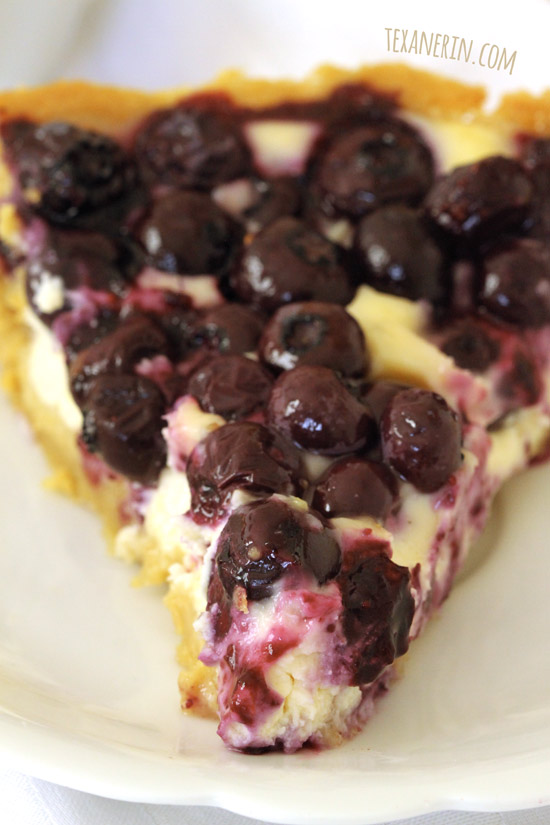 You know what's silly? I only have three recipes under the pies and tarts section. I'll take a piece of pie (or a pie) over a piece of cake any day so I'm not exactly sure why I'm lacking in the pies department.
Maybe it's because pies are usually pretty difficult to make healthy. So here we just have a slightly healthier…ish cream cheese pie. I reduced the sugar a little and used Greek yogurt instead of sour cream. But the crust? I took a classic pie crust and replaced it with a sugary cookie crust. So I went and actually added a bunch of sugar there.
But you guys. This crust is the best crust ever. I will never make a traditional pie crust again. I've never liked them but I could tolerate them. Not any longer. The crust was the one I used in my raspberry lemon bars, which were adapted from Heidi's recipe.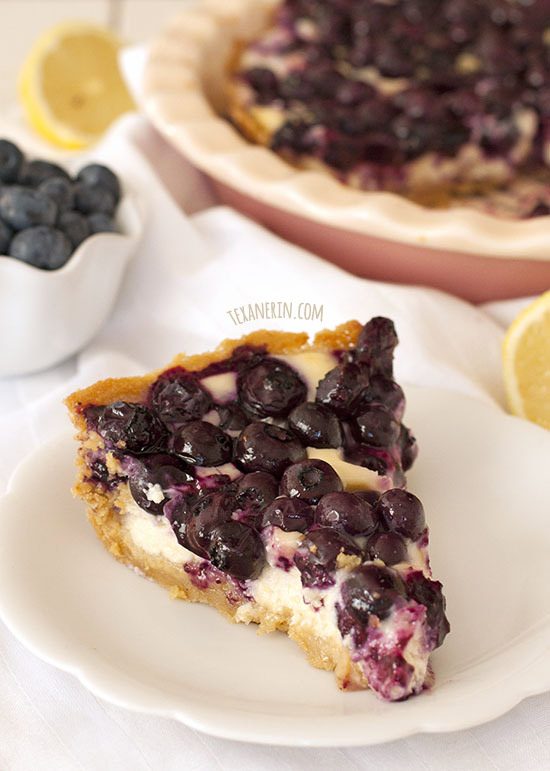 I like cheesecake. But this takes cheesecake to a whole 'nother level. This blueberry cream cheese pie tastes just like a cheesecake but it's not firm like a normal cheesecake. Instead it's creamy and gooey. I will always prefer soft and gooey to firm so this is *the* perfect pie for me!
Another reason why I don't make pies often is because I don't need to have an entire pie around. I only made this one because Mr. T was supposed to meet someone the next day and could therefore remove the pie from my presence. This sadly did not happen and there was fighting over the final pieces near the end of the pie's life (like, what, after 1 1/2 days?)
This blueberry cream cheese pie was so enjoyable that I feel a duty to come up with different variations. Namely apple. And pumpkin. All I know is that it's ruined regular cheesecake for me.
Congratulations to Lynda M. who won the S'mores Cookbook! And thanks to everyone who entered. :)