This blueberry cream cheese pie has a creamier and softer texture than a normal cheesecake and a whole grain cookie crust!
You know what's silly? I only have three recipes under the pies and tarts section.
I'll take a piece of pie (or a pie) over a piece of cake any day so I'm not exactly sure why I'm lacking in the pies department.
Maybe it's because pies are usually pretty difficult to make healthy. So here we just have a slightly healthier…ish cream cheese pie. I reduced the sugar a little and used Greek yogurt instead of sour cream.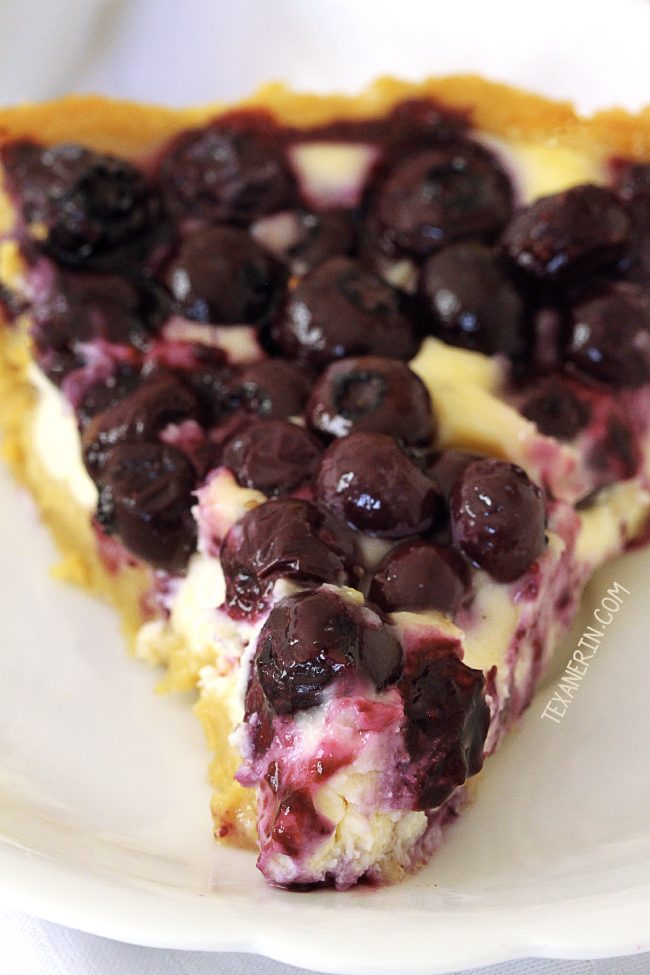 But the crust? I took a classic pie crust and replaced it with a sugary cookie crust. So I went and actually added a bunch of sugar there.
This crust is the best crust ever. I will never make a traditional pie crust again. I've never liked them but I could tolerate them. Not any longer.
The crust was the one I used in my raspberry lemon bars, which were adapted from Heidi's recipe.
I like cheesecake. But this takes cheesecake to a whole 'nother level. This blueberry cream cheese pie tastes just like a cheesecake but it's not firm like a normal cheesecake.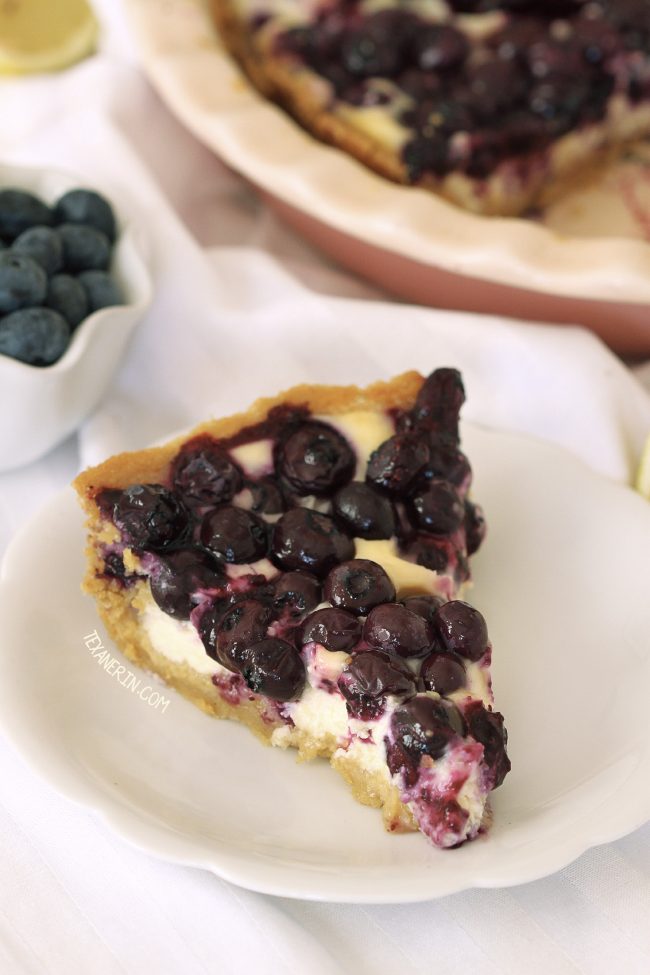 Instead it's creamy and gooey. I will always prefer soft and gooey to firm so this is *the* perfect pie for me!
Another reason why I don't make pies often is because I don't need to have an entire pie around. I only made this one because Mr. T was supposed to meet someone the next day and could therefore remove the pie from my presence.
This sadly did not happen and there was fighting over the final pieces near the end of the pie's life (like, what, after 1 1/2 days?)
This blueberry cream cheese pie was so enjoyable that I feel a duty to come up with different variations. Namely apple. And pumpkin. All I know is that it's ruined regular cheesecake for me (though I do love this no-bake Greek yogurt cheesecake and these mini peanut butter cheesecakes).
❀
Blueberry Cream Cheese Pie (100% whole grain)
Prep Time:
Cook Time:
Ready in:
Yield:

9 pieces
Ingredients
Crust:

1/2 cup (113 grams) butter
1/2 cup (100 grams) unrefined or granulated sugar
1 teaspoon vanilla
1 tablespoon lemon zest
1/8 teaspoon salt
1 cup + 2 tablespoons (140 grams) whole wheat pastry flour

Filling:

8 ounces (225 grams) regular or reduced fat cream cheese, room temperature
1/2 cup (1.2dl) plain Greek yogurt
1/4 cup (50 grams) unrefined or granulated sugar
1 egg
2 teaspoons vanilla extract
zest of 2 lemons
pinch of salt
3 cups (450 grams) blueberries, fresh or frozen (do not thaw if using frozen!)
2 tablespoons cornstarch
3 tablespoons unrefined or granulated sugar
1 tablespoon fresh lemon juice
Directions
Preheat the oven to 350 degrees F (176 degrees C).
In a medium bowl, cream the butter and sugar together until light and fluffy.
Add the vanilla extract, lemon zest, salt and 1/2 cup of the flour. Beat well and then add in the rest of the flour.
Continue beating this mixture until well combined.
Press onto the bottom and up the sides of a 9" deep dish pie pan.
Using a fork, poke holes in the dough, about 1" apart.
Bake for 15 minutes and then remove the pie crust from the oven.
While the crust is baking, prepare the filling.
Beat the cream cheese until fluffy, about 2 minutes.
Add the Greek yogurt, sugar, egg, vanilla, lemon zest, salt and beat until very well combined. Set this aside.
In a large bowl, very carefully combine the blueberries, cornstarch, sugar, and lemon juice.*
Pour the cream cheese mixture over the bottom of the crust and use a silicone spatula to make it as even as possible.
Then spoon the blueberries over the cream cheese mixture, again spreading them out as evenly as possible.
Bake for 35 minutes (also at 350 degrees F) or until the center is almost set and remove from the oven to cool completely.
Once the pie is completely cool, place it in the refrigerator to chill for at least 4 - 6 hours before serving.*
Store covered in the refrigerator for up to 4 days.
Notes
I thought that it'd make more sense to combine the cornstarch, sugar and lemon juice first and then add this to the blueberries. That didn't work. It was just a lump of cornstarch. So do it like it says in the directions for a less frustrating experience. :)
Trust me, this doesn't taste very good while warm! Let it chill thoroughly.
Crust recipe adapted from Whole Grain Honey Sweetened Raspberry Lemonade Bars - Food Doodles and pie recipe adapted from Blueberry Cream Cheese Pie - Cinnamon Spice and Everything Nice