These Baileys cheesecakes feature a simple and totally from scratch chocolate cookie crust with a creamy, boozy cheesecake filling! They can be made with all-purpose flour, gluten-free or whole wheat flour.
I don't have many St. Patrick's Day recipes, but I'm trying to remedy that this year. First up, we have these amazing, quick and easy Irish cream cheesecakes! If you don't have any cream cheese on hand, try these Baileys Brownies instead.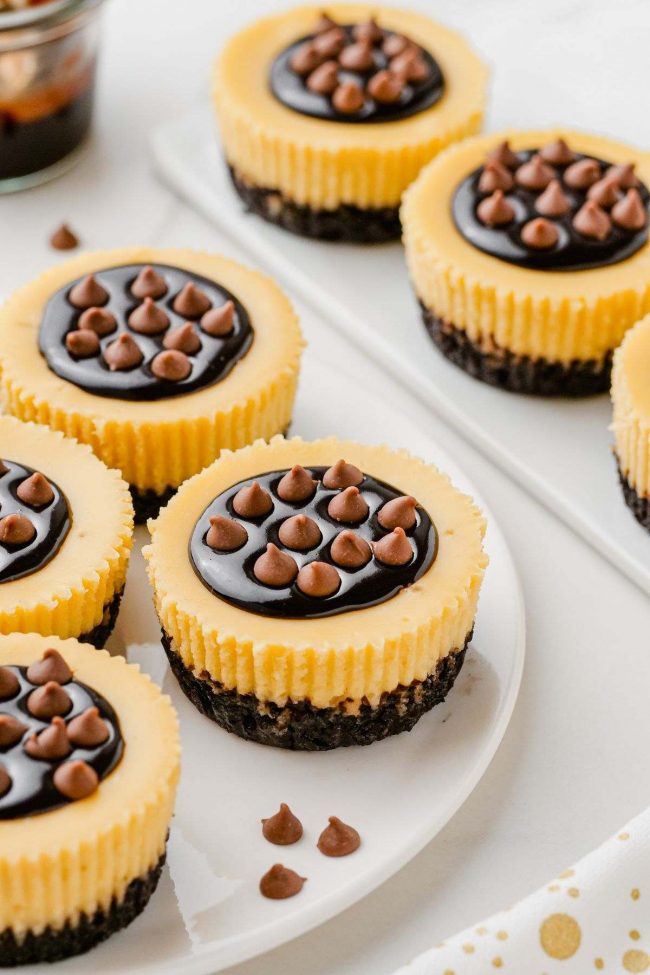 Super creamy + boozy filling
You just need basic stuff for these cheesecakes. And some Baileys!
Cream cheese – there's no sub for this. I know some people like to use Philadelphia Neufchatel Cheese with 1/3 Less Fat, and I think that'd work, but I haven't tried it.


Sugar – you can use regular granulated sugar, raw sugar or coconut sugar. The taste is surprisingly not much different with coconut sugar, but the cheesecakes will be browner in color.


Baileys – or whatever type of Irish cream that you'd like. Carolans is also tasty!


Vanilla – no explanation needed! On a random note, I just made 3 liters of homemade vanilla. I was going through about 30 euros of the cheapest vanilla I could find every few weeks.


Eggs – no sub for these, sorry.


Salt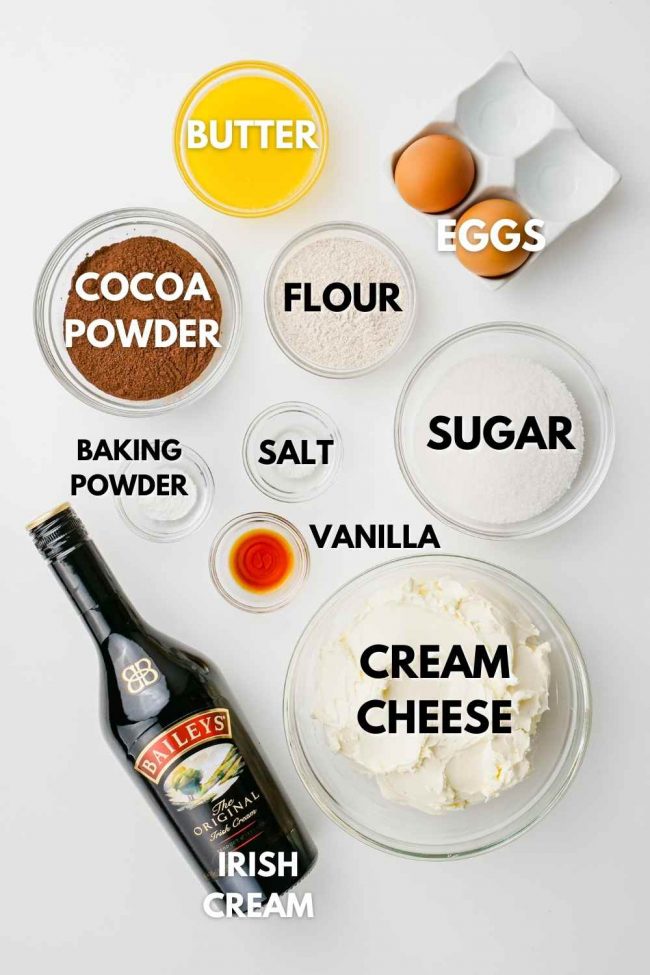 Homemade chocolate cookie crust
I really, really love the crust in these mini Irish cream cheesecakes. You just mix together flour, cocoa powder, sugar, salt and butter. So easy.
I didn't experiment with coconut oil for a dairy-free version because the cheesecake is full of dairy anyway, but I'm pretty sure using the same amount wouldn't work. You'd need to reduce it but since I haven't tried it, I can't say for sure how much you'd need.
It tastes exactly the same as a regular Oreo cookie crust, if not better, and it doesn't have any funky ingredients.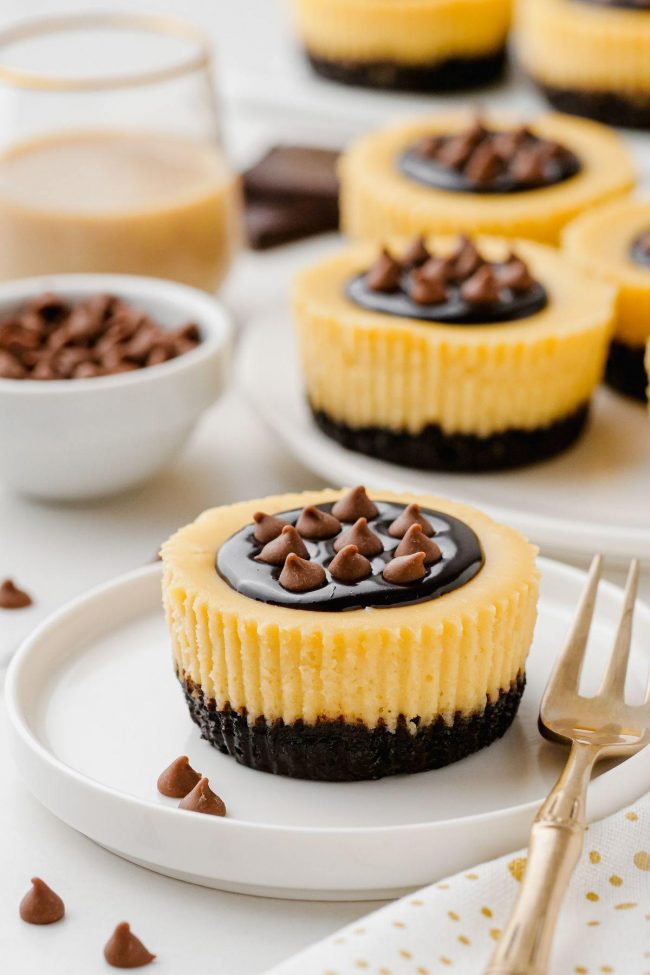 Gluten-free version
Because I was so excited after the whole wheat version came out, I decided to try a gluten-free version with buckwheat flour (which is also 100% whole grain, by the way!), and it was just as delicious.
You need to make sure to pick a brand that's gluten-free. Buckwheat is naturally gluten-free but sometimes gets contaminated during processing.
I've also tested the crusts with all-purpose flour and Bob's Red Mill 1-to-1 Gluten-free Baking Mix. It's good that we really loved these cheesecakes. ;)
There were a few times that I made these cheesecakes to give away, but they were so delicious that I couldn't let go of them. Then I ended up making my usual go-to, these almond flour brownies or gluten-free brownies.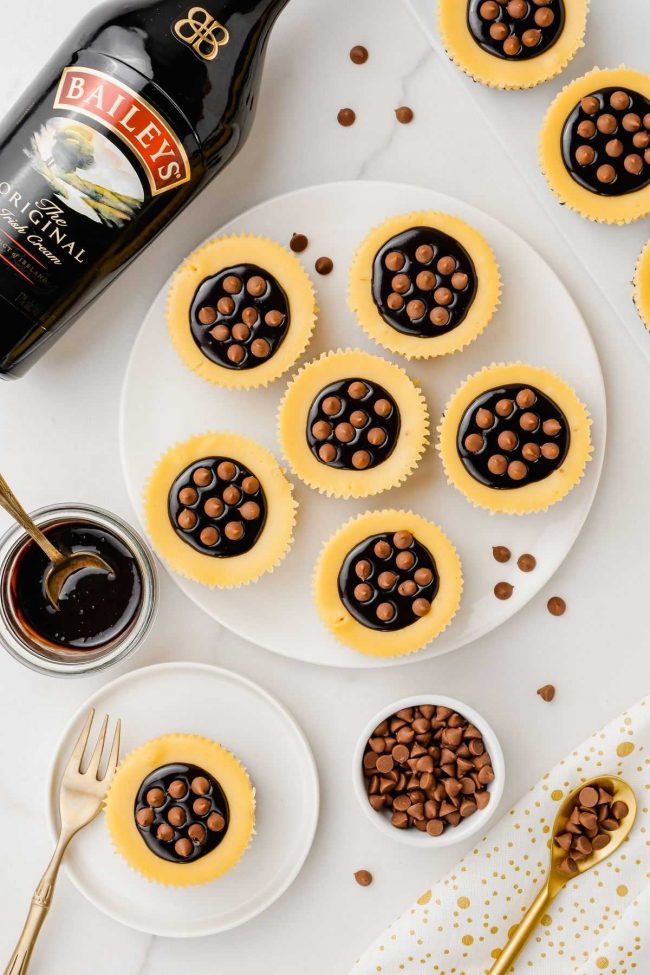 Is Baileys gluten-free?
According to Baileys, "The ingredients used in Baileys are gluten-free. On the basis of this, and to the best of our knowledge, there are no traces of gluten in Baileys. As we are not qualified to give medical advice, persons requiring a gluten-free diet should consult their medical adviser before consuming Baileys."
So they're clearly being cautious.
Why they're being cautious is because whiskey is made from barley, one of the gluten-containing grains. However, when whiskey goes through the distillation process, all of the gluten is basically destroyed.
According to Beyond Celiac, "Pure, distilled whiskey (or whisky), even if made with wheat, barley, or rye is considered gluten-free. Most whiskeys are safe for people with celiac disease because of the distillation process."
So it's safest to talk to your doctor. I can tell you that Baileys Almande is definitely gluten-free and will work in these cheesecakes.
I used to recommend Carolans, as they previously wrote that they're gluten-free on their website, but they no longer have that listed there. So I'm not sure what that means.
They apparently only use gluten-free ingredients, like Baileys, but I'm guessing they don't feel confident declaring it as gluten-free, the same as Baileys.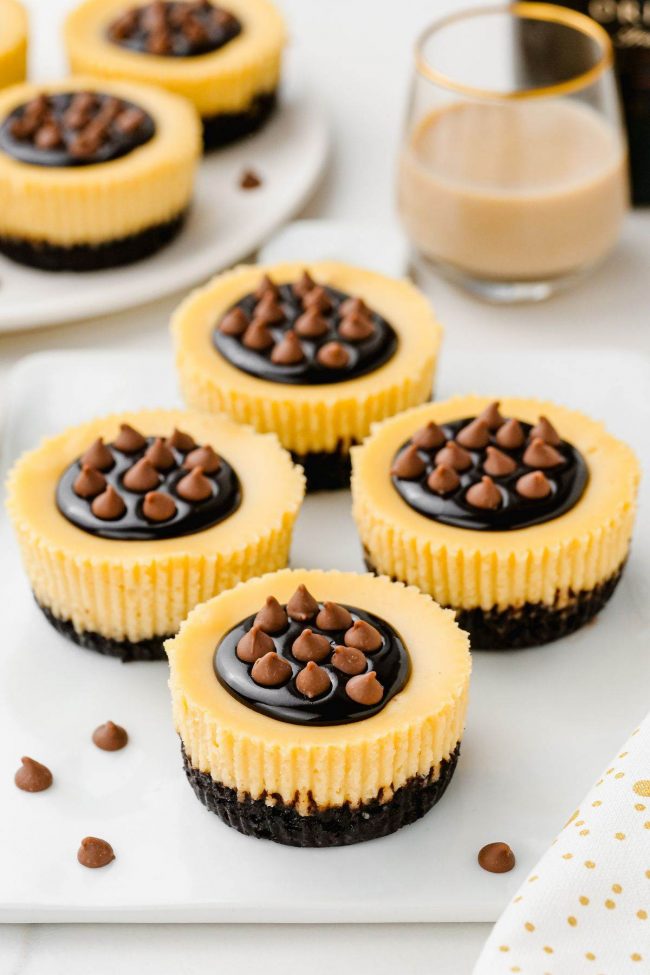 The topping
I thought about topping these off with some whipped cream, but then I remembered this Baileys fudge sauce that I saw over on Cupcakes & Kale Chips. It was incredibly quick and easy to make and half of the recipe was just enough.
It looks great and I love that it's sweetened with brown rice syrup or maple syrup! You can also use corn syrup if you prefer.
If you use maple syrup, it doesn't taste like maple, at least if you use a syrup that's lighter in color. I haven't tried honey for that reason. I figured that the honey taste would be quite strong and honey + Baileys doesn't sound like the best combination to me.
I was surprised by how thick the maple syrup version turned out. It's strangely almost as thick as the brown rice syrup version.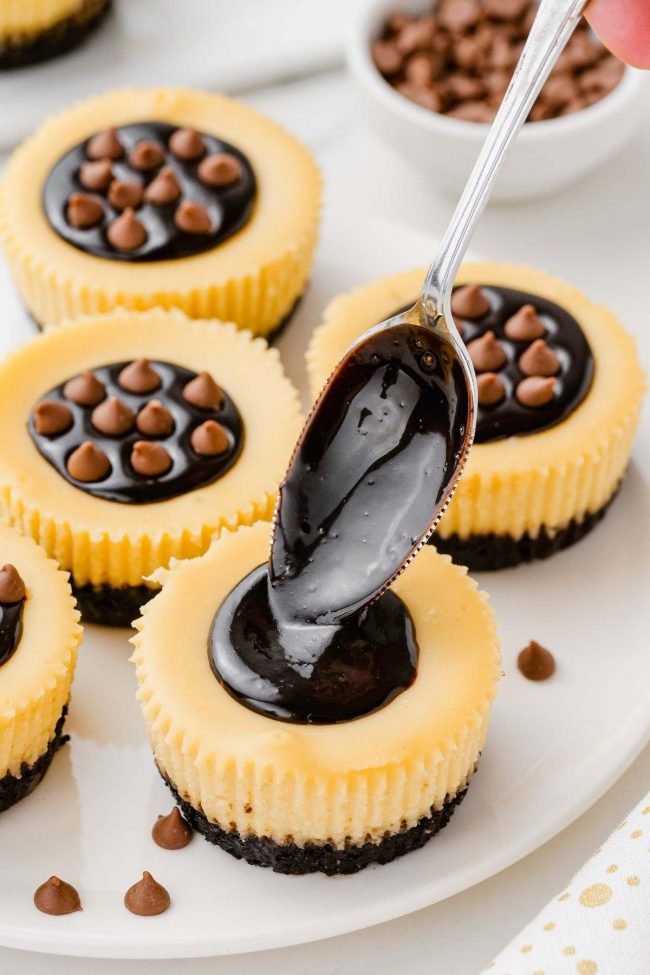 Can I just make one big cheesecake?
The crust doesn't work in a pie pan so that's a no. I poured in the filling, anyway, on my messed up crust and baked it and the texture wasn't right.
I'm not quite sure why that is, but it didn't work.
Can I freeze these Irish cream cheesecakes?
Yes! You can even freeze them with the fudge topping.
Depending on your freezer, you may be able to eat these Baileys cheesecakes straight from the freezer. But you'll likely need to let them defrost for 20 minutes or so at room temperature.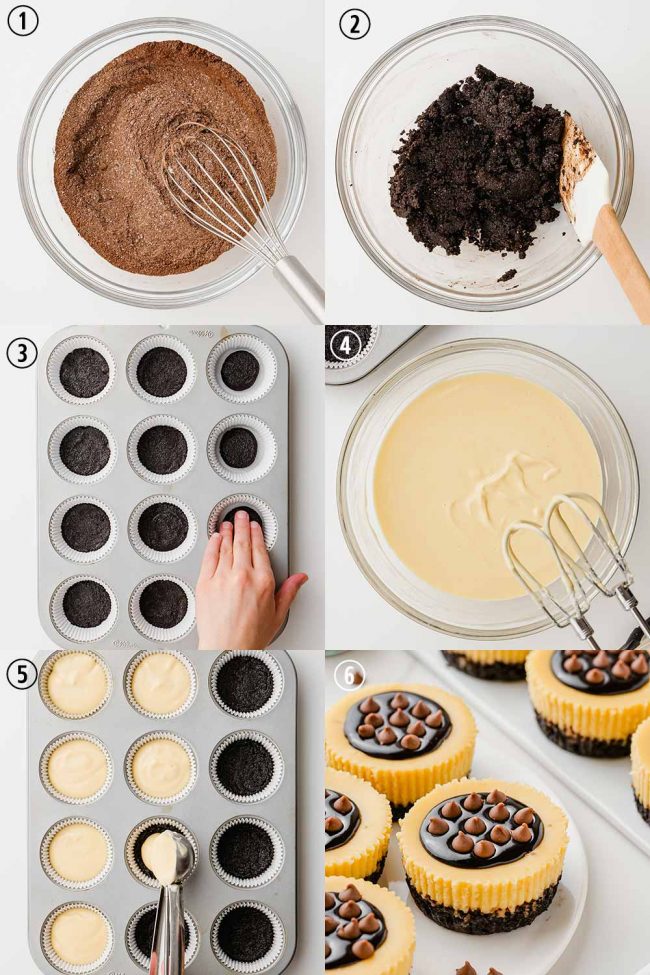 By the way, if you're looking for another St. Patrick's Day treat, check out this Guinness Chocolate Cake! This Baileys White Russian also looks amazing.
Other mini cheesecakes
I hope you'll enjoy the cheesecakes! If you make this recipe, I'd love to see pictures of your creations on Instagram, Facebook and Twitter! Please hashtag them #texanerin so I can find them. :)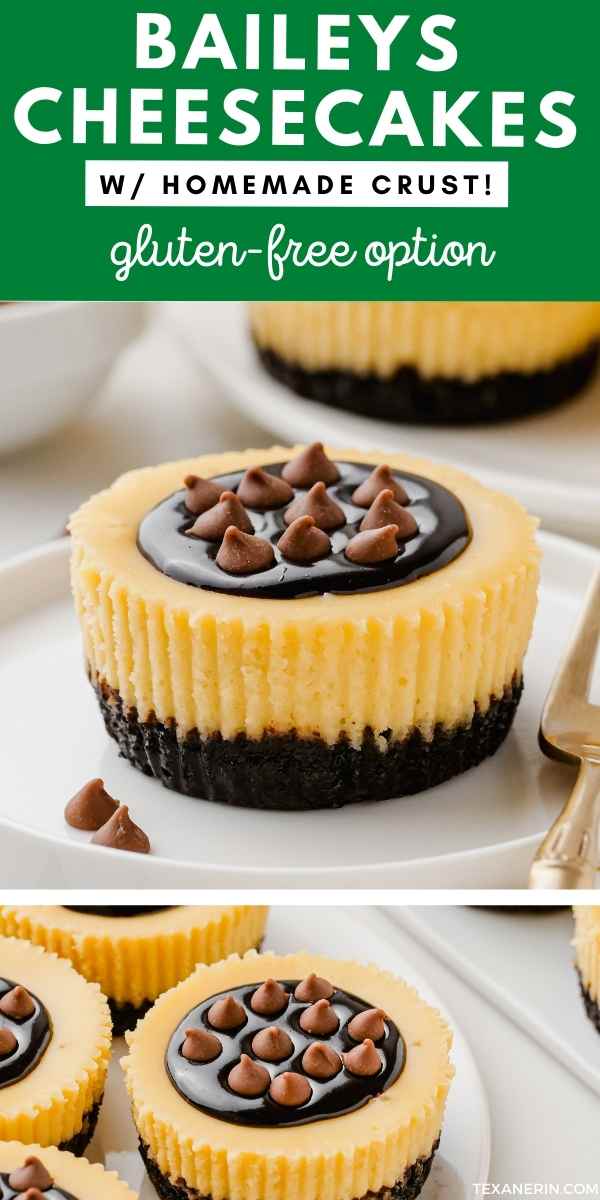 ❀
Baileys Cheesecakes (gluten-free option)
Prep Time:
Cook Time:
Ready in:
Yield:

12 mini cheesecakes
Ingredients
For the crust:

6 tablespoons (75 grams) granulated sugar, coconut sugar or raw sugar
6 tablespoons (49 grams) all-purpose flour, whole wheat flour or for GF, use 6 tablespoons (49 grams) buckwheat flour or 6 tablespoons (52 grams) Bob's Red Mill 1-to-1 GF Baking Flour
6 tablespoons (43 grams) Dutch-process cocoa powder
1/2 teaspoon baking powder
pinch of salt
4 1/2 tablespoons (63 grams) unsalted butter, melted and cooled

For the cheesecake:

1 pound (450 grams) cream cheese (that's two 8-ounce packages)
2/3 cup (134 grams) granulated sugar, raw sugar or coconut sugar (which will result in much darker cheesecakes)
6 tablespoons Baileys (make sure to use GF Irish cream, if necessary)
1 teaspoon vanilla
pinch of salt
2 large eggs, room temperature

For the topping:

1/4 cup (60 ml) Baileys
2 tablespoons Dutch-process cocoa powder
2 tablespoons brown rice syrup, maple syrup or corn syrup
pinch of salt
1 oz. (28 grams) semi-sweet chocolate, chopped

For decoration:

the above topping and mini chocolate chips
Directions
For the crust:

Preheat the oven to 350 °F (175 °C). Line a regular-sized muffin pan with 12 muffin liners. Note that this crust recipe does not work in a regular pie pan – only as mini cheesecakes.
In a medium mixing bowl, stir together the dry crust ingredients (sugar through salt). Then stir in the melted butter until totally combined. If it's sticky and hard to handle, let it sit for about 5 minutes. Use a small cookie scoop to scoop out a ball of dough. Roll into twelve 18-gram balls, flatten with your palm, and place in each muffin liner.
Press down the crusts, if necessary, so that they reach the edge of the liner.
Bake for 3 minutes, turn the pan 180 degrees and bake for another 4 minutes. They'll be very, very soft and appear uncooked but the very top surface should appear baked and not doughy. Don't bake them too long - if they start bubbling, they've baked too long, and they fry and get weird.
Remove from the oven and let cool for 10 minutes while you prepare the cheesecake.
Turn the temperature down to 275 ºF (135 ºC) after removing the crusts.

For the cheesecake:

With an electric hand mixer, beat the cream cheese and sugar at medium speed until well combined. Add the Baileys, vanilla, and salt and mix on low until combined.
Add the eggs, one at a time, and stir just until well incorporated. Do not over mix!
Fill each cup almost to the top with batter and bake for 25 minutes or until the middle is set and doesn't jiggle. Remove the pan to a wire rack to cool completely, about 2 hours, and then refrigerate for another 2-4 hours or until firm.

To make the fudge topping:

In a small pot over medium heat, stir together the Baileys, cocoa powder, brown rice syrup and salt. Mix until smooth.
Bring it to a boil while stirring frequently. Reduce the heat to low, and let simmer for 2-3 minutes or until slightly thickened.
Remove the pot from the heat, add the chocolate, and then stir until totally smooth.
Let it cool enough so that it doesn't melt the cheesecakes. If it thickens too much while cooling, gently reheat it until it's runny enough.
Refrigerate leftovers.
Use a little less than 1 1/2 teaspoons of fudge to top each cheesecake. Work quickly as the fudge firms up quickly. Top with mini chocolate chips.
Refrigerate the cheesecakes in an airtight container for up to 3 days. They freeze great, with or without the topping.
Fudge topping adapted from Baileys fudge sauce on Cupcakes and Kale Chips