These Baileys cheesecakes feature a simple and totally from scratch chocolate cookie crust! Can be made with gluten-free, all-purpose flour or whole wheat flour.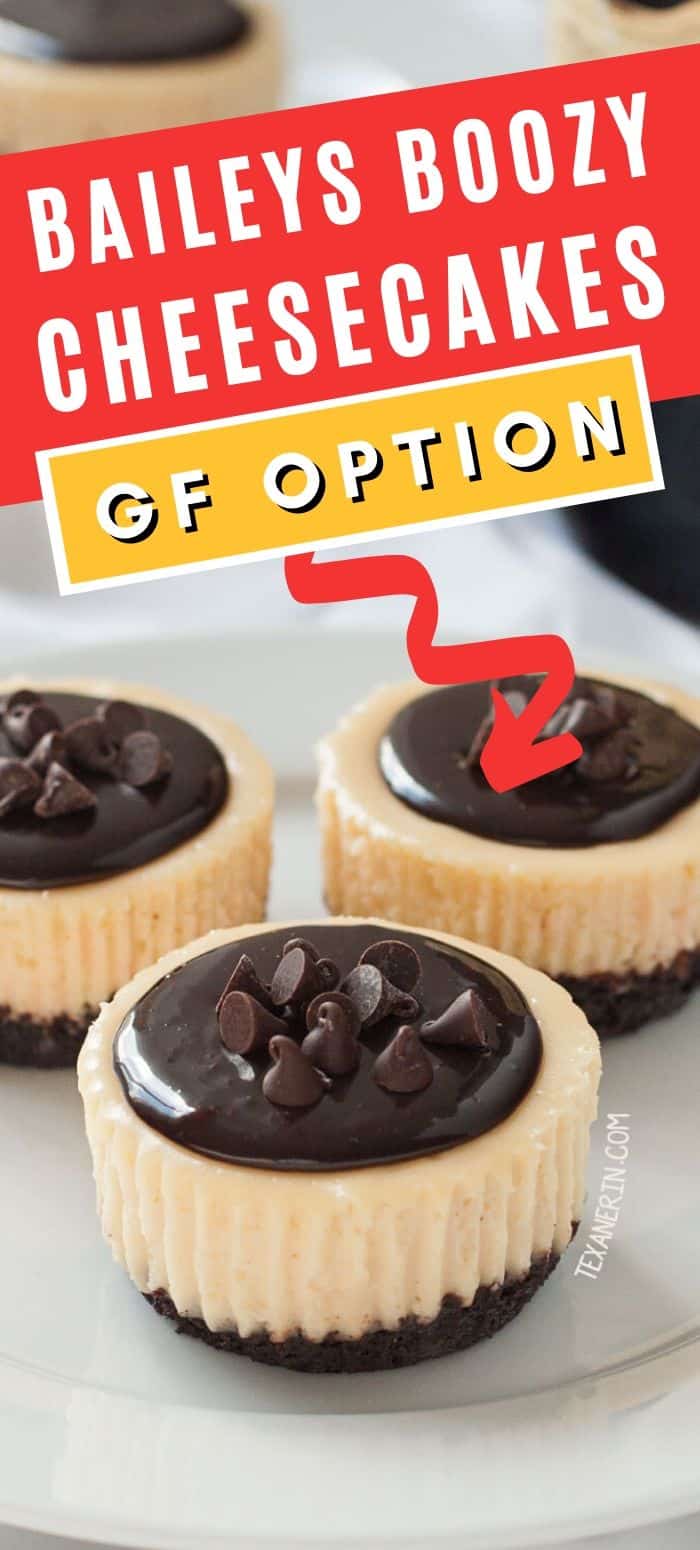 I posted these mini Irish Cream cheesecakes three years ago but after recently stumbling across the recipe and seeing that I used an Oreo cookie as the crust, I decided to revisit them.
So I created a totally from scratch Oreo cookie crust. You just mix together flour, cocoa powder, sugar, salt and butter. SO easy. It tastes exactly the same as a regular Oreo cookie crust, if not better, and it doesn't have any funky ingredients. Victory was mine! :D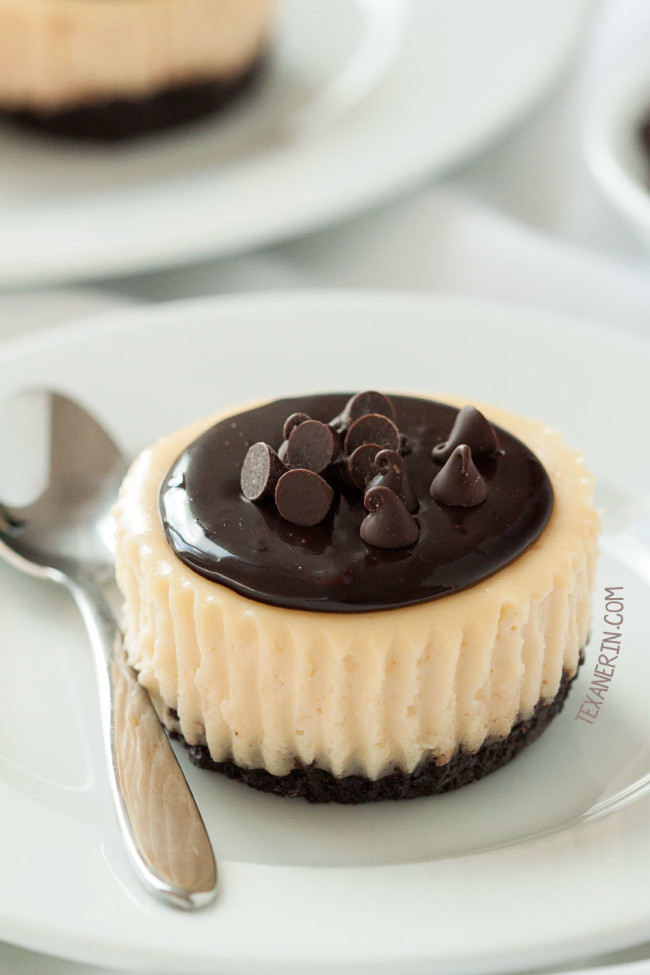 Because I was so excited after the whole wheat version came out, I decided to try a gluten-free version with buckwheat flour (which is also 100% whole grain, by the way!) and it was just as delicious.
The buckwheat crusts bubbled quite a bit while cooking and even looked a little greasy but once they cooled, they were all good. Nice and crisp and not the least bit greasy.
I didn't experiment with coconut oil for a dairy-free version because the cheesecake is full of dairy, anyway, but I'm pretty sure using the same amount wouldn't work. You'd need to reduce it but since I haven't tried it, I can't say for sure how much you'd need.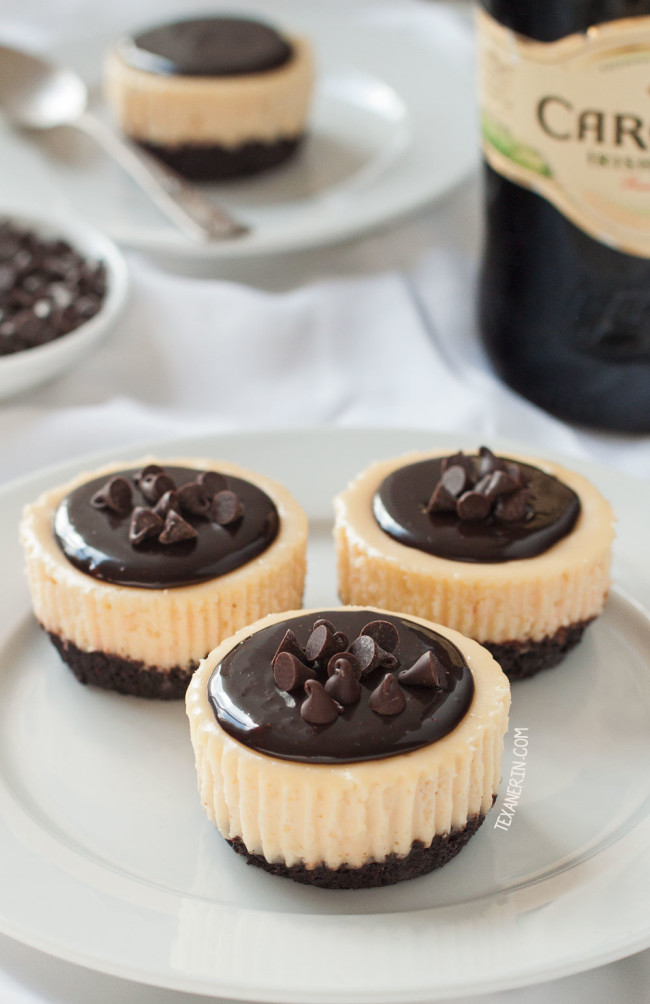 If you need these cheesecakes to be gluten-free, make sure your Irish cream (and obviously every ingredient you use) is gluten-free. I recommend Carolans. Here's an article about Baileys vs. Carolans when it comes to gluten.
I thought about topping these off with some whipped cream but then I remembered this Baileys fudge sauce that I saw over on Cupcakes & Kale Chips recently. It was incredibly quick and easy to make and half the recipe was just enough. It looks great and I love that it's sweetened with brown rice syrup!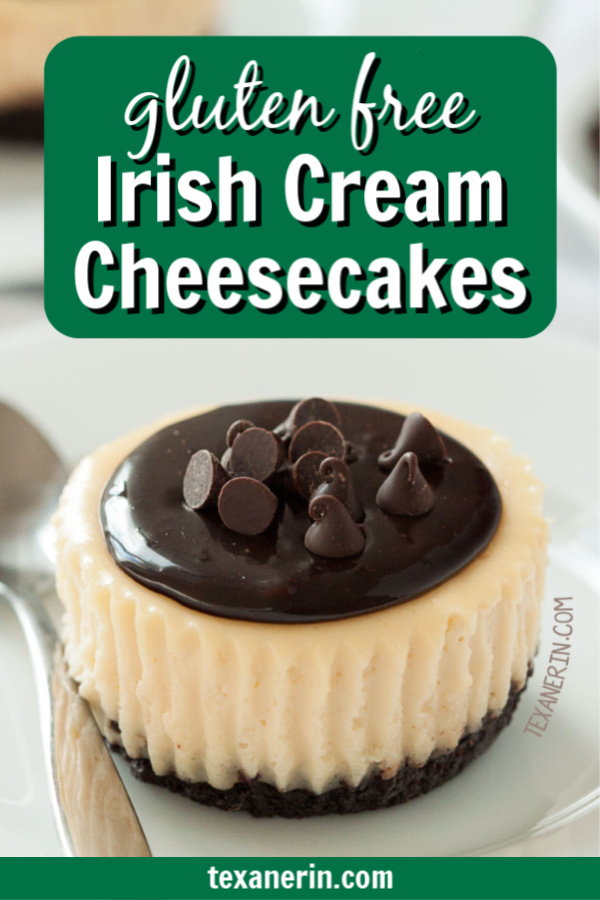 ❀
Baileys Cheesecakes (gluten-free option)
Prep Time:
Cook Time:
Ready in:
Yield:

12 mini cheesecakes
Ingredients
For the crust:

6 tablespoons (75 grams) raw sugar
6 tablespoons (49 grams) whole wheat flour or all-purpose flour or buckwheat flour for a gluten-free version
6 tablespoons (43 grams) Dutch-process cocoa powder
pinch of salt
4 1/2 tablespoons (63 grams) unsalted butter, softened

For the cheesecake:

1 pound (450 grams) cream cheese (that's two 8-ounce packages)
2/3 cup (134 grams) raw sugar, coconut sugar or granulated sugar1
6 tablespoons Irish cream (make sure to use gluten-free / grain-free Irish cream, if necessary)
1 teaspoon vanilla
pinch of salt
2 large eggs, room temperature

For decoration:

1/2 batch Baileys fudge sauce and / or chocolate chips, optional
Directions
For the crust:

Preheat the oven to 350 °F (175 °C). Line a muffin pan with 12 muffin liners. Note that this crust recipe does not work in a regular pie pan – only as mini cheesecakes.
In a large mixing bowl, mix the sugar, flour, cocoa powder, and salt together. Using an electric hand mixer, beat in the butter at low speed until thoroughly combined. If you have trouble incorporating it, use your hands (it'll be very sticky).
Divide the crumbs between the muffin liners (I used 16 grams of crumbs per liner). Press down lightly with the bottom of a shot glass. If using whole wheat, bake for 11-13 minutes or until the crust no longer appears wet and move on to the next step. If using buckwheat, bake for 14 minutes. The crust will likely bubble and you may have some small holes in the crust. After removing from the oven, use the shot glass again to lightly press down (which will remove the holes).
After baking, the crust will still be soft but will firm up as it cools. Let cool for 10 minutes while you prepare the cheesecake. I turned off the oven for about 5 minutes and at that point, it was at 275 ºF (135 ºC), which is the temperature you need to bake the cheesecakes at. You can alternatively immediately turn the temperature down to 275 ºF (135 ºC) after removing the crusts.

For the cheesecake:

Preheat the oven to 275 ºF (135 ºC) (if it's not already). With an electric hand mixer, beat the cream cheese and sugar on medium speed until well combined. Add the Irish cream, vanilla and salt and mix on low until combined. Add the eggs, one at a time, and stir just until well incorporated. Do not over mix!
Fill each cup almost to the top with batter and bake for 20 minutes or until the middle is set and doesn't jiggle when the pan is tapped. Turn off the oven, open the oven door (at least 1 foot), and let the cheesecakes cool in the oven to prevent cracks from forming. Once completely cool (about 1 1/2 hours), remove from the oven.
Take the liners off (I find them easier to remove before refrigeration, but you can remove them later) and refrigerate for at least 2 hours or until ready to serve.
If using the Baileys fudge sauce, only make 1/2 the batch and use a little less than 1 1/2 teaspoons of fudge per cheesecake. Work quickly as the fudge firms up quickly. Top with chocolate chips, if desired.
Refrigerate in an airtight container for up to 3 days.
Notes
If you use coconut sugar, your cheesecake will be a little darker.