These mini peanut butter cheesecakes are made a little healthier with natural peanut butter and honey and can be made gluten-free, grain-free, and 100% whole grain!
Looking at these pictures, the cheesecakes look a little funky, right? But I swear they're not! They have a regular cheesecake texture and don't taste odd at all. The cheesecake portion comes from my peanut butter cheesecake brownie bars. They also look kind of weird but taste amazing.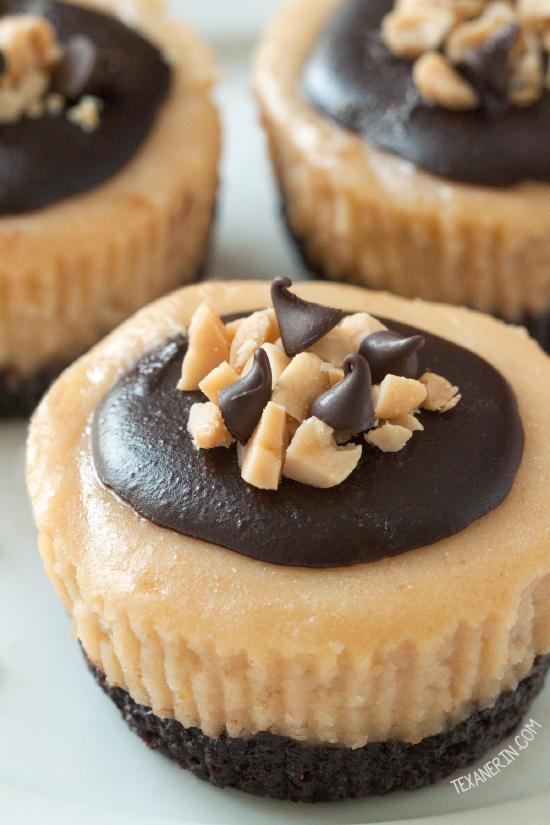 I'm pretty proud of these cheesecakes (which hopefully doesn't sound obnoxious!) as it seems like few peanut butter cheesecake recipes use natural peanut butter. At least that was true when I made those brownie bars last year!
Practically all the peanut butter cheesecake recipes I found use the commercial stuff with added fat and sugar. And the non-refrigerated "natural" peanut butter with added fat and sugar? I don't get how that's considered natural peanut butter. I LOVE snacking on that stuff, by the way. But it's not natural peanut butter. ;)
The crust is probably my favorite part. It's like a totally homemade Oreo cookie crust. You can make it with whole wheat flour or if you want a grain-free and gluten-free version – buckwheat flour!
If you make the cheesecakes with buckwheat, then they're also 100% whole grain. If you find it confusing that they can be both whole grain and grain-free, please read my ingredients page!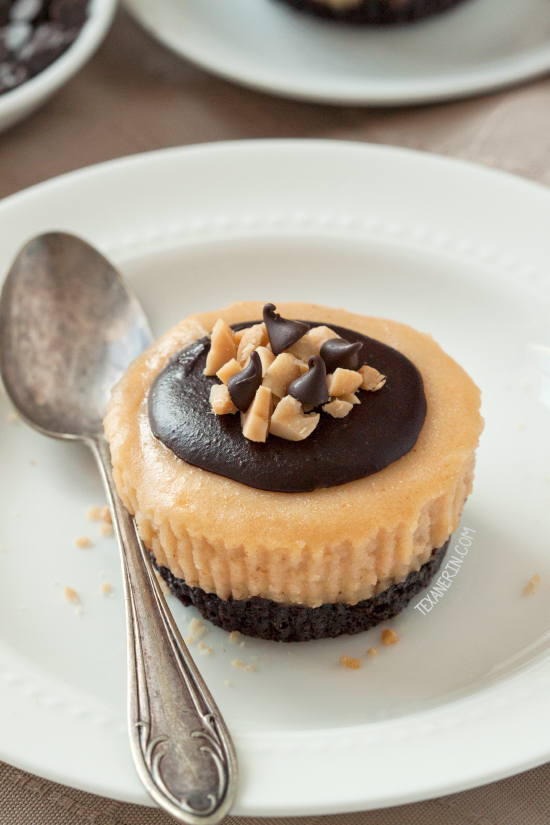 I dare say that this homemade Oreo cookie crust is even quicker and easier than crushing store-bought cookies and adding butter and sugar. And even better, there's no food processor bowl to clean! I hate cleaning that thing.
If you love chocolate + peanut butter like I do, this 5-ingredient Buckeye Dip from A Mind "Full" Mom looks like another great option!
I actually made these back in March when I posted these mini Irish cream cheesecakes. I was so in love with them that I made these mini peanut butter cheesecakes and three other kinds on the same night.
They're sooo much easier than a full-sized cheesecake. I really don't think I'll make one of those ever again. They're just too fussy and I simply can not let anything chill for 8 hours before cutting into it.
Want a dairy-free version (with a paleo version)? Try my vegan no-bake peanut butter pies! They're banana-based but I swear… they're so good!
❀
Mini Peanut Butter Cheesecakes (gluten-free, grain-free, whole grain options)
Prep Time:
Cook Time:
Ready in:
Yield:

16 mini cheesecakes
Ingredients
For the crust:

1/2 cup (100 grams) coconut sugar, raw sugar or granulated sugar
1/2 cup (62 grams) whole wheat or buckwheat flour (use buckwheat for a grain-free and gluten-free version)
1/2 cup (58 grams) Dutch-process cocoa powder
pinch of salt
6 tablespoons (84 grams) unsalted butter, softened

For the cheesecake:

1 pound (454 grams) cream cheese (that's two 8-ounce packages)
1/2 cup (160 grams) honey
1 cup (256 grams) natural salted peanut butter (the kind with just peanuts and salt)
1/4 cup (60 milliliters) milk of choice
1 1/2 teaspoons vanilla extract
1/8 teaspoon salt
2 large eggs, room temperature

For the chocolate topping:

5 tablespoons heavy or whipping cream
1/2 cup + 2 tablespoons chocolate chips or chopped chocolate
chopped peanuts and mini chocolate chips as garnish, optional
Directions
For the crust:

Preheat the oven to 350 °F (175 °C). Line two muffin pans with 16 muffin liners. Note that this crust recipe does not work in a regular pie pan – only as mini cheesecakes.
In a large mixing bowl, mix the sugar, flour, cocoa powder, and salt together. Using an electric hand mixer, beat in the butter at low speed until thoroughly combined. It will be very crumbly. If you have trouble incorporating it, use your hands (it'll be very sticky).
Divide the crumbs between the muffin liners (I used 19 grams of crumbs per liner). Press down lightly with the bottom of a shot glass. If using whole wheat, bake for 11-13 minutes or until the crust no longer appears wet and move on to the next step. If using buckwheat, bake for 14 minutes. The crust will likely bubble and you may have some small holes in the crust. After removing from the oven, use the shot glass again to lightly press down (which will remove the holes).
After baking, the crust will still be soft but will firm up as it cools. Let cool for 10 minutes while you prepare the cheesecake. I turned off the oven for about 5 minutes and at that point, it was at 275 ºF (135 ºC), which is the temperature you need to bake the cheesecakes at. You can alternatively immediately turn the temperature down to 275 ºF (135 ºC) after removing the crusts.

For the cheesecake:

Preheat the oven to 275 ºF (135 ºC) (if it's not already). With an electric hand mixer, beat the cream cheese and honey at medium speed until well combined. Add the peanut butter, milk, vanilla and salt and mix at low speed until combined. Add the eggs, one at a time, and stir just until well incorporated. Do not over mix!
Fill each cup almost to the top with batter and bake for 20 minutes or until the middles of the cheesecakes are set and don't jiggle when the pan is tapped. Turn off the oven, open the oven door (at least 1 foot), and let the cheesecakes cool in the oven to prevent cracks from forming. Once completely cool (about 1½ hours), remove from the oven.
Refrigerate for at least 2 hours or until ready to serve.

For the topping:

In a small pan over medium-low heat, warm the cream just until it almost starts to simmer and then remove from the heat.
Pour this over the chocolate chips and stir until all the chocolate chips are completely melted.
Let cool for about 20-30 minutes or until room temperature.
Pour over the chilled cheesecakes.
Top with chopped peanuts and mini chocolate chips, if desired.
Refrigerate in an airtight container for up to 3 days.
Notes
Despite its name, buckwheat is not related to wheat and it is not a grain, but a pseudograin.