These mini peanut butter cheesecakes are made a little healthier with natural peanut butter and honey and the crusts can be made gluten-free, whole wheat or with all-purpose flour!
Want a dairy-free version (with a paleo version)? Try my vegan no-bake peanut butter pies. They're banana-based but I swear… they're so good.
Today I'm reposting yet another old recipe. Some of you might notice that I've been doing that a lot lately. I don't really have another choice as I haven't been able to taste properly since the beginning of November.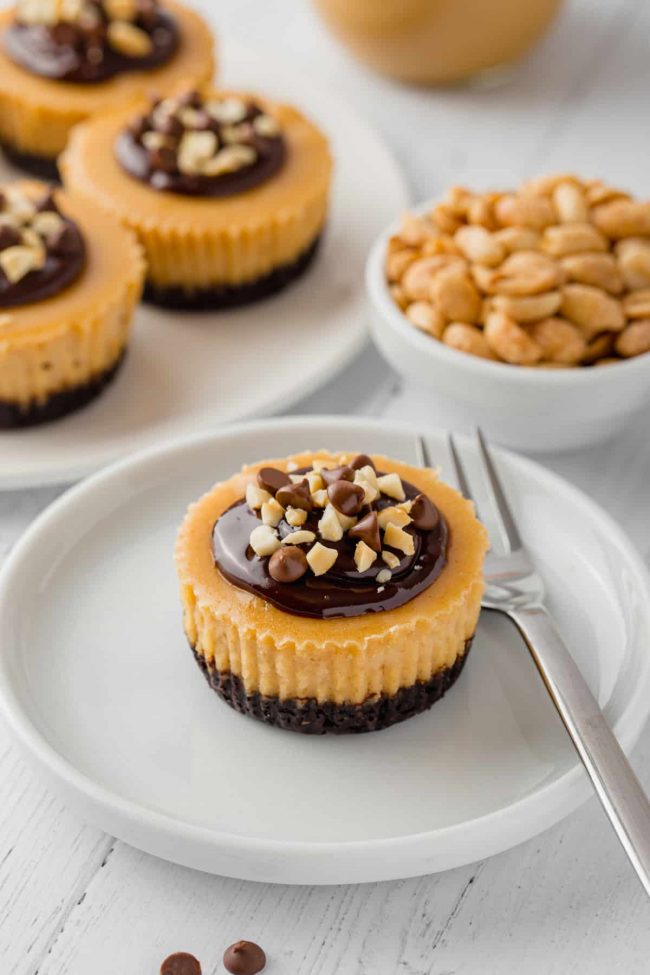 It started with a cold, then the cold went away (and more colds have come and gone), but my sense of taste still isn't back 100%. I'd say it's been at a constant 70% since the end of the first cold. At its worst, I could hardly taste anything so at least it improved. So yeah. I can't test new recipes.
I have a doctor's appointment soon but I don't have much hope that the doctor will be able to help me. So I guess I'll just kindly ask for your continued patience. :)
Now on to these mini peanut butter cheesecakes! Despite these cheesecakes being made with natural peanut butter, they have a regular cheesecake texture and don't taste odd at all.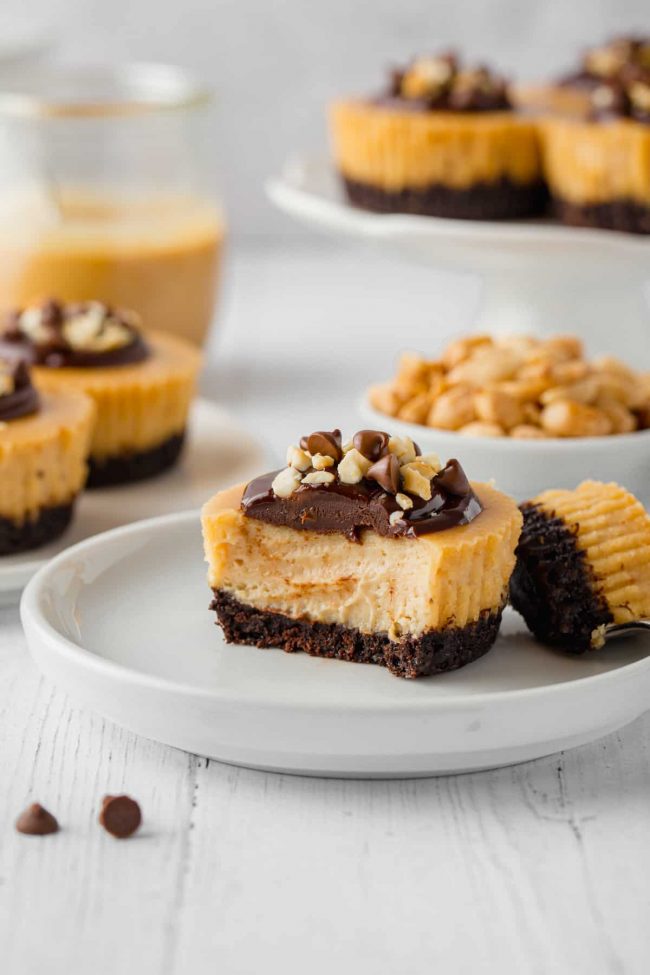 The cheesecake portion comes from my peanut butter cheesecake brownie bars. They look kind of weird but taste amazing.
I'm pretty proud of these cheesecakes (which hopefully doesn't sound obnoxious!) as it seems like few peanut butter cheesecake recipes use natural peanut butter. At least that was true when I first made those brownie bars years ago!
Practically all the peanut butter cheesecake recipes I found use the commercial stuff with added fat and sugar. And the non-refrigerated "natural" peanut butter with added fat and sugar?
I don't get how that's considered natural peanut butter. I LOVE snacking on that stuff, by the way. But it's not natural peanut butter. ;)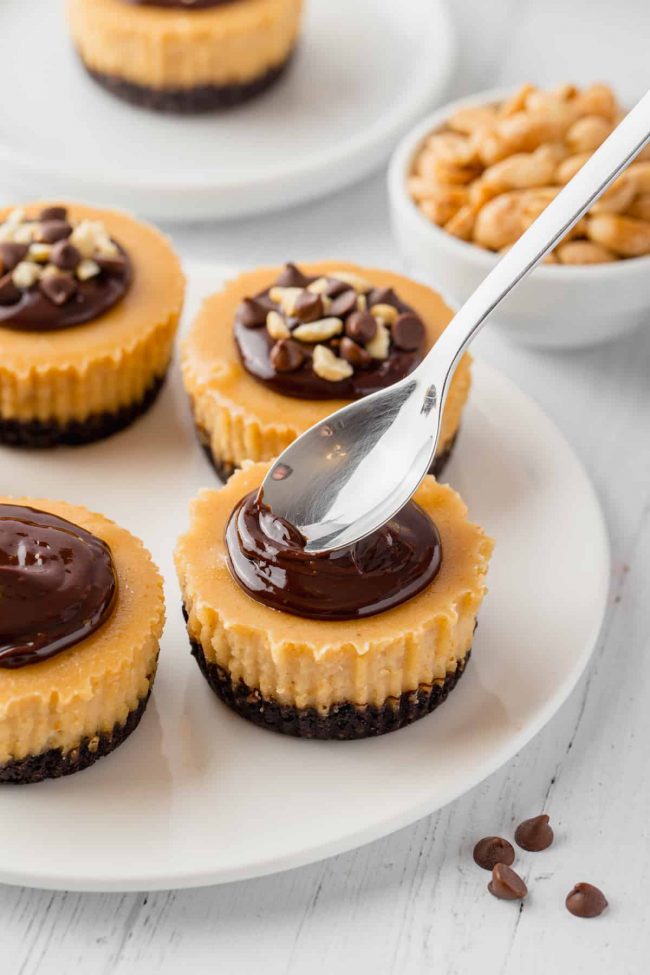 For more healthy peanut butter treats (or at least healthier), try these healthy peanut butter balls, chocolate peanut butter fudge or peanut butter protein balls. This 5-ingredient Buckeye Dip from A Mind "Full" Mom looks like another great option!
The crust is probably my favorite part. It's like a totally homemade Oreo cookie crust. You can make it with whole wheat flour, all-purpose flour or if you want a gluten-free version – buckwheat flour!
If you make the cheesecakes with buckwheat, then they're also 100% whole grain.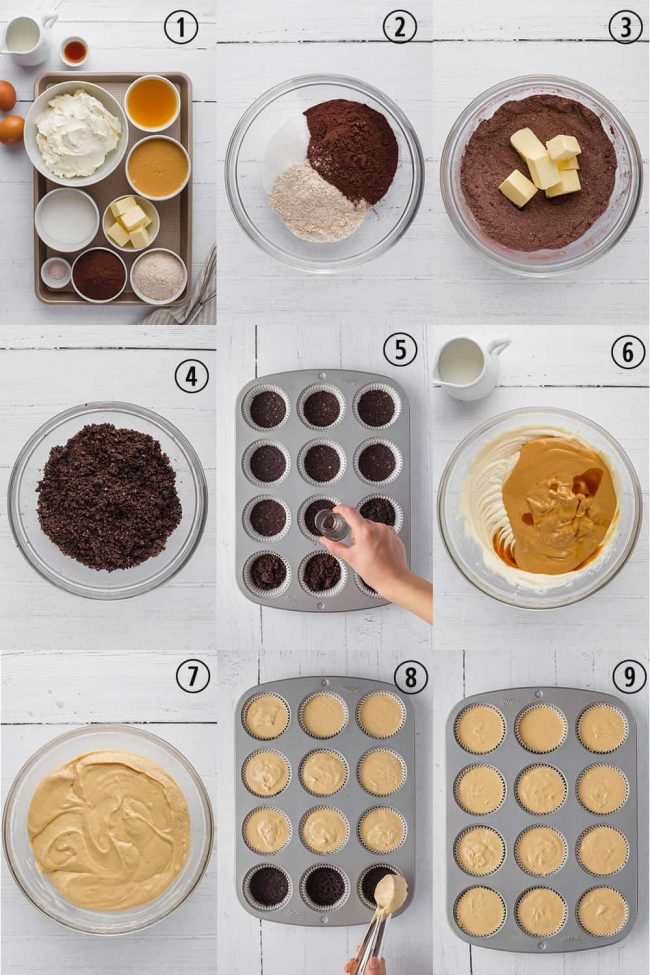 I dare say that this homemade Oreo cookie crust is even quicker and easier than crushing store-bought cookies and adding butter and sugar. And even better, there's no food processor bowl to clean! I hate cleaning that thing.
It's the same crust I used in these mini Irish cream cheesecakes. I was so in love with them that I made these mini peanut butter cheesecakes and three other kinds of cheesecake on the same night.
These mini cheesecakes are so much easier than a full-sized cheesecake. I swore I'd never make a full-sized one again but then I went and made a bunch of no-bake cheesecakes, like this vegan pumpkin cheesecake, vegan paleo chocolate cheesecake and this vanilla vegan cheesecake recipe I find that those are actually much easier in a springform pan.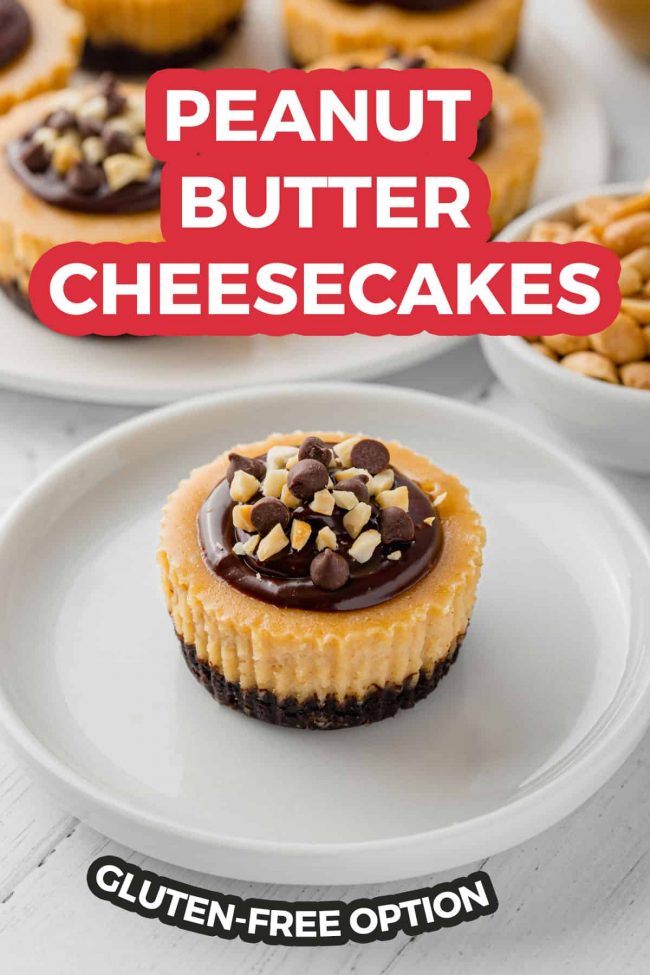 Substitution questions about these mini peanut butter cheesecakes?
Can I use something instead of cream cheese?

I've never used vegan or dairy-free cream cheese but guess that should work. I don't think anything else would.

Can I use something instead of honey?

I'd normally recommend maple syrup but honey is a bit thicker than maple, which I think is important in this recipe. Maybe brown rice syrup would work?

Can I use something instead of peanut butter?

Nut butters aren't always interchangeable and I can't say that they'd all work the same in this recipe. If you try something out, please let us know in the comments how it comes out!

Can I use something instead of eggs?

Not in this recipe. I link to several vegan cheesecakes in the post above if you need something egg-free. :)
If you try out these mini peanut butter cheesecakes, I'd love to hear how you like them!
❀
Mini Peanut Butter Cheesecakes (gluten-free, grain-free, whole grain options)
Prep Time:
Cook Time:
Ready in:
Yield:

16 mini cheesecakes
Ingredients
For the crust:

1/2 cup (100 grams) granulated sugar or coconut sugar (cheesecakes will come out darker than the photos)
1/2 cup (62 grams) whole wheat flour, all-purpose flour or for a gluten-free version, use buckwheat flour
1/2 cup (58 grams) Dutch-process cocoa powder (regular cocoa powder probably also works)
2/3 teaspoon baking powder
pinch of salt
6 tablespoons (84 grams) unsalted butter, softened

For the cheesecake:

1 pound (454 grams) cream cheese (that's two 8-ounce packages)
1/2 cup (160 grams) honey
1 cup (256 grams) natural peanut butter (the kind with just peanuts and salt)
1/4 cup (60 milliliters) milk of choice
1 1/2 teaspoons vanilla extract
1/8 teaspoon salt
2 large (50 grams each, out of shell) eggs, room temperature

For the chocolate topping:

5 tablespoons heavy or whipping cream
1/2 cup + 2 tablespoons (106 grams) chocolate chips or chopped chocolate
chopped peanuts and mini chocolate chips as garnish, optional
Directions
For the crust:

Preheat the oven to 350 °F (175 °C). Line muffin pans with 16 muffin liners. Note that this crust recipe does not work in a regular pie pan – only as mini cheesecakes.
In a medium mixing bowl, stir together the dry crust ingredients (sugar through salt). Then stir in the melted butter until totally combined. If it's sticky and hard to handle, let it sit for about 5 minutes. Roll into 18-gram balls, flatten with your palm, and place in each muffin liner.
Press down the crusts, if necessary, so that they reach the edge of the liner.
Bake for 3 minutes, turn the pan 180 degrees and bake for another 4 minutes. They'll be very, very soft and appear uncooked but the very top surface should appear baked and not doughy. Don't bake them too long - if they start bubbling, they've baked too long, and they fry and get weird.
Remove from the oven and let cool for 10 minutes while you prepare the cheesecake.
If using whole wheat or AP flour, bake for 11-13 minutes or until the crust no longer appears wet and move on to the next step. If using buckwheat, bake for 14 minutes.
After baking, the crust will still be soft but will firm up as it cools. Let cool for 10 minutes while you prepare the cheesecake. I turned off the oven for about 5 minutes and at that point, it was at 275 ºF (135 ºC), which is the temperature you need to bake the cheesecakes at. You can alternatively immediately turn the temperature down to 275 ºF (135 ºC) after removing the crusts.

For the cheesecake:

Preheat the oven to 275 ºF (135 ºC) (if it's not already). With an electric hand mixer, beat the cream cheese and honey at medium speed until well combined. Add the peanut butter, milk, vanilla and salt and mix at low speed until combined. Add the eggs, one at a time, and stir just until well incorporated. Do not over mix!
Fill each cup almost to the top with batter and bake for 20 minutes or until the middles of the cheesecakes are set and don't jiggle when the pan is tapped. Turn off the oven, open the oven door (at least 1 foot), and let the cheesecakes cool in the oven to prevent cracks from forming. Once completely cool (about 1½ hours), remove from the oven.
Refrigerate for at least 2 hours or until ready to serve.

For the topping:

In a small pan over medium-low heat, warm the cream just until it almost starts to simmer and then remove from the heat.
Pour this over the chocolate chips and stir until all the chocolate chips are completely melted.
Let cool for about 20-30 minutes or until room temperature.
Pour over the chilled cheesecakes.
Top with chopped peanuts and mini chocolate chips, if desired.
Refrigerate in an airtight container for up to 3 days.