Soft and chewy healthier 100% whole grain chocolate M&M cookies with a dairy-free option! With everything mixed in one bowl, they're quick and easy!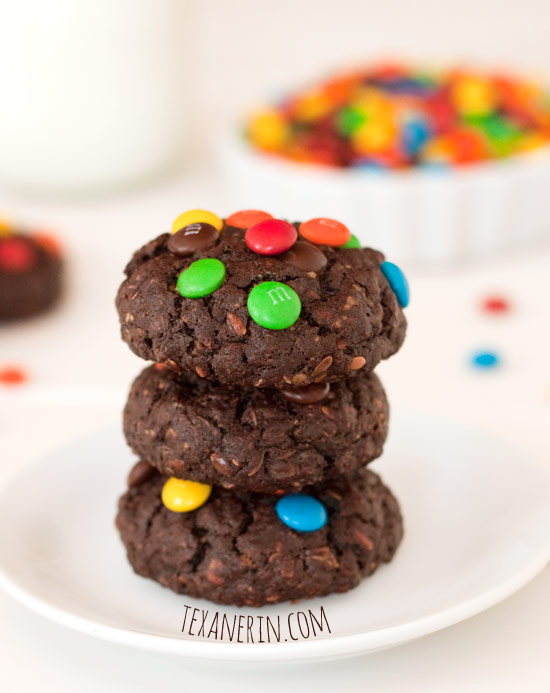 In less than two weeks, I'll be in the US. And I'm super excited about it! I haven't been back to the US in three years and I desperately need a break from Germany. And I miss the food. I have a big long list of all the meals I want to eat while there. It will be… glorious.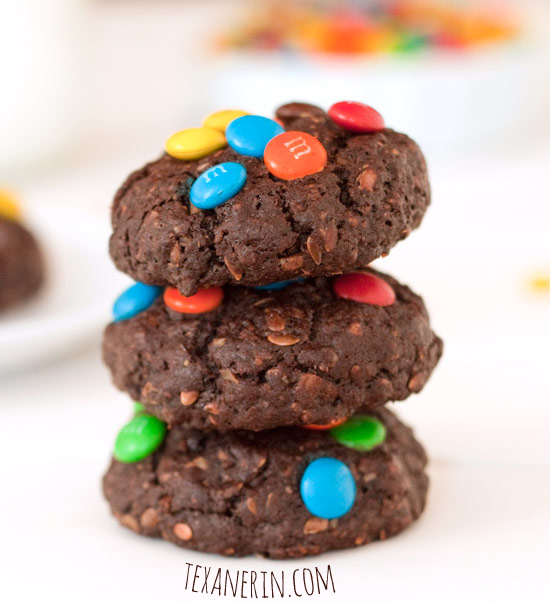 My first stop will be in New York City and New Jersey. I'm going to visit one of my best blogger friends, Miryam, bake a bunch of healthy goodies, and hopefully visit some NYC bakeries. Any recommendations? :)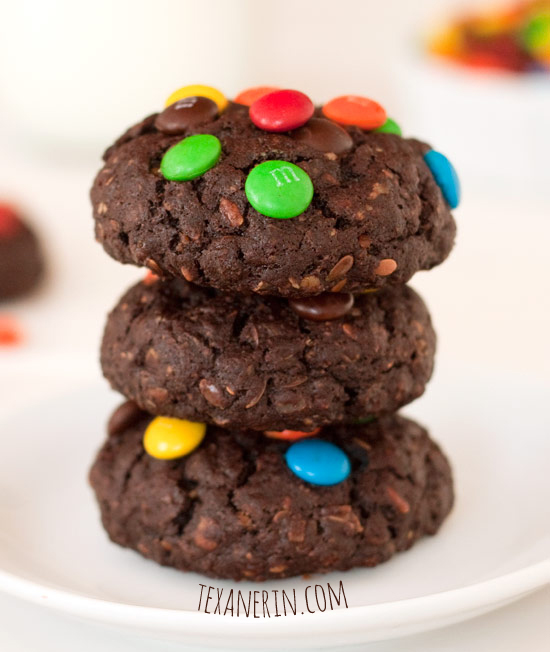 Before I go to the US and indulge in smoked brisket, steak, and Pizza Hut pepperoni pan pizzas (they're not the same over here!), I have some cookies to share.
I saw some Chocolate M&M cookies on Dinners, Dishes and Desserts a few weeks ago, and since then I've been craving M&M cookies. They look absolutely perfect but I wanted a slightly healthified cookie, and I was just too lazy to mess around with the recipe. So I just used one of Miryam's that I'd made before. It seemed fitting.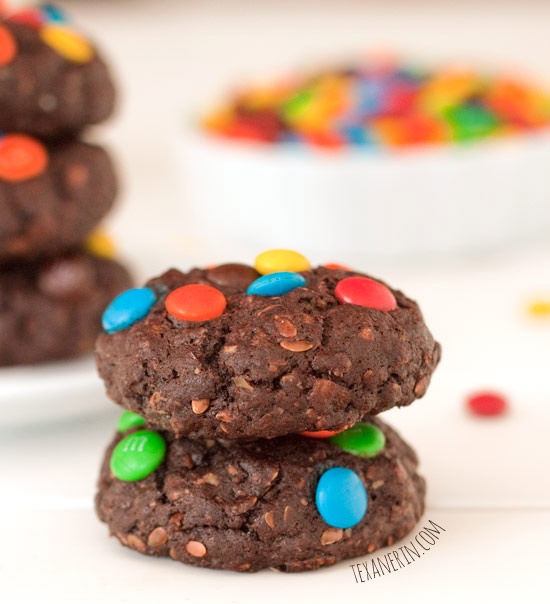 I've tried making these with less sugar and they're still tasty that way but they're not as chewy and more cakey. I'm not down with cakey cookies and I bet you aren't either. Use the sugar!
And they're super easy to make. Just mix the wet stuff together with a spoon and add the dry ingredients. Fewer dishes = better, right? The only downside is that there aren't any beaters to lick. Just a spoon. And when you have a spoon, it's quite likely that you'll just eat all the dough. Try not to do that because these are really awesome in baked form.
If you're looking for something less processed than M&Ms, check out these Unreal Candy Coated Chocolates. They have no artificial ingredients, no hydrogenated oils, no corn syrup, no GMO's and no preservatives. That's pretty amazing, right?!
❀
100% Whole Wheat Chocolate M&M Cookies
Prep Time:
Cook Time:
Ready in:
Yield:

16 small cookies
Ingredients
1/4 cup (56 grams) melted coconut oil
2/3 cup (95 grams) coconut sugar
1 large egg
2 teaspoons vanilla extract
1/2 cup (65 grams) whole wheat flour
1/4 cup ground flaxseeds
1/2 cup (45 grams) quick oats1
1/4 cup (20 grams) Dutch-process cocoa powder
1 teaspoon baking soda
1/2 cup (90 grams) mini M&Ms or Enjoy Life Chocolate Chips for dairy-free
Directions
Preheat the oven to 350 degrees F (175 degrees C). Line a cookie sheet with a Silpat or a piece of parchment paper.
In a medium bowl, mix the wet ingredients (coconut oil through vanilla extract). Add the remaining ingredients, except the M&Ms, and stir until combined.
Drop teaspoon-sized dough balls, two inches apart, onto the cookie sheet, pat down slightly, and sprinkle the mini M&Ms on top.
Bake for 8 minutes.
Let the cookies cool on the sheet for 2 minutes before removing to a wire rack to cool completely.
Notes
To make quick oats, pulse rolled traditional oats in a food processor or a blender for about 5 seconds.
Adapted from Double Chocolate Walnut and Flax Cookies - Eat Good 4 Life
As an Amazon Associate, I earn from qualifying purchases. For more info, see my disclosure.