These matcha brownies are gooey (or fudgy if you refrigerate them), full of matcha flavor and have a great natural green color. They can be made traditionally with all-purpose flour, with white whole wheat flour, or gluten-free and they also have a dairy-free option.
If you've never tried matcha in baked goods, you might be a bit puzzled by all the matcha sweets I've been posting. Matcha desserts are surprisingly (to me, at least) tasty!
I brought these matcha brownies to a BBQ last summer, and people were intrigued. "What are these? I need one!"
I warned them that they're kind of different, but amazing. People agreed. Even people who said that they don't like matcha in drinks.
One of the matcha-haters said that the chocolate was key. I also much preferred these brownies with chocolate, but you can, of course, omit it if you wish.
You usually see matcha paired with white chocolate, so feel free to use that if you have some on hand.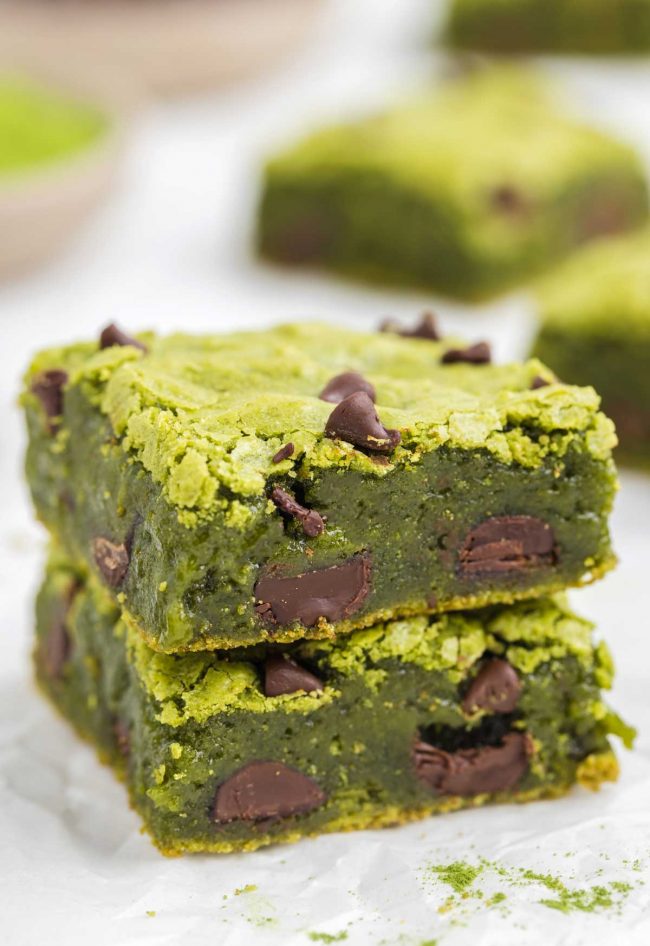 Ingredients
I go into detail about most of these ingredients below, but here's an overview of what you need.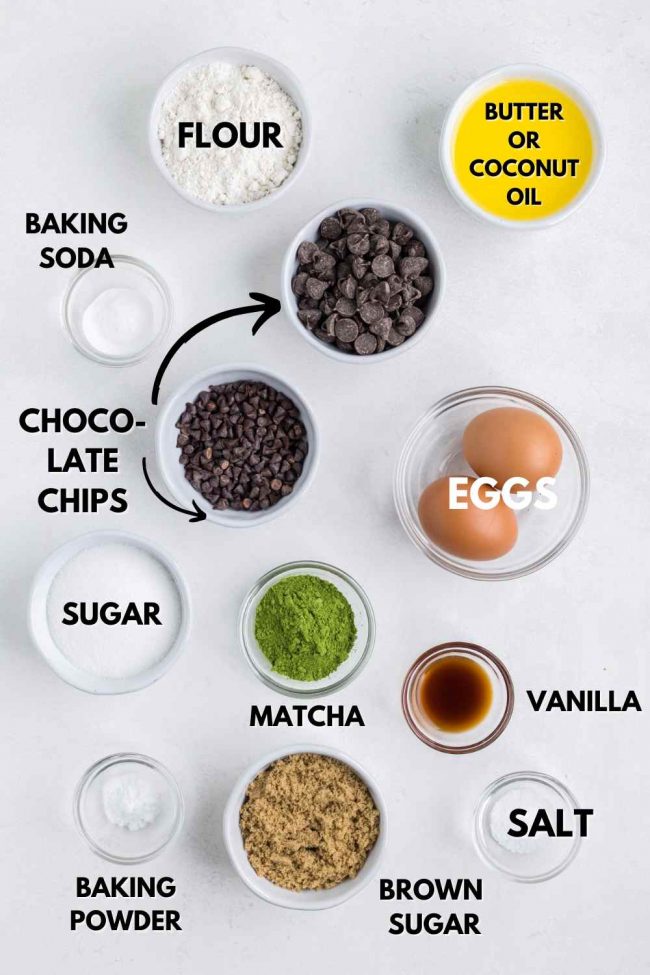 What is matcha?
Matcha is a vivid green powder that is nutrient-rich and made from pulverized green tea leaves. When using matcha, you're actually ingesting whole tea leaves in powder form, making it more nutritious than drinking steeped tea leaves.
Matcha is a powerhouse of nutrition that is great to drink and perfect to use in baked goods.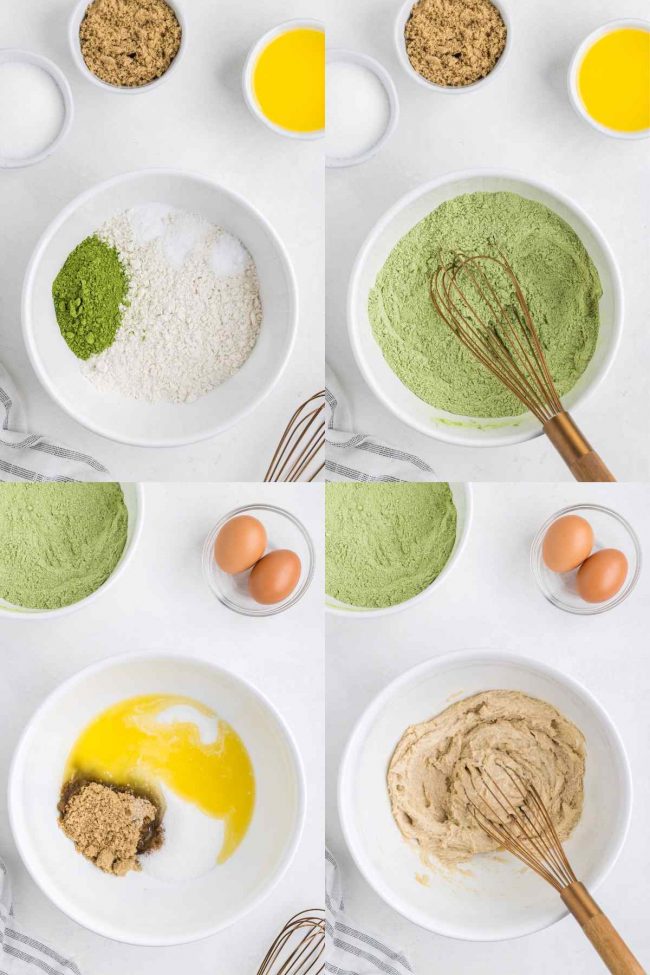 Types of matcha
There are two primary grades of matcha.
Ceremonial — this is the highest quality of matcha with a subtler and more nuanced taste than the other type. It can be pretty expensive.
Culinary — this is lower quality than ceremonial grade matcha. There are 5 subtypes: premium, cafè, ingredient, kitchen and classic. Premium culinary grade is considered the best out of the five culinary types and is a tad bit more bitter than ceremonial, but not by much, and it's what you'll find most often in stores.
When I make Chai Matcha Latte or any other matcha drink that's more than just a cup of plain matcha tea (meaning matcha + water), I use premium grade culinary matcha.
The sweet, delicate flavor of ceremonial matcha is generally best enjoyed on its own, and not mixed with a bunch of other ingredients. However, for baking, I exclusively use ceremonial grade matcha.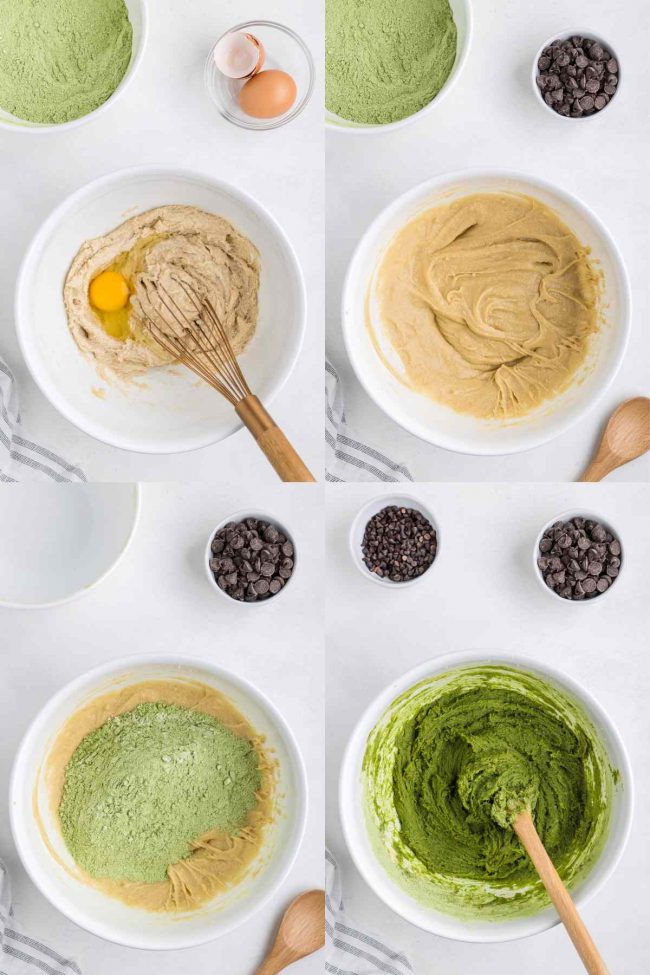 Best matcha for baking
When you search for what type of matcha to bake with, you'll find differing opinions depending on where you look.
Some baking bloggers recommend ceremonial matcha, but companies that produce matcha most often recommend a culinary grade for baking, saying ceremonial grade matcha is too delicate and too expensive for baking.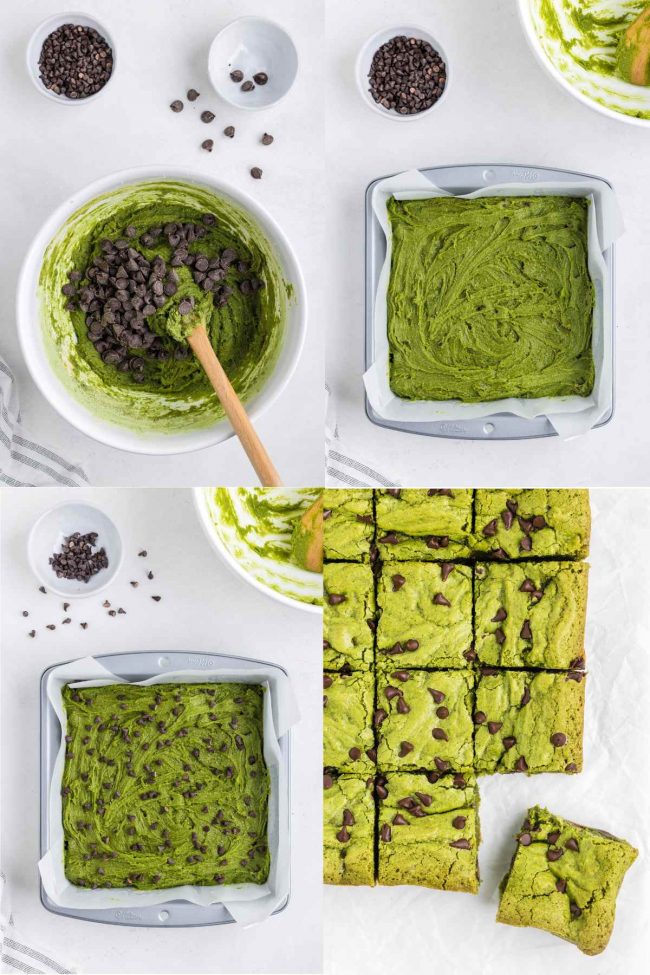 It is indeed expensive, but you can clearly taste the matcha. Plus, ceremonial matcha is less bitter than culinary, so I'm all for that.
The biggest problem with culinary matcha for baking is the color: it turns greenish-brown rather than the vivid green color you get from ceremonial grade matcha. Culinary grade is fine if you don't care about the color, but I'd go for the premium for taste reasons.
If you like the striking green color in the photos, you must use ceremonial grade.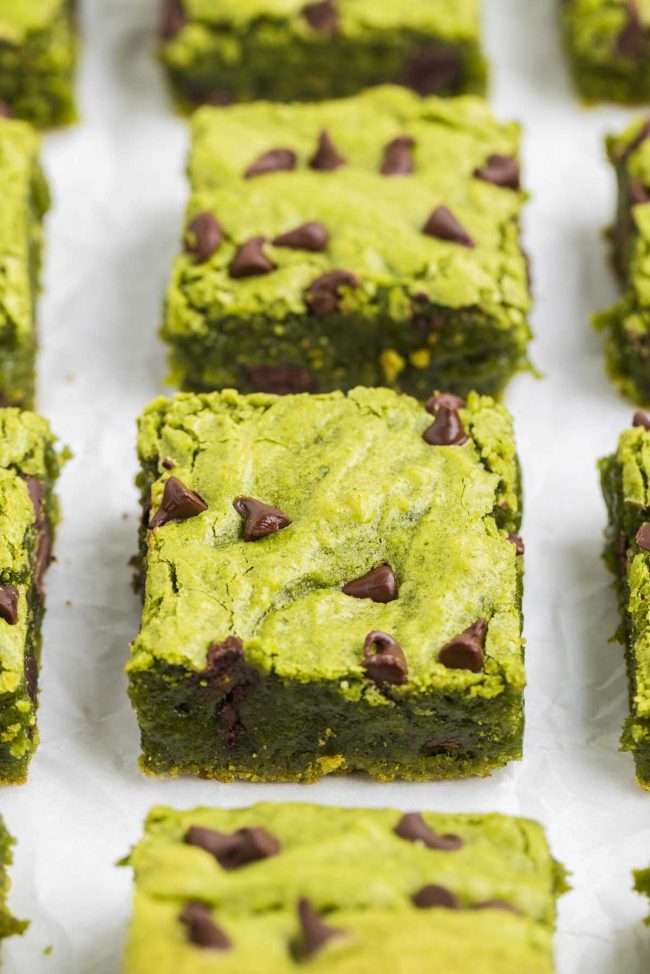 Which matcha to use
For the best price and highly reviewed ceremonial matcha, I use Midori Spring Ceremonial Matcha. I get it from Amazon.
It's what I used in these brownies and these Vegan Matcha Cookies. In that post, I compared 6 different matcha brands and chose Midori Spring as the winner. It's not only the cheapest but also has the best dramatic color and tastes as good as other ceremonial grade matchas.
I also tried the brownies with Navitas Organics Matcha Powder Premium Culinary Grade. The brownies weren't bright green, but a dull greenish/grayish color. They also weren't as tasty as the Midori brownies.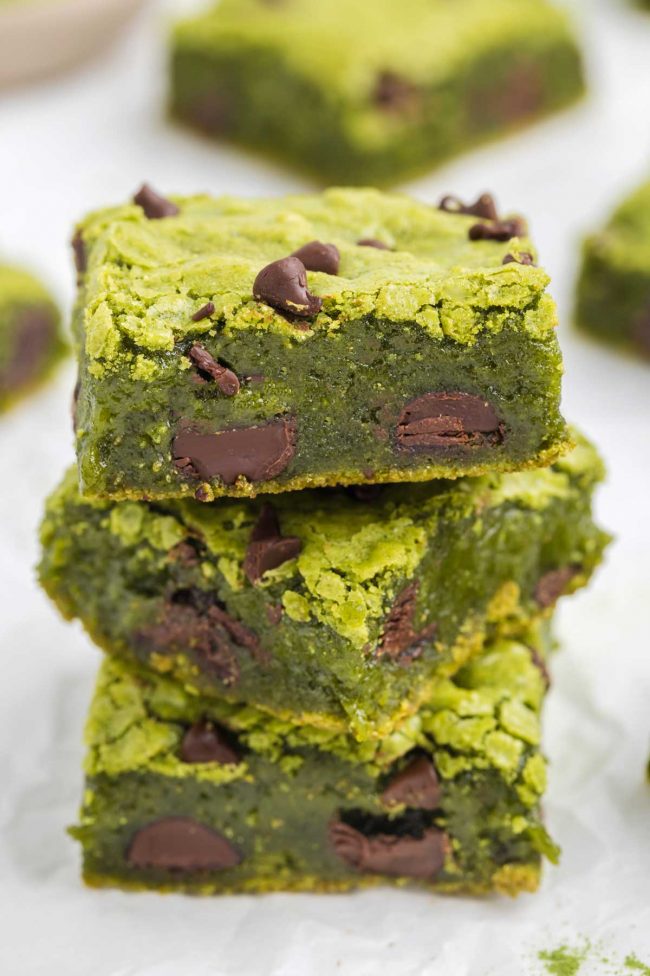 Gluten-free version
I used King Arthur Flour Gluten-free Measure for Measure Flour, but I also made the brownies with all-purpose flour, which really tastes and looks the same.
Other than King Arthur, I haven't tried other brands for this recipe, so I can't say whether they would work.
Unfortunately, coconut flour, almond flour or anything else that is not a 1:1 sub for all-purpose flour will not work.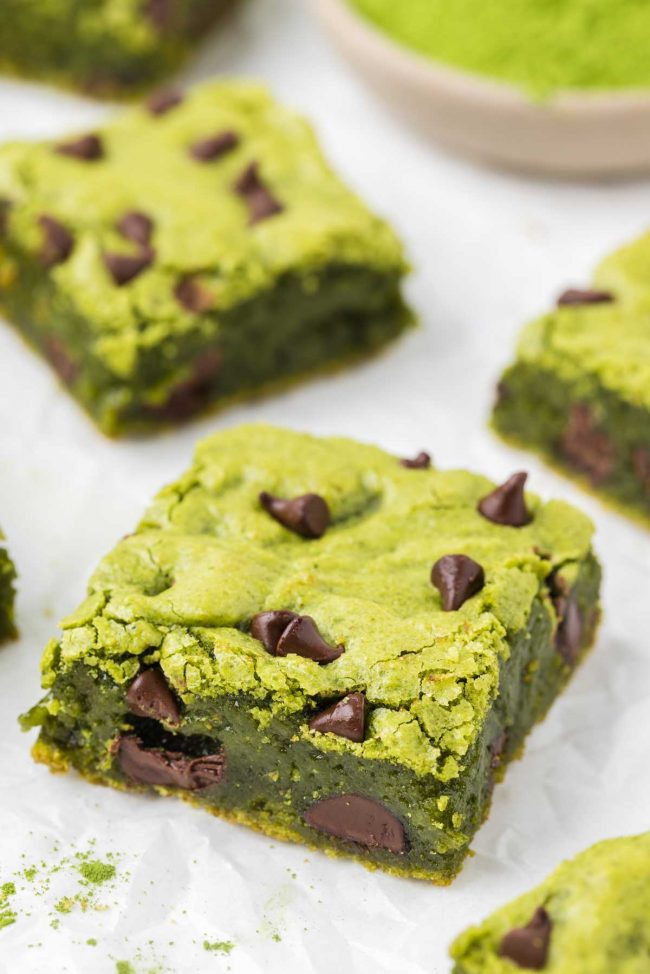 Dairy-free option
Use the coconut oil option and make sure your chocolate chips are dairy-free. The butter does add some great flavor to the brownies, so if you have a vegan butter brand that you use, definitely use that.
If using coconut oil, I recommend using refined coconut oil, unless you'd like some coconut flavor in your brownies.
No vegan option?
I tried these matcha brownies with coconut oil and chia eggs. The result was terrible.
When I took them out of the oven, there was a layer of oil bubbling on the surface. It was as if the brownies were being fried. The consistency was also super weird – kind of gluey.
They got better as they cooled, but when they were completely cooled, they were hard and just all-around awful.
Can I use coconut sugar?
I always use coconut sugar if I can, but I think the strong flavor of coconut sugar (when compared to granulated sugar) would clash with the matcha and make a super ugly color.
So I wouldn't recommend it.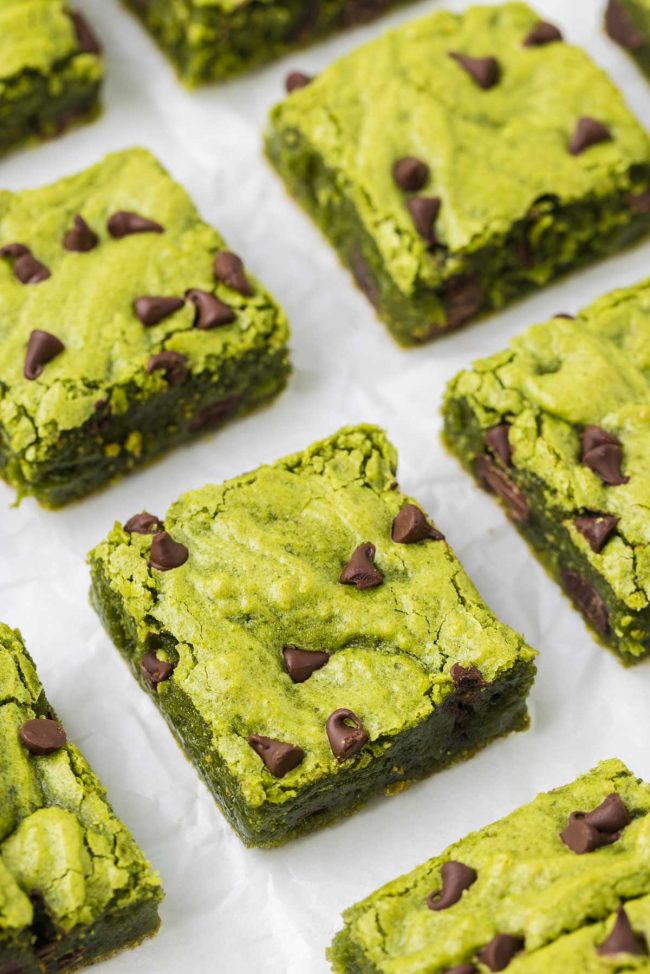 Matcha benefits
Drinking matcha or adding it to baked goods has some amazing benefits.
It's potent in nutrients and antioxidants and loaded with amino acids, vitamins, and minerals like vitamin C, selenium, magnesium, fiber and chromium.
Plus, it helps curb cravings and boosts metabolism.
Having loads of L-theanine, a naturally occurring amino acid, allows the body to absorb caffeine slowly without the crash. It also stimulates dopamine that gives you that feel-good feeling while increasing focus and reducing anxiety and stress.
So you can get all this with just one brownie at a time! ;)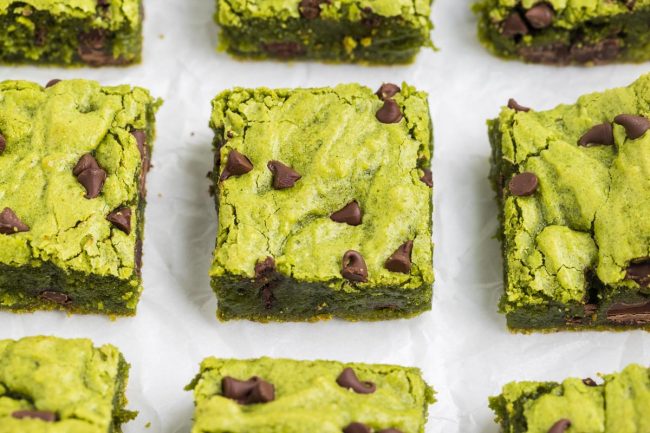 Other matcha desserts and drinks
I hope you'll enjoy the brownies! If you feeling like sharing them on social media, please mention @texanerin or tag #texanerin so I can see. And if you try these brownies, please let us know how they turned out in the comments below. Thanks! :)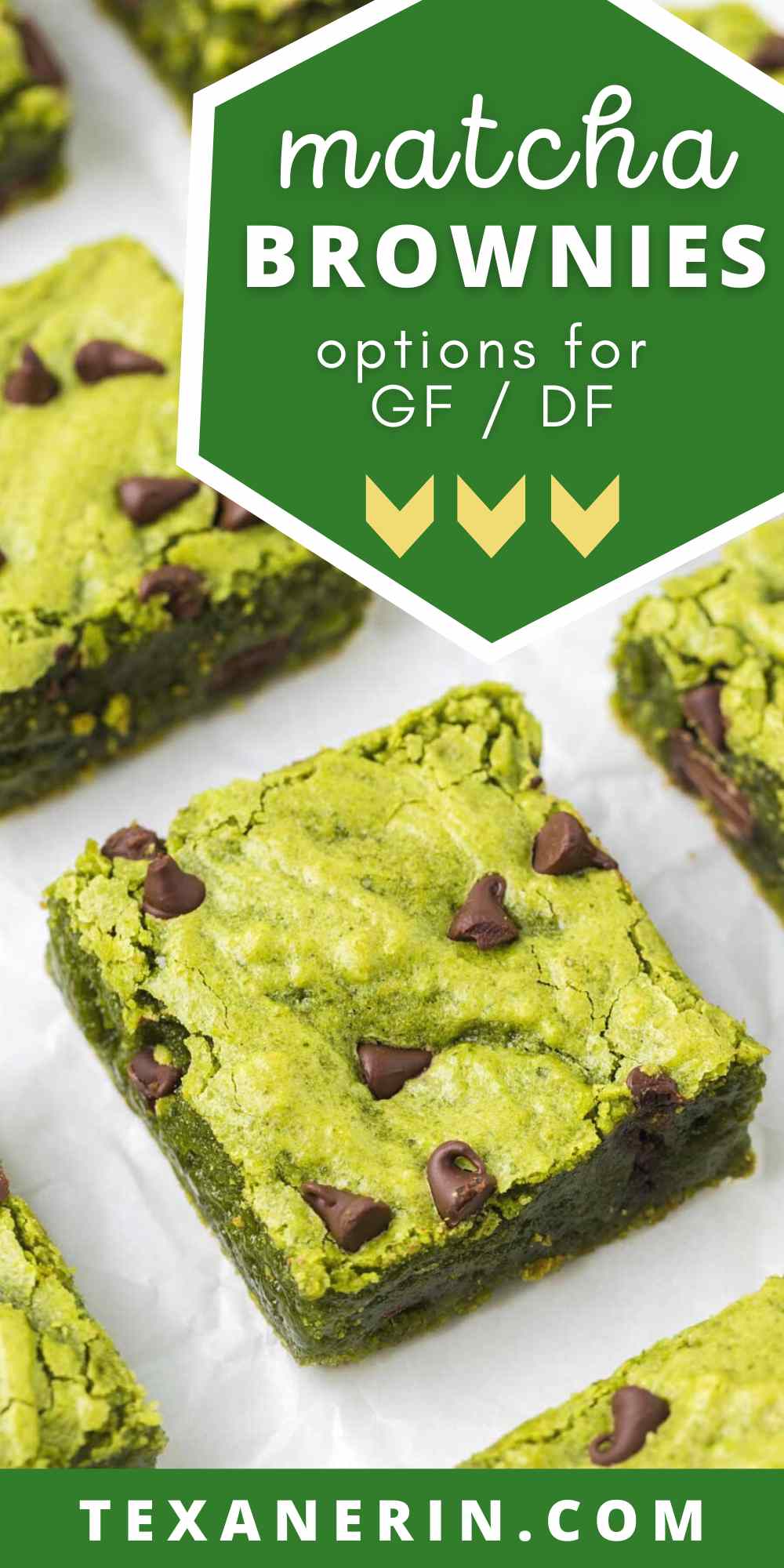 ❀
Matcha Brownies (traditional or gluten-free)
Prep Time:
Cook Time:
Ready in:
Yield:

16 brownies
Dairy-free? See the notes!
Ingredients
1 1/2 cups (188 grams) all-purpose flour, white whole wheat flour, or for gluten-free, use King Arthur Flour Gluten-free Measure for Measure Flour
2 tablespoons (11 grams) ceremonial matcha
1/2 teaspoon baking powder
1/2 teaspoon salt
1/4 teaspoon baking soda
1/2 cup (113 grams) unsalted butter, melted or 7 1/2 tablespoons refined coconut oil1
1 cup (200) grams) granulated sugar
1/2 cup (100 grams) light brown sugar
1 teaspoon vanilla extract
2 large eggs (50 grams each, out of shell), room temperature
2/3 cup (113 grams) semi-sweet chocolate chips + 1/3 cup (80 grams) mini semi-sweet chips to sprinkle on top
Directions
Preheat the oven to 350 °F (176 °C) and line an 8"x8" pan with a sheet of parchment paper.
In a medium mixing bowl, stir together the flour, matcha, baking powder, salt and baking soda. Set aside.
In a large mixing bowl, stir together the melted butter or coconut oil, granulated sugar, brown sugar, and vanilla extract.
Beat in the eggs, one by one, and stir just until combined.
Fold in the dry mixture, stirring just until no streaks of flour remain.
Fold in 2/3 cup (113 grams) of chocolate chips.
Pour the batter into the prepared pan, sprinkle on the mini chips, and bake for 19-24 minutes or until the top of the brownies are clearly set. They might crack a bit, and that's fine.
Let cool completely, about 2 hours, and then cut.
Store in in airtight container for up to 4 days. They also freeze great.
Notes
If using the coconut oil option, I recommend using refined coconut oil unless you'd like some coconut flavor in your brownies.
Make sure to use coconut oil or vegan butter and dairy-free chocolate chips if you're dairy-free!