These oat flour cookies have the perfect texture with chewy centers and crisp edges. There's no need to chill the dough, and they're naturally gluten-free and can also be made dairy-free and vegan.
I based these cookies on my Air Fryer Chocolate Chip Cookies. All I did was use oat flour in place of regular flour.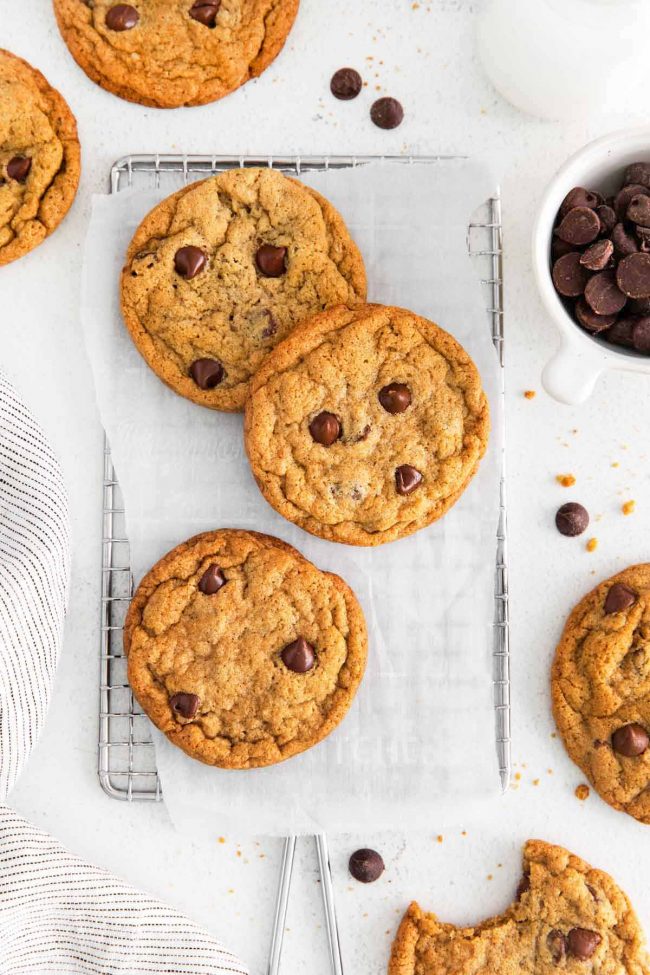 It took a bit of experimenting to figure out just the right amount of oat flour because oat flour and wheat flour aren't interchangeable. Oat flour is more absorbent, so you have to use a little less oat flour by weight.
Instead of 376 grams of wheat flour called for in the original recipe I linked to above, you use 350 grams of oat flour. But oat flour is lighter than wheat flour by volume, so instead of 3 cups of wheat flour, you need 3.88 cups of oat flour, which is the same as 4 cups minus 2 tablespoons (or 3 3/4 cups plus 2 tablespoons).
Ingredients
I go into detail about most of the ingredients below, but here's an overview of what you'll need.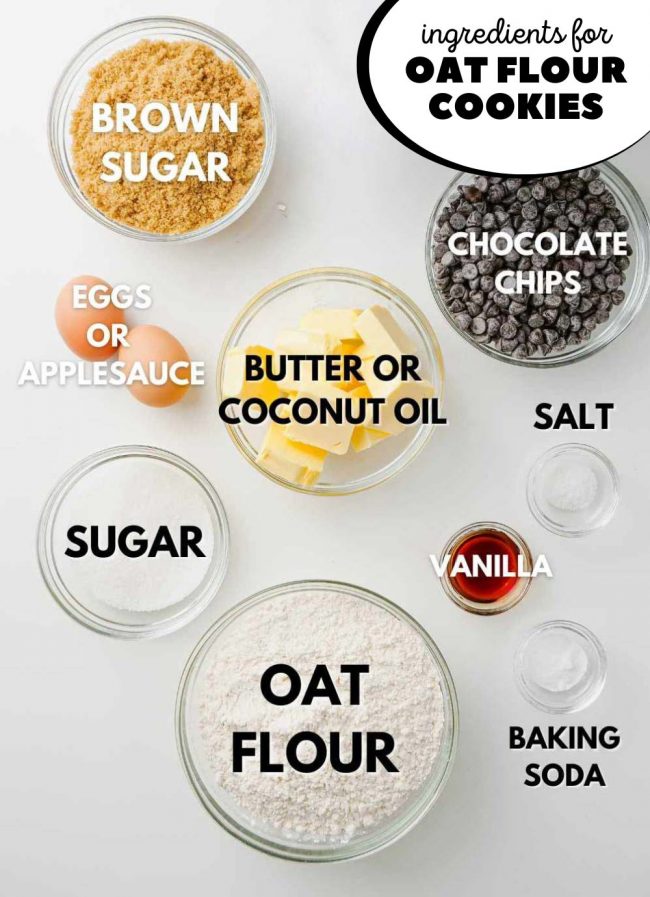 For exact measurements and instructions, scroll to the recipe box at the bottom of the page.
Are these cookies gluten-free?
Yes, but if you're sensitive to oats or gluten, be sure to use gluten-free oat flour!
Oats, and therefore oat flour, are naturally gluten-free, but the problem is that they may come into contact with gluten during processing. That's why you need to find oat flour that's labeled as gluten-free. If you see the word gluten-free on a package, then the amount of gluten been tested to be under 20ppm, which is considered safe for celiacs.
If you've had reactions to eating oats, then you might want to read this post → Are Oats Gluten-free?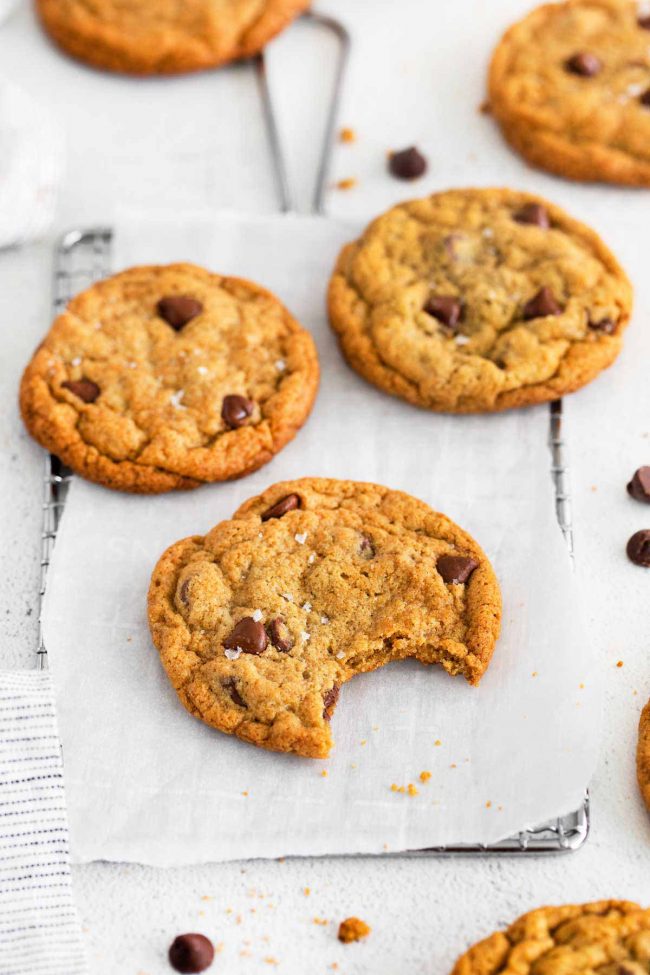 Can I use homemade oat flour?
There's a huge difference in the results when making these cookies with store-bought oat flour versus homemade oat flour.
I sometimes make homemade oat flour with my Blendtec. It's a super powerful machine, but the resulting oat flour still isn't nearly as fine as store-bought. That means it doesn't absorb the liquid ingredients properly.
So you'd end up with flat, greasy cookies.
Unless you can get your homemade oat flour as super fine as that of store-bought, I don't recommend using it in these cookies. If you try it out anyway, I'd love to hear how it goes.
You could try making your own oat flour and then sifting out the larger pieces with a sieve. That could possibly give you the right results!
If you're worried about buying oat flour for just one recipe, I have other recipes like these Oat Flour Brownies and this Gluten-free Apple Crisp that exclusively use oat flour (meaning no other flours). This Gluten-free Pecan Pie also has an all oat flour pie crust!
What do they taste like?
They taste like normal chocolate chip cookies with a bit of nuttiness from the oat flour. I doubt kids would even notice a difference. My husband didn't, and was surprised I had made "normal" cookies for once.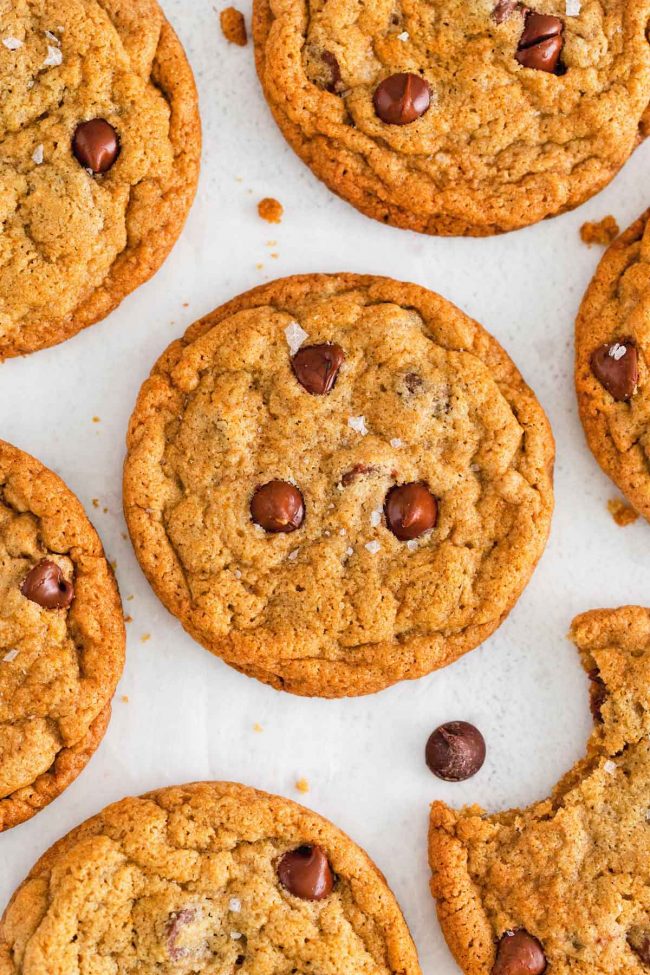 Can I use another type of flour?
Nope. If you want to use all-purpose, white whole wheat or a gluten-free baking mix, then please use this recipe: Air Fryer Chocolate Chip Cookies. It includes oven directions in case you don't have an air fryer.
If you need paleo cookies, then I've got Paleo Air Fryer Cookies, which is the paleo version of the above recipe. And it also has oven directions.
Dairy-free and vegan option
To make this recipe dairy-free, you just have to use the coconut oil option in the recipe and use dairy-free chocolate chips.
I didn't have much hope for a vegan version working, so I almost hit publish before deciding that I should at least try.
I used 1/2 cup of applesauce in place of the 2 eggs. It worked great!
I had a feeling that applesauce might work better than chia eggs in this recipe. I can't say for sure if chia eggs or any other egg subs would work. So I'll just recommend applesauce for now!
Also make sure to use vegan chocolate chips (and the coconut oil option).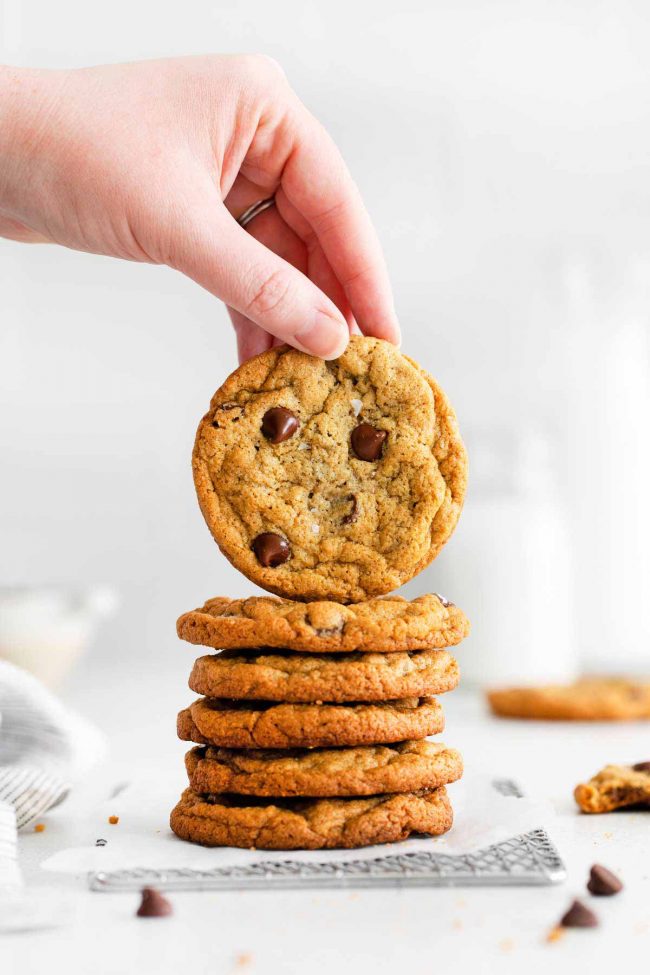 Do I need a scale?
Please weigh the flour if you can! It's the only way to ensure the cookies come out the way they're supposed to.
When I use a digital scale, I get the exact measurement needed to bake the best oat flour cookies.
When you google "1 cup of oat flour in grams," you get answers ranging from 88 to 127 grams. This is absolutely bonkers. 127 grams is 44% more than 88 grams!
The back of the Gold Medal Flour and Bob's Red Mill packages say 1/4 cup = 30 grams. So 120 grams per cup.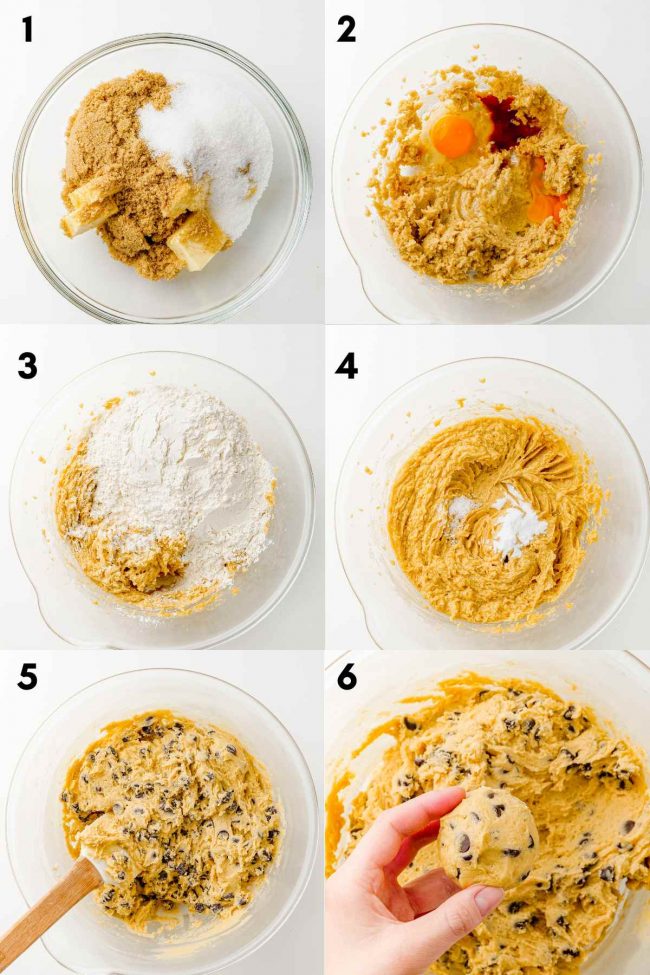 For me to get 120 grams per cup, I have to pack the flour in there a bit. I usually get around 90 grams per cup.
My scale is correct, and I know how to measure flour correctly, so that's quite puzzling. But it's also not the first time I've seen weird gram amounts on the back of a flour package.
Anyway. The point is to use a scale!
If you don't have one, use a spoon to fluff up the flour in the bag or container. Then use that spoon to scoop the flour into your measuring cup. Use something with a straight edge like a knife to level the flour across the top of the measuring cup.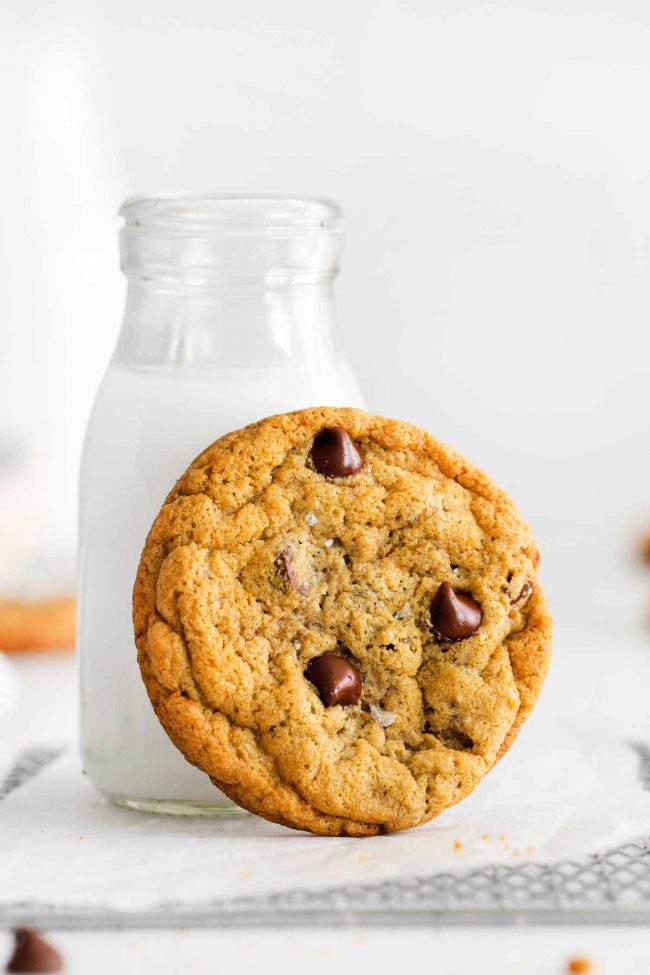 My cookies look different!
One issue with oat flour is that brands seem to vary quite a bit in how finely the oats are ground. My photographer couldn't find Bob's Red Mill Gluten-free Oat Flour, so she used Gold Medal Flour Gluten-free Oat Flour. So that's what was used in the photos you see here.
My cookies with Bob's Red Mill are much thicker! They look like the air fryer version with regular flour. Here's a photo from that post.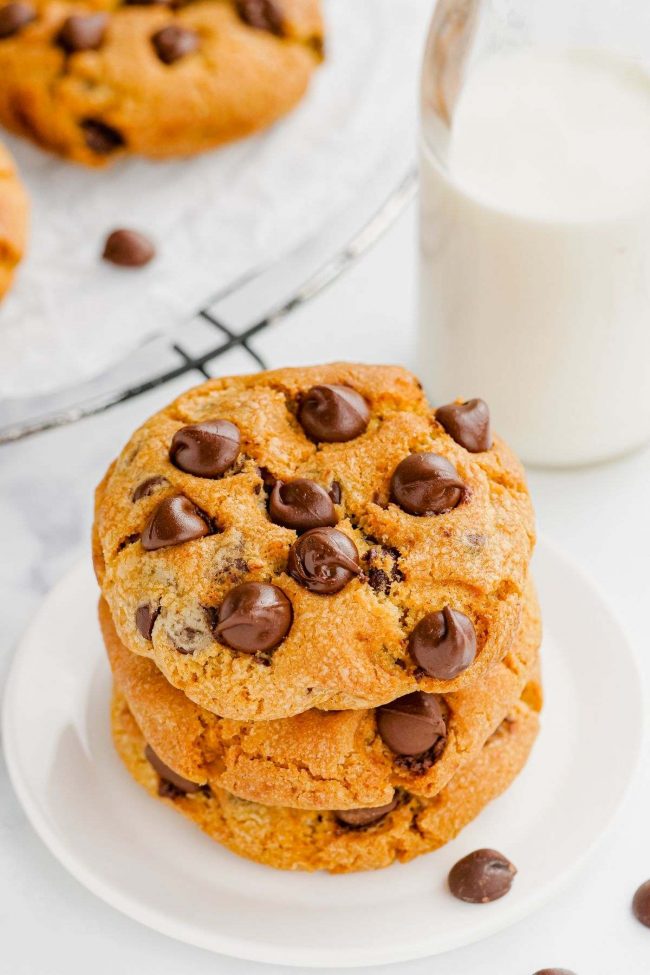 Sugar sub?
I tried coconut sugar, and the cookies had a gritty texture, and they didn't hold together well.
I also haven't tried making these cookies with keto sweeteners and have no idea if that would work. I suggest finding a recipe that already uses keto sweeteners.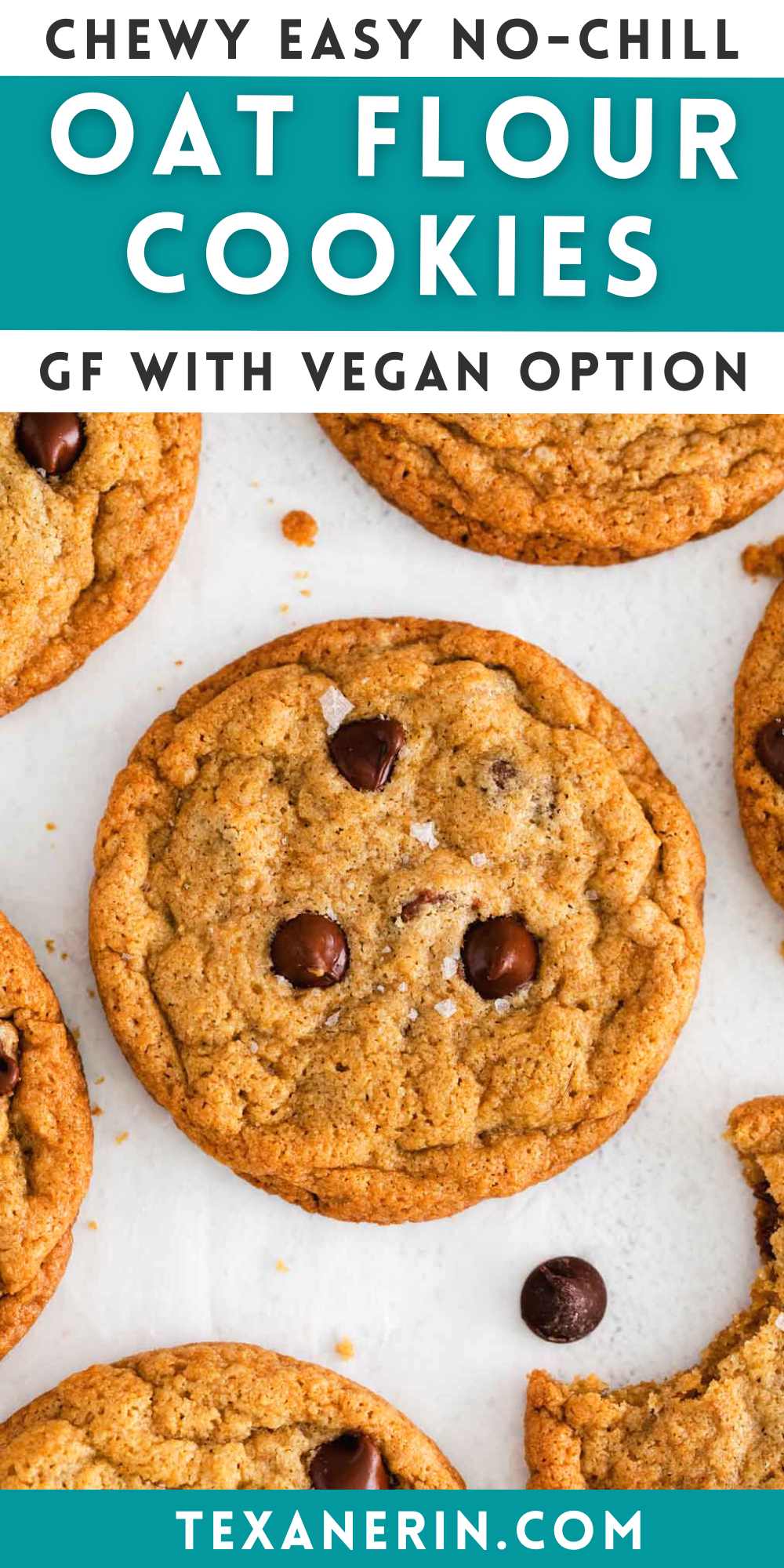 Other oat flour recipes
I have loads of gluten-free recipes to check out. Here are some of my favorite treats made with oat flour.
I hope you'll enjoy these oat flour cookies! If you make them, I'd love to hear from you. And if you like sharing on social media, please mention @texanerin or tag #texanerin so I can be sure to see them. :) Thanks!
❀
Oat Flour Cookies (naturally gluten-free, dairy-free/vegan options)
Prep Time:
Cook Time:
Ready in:
Yield:

16 cookies
Ingredients
1 cup (225 grams) unsalted butter, softened or 15 tablespoons (210 grams) refined1 coconut oil, softened but not melted2 for dairy-free/vegan
1 cup (200 grams) brown sugar
1/2 cup (100 grams) granulated sugar
2 large (50 grams each, out of shell) eggs, room temperature or 1/2 cup (120 grams) unsweetened applesauce for vegan
1 tablespoon vanilla extract
1 teaspoon baking soda
1 teaspoon salt
2 1/4 cups (383 grams) semi-sweet5 chocolate chips, divided
Directions
Preheat the oven to 350 °F (175 °C). Line a baking sheet with a piece of parchment paper.
In a large mixing bowl with a stand mixer or electric hand mixer, beat together the fat, brown sugar, and granulated sugar until light and fluffy. Beat in the eggs or applesauce and vanilla until well combined.
Sprinkle the baking soda and salt on top, beat until combined, and then add in the oat flour on low speed.
Stir in 1 3/4 cups (300 grams) of chocolate chips until combined.
Form 1/4 cup (75-gram) balls and press the remaining chocolate chips on top.
Place 4" apart on the prepared baking sheet.
Bake for 12-16 minutes or until lightly browned around the edge.
Let cool completely on the baking sheet. Store cooled cookies in an airtight container for up to 5 days.
Notes
I used refined coconut oil because I didn't want any coconut flavor. If you're okay with coconut taste, then you can use unrefined coconut oil.
The coconut oil should be soft enough that it can be blended in with the other ingredients but should not be melted or even melty because then the dough will be very greasy.
If you don't have a scale, make sure to measure your oat flour properly. 1 cup = 90 grams. You need 3 3/4 cups plus 2 tablespoons, which is the same as 4 cups MINUS 2 tablespoons. Use a spoon to fluff up the flour in the bag or container. Then use that spoon to scoop the flour into your measuring cup. Use something with a straight edge to level the flour across the top of the measuring cup.
Gold Medal Gluten-free Oat Flour was used in the photos, but I usually make them with Bob's Red Mill Gluten-free Oat Flour and the result is thicker cookies! I don't recommend homemade oat flour, as it's not fine enough and your cookies will spread a lot and be greasy.
Make sure to use dairy-free/vegan chocolate chips, if needed.
Recipe adapted heavily from this Epicurious recipe