These soft and chewy maple almond butter cookies are naturally sweetened and made healthier with whole grains!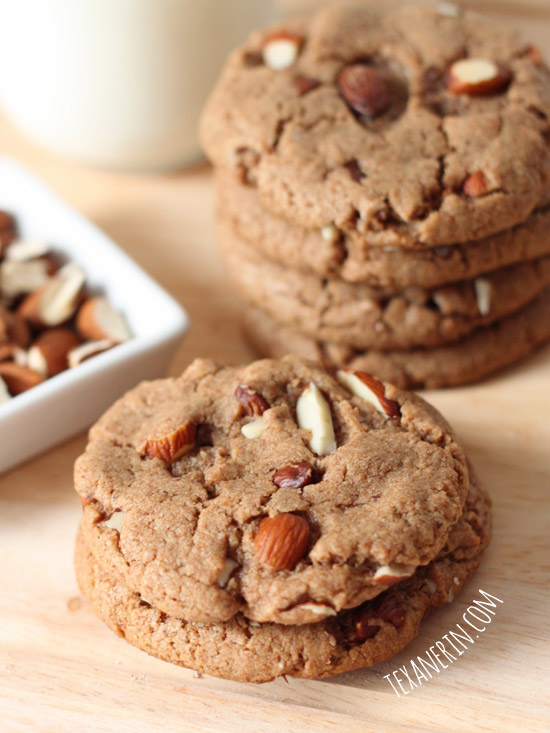 When I first started baking in a healthier way, I baked many horribly textured cookies. Really, they were just awful. These maple almond butter cookies were the first cookies that were actually successful, and after two years of experimenting, they're still fantastic!
When I make this recipe, I only make half the recipe because using 1/2 cup of maple syrup on cookies just kills me. A liter of maple syrup costs $27 here. And I prefer to consume my maple syrup on a spoon. We even call it my medicine. Sad? Not feeling well? My husband brings me a teaspoon of my "medicine" and I always feel a little better. Or perhaps just happier. ;) It's ridiculous, I know.
Almond butter can also be expensive, but not if you make your own! Here's my recipe for maple cinnamon almond butter. It's great in these cookies, on bread, or you know – on a spoon straight from the jar.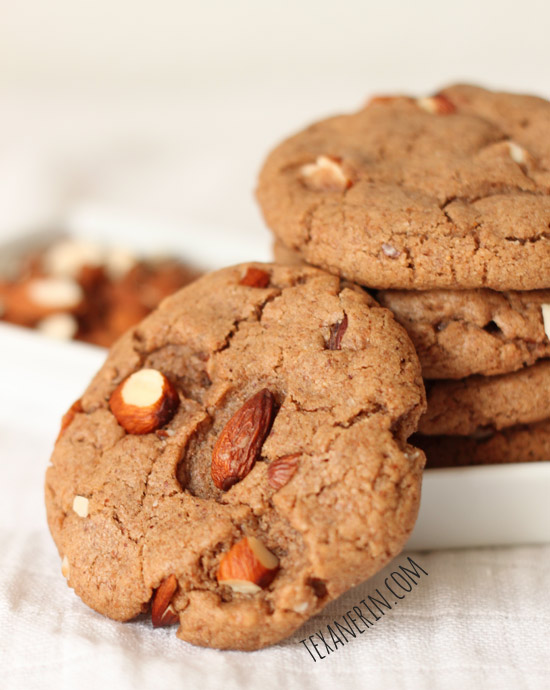 These almond butter cookies also seem to be quite forgiving. I forgot to halve the oil and couldn't just add more of the other ingredients because I didn't have any almond butter left, and so I ended up adding way too much flour. They still worked out! And if you're an almond hater like me, you can replace the almonds with something else. I only added them because they look nice.
You can't tell from the picture, but these are soft and kind of chewy. They have a really nice texture!
Right now I like them with maple extract. Sometimes I like them with almond extract. But definitely use one of those and not vanilla! They need something to help lessen the whole grain taste. Unless of course you enjoy that. :)
I haven't tried this, but I'm pretty sure you could turn these almond butter cookies into peanut butter cookies. Just use peanuts instead of almonds (or leave them out completely) and vanilla instead of almond or maple extract.
❀
Maple Almond Butter Cookies (100% whole grain, dairy-free)
Prep Time:
Cook Time:
Ready in:
Yield:

20 cookies
Ingredients
1/2 cup (about 125 grams) almond butter
1/2 cup (120ml) maple syrup (use Grade B instead of Grade A for a more pronounced maple syrup)
3 tablespoons (45ml) canola oil
1 teaspoon maple or almond extract
1 cup (130 grams) whole spelt or whole wheat flour
1/2 teaspoon baking soda
1/2 teaspoon salt
1/2 cup (about 85 grams) chopped almonds
Directions
Preheat the oven to 350°F / 175°C.
In a large bowl, mix the almond butter, maple syrup, oil and extract until well blended.
In a separate bowl, mix together the flour, baking soda and salt.
Add the dry ingredients to the wet ingredients. Add the almonds and stir just until combined. Let sit for five minutes.
Roll tablespoons of dough into balls and place on Silpat or a cookie sheet with parchment paper. Flatten to about 1/3 of an inch.
Bake for 8-10 minutes.
Let the cookies cool and then store in an airtight container at room temperature for up to 1 week.
Adapted from sweet + natural