Easy no-bake lactation cookies that are actually delicious and don't take much time to throw together! They can be made gluten-free and vegan and they're also 100% whole grain. Thanks to Majka for sponsoring today's post!
If you're dealing with the stress of a newborn and not having enough milk, I'm betting you want something that you can make in minutes. Or a recipe that you can give your partner or a friend and say, "Make me!"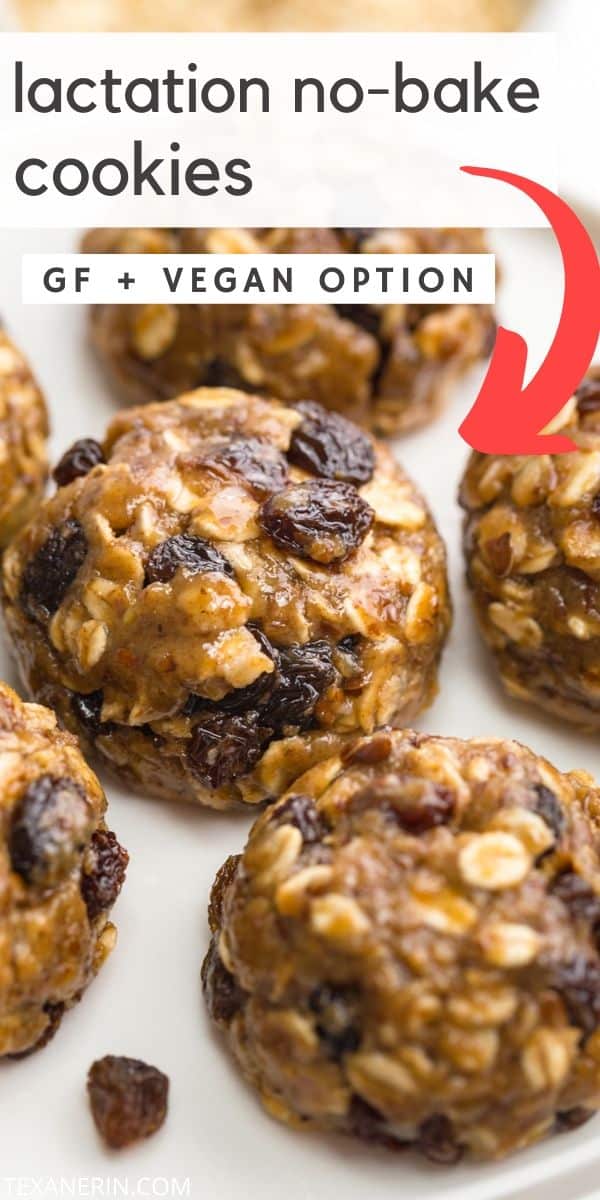 And if you're reading this in the summer, you might not feel like turning on the oven. So I bring you these no-bake lactation cookies!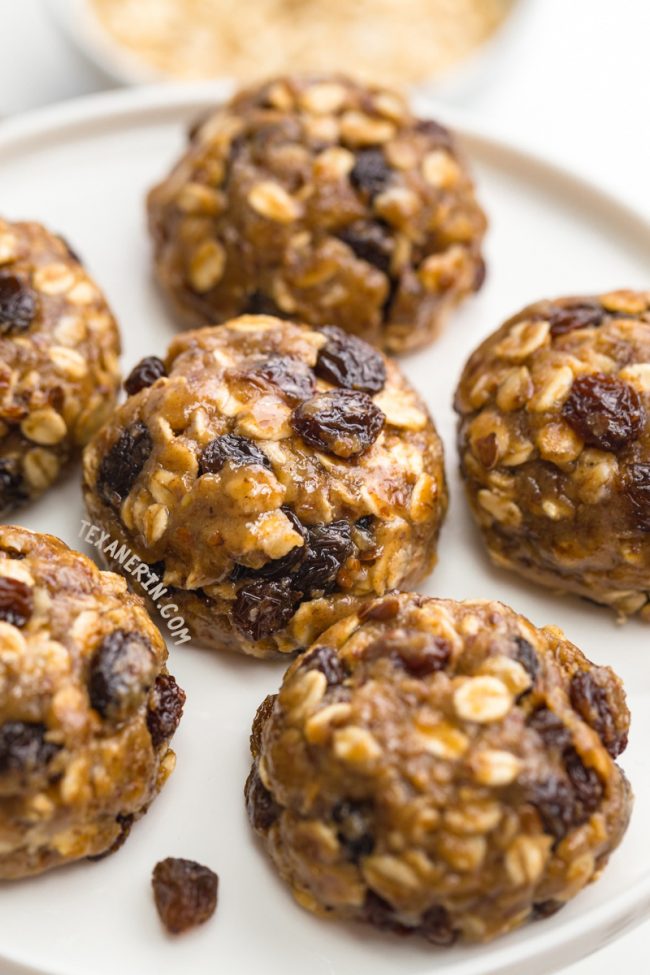 But to be honest, when I had a newborn, neither my husband nor I had time to make these lactation cookies or really anything in the first few months. I was just stuffing as many walnuts, almonds and avocados into my mouth as I could.
If that sounds like you, you should definitely check out these Majka Lactation Bites! They also have Chocolate Lactation Bites (those are my favorite!).
The bites are loaded with healthful ingredients that support lactation and provide moms with energy and nourishment. So many lactation snacks out there are just desserts with some lactation-boosting ingredients. Not these! They're even date-sweetened (who else loves that?!).
I so wish I had known about Majka when I was a new mom! Even now that my son is a bit older, the lactation bites still super handy to have on hand for a quick snack that also boosts my supply.
I also love their vanilla chai lactation booster. It's so nice to hear my son taking big gulps again instead of just suckling on what sounded like almost nothing for several months. It really works for me! And it's super delicious mixed with some coconut milk.
All their products are gluten-free, vegan, non-GMO and filled with healthy ingredients. You can check out all their products in their shop!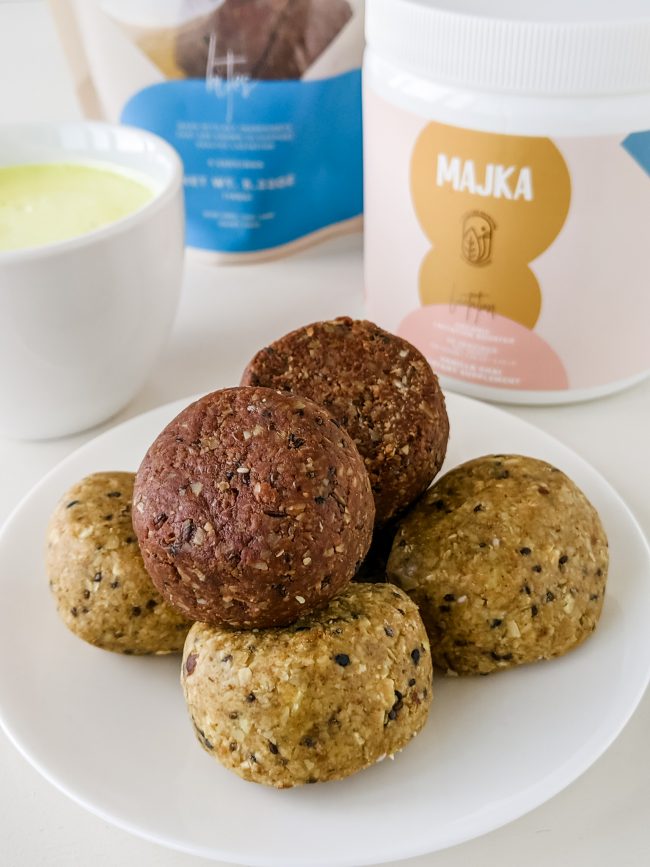 Now back to these lactation cookies! Another reason why I opted for no-bake was that I had read that lactation cookie dough was more effective than the actual baked cookies – I'm guessing because baking makes the milk-promoting ingredients less effective.
In this recipe, you bring a few ingredients to a boil and then add in all the good stuff. So while they're heated a bit, they're not baked at a high temperature for 10+ minutes.
So what are lactation cookies? They're oat-based cookies with added flax and brewer's yeast, which are known to promote lactation. You make them with whatever add-ins you'd like. I went with an oatmeal raisin version!
I really love my oatmeal cookies. Like these whole wheat oatmeal raisin cookies or these gluten-free oatmeal cookies.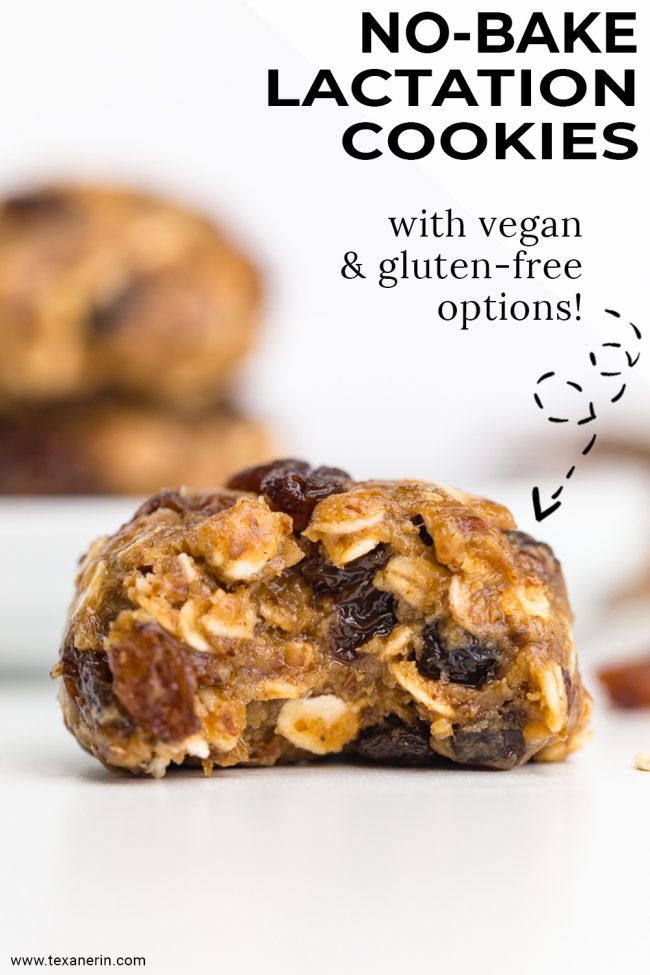 Can you eat them if you're not lactating? Of course! Nothing will happen.
If you've never had them before and they sound unappetizing, I totally get it. I had seen recipes before and the pictures alone turned me off.
They looked like brick-like cookies where a bunch of oats and flax had been thrown into the recipe without adjusting the other ingredients. I can promise you that these no-bake lactation cookies are just as tasty as regular, non-healthy cookies!
A few cautions: if you're nursing and don't have any problems with milk supply, some people might say it's better not to mess with it. As long as you don't go crazy on these cookies, I personally think they're harmless (but I'm of course not a doctor!).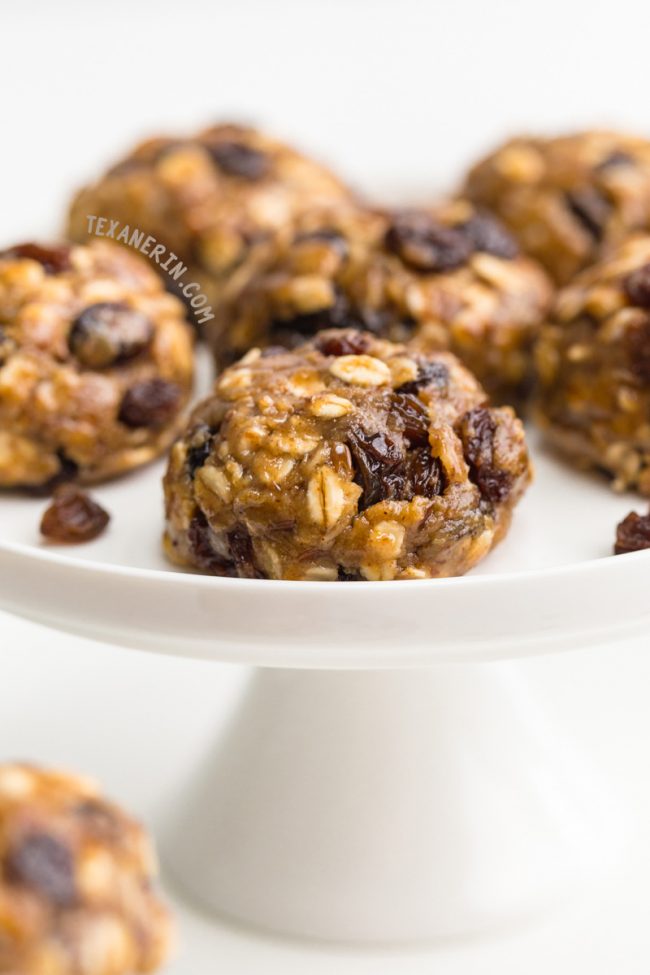 I've been eating them on and off for months while working on this recipe and haven't had any issues, but I thought I'd warn you, anyway. Don't eat too many all at once!
Actually, if using brewer's yeast, please eat just one and see how you and your baby react before eating more. Just to be safe! Some sources say it can cause abdominal issues (and other sources said it can also treat it).
These freeze great so you can make up a batch to have on reserve. I love knowing I have a batch in the freezer ready to go.
When googling for gluten-free lactation cookies, most of the recipes I looked at called for brewer's yeast but few pointed out that you have to buy a special kind. Brewer's yeast is usually a by-product of beer and therefore not gluten-free. Those types of yeast are also often quite bitter.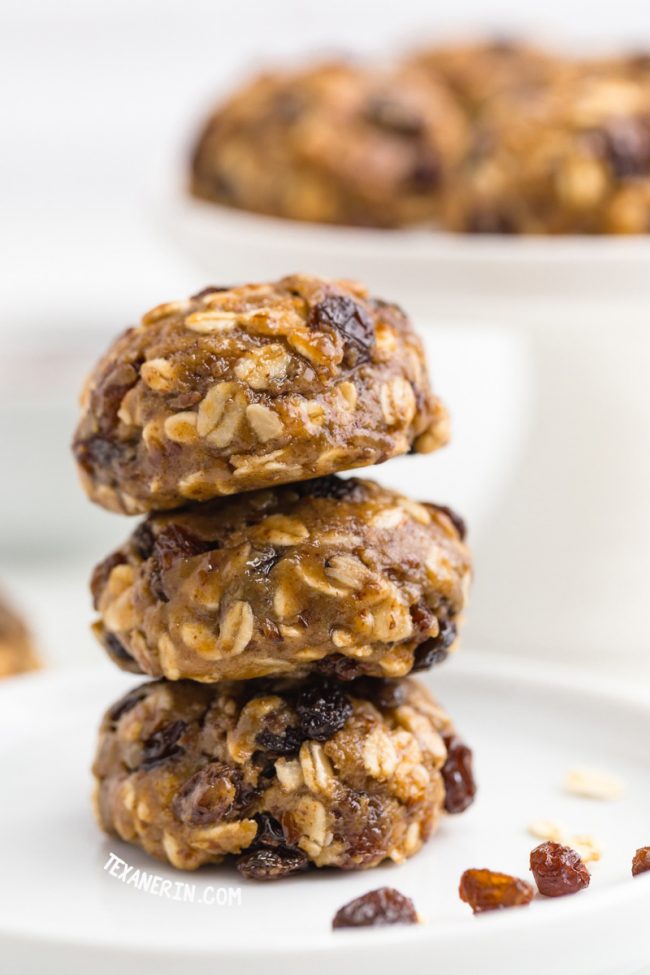 The gluten-free kind is derived from beet molasses. I've found two brands. One is Bluebonnet (found here on Amazon) which is naturally gluten-free but it's manufactured in a facility with pretty much all the top allergens. I read that on the container only after buying it and using it.
This one from Lewis Labs is gluten-free but I haven't tried it. Looking at the reviews, I'm assuming it'd be great in this lactation cookies recipe!
So you're probably wondering if you really need this specialty ingredient. I realize that if you need to up your milk supply immediately and have never made lactation cookies before, you'll most likely not have any on hand.
I think the brewer's yeast is the magic to the lactation bit in these cookies. I can't say how effective the cookies are without it, but at the very least, you'll be getting a delicious, healthier and nutritious cookie (these peanut butter protein balls and chocolate protein balls would also be great choices for anyone needing energy quickly!).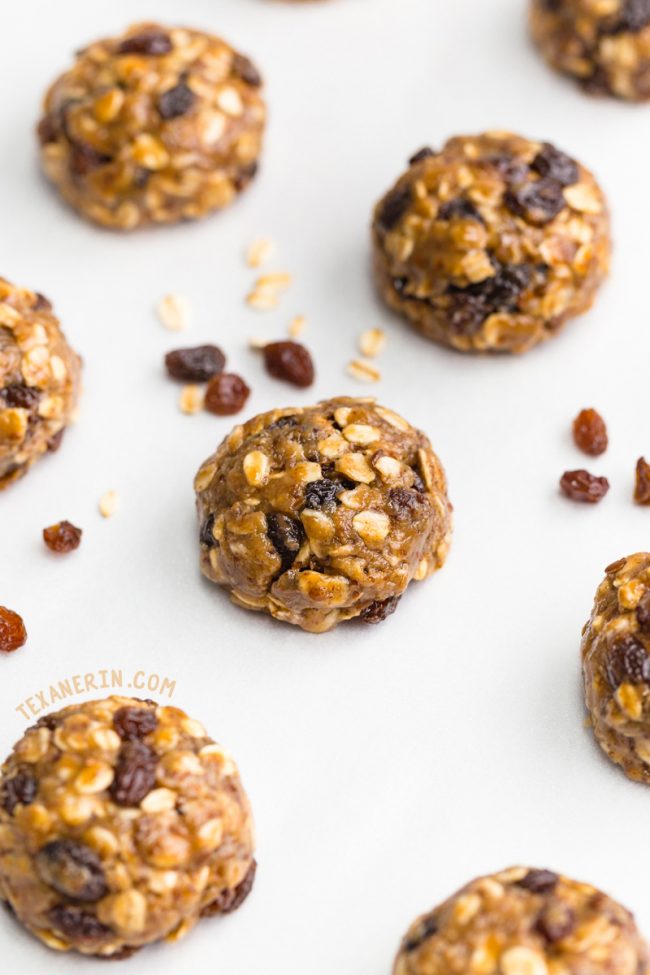 And these lactation cookies are not low-calorie so if you were like me and shoving everything you could in your mouth to get enough calories, these are great!
So – no. You don't have to use it. You can just add more of the other ingredients.
Brewer's yeast, ground flax seeds and oats absorb liquids differently. So I can't say if you don't want to use brewer's yeast, then use the same exact amount of flax or oats. But if you don't have the yeast or seeds, it's easy to just keep adding more oats until the cookies are a good texture.
I can say that if you just want to use oats and no flaxseeds or yeast, then you need 1 1/2 cups of oats total.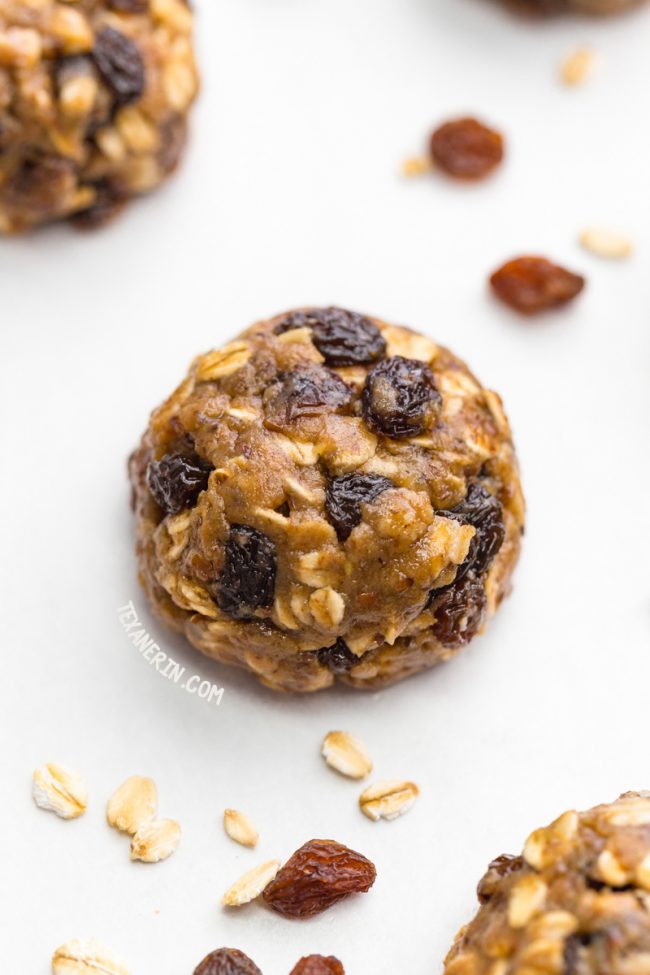 Although the kind of brewer's yeast I bought is labelled non-bitter, I think there's still an aftertaste (not a bitter one) if you don't add a little cinnamon or chocolate or something.
I think cardamom would also be delicious! Maybe with some chopped almonds?
You can toss in whatever add-ins you'd like as long as you don't add so many that the mixture no longer sticks together.
Chocolate chips, walnuts, pecans, etc. would all be good.
Don't want to use almond butter? Peanut butter is great (also see my peanut butter no-bake cookies) as is sunflower seed butter for a nut-free version. I think other nut butters would also be fine.
Also, for another great gluten-free recipe, try this healthy lactation cookies recipe!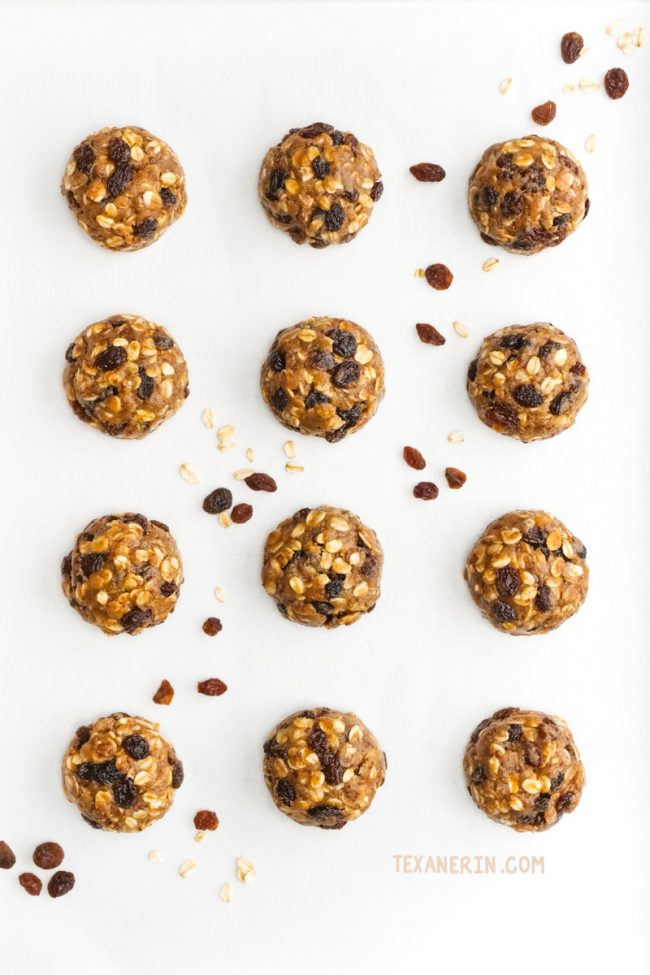 Questions about these no-bake lactation cookies?
Is the brewer's yeast necessary? No, but I'd say that it's the magic ingredient if you're trying to increase your milk supply! Read on if you want to omit it.


Can I use something other than brewer's yeast? You can use more oats, ground flaxseed, some shredded coconut or a mix of these. They absorb liquids differently than brewer's yeast so I can't give you an exact measurement. Just keep adding more until you're happy with the consistency.


Can I use something in place of the maple syrup? I've tried these so many times with honey and do not recommend it. It takes way longer to boil, the texture isn't right and they taste so strongly of honey.

I haven't tried any other sweeteners so I can't really recommend them. Granulated sweeteners wouldn't work unless you feel like experimenting by adding some coconut milk or water.


Can I use something in place of the oats? I haven't tried it but quinoa flakes should work or a combination of shredded coconut and oats. Just keep adding a little at a time until the consistency seems right to you. I've tried making a grain-free version by using just shredded coconut and it was a greasy, gross mess.



Do I have to use rolled / traditional oats? You can use quick oats (you'll have to add more than the amount called for) but steel cut or instant oats won't work.

I prefer the texture with all rolled oats or a mix of rolled and quick. I think the quick oats absorb quite a bit more liquid, which is what affects the texture.


Does the flaxseed have to be ground? It doesn't have to be ground but to get the nutrients of flaxseed, it should be ground. If you want to use whole, you'll need quite a bit more or possibly even some more oats. You'd have to play around a little.


Can I use something in place of the almond butter? Peanut butter and sunflower seed butter work great. I haven't tried any others but I'm pretty sure they'd work. They do need to be just nuts / seed and salt. No added fat or sugar.


Can I use nutritional yeast or regular yeast? Nope! They're not at all the same thing. Please do not try!


❀
No-bake Lactation Cookies (gluten-free, vegan options)
Prep Time:
Cook Time:
Ready in:
Yield:

8-10 cookies
Ingredients
3 1/2 tablespoons (49 grams) coconut oil, melted
1/2 cup (128 grams) natural almond butter (the kind with just almonds and no added fat or sugar – other types of nut butter also probably work)
1/2 cup (120 milliliters) maple syrup
1/4 teaspoon salt
1 1/2 teaspoons vanilla extract
1/2 teaspoon cinnamon
1 cup (92 grams) rolled oats (make sure to use GF, if needed)
1/4 cup (27 grams) ground flax seed
6 tablespoons (48 grams) Brewer's yeast (make sure to use a gluten-free brand)
3/4 cup (150 grams) raisins or another add-in1
Directions
In a medium pot over medium heat, stir together the coconut oil, almond butter, maple syrup and salt. While stirring constantly, bring the mixture to a full boil.
Boil for 2 minutes, stirring constantly and adjusting the heat as necessary (you might need to turn it down a little so that it doesn't start to stick to the bottom of the pan). The mixture should become glossy. Don't boil it longer or it may separate.
Remove from the heat and stir in the vanilla and cinnamon and stir.
Stir in the oats, flax seed, Brewer's yeast and raisins until well combined.
Use a medium cookie scoop to scoop out balls of the mixture onto a piece of parchment paper. Refrigerate in an airtight container for up to about a week. They can also be frozen for a few months.
Notes
If using chocolate chips, let the mixture cool a bit before adding them so that they don't melt.
As an Amazon Associate, I earn from qualifying purchases. For more info, see my disclosure.