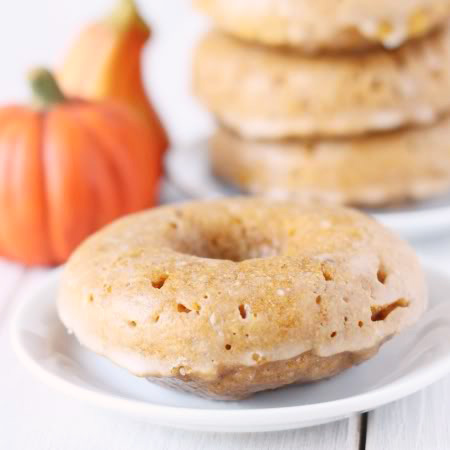 Update: I made these again in a normal muffin pan. With two tablespoons of batter in each cup, they'll need 10 minutes. With three tablespoons of batter, they'll need 13 minutes. And if you want to make them as normal muffins (filled almost all the way to the top), they'll need about 15 minutes.
Please don't skip the glaze! The donuts won't taste nearly as good without it. I only made 2/3 of the glaze today and that was enough.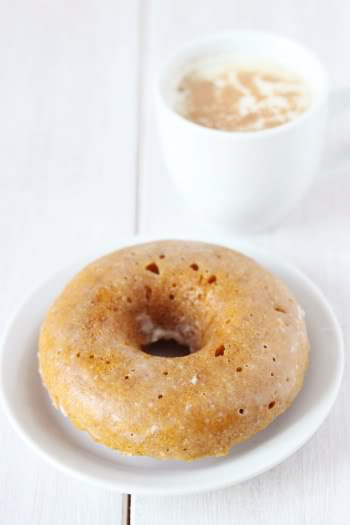 It's October! I made it all of September without posting a single pumpkin recipe. I think some people are already sick of pumpkin, but I've been dying to share these. I had never had pumpkin donuts before I made these, but now I don't think I want to eat any other type ever again. The best part is that these don't taste the least bit whole grain or olive oily.
Right before I made these, I was thinking that I didn't like pumpkin so much. I love cakes and things with pumpkin in them, but I was thinking it's the ginger and other spices that I like. I think I was wrong. Pumpkin is good.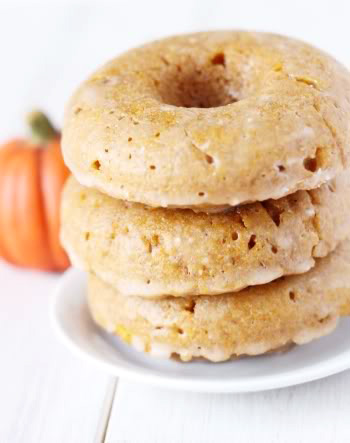 That's white chocolate hot chocolate with pumpkin pie spice right there. Is it normal that I have to dump extra sugar in there? And three times the recommended amount of powder? Maybe I should just drink some melted white chocolate.
Having had experienced several baking disasters in the previous days, I only made 5 of these. And now I'm very sad. I want more.
For a gluten-free version, try these Baked Pumpkin Donuts from Allergylicious!
❀
100% Whole Grain Baked Pumpkin Donuts
Prep Time:
Cook Time:
Ready in:
Yield:

24 donut holes or 10 normal sized donuts
Ingredients
1 3/4 cups (225 grams) whole spelt, whole wheat pastry, or whole wheat
2 teaspoons baking powder
1/2 teaspoon salt
1/2 teaspoon cinnamon
1/2 teaspoon ginger
1/4 teaspoon nutmeg
1/4 teaspoon allspice
1/3 cup (80ml) olive oil, I used extra-virgin
1/2 cup (100 grams) unrefined or brown sugar
1 egg
1 teaspoon vanilla extract
3/4 cup (6.4 ounces / 180 grams) canned pumpkin
1/2 cup (120ml) milk

Glaze:

1 1/2 cups (195 grams) powdered sugar
1/4 cup (60ml) buttermilk
1/4 teaspoon vanilla
Directions
Preheat the oven to 350°F / 175°C.
In a medium bowl, whisk together flour, baking powder, salt and spices.
In a large bowl, whisk together the olive oil, sugar, egg, vanilla, pumpkin and milk.
Add dry ingredients to wet ingredients and mix until just combined. Be careful not to overmix!
Grease a donut or mini muffin pan very well. Divide the batter among the molds. Bake 12 – 15 minutes or until a toothpick comes out clean. If making donut holes, bake for 10 – 12 minutes.
While the donuts are baking, make the buttermilk glaze by combining all the ingredients in a small bowl. The donuts should be able to fit in the bowl.
Turn the donuts out onto a rack. When they're completely cool, dip them into the glaze. Flip them over several times or until they're completely coated. Do a test donut and if you like how the glaze is, glaze the rest of the donuts. If you'd like the glaze to be thicker, let the glaze sit longer and then glaze. Thanks to M in the comments for that tip. :)
Eat immediately! They're okay on the second day, but insanely delicious still warm from the oven.
Adapted from Baked Pumpkin Spice Donut Holes - Craving Chronicles