These cinnamon raisin oatmeal cookie balls are sweetened with dates and raisins and are completely guilt free! Just process everything together in a food processor and roll into balls. Naturally gluten-free, vegan, dairy-free and 100% whole grain. For another such recipe, try these no-bake oatmeal cookies! No need to turn on the oven and the flavor is amazing.
I've been staring at a blank page for half an hour. I don't know what to say about these. They're insanely good, quick, easy and you have to make them. Is that convincing enough? ;)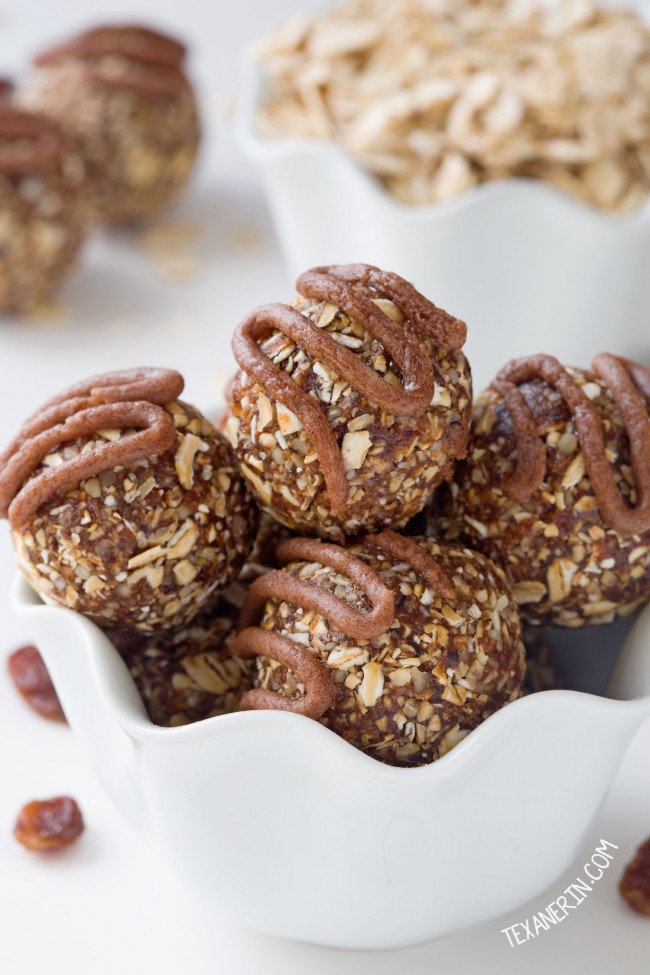 They kind of taste like oatmeal cookie dough but they're firmer than dough. And they travel well! But without the frosting. The frosting gets soft at room temperature so things would get messy if you try to transport them.
All the sweetness that comes from the dates and raisins is just crazy. I know that the nut and date thing isn't new, but it's new to me. And I can't wait to see what else is possible with just dates as the sweetener! Anyone have any favorite date sweetened recipes? I think I'll try some brownies next!
I wish I could say that these were an original creation, but I adapted them from Food Doodles' Raw Oatmeal Raisin Cookie Dough Bars. Thanks to Heidi, I have a new favorite no added sugar snack.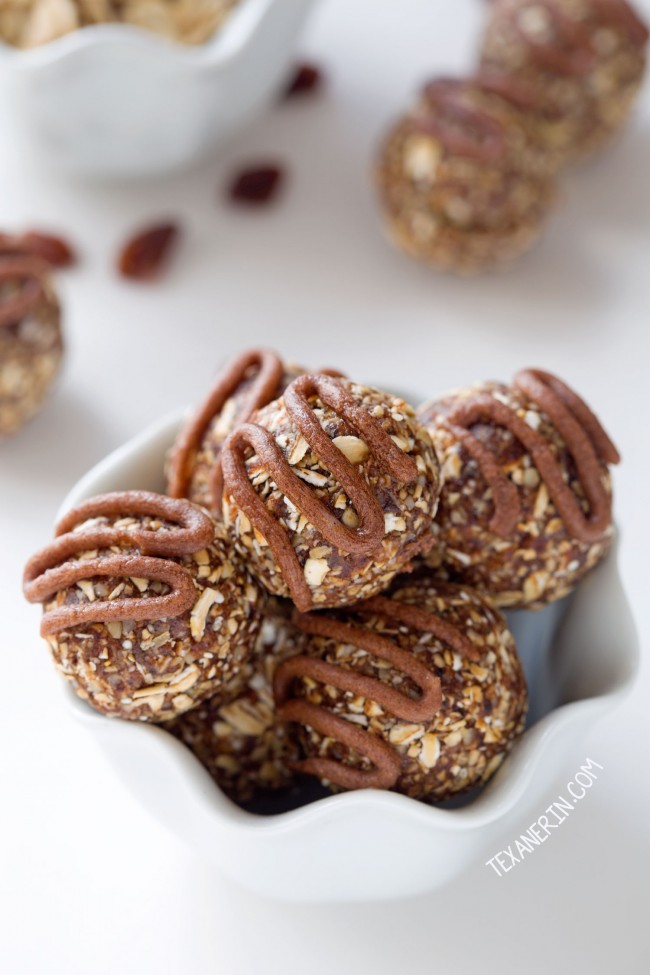 I'll leave out the frosting in the future because these were already pretty sweet. They were so sweet (although not overly) that I actually checked if my dates and raisins were sweetened. They weren't.
I used 1/2 cup each of extra oats and oat bran at the end, but you can add more if you like. Or you can add less. It all depends on what you like. The less you add, the sweeter the balls are. You could also add other fruit or chocolate chips or whatever you feel like. These are pretty adaptable so do what you think sounds good. :)
Like the flavors of oatmeal raisin but don't eat grains? Try these paleo oatmeal cookies! They've been a huge hit around here.
❀
Cinnamon Raisin Oatmeal Cookie Balls (gluten-free, vegan, dairy-free, whole grain)
Prep Time:
Cook Time:
Ready in:
Yield:

24-30 1" balls
Ingredients
For the balls:

3/4 cup (75 grams) walnuts
3/4 cup (67 grams) + 1/2 - 1 cup (45 - 90 grams) rolled oats, divided (use gluten-free oats, if necessary)
1 cup (180 grams) pitted dates
3/4 cups (180 grams) raisins
2 teaspoons vanilla extract
2 teaspoons ground cinnamon
1/2 - 1 cup (60 - 120 grams) oat bran or more oats (make sure oat bran is gluten-free)

For the frosting:

1 tablespoon coconut oil, softened but not melted
1 teaspoon cinnamon
Directions
In your food processor, grind the walnuts and 3/4 cup (67 grams) rolled oats until there are no more large chunks and then set aside. Add the dates and raisins to the food processor and process until it's smooth, and then add the vanilla and cinnamon.
Process until thoroughly combined and then add the oat and nut mixture. Pulse. At this point, you can start adding oat bran and the remaining rolled oats.
Add 1/4 cup of each, pulse, see if you like the consistency, and if you want even more bran and oats, add more, a little at a time. You don't want them to get too dry.
Roll tightly into balls. You'll have to squeeze them together to get them to stick, but it'll work.
For the frosting, stir everything together and pipe onto the balls or just spoon a little bit over. These are already pretty sweet so you might not want it.
Store in an airtight container for up to 3 days or refrigerate for up 1 week.
Adapted from Raw Oatmeal Raisin Cookie Dough Bars - Food Doodles