These paleo pumpkin muffins are topped with pecan streusel and have a great texture! With a video.
I know I just posted some vegan pumpkin muffins last week, but those have no grain-free option – just whole wheat and gluten-free – so I felt compelled to post a paleo pumpkin muffin recipe, too!
By the way, I'm guessing today's recipe probably can't be made vegan. I'm assuming it's too many eggs. I'd love to be proven wrong, though!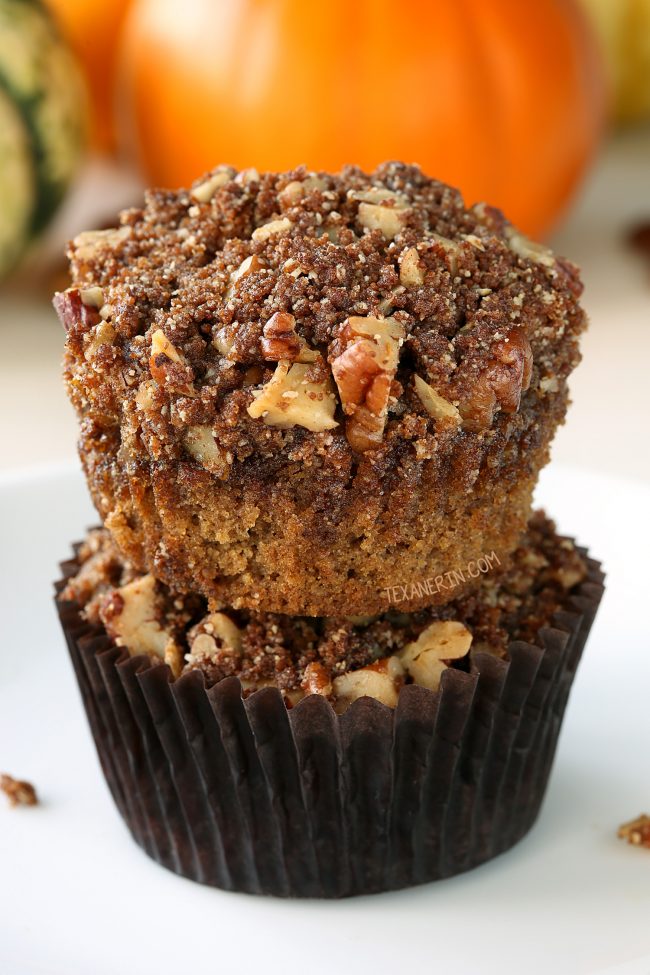 These paleo pumpkin muffins are nice and moist and don't have a funky texture at all, as many paleo muffin recipes tend to have. But they need to sit for a bit before you dig in. They're kind of weird straight from the oven. For more awesome paleo muffins, try my paleo chocolate banana muffins or paleo apple muffins!
The streusel isn't like a regular wheat flour and oat streusel but it's still really nice! The only problem is how crumbly it is.
You're not going to be tossing these muffins into a Ziploc and bringing them anywhere. If you're super careful, they could be transported in some tupperware.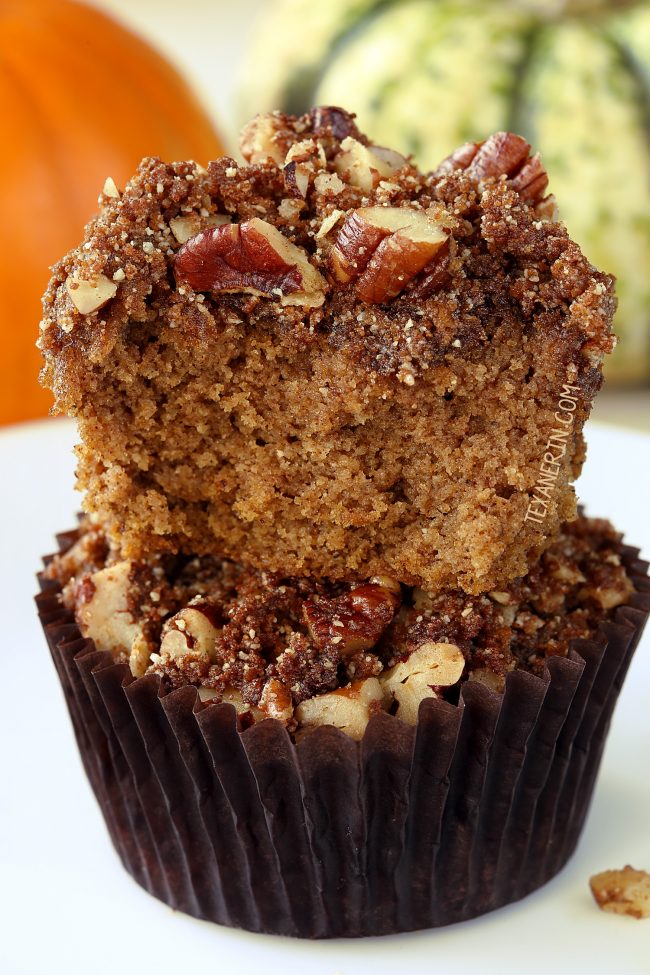 This is a problem I've had with all paleo streusel recipes. They never form big, sturdy clumps that hold together without issue. I have a feeling a cassava flour based streusel would be much more similar to regular wheat based streusel, but since I know I'd get a ton of substitution questions (because most people don't have cassava flour at home), I haven't tried it.
I personally think they need some kind of topping for a little extra sweetness, but if you don't need that, you can of course skip the streusel topping. If you do that, then you'll probably need to bake the muffins a few minutes less.
If you prefer a cinnamon sugar coating to the streusel or want to use a mini muffin pan, check out my paleo pumpkin donuts recipe.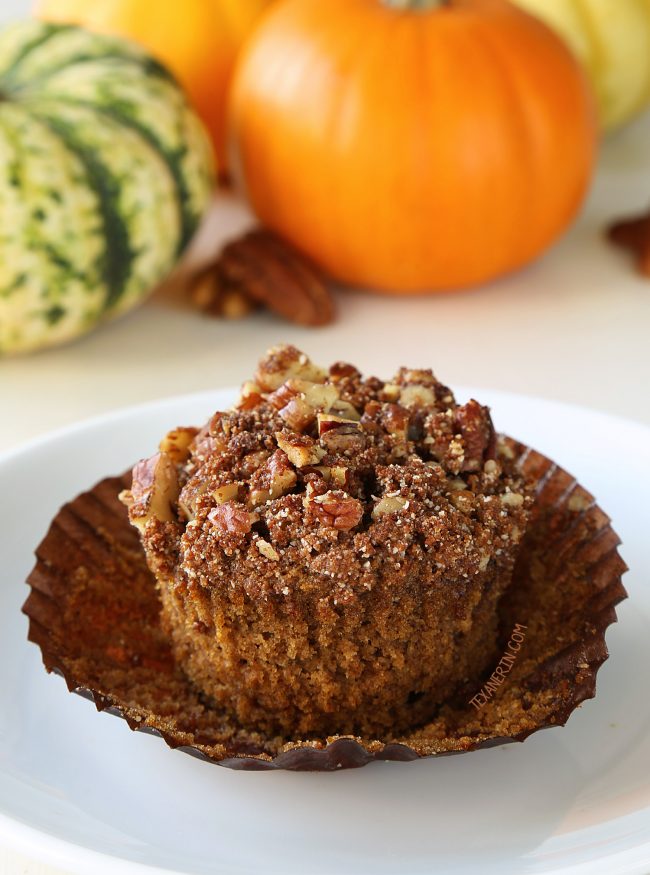 If you're not in the mood for these paleo pumpkin muffins, these paleo pumpkin scones look fantastic.
I hope everyone is enjoying the start of fall! There are six weeks left before the baby arrives and man… it's hard to get around. So much hurts. I'm ready for the aches and pains to disappear!
Ready for the baby? Not so much. But I am armed with lots of great recipes for the next few months so you all shouldn't notice much of a change around here. :)
❀
Paleo Pumpkin Muffins with Streusel (grain-free, gluten-free, dairy-free)
Prep Time:
Cook Time:
Ready in:
Yield:

16 muffins
Ingredients
For the streusel:

1/2 cup (100 grams) coconut sugar, sifted if lumpy
1/2 cup (50 grams) almond flour
4 1/2 tablespoons (63 grams) coconut oil, room temp or melted
2 teaspoons ground cinnamon
3/4 cup (84 grams) finely chopped pecans (more finely than in the pictures! About 1/8".)
pinch of salt

For the batter:

1/2 cup (66 grams) coconut flour, sifted if lumpy
3/4 cup (75 grams) almond flour
2 1/2 teaspoons cinnamon1
1/2 teaspoon ground nutmeg
1/2 teaspoon ground ginger
1/2 teaspoon ground cloves
1 1/4 teaspoons baking soda
1/4 teaspoon salt
4 large eggs (50 grams each, out of shell), room temperature
7 tablespoons (98 grams) coconut oil, melted and preferably still warm2
1/2 cup (120 milliliters) maple syrup
1/2 cup (120 grams) canned pumpkin puree (not pumpkin pie filling)
2 tablespoons coconut sugar, sifted if lumpy
2 teaspoons vanilla extract
Directions
Preheat the oven to 350 degrees F (175 degrees C). Line 16 muffin cups with muffin liners.
Prepare the streusel by mixing everything, except for the pecans, together in a small bowl until well combined. Mix in the pecans. Set the bowl aside.
In a large bowl, mix together the dry ingredients (coconut flour through the salt).
Add the wet ingredients (eggs through the vanilla) and mix until combined. See the notes section concerning the consistency of the batter.
Pour / scoop the batter evenly into the muffin cups (about 1/2 - 2/3 full). Top with 2 tablespoons (18 grams) of streusel per muffin.
Bake the muffins for 14 – 18 minutes (if not using the streusel, you'll probably need to check them a few minutes earlier) or until a toothpick inserted in the middle comes out clean. Let cool in the pan. If you try to remove the wrappers while they're still warm, the muffins will probably stick to the liners. Straight from the oven, these do not taste good! They need to rest for about 2 hours.
Cover the muffins and store them in the refrigerator for up to 4 days (2 days at room temperature is also okay). Note that the streusel is very crumbly and wouldn't do well when transported unless you're very careful.
Notes
You could use 4 teaspoons of pumpkin pie spice instead of the 4 individual spices.
It's okay if it's no longer warm. You can see in the video that using non-warm coconut oil just results in a thicker batter. If you use coconut oil that's still warm, the batter will be easier to pour.
For a non-paleo and dairy-containing version, you can also use brown sugar and butter.