This honey sweetened blueberry ginger jam only takes 5 minutes to put together and doesn't use pectin! Naturally gluten-free, dairy-free and with a vegan option.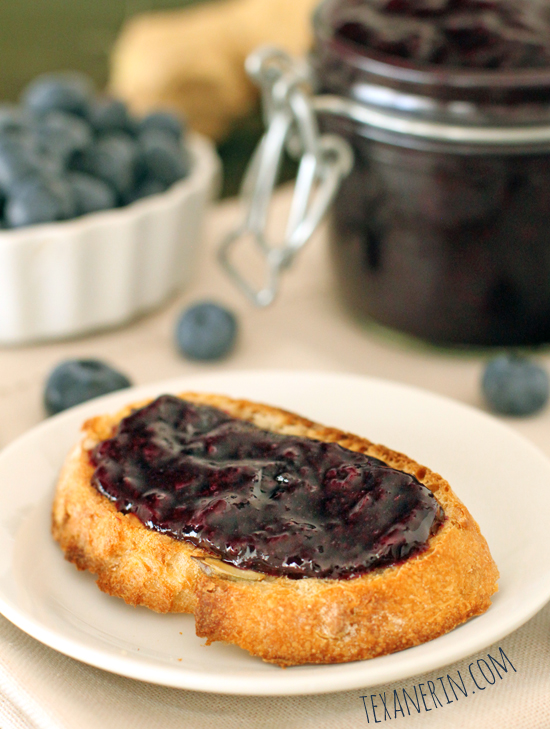 Just as soon as blueberry season really gets going, it gets too hot to bake. 84 degrees F in the apartment and no air conditioning? Boo. Blueberries aren't so easy to work into no-bake recipes so I did what I had to do to use up my blueberries before they met a surely moldy future.
This blueberry ginger jam is spicy and full of blueberry flavor rather than tasting like sugar with some blueberries involved.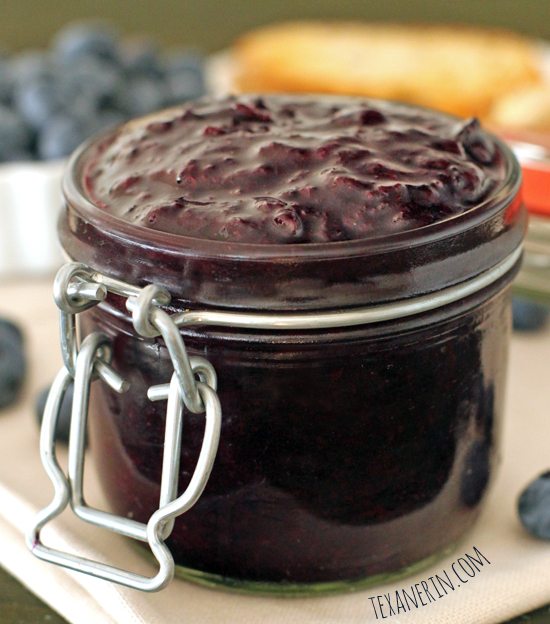 All you have to do here is put some blueberries in a pot, mash them with the bottom of a glass, and then add lemon juice, ginger and honey. Let it boil until it thickens and that's it. Delicious homemade blueberry ginger jam!
If you don't want the ginger, leave it out! Or use strawberries if you don't like blueberries. I don't think you can really go wrong here. This blueberry ginger jam is pretty difficult to mess up!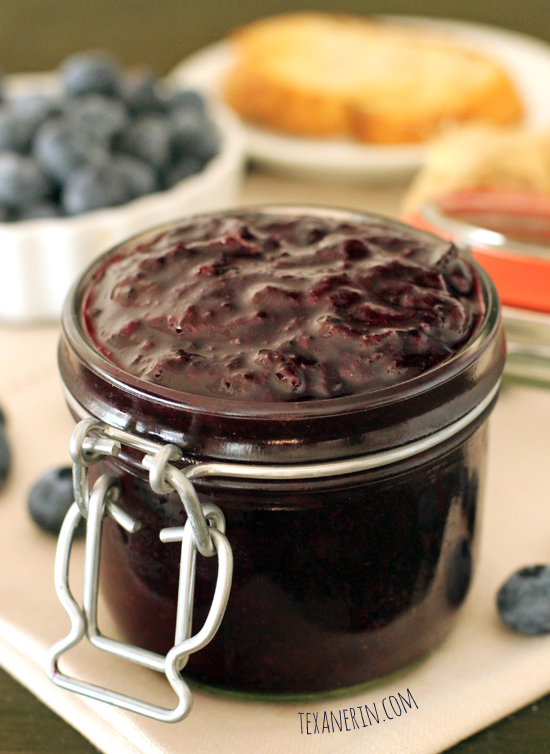 Thank to everyone who has taken the survey! I really expected a few complaints but you all were so incredibly friendly and encouraging. Thank you! :) Here are just some of changes I'm going to make based off of your feedback:
A lot of you asked for low calorie / low carbs recipes and for nutritional information. I don't focus on making things low calorie but every now and then, I'll post a "skinny" or low carb recipe with nutritional info. And my skinny recipes won't contain any weird ingredients! I'm talking about changes like apple sauce instead of oil and stuff like that.
There are a lot of people interested in dairy-free recipes so I'm going to add a section under the recipe index for that. So at some point in the next few weeks, you'll be able to see all the dairy-free recipes with one click. I have quite a few dairy-free recipes already… they're just not labelled properly.
People interested in whole grain vs. gluten-free / grain-free recipes is about equal. So I'll continue what I'm doing and do about half and half! But for the whole grain people, a lot of my gluten-free recipes use just oats, which are also whole grain, so you can enjoy them too. :)
Several people asked for recipes with Stevia. I currently use Stevia in my smoothies but that's it. I'll do my best to incorporate a Stevia containing recipe every now and then, but I'll make sure to list an alternate sweetener like unrefined or coconut sugar.
I'll also add more alternate suggestions for people with allergies. Don't like or can't eat peanut butter or other nut butters? I'll list a suggestion on what else you can use instead. Want to use whole spelt instead of whole wheat? I'll note when that's okay to do.
Okay, so basically – for the people who are happy with the way things are, the only change that you'll notice will be a low carb / low calorie recipe every now and then. The rest of the changes won't affect you but they'll help the others. :)
❀
Blueberry Ginger Jam (honey sweetened)
Prep Time:
Cook Time:
Ready in:
Yield:

1 3/4 - 2 cups jam
Ingredients
4 cups (600 grams) blueberries
3 tablespoons peeled and grated ginger, packed
2 tablespoons lemon juice
Directions
Place the blueberries in a medium or large pot and smush the berries with the bottom of a glass. Add the honey, grated ginger, and lemon juice and heat over medium high heat.
Boil, stirring every now and then, until the mixture thickens to your liking. This took 40 minutes for me.
To test, put some of the jam on a spoon and then put the spoon on a plate and put the plate in the freezer. Let it sit there for five minutes and then take out. If the jam doesn't fall easily off the spoon when you turn it to the side, it's ready and you can take the pot off the heat. If it does pour off easily, continue cooking for another 5 minutes and try the test again.
Let the jam cool and then pour into jars, cover, and store in the fridge and for up 1 week or freeze for up to 3 months.