You'd never know that these super gooey German chocolate inspired brownies have been made healthier!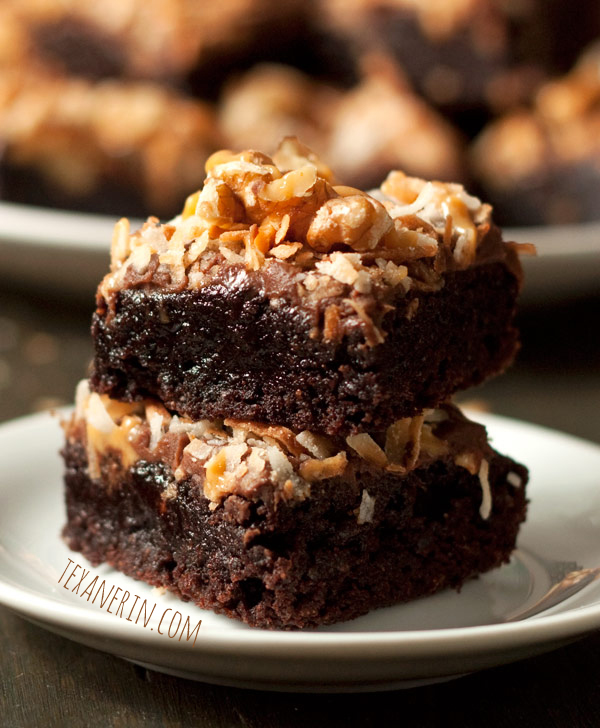 These are hands down the best brownies I've ever made. Healthy or not. It could have something to do with the fact that I used way more sugar than usual but I'll just try to ignore that.
You can absolutely make these as plain brownies and they're really amazing that way. And much quicker to make! But I wanted to make these brownies pretty. So I went to Facebook and asked you guys what to do with them and tried to combine as many suggestions as possible. That's where the caramel + coconut + pecan / walnuts combination came from.
I fully intended on making these as real German chocolate brownies and not just inspired but then I read what German chocolate filling is made of. It didn't really appeal so much to me so I just made a simple chocolate ganache and spread this over the brownies. And then I added toasted coconut and pecans and drizzled on some caramel.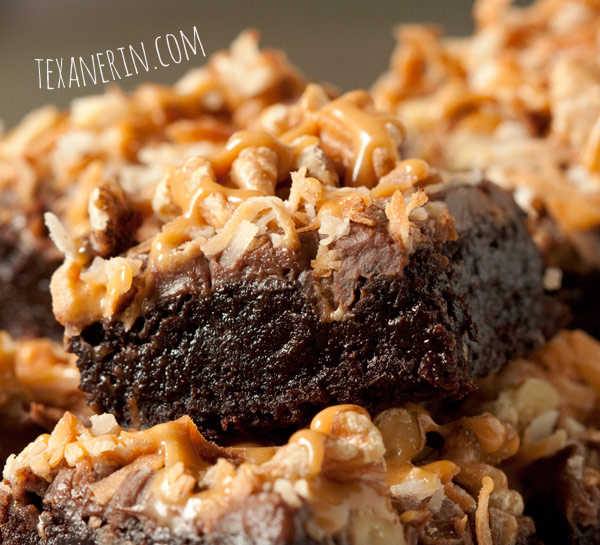 I baked the brownies and then put on the toppings but next time, I think I'll just add some chocolate chips, caramel bits, nuts and shredded coconut right into the batter. Much easier and quicker! And that way, you can leave out the cream. Which means saved calories and that of course means you can eat more brownies. :)
If you do make these and you want to reduce the sugar, please note that they won't be as gooey and they'll be more cakey. These brownies really aren't greasy, even if pictures kind of make them look that way.
I kept my brownies refrigerated but they're fine at room temperature as well. They just seem better cold!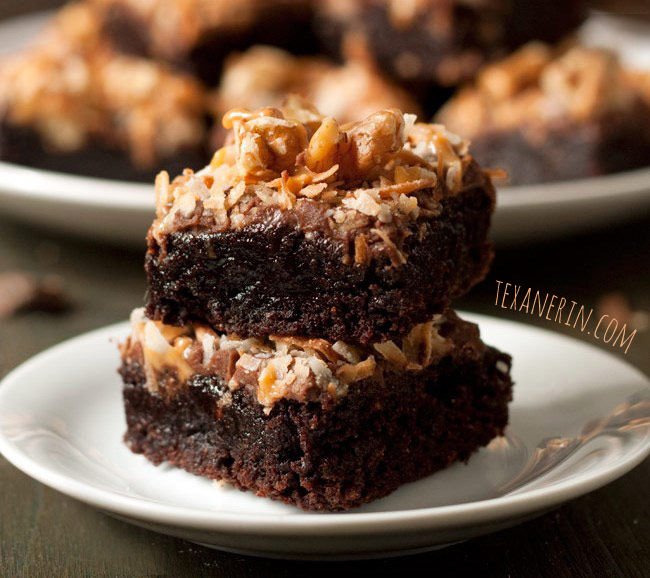 ❀
100% Whole Grain German Chocolate Inspired Brownies
Prep Time:
Cook Time:
Ready in:
Yield:

24 servings
Ingredients
Brownies:

1 1/3 cups sugar
1/2 cup grapeseed oil
3 large eggs
4 teaspoons vanilla
1 1/3 cups (175 grams) whole wheat flour
1/2 cup Dutch-process cocoa powder
1/4 teaspoon salt

Topping:

2/3 cups shredded coconut
2/3 cups pecans or walnuts
2 1/2 ounces semi-sweet chocolate, chopped
1/4 cup heavy cream
1/4 cup + 2 tablespoons caramel bits (check out this recipe for dairy-free caramel)
1 tablespoon heavy cream (coconut milk for dairy-free)
Directions
Preheat the oven to 350 degrees F. Place a sheet of parchment paper over an 8x8 inch pan and press it around the edges. This makes it easier to remove the brownies once baked. Or you can spray the pan with non-stick baking spray.
In a large bowl with a wooden spoon, mix together the sugar and grapeseed oil. Let it sit for 5 minutes to help dissolve the sugar.
Add in the eggs and vanilla, all at once, and stir until thoroughly combined.
Add in the whole wheat flour, cocoa powder and salt all at once and stir *just* until combined. If you overstir, the texture might be affected.
Bake for 17 minutes. If you stick a toothpick in the middle, it will come out wet and this is okay! They continue to cook after you remove them from the oven. Do not bake until the toothpick comes out clean!
Let the brownies cool in the pan.

Topping:

Toast the coconut and pecans for 5 - 10 minutes at 350 degrees F or until they smell toasted. Check after 5 minutes to stir the coconut, if needed.
Place chopped chocolate in a small mixing bowl and heat 1/4 cup heavy cream in a small pot over medium heat, just until it starts to simmer. Pour this over the chopped chocolate. Stir until smooth and set this aside.
In the small pot you just used, over medium heat, add the caramel bits and another tablespoon of heavy cream. Stir together and continue stirring until combined.
To assemble brownies: Spread on the chocolate layer. It will be very thin. Then add the toasted coconut and pecans and finally the caramel. You can either use a spoon to drizzle it over the brownies or pipe it.