These easy pumpkin pancakes have an amazing texture! Unlike a lot of other healthy pumpkin pancakes recipes, these aren't at all bready and don't taste healthy. With whole wheat and gluten-free options.
I just love pancakes on a fall morning – what about you? They give me something to roll out of bed for. ;)
Bonus points if they have pumpkin or pumpkin pie spice! This recipe definitely fits the bill.
These pancakes could also easily be called pumpkin protein pancakes because they have something of a special addition – but don't let it turn you off!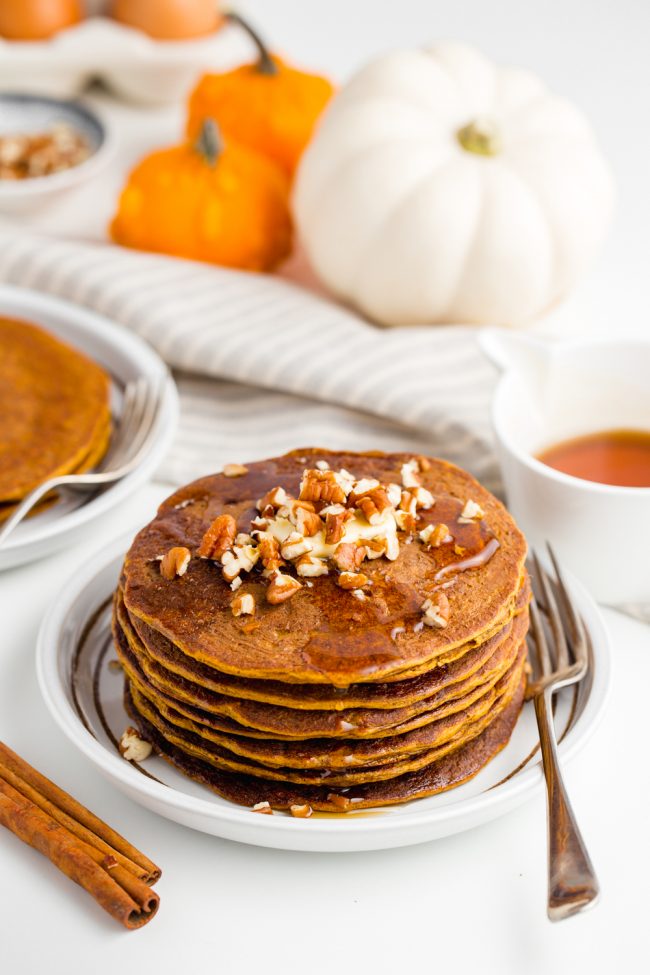 This recipe calls for 3/4 cup cottage cheese but I promise you can't taste it. All it does is make these easy pumpkin pancakes taste less healthy.
It sounds ridiculous, I know, but really. It makes them less bready, something I dislike in pancakes, and less eggy. You whip these up in the food processor and so nobody will be able to tell that there's cottage cheese and all that protein in there.
I love that there's so much protein in there because it means a few of these don't leave me in a carb coma the way most pancake recipes do. They fill me up and I can go about my day rather than wanting to mosey back to bed.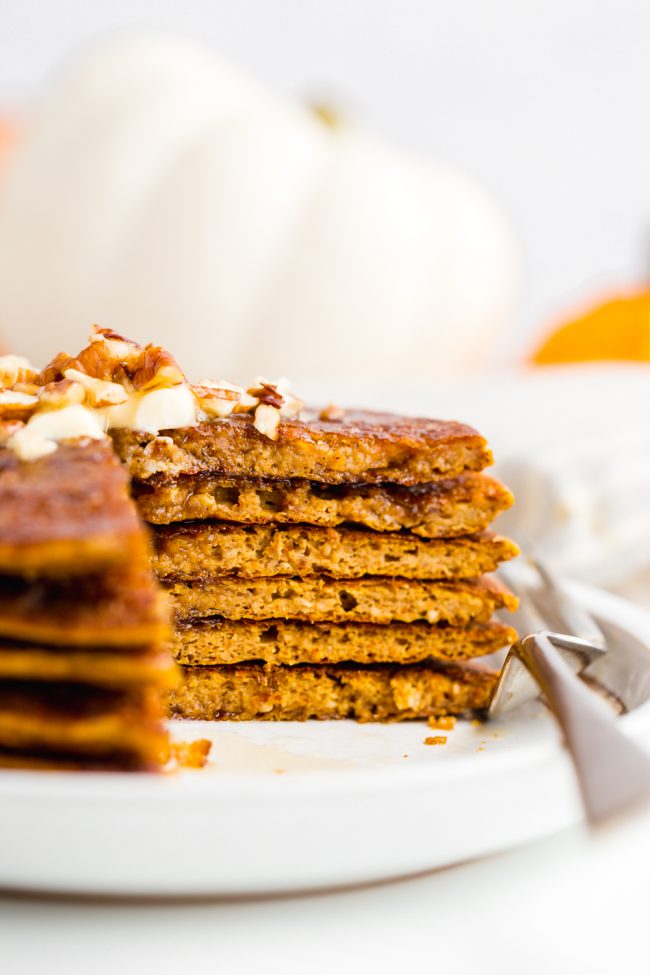 These pancakes are also great reheated. I love making a big batch and eating one for breakfast every workday. It just makes mornings so much cheerier!
There's quite a bit of spice in these which yields an awesomely fall-flavored breakfast. Not just a hint of spice. It's right there in your face!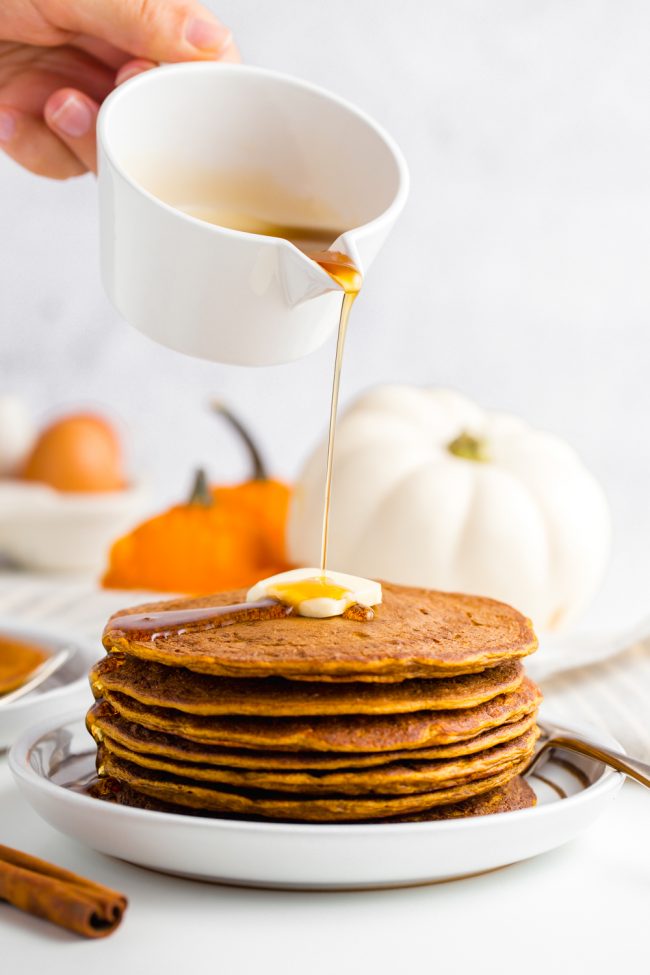 To make these healthy pumpkin pancakes, you just blend everything in a high-speed blender or food processor.
I'm not sure how well these pancakes would come out without using one. You could use oat flour in place of the oats but the cottage cheese is the issue. I'm guessing the pancakes would be lumpy and strange, but it's just a guess.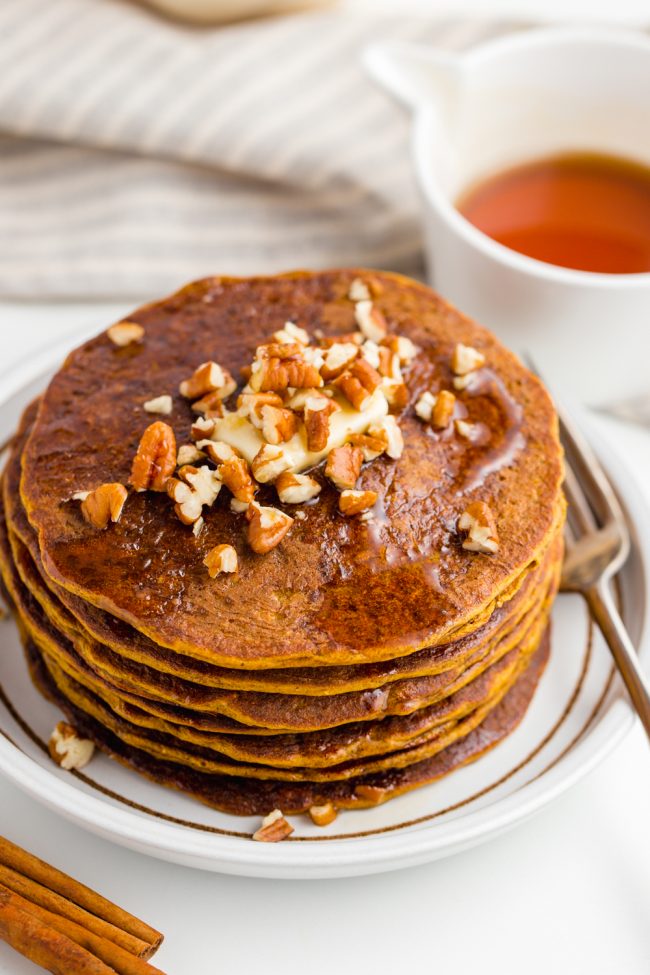 I don't know of a good vegan sub for cottage cheese and so I haven't tried making these vegan. Which also means I didn't bother trying them with an egg sub.
But I'm almost positive that egg subs wouldn't work here. Four eggs are just too much to replace!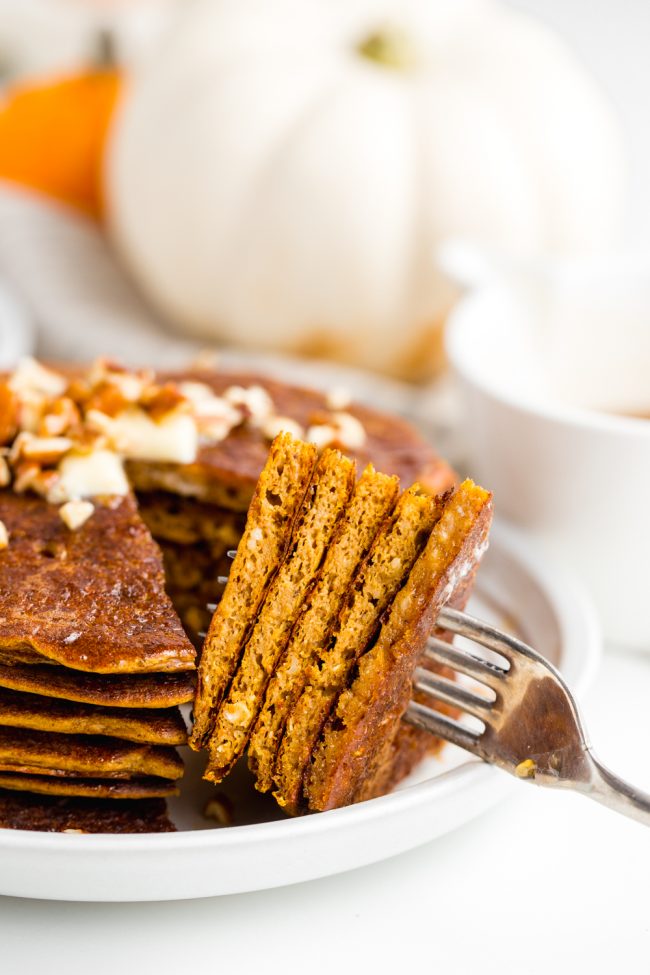 For the flour, you can whole wheat flour, all-purpose flour or more rolled oats (or oat flour). If you use the latter, these easy pumpkin pancakes are gluten-free.
Just make sure you use gluten-free oats / oat flour! And don't worry – these pancakes don't taste at all gluten-free! Just pumpkiny delicious.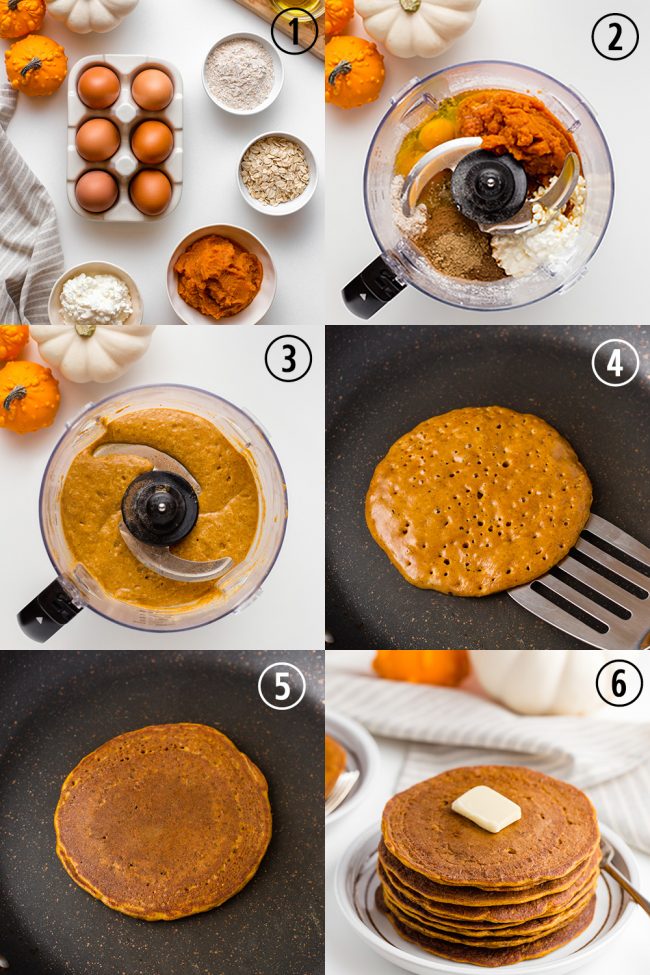 If you try them out, I'd love to hear how you like them!
❀
Easy Pumpkin Pancakes
Prep Time:
Cook Time:
Ready in:
Yield:

10-12 5" pancakes
Ingredients
1/4 cup (22 grams) rolled oats or oat flour
1/4 cup (32 grams) whole wheat flour or 1/4 cup (22 grams) additional rolled oats or oat flour
1 tablespoon baking powder
3 1/2 teaspoons pumpkin pie spice1
4 large eggs (50 grams each, out of shell) eggs
3/4 cup (155 grams) cottage cheese
1/2 cup + 2 tablespoons (204 grams) pumpkin puree
2 tablespoons oil (coconut oil, canola, olive, whatever you want)
2 tablespoons maple syrup (honey would also work)
1 tablespoon vanilla extract
Directions
Pour the oats in the food processor or high-speed processor and give it a few pulses. You want them to be a little finer is all. Then add all the other ingredients and mix until thoroughly combined. There definitely shouldn't be any lumps. Because we're using cottage cheese here, I don't recommend making these without the help of a food processor or a good blender.
Cook in a medium pan over medium heat. For me, it took about 1-2 minutes before I flipped them, and then another minute on the next side. They were really easy to flip, but if you normally use cooking spray, go ahead and use it here.
Notes
If you don't have pumpkin pie spice, you can use 2 teaspoons cinnamon, 1/2 teaspoon ginger, 1/2 teaspoon allspice and 1/2 teaspoon nutmeg.