These paleo peanut butter balls actually use sunflower seed butter in place of peanut butter, but they taste really similar. They're easy to make and great for holiday parties as they don't melt at room temperature the way a lot of paleo treats do. They're also no-bake, gluten-free and vegan.
I'm still working on the paleo version of the second almond paste cookie recipe I said I'd post soon, so here's a different paleo treat that should keep your cravings satisfied for the next few days. :)
I posted healthy peanut butter balls right before last Christmas and mentioned how the sunflower seed butter version requires a lot less coconut flour than the peanut butter version. And now, a year later, I've finally settled on the right amount of coconut flour!
The only difference between this and the peanut butter version is that sunflower seed butter is used and the amount of coconut flour that is used.
The peanut butter balls I posted last year, that actually use peanut butter (and which video you see in this post as the process is 100% the same), have been getting great reviews, and I think this nut-free and paleo version is just as delicious! Mr. T actually even preferred this version, and he loves peanut butter.
"Peanuts are not paleo!"
At the risk of getting yelled at for calling these paleo peanut butter balls, I'm doing it anyway because it's the best description. I thought about paleo cookie dough bites, but they're not really cookie dough-like. They're like peanut butter cup filling, but softer.
Sunflower seed butter balls would be most accurate and descriptive but to be honest, nobody is searching for that on Google, and I want people to find this recipe. If you eat paleo, this is as close to peanut butter balls you're going to get, so why not?
For another paleo dessert that uses sunflower seed butter in place of peanut butter, try these paleo peanut butter cookies!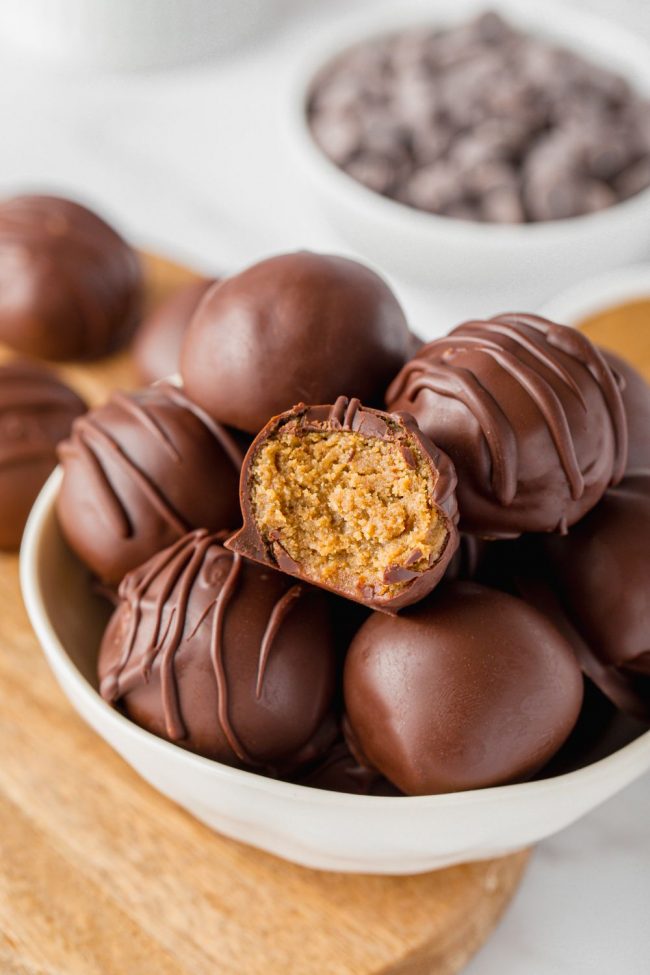 Maple syrup sub?
I tried Lakanto Maple Flavored Syrup in these, and we thought that they were awful. I really don't recommend trying that. I just reread the comments on the peanut butter balls, and a reviewer also said that they were awful with that brand of sugar-free "maple syrup."
You could try honey if you don't mind a strong honey taste and / or if you don't need them to be vegan. If you use honey, you'll likely need a little less coconut flour.
For a keto version, I'm not sure. I do have these keto peanut butter cups. They use the same amount of nut/seed butter and only require 1/4 cup of coconut flour, in comparison to 3/4 cup in today's recipe.
You could use the sweetener in that recipe (a mix of xylitol, erythritol and powdered stevia), but you'd have to play around with the amount of coconut flour because I have no idea how much you'd need.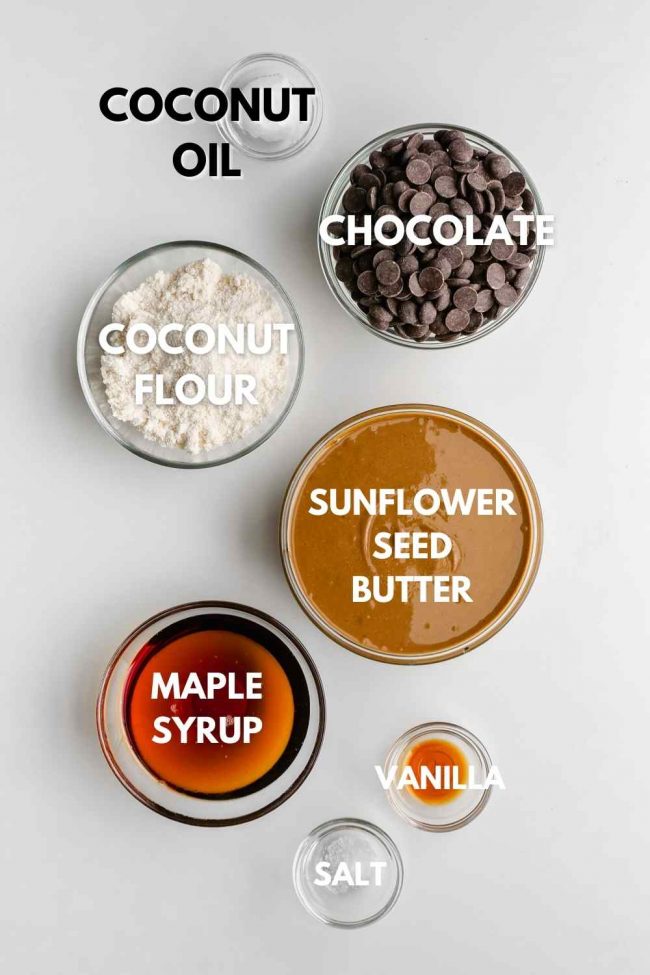 Coconut flour
How absorbent coconut flour is, varies from brand to brand. I've noticed this in quite a lot of my coconut flour recipes. I've made these paleo peanut butter balls multiple times, and the amount I used was slightly different several times, depending on the brand of coconut flour.
If you add too little, it'll be obvious because you won't be able to form the dough into balls. But don't add too much, or the ball will be too chewy.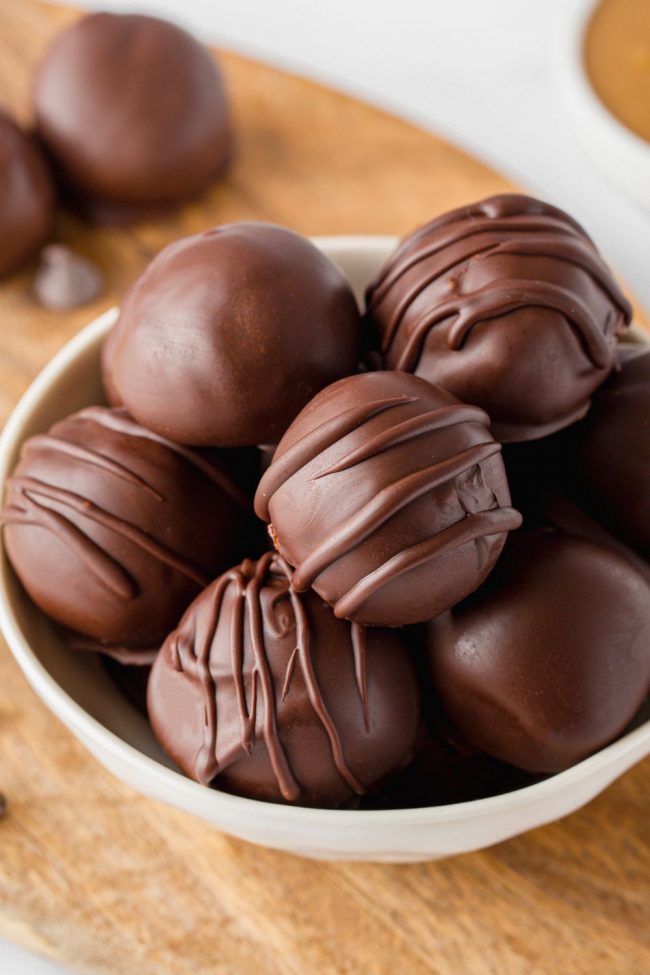 The chocolate coating
Make sure to use paleo chocolate for this. What I really wanted to do was use a homemade coating of cocoa powder, maple syrup and coconut oil but that was a big melty mess. It wasn't as delicious and would have been terrible to bring to a holiday party.
For more great holiday party recipes that don't melt, check out my mint chocolate fudge or the plain vegan fudge. Both are paleo + vegan!
And if you don't care about whether it melts or not, this paleo fudge is my favorite and unlike the above recipes, is maple-sweetened and uses almond butter for a super delicious treat.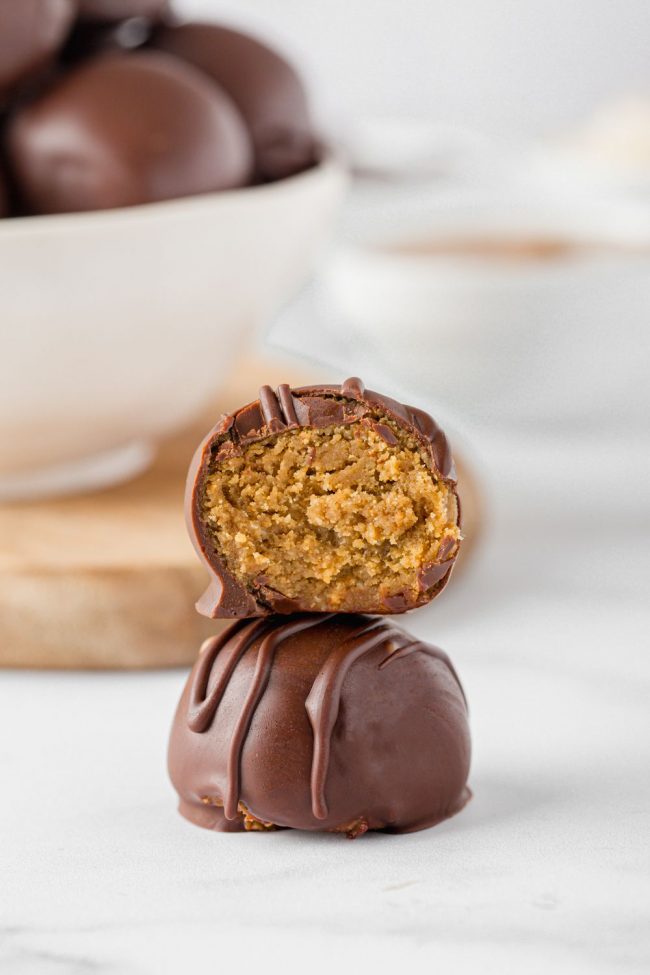 Substitution questions for these paleo cookie dough balls?
Can I use something instead of sunflower seed butter?

Because of the huge differences between types of nut and seed butter, I can say that every nut butter will require a different amount of coconut flour.

If you want to use almond butter (here's how to make almond butter), you'll probably want to use around 1/4 cup of coconut flour, like the peanut butter version.

If you want to use cashew butter, you'll probably need even less than 1/4 cup. Maybe 3 1/2 tablespoons.

Walnut butter would work if you use or make soaked walnut butter and if you don't mind a really strong walnut flavor. I think for that, you'll probably need more like 1/3 cup coconut flour. Or even 1/2 cup.

But these are just guesses!



You can definitely use whatever type of nut butter you'd like, as long as there's no added fat or sugar. Start off with maybe 3 tablespoons of coconut flour, and if it's still liquidy, add tablespoon by tablespoon until it's not. Keep in mind that you'll put the mixture in the freezer a bit to help roll them into balls so the mixture won't be rollable at this point.
Can I use something instead of maple syrup?

Honey would likely work if you don't mind a bit of honey taste. It might make them stickier, though, and you might need less coconut flour. Agave syrup would probably work, too, for a non-paleo version.

See the post under "Maple syrup sub?" for more details about a keto possibility.

Can I use something instead of coconut flour?

Unfortunately not. Coconut flour absorbs so much more liquid than any other flour, so there's no direct sub for it. If you can eat grains, I've heard of people using oat flour as a coconut flour sub in some recipes, but I have no idea if it'd work here.

Can I use something instead of coconut oil in the chocolate coating?

Butter or ghee (for a dairy-containing version) would probably work.
If you try these paleo cookie dough balls, I'd love to hear how they come out!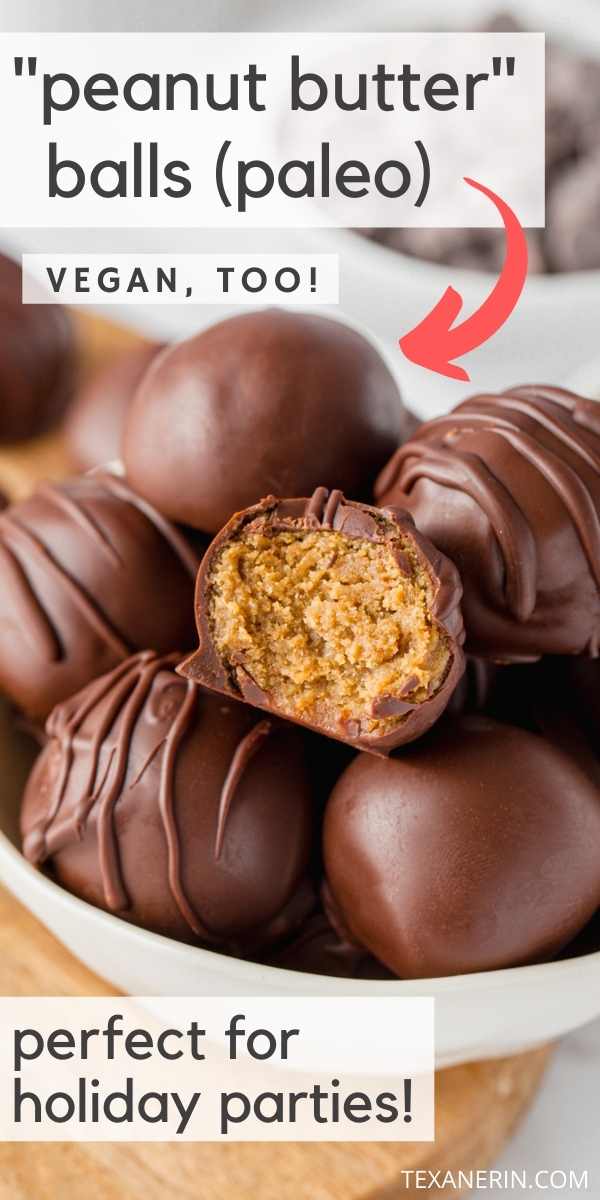 ❀
Paleo Peanut Butter Balls
Prep Time:
Cook Time:
Ready in:
Yield:

28 balls
Ingredients
1 1/4 cups (320 grams) natural sunflower seed butter (no added fat or sugar)
1/2 cup (120 milliliters) maple syrup
1 teaspoon vanilla extract
1/4 teaspoon salt
2/3 cup (84 grams) coconut flour
1 1/2 cups (255 grams) paleo semi-sweet chocolate chips or chopped chocolate
1 tablespoon (14 grams) coconut oil
Directions
In a medium mixing bowl, stir together the sunflower seed butter, maple syrup, vanilla and salt until combined. Stir in the coconut flour. Place in the freezer for about 30 minutes. The dough won't get very hard in the freezer - it'll just make it easier to roll into balls. The balls won't be totally firm when you form them but that's okay. They don't need to be totally perfect.
Prepare the coating. Mix together chopped chocolate and coconut oil in a small bowl / pot / etc. that can be used to dip the balls in.
Shape into about 28 20-gram balls and place on a tray small enough to fit in your freezer. Place them in the freezer to let them firm up more (since rolling with warm hands heats them up quickly).
Dip the balls one at a time into melted chocolate, allowing excess to drip off. Place on a waxed paper-lined baking sheet. If you let them harden at room temperature, that'll take several hours. You can also refrigerate them for 1-2 hours or until the chocolate has hardened. Can be kept at room temperature for 4-5 days or refrigerated for 2 weeks.