These super soft pumpkin pancakes have an amazing texture! Unlike other whole grain pancakes, these aren't at all bready and taste amazing.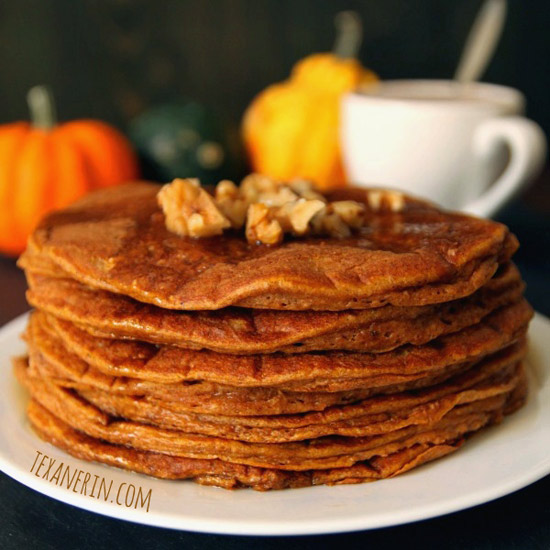 Don't let the word protein turn you off! There's nothing weird in these pancakes. Except some cottage cheese which I promise you can't taste.
All it does is make the pancakes taste less healthy. It sounds ridiculous, I know, but really. It makes them less bready, something I dislike in pancakes, and less eggy. You whip these up in the food processor and so nobody will be able to tell that there's cottage cheese and all that protein in there.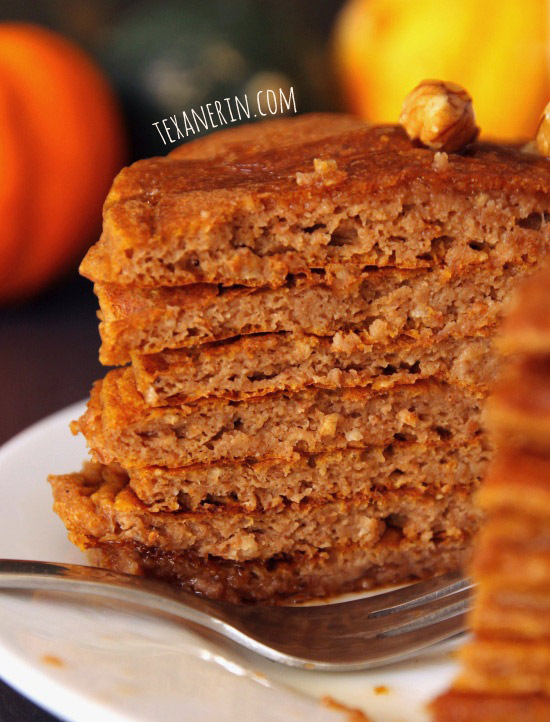 These pumpkin pancakes are great reheated. I love making a big batch and eating one for breakfast every work day. It just makes mornings so much cheerier!
There's quite a bit of spices in these which yields a pleasantly fall-flavored breakfast. No hints of spice or anything like that. It's right there in your face!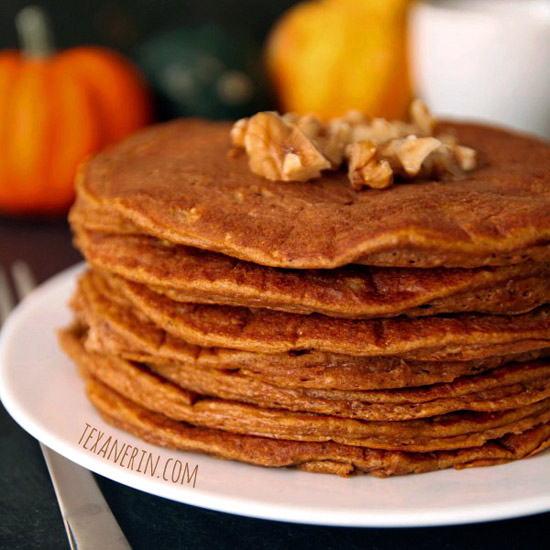 I've read that some people are burned out on pumpkin already. I'm afraid I'm just going to add to that burn-out. I'm just not finished with it. Besides, I have the rest of the year to not post pumpkin recipes! I'll post my last pumpkin recipe before Thanksgiving and then start with the ginger madness.
From Monday until the day before Thanksgiving, I'll be posting some of my favorite Thanksgiving recipes. That is, if the insanely dark gray skies ever go away. One of my fellow American colleagues said that back home, the weather we've been seeing over here is referred to "run and hide" weather. Seriously, it looks like a tornado is about to come 'round the corner any minute half the time.
So if you're having some run and hide weather yourself, whip up a batch of these pumpkin pancakes and get cozy! These will make you feel all warm and fuzzy. :)
For a gluten-free alternative, try these delicious looking sweet potato waffles from A Mind "Full" Mom!
❀
100% Whole Grain Pumpkin Protein Pancakes
Prep Time:
Cook Time:
Ready in:
Yield:

10-12 5" pancakes
Ingredients
1/4 cup (22 grams) old-fashioned or rolled oats
1/4 cup (32 grams) whole wheat flour
1 tablespoon baking powder
2 teaspoons cinnamon1
1/2 teaspoon ginger
1/2 teaspoon allspice
1/2 teaspoon nutmeg
4 eggs
3/4 cup (155 grams) cottage cheese
1/2 cup + 2 tablespoons (204 grams) pumpkin puree
2 tablespoons canola oil or coconut oil
2 tablespoons maple syrup
1 tablespoon vanilla
Directions
Pour the oats in the food processor and give it a few pulses. You want them to be a little finer is all. Then add all the other ingredients and mix until thoroughly combined. There definitely shouldn't be any lumps. Because we're using cottage cheese here, I don't recommend making these without the help of a food processor or a good blender.
Cook in a medium pan over medium heat. For me, it took about one - two minutes before I flipped them, and then another minute on the next side. They were really easy to flip, but if you normally use cooking spray, go ahead and use it here.
Notes
You can use 3 1/2 teaspoons of pumpkin pie spice in place of the separate spices.