This healthier 100% whole grain raspberry crumble is a quick and easy summer dessert! Use any fruit you like.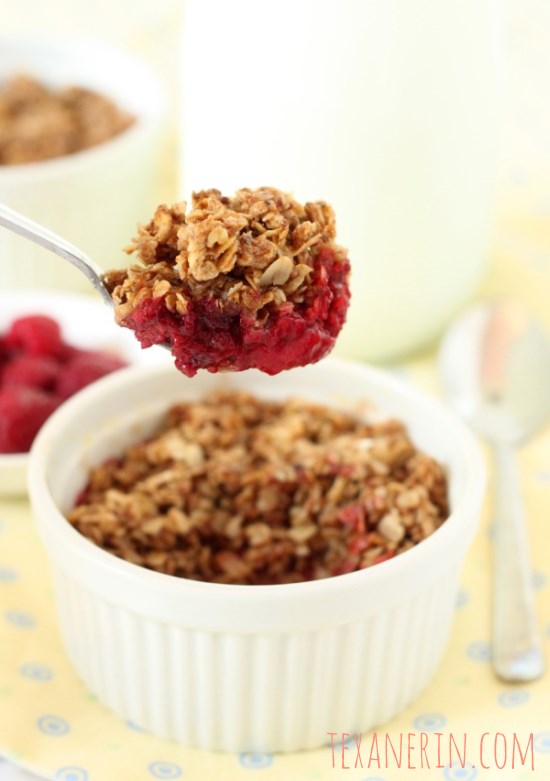 I'm not a huge fan of crisps, crumbles and cobblers. Why? I don't like eating mushy fruit for days on end. It never seems to end, which isn't a problem for cookies and brownies and other goodies, but I'm just over soggy fruit after the first day.
What's great about this raspberry crumble recipe is that you can easily make half and only have two servings. So when Cassie posted this last week, I knew I had to make it. And I'm SO happy I did! It's the best crumble I've ever had and I would happily eat this every day.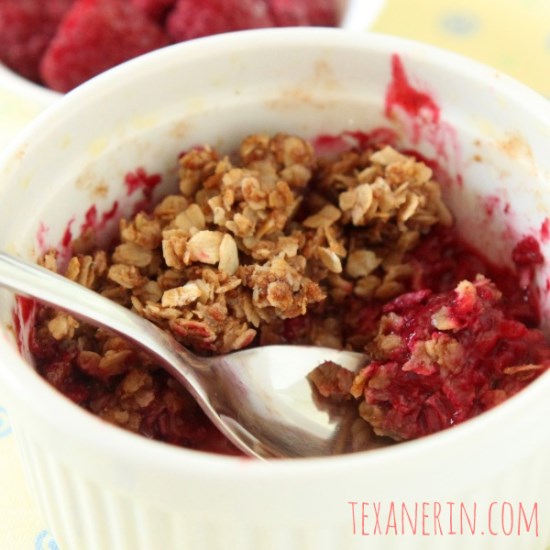 I kind of messed up this recipe while I was making it but didn't even notice until I was typing up the directions. When I added the topping to the raspberries, I thought, "Wow… it's half topping." Turns out I was supposed to combine some of the topping with the filling. But it doesn't matter! We loved it. We loved it so much that I'm not even going to try to do it the proper way next time.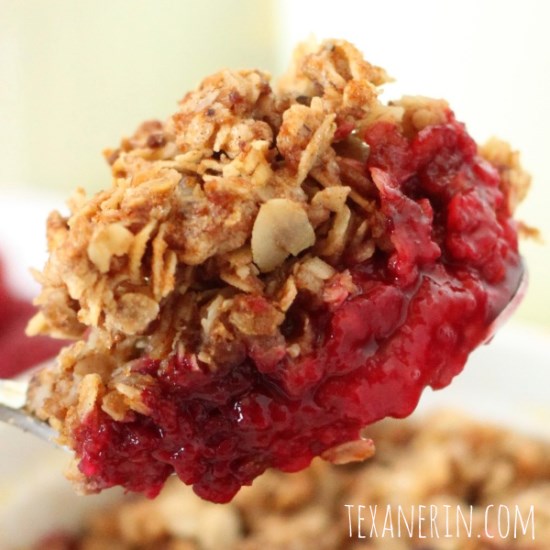 If you don't like raspberries, you can use another type of fruit. You might need less sugar as raspberries (at least mine) are pretty tart. Peaches, strawberries, cherries would all work perfectly for this crumble! And if you have company coming and want to double or triple the recipe and use a larger dish, that's fine. Just be sure to adjust the baking time!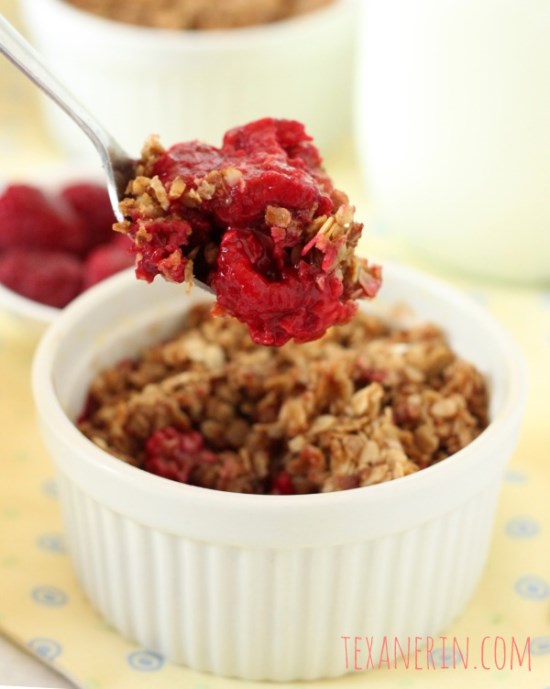 Look at how much topping there is! I picked at it for a while while I was taking the pictures. These lovely little raspberry crumbles were so crispy and just sweet enough. You really need to make this. Seriously. Come on! Look how easy it is.
❀
100% Whole Grain Raspberry Crumble
Prep Time:
Cook Time:
Ready in:
Yield:

4 servings
Ingredients
Filling:

2 cups (about 260 grams) frozen raspberries, thawed and patted dry
juice of half a lemon
1 tablespoon whole wheat / spelt or normal white flour
2-3 teaspoons coconut / unrefined / white sugar

Topping:

1 cup (70 grams) old fashioned oats
2 tablespoons whole wheat / spelt or normal white flour
2 tablespoons coconut / unrefined / brown sugar
1 teaspoon cinnamon
1/8 teaspoon salt
2 tablespoons grapeseed or canola oil
2 tablespoons maple syrup
2 teaspoon vanilla
Directions
Preheat your to 350°F / 175°C. Spray four 1/2 cup ramekins with non-stick cooking spray. In a small bowl, mix together the filling ingredients and set this aside.
In a medium bowl, stir together the dry topping ingredients. In another small bowl, whisk together the oil, maple syrup and vanilla. Add the wet mix to the dry mix and stir with a fork until well combined.
Divide the raspberry mixture among the four ramekins and then add the topping.
Bake in the preheated oven for about 15 – 20 minutes or until the topping is golden brown and crisp. If you use a different type of fruit, it might take longer for the fruit to get soft so check on that before taking them out.
Notes
You could use fresh berries but I haven't tried it. I love fresh raspberries too much to bake with them so I always use frozen, which for some weird reason are crazy cheap here. And when I say 2 cups frozen, I mean you should measure out two cups of the frozen raspberries, and then thaw and pat dry. Just in case it's unclear. :)
The filling was just sweet enough for me, but still a little tart. Try the filling before dividing it up into the ramekins and add more sugar if needed.
You might want to double this, I definitely will next time – you can see how thick the topping layer is in the first picture! If you do double, to be on the safe side, I'd put a Silpat or a cookie sheet on another rack under the ramekins in case of any spillage. I really don't think there'll be any but I don't want anyone's oven to get dirty!
Adapted from Bake Your Day - Strawberry Crumble