These chocolate protein overnight oats are the easiest way to wake up and have a protein-packed breakfast! Easy to make gluten-free and vegan.
This is the perfect quick breakfast treat for back-to-school and for busy mornings. Just make them the night before or up to 4 days in advance and wake up to breakfast served.
I make PB2 Overnight Oats, Cinnamon Overnight Oats or these chocolate oats every week. I just realized I never posted the chocolate version, so here it is! And for another great gluten-free recipe, try these Tiramisu Overnight Oats.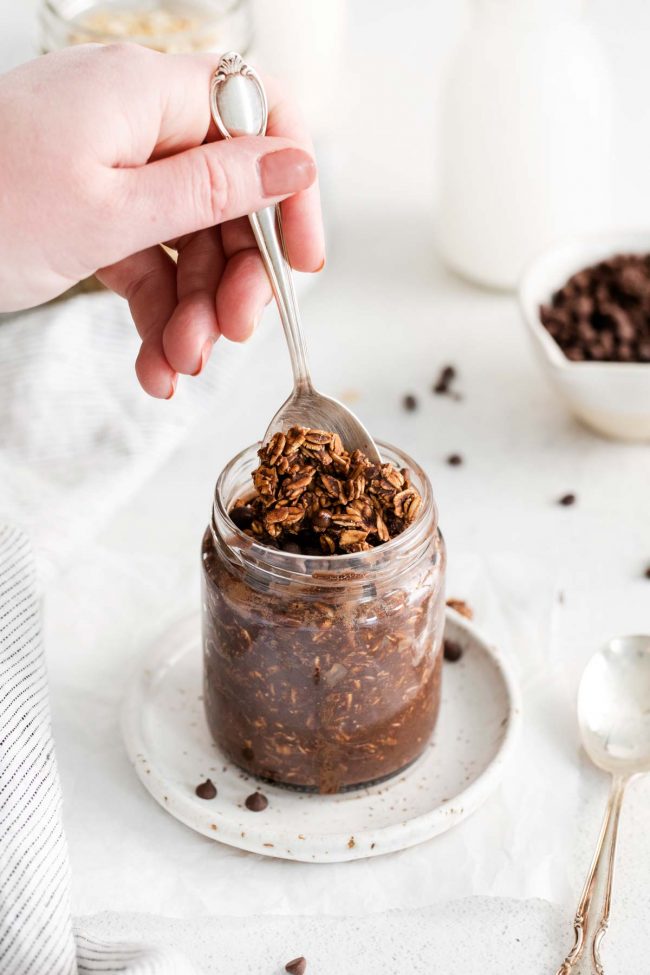 Ingredients
Rolled oats or quick oats – rolled oats were used in the photos. They add a bit more bite and texture. People seem to usually use quick oats, which results in a creamier and smoother result.

I always use rolled oats in my overnight oats, but if you're new to overnight oats, you might want to go with quick (but not instant!) oats as most people seem to prefer those.


Milk – I always use cashew milk, but you can use whatever you like! If you want to use canned coconut milk, I'd recommend watering it down. I use 1/4 cup of canned coconut milk + 1/4 cup of water.

It does add some coconut flavor, but it goes great with the chocolate.


Chocolate protein powder – I like to use protein powder in overnight oats to create more of a balanced meal. It works better for me than just a big bowl of carbs.


Cocoa powder – you definitely don't want to omit this. Without it, the oats aren't very chocolaty. And the cocoa powder helps cover up some of the protein powder aftertaste. If you want to use cacao powder, please read this → Cacao vs cocoa.


Maple syrup – you could use a different type of sweetener, but maple is so easy to mix in and tastes great with the chocolate (although you don't actually taste any maple flavor). You'll probably need a tiny bit more milk if you don't use a liquid sweetener.


Vanilla extract + mini chocolate chips (optional)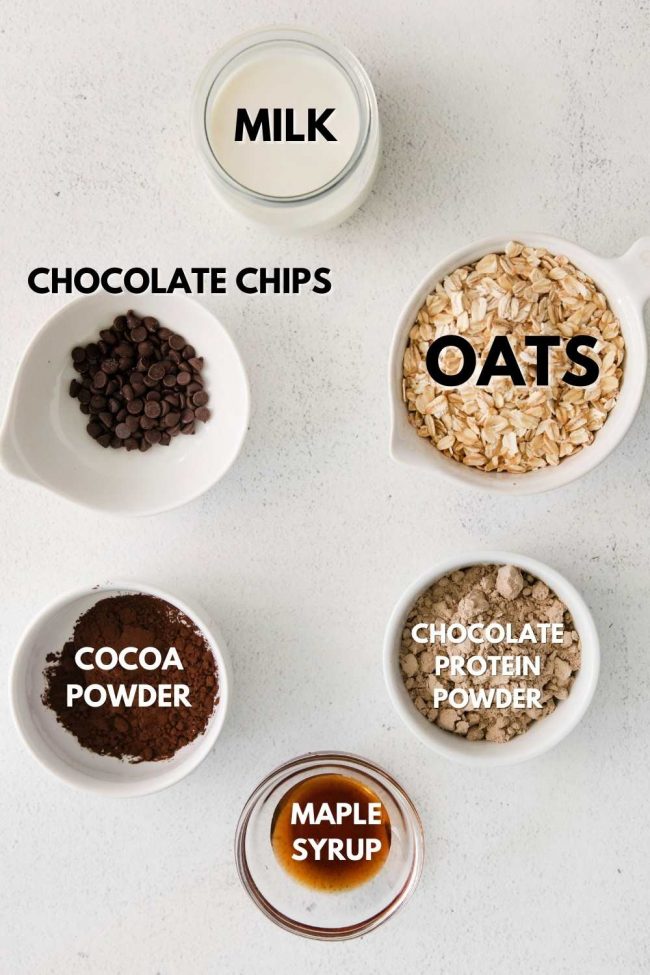 How to make cinnamon overnight oats
Combine all the ingredients in a small bowl or jar.
Cover and refrigerate overnight.
Stir and enjoy!
It's so easy that you can give your kid the ingredients and a scale or measuring cups and let them make breakfast for the family. :D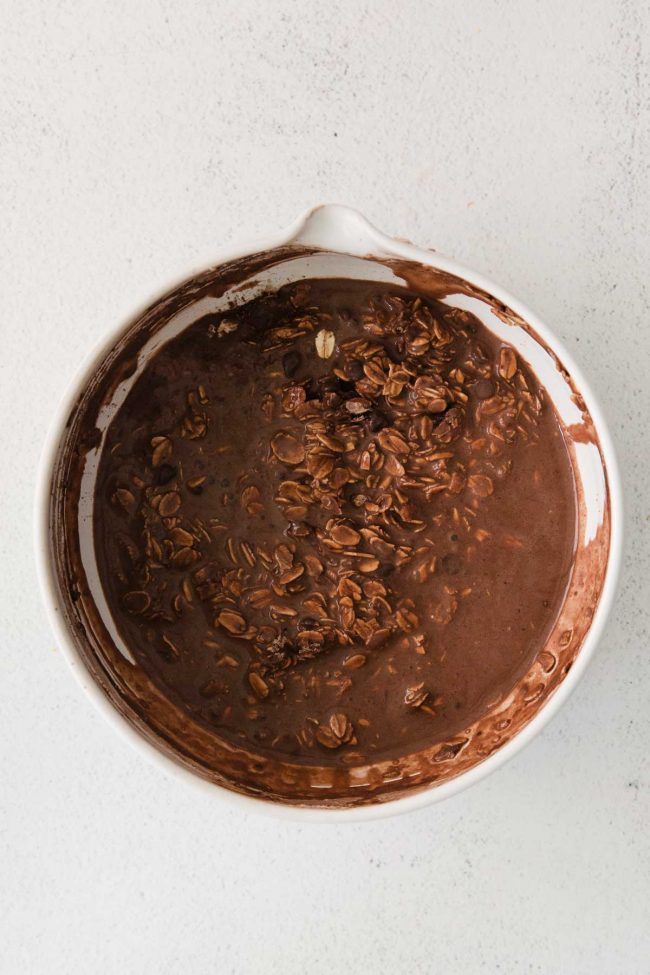 This recipe yields just 1 serving, so if you're making this for the whole family, just make individual servings for each person. Or make it one large tupperware container.
It's also a great make-ahead breakfast (so are these Healthy Coco Pops!). I always made a quadruple or quintuple batch, and it works great.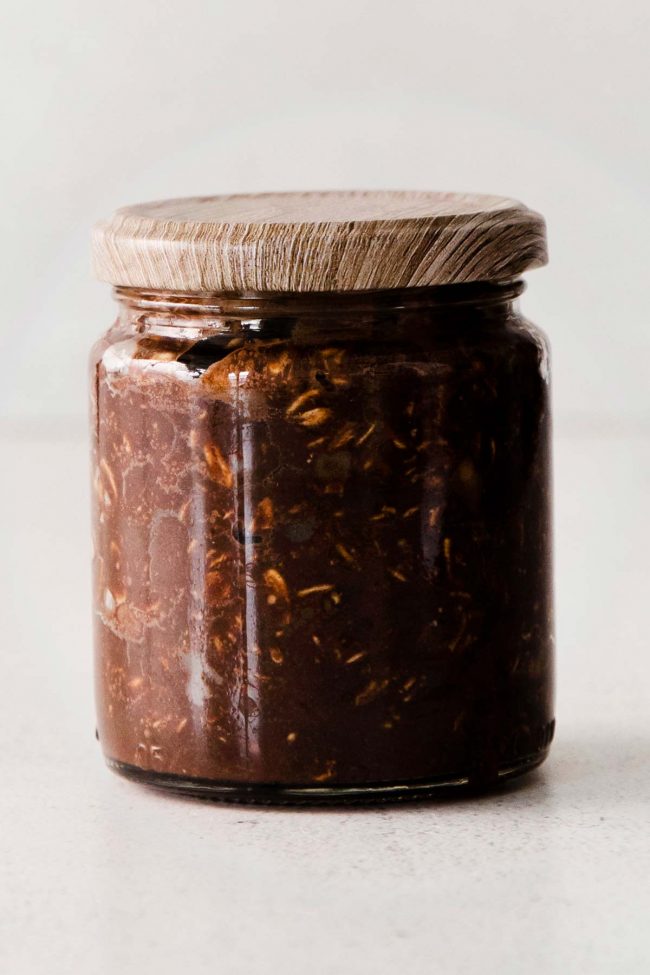 Toppings
You can add your favorite berries, fruit, seeds or nuts – basically, anything you like!
Yogurt is also another great way to add protein and creaminess. But don't mix it into the oats.
It'd make them slimy. Just add it in the morning when serving.
That's true for all add-ins (except chocolate chips), as they're likely to absorb liquid and become spongy if you add them to refrigerate overnight. To avoid this, just add them when you're ready to eat.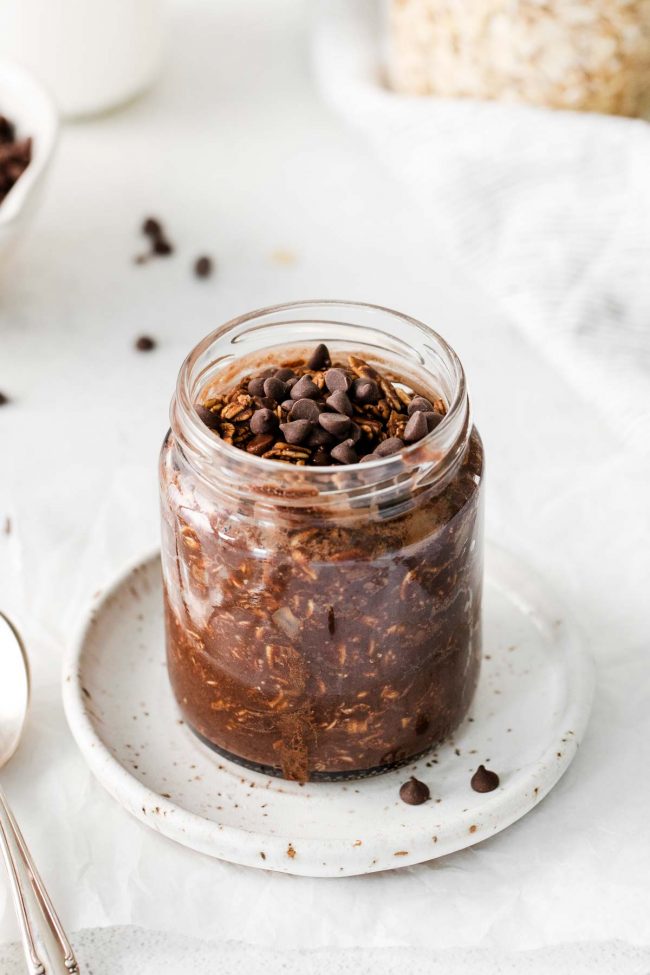 Overnight oats protein powder
I totally get it if you don't want to use protein powder. I think most brands of protein powder can be pretty nasty – both the ingredients and the taste. One that works for me is Paleo Thin® Grass-Fed Beef Protein Double Chocolate.
Beef protein probably sounds awful, I know, but there's zero beef taste, and the flavor is great. But it's been out of stock for months.
For my vegan readers, I found and tried a vegan option – Dr. Murray's Super Foods 3 Seed Chocolate Protein Powder. It's just as tasty in these chocolate oats! It's also great in this Matcha Protein Shake for a chocolate twist.
So that's the one that I usually use these days. It's on Amazon, but insanely expensive there. I get it from iHerb.
If you don't like the ingredients in any brand of protein powder, you can simply omit it and add more cocoa powder and maple syrup to taste. I recommend an extra 1/2 tablespoon of each.
Have some protein powder that needs to be used up? You might want to check out these Protein Brownies! They're super fudgy and are a great treat. They're gluten-free and dairy-free with a paleo option.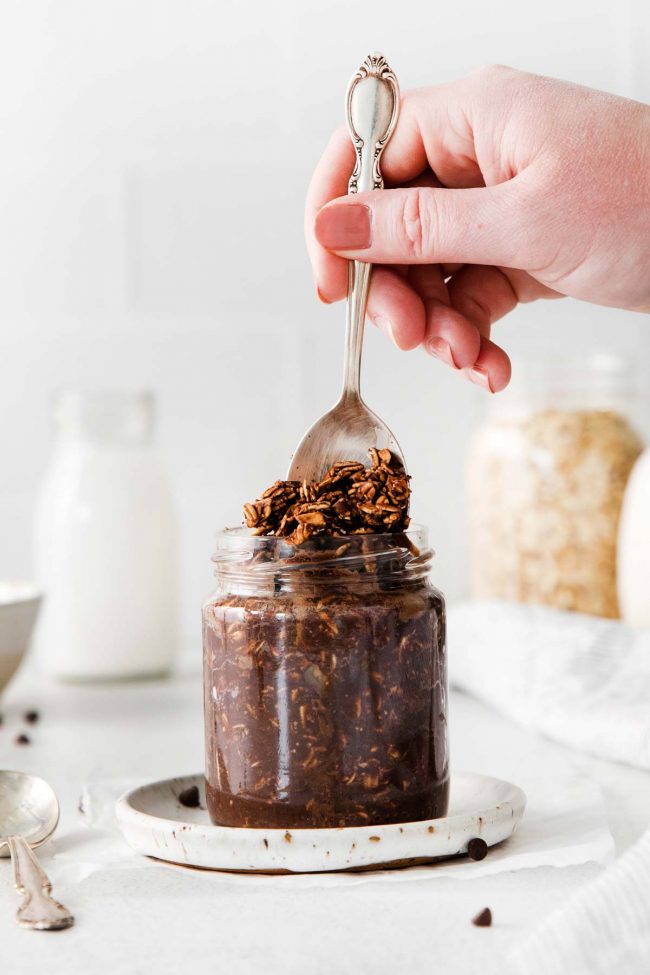 Are oats gluten-free?
Oats are naturally gluten-free, but if you're sensitive to gluten, you'll want to read this article on Are Oats Gluten-free?
Want to read more about overnight oats?
Since I know that most people are just after the recipe, I've made several different posts about all things overnight oats so that people don't have to scroll for so long.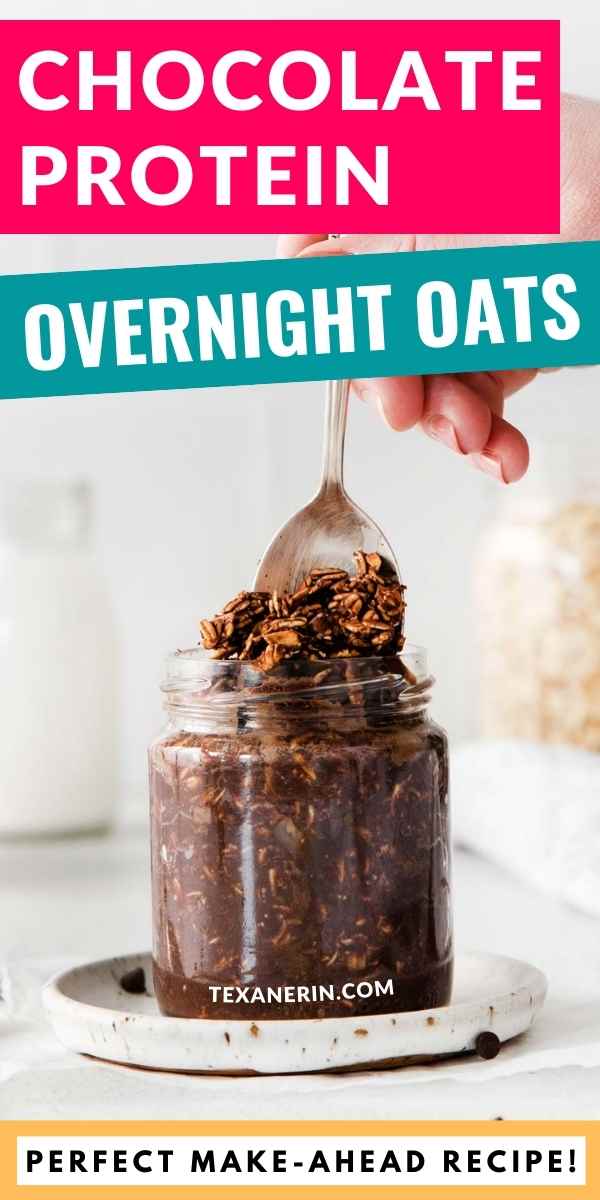 ❀
Chocolate Protein Overnight Oats
Prep Time:
Cook Time:
Ready in:
Yield:

1 serving
Read the notes if using lemon juice!
Ingredients
1/2 cup (47 grams) rolled oats or quick oats for a smoother texture
1/2 cup (120 ml) milk (dairy or non-dairy)
2 tablespoons chocolate protein powder
1 tablespoon unsweetened cocoa powder
pinch of salt
1 tablespoon maple syrup
1 teaspoon mini chocolate chips, optional
optional – splash of fresh lemon juice1
Directions
Combine all of the ingredients in a small bowl or jar. Refrigerate for at least four hours, preferably overnight.
When you're ready to eat it, stir and serve.
If preparing in advance, don't add any toppings. Cover and refrigerate for up to 4 days, noting that the oats will become softer and softer the longer it sits.
Notes
Adding lemon juice neutralizes the phytic acid, making it more digestible. For more details, check out my post on → Overnight Oats Benefits. If you want to do that, soak them for at least 12 hours. Ideally, you'd use slightly warm milk to soak the oats, let them soak at room temperature (or slightly warmer than room temperature, like a laundry room or in a sunny spot) for 4 hours. I'm too lazy to heat up the milk and use cold milk, put the bowl with the prepared oats on a cooling rack and put that over a burner that's still warm after making dinner. After 4 hours, move the oats to the refrigerator for the remaining 8+ hours. Don't forget to move them into the fridge after 4 hours, or else they might spoil and/or develop something undesirable.
If you're gluten-free, make sure to use gluten-free oats and gluten-free protein powder (most are).
If you're vegan, make sure to use plant-based milk and vegan protein powder.