These overnight oats without chia seeds give you an easy, high-fiber breakfast without any specialty ingredients. This recipe is also easy to make vegan and gluten-free.
It seems as though most people enjoy chia seeds in their oats, considering that most overnight oat recipes call for chia seeds. To me, they're just slimy lumps ruining my oatmeal.
If you're like me, then this is the recipe for you!
Made with a handful of pantry ingredients, you can rise to a satisfying meal to start your day with these overnight oats. They're cinnamony and maple-sweetened with a hint of vanilla.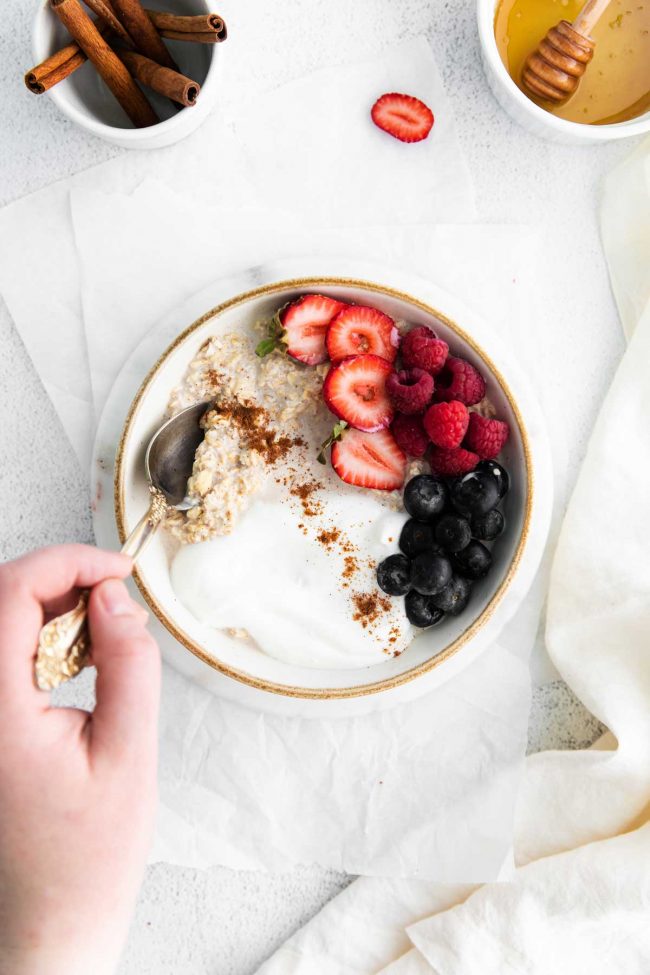 I usually like to add a bit of protein to my oats, like in these
Chocolate Protein Overnight Oats
or
PB2 Overnight Oats
, but I know not everyone has protein powder and PB2 on hand.
Today, we're using minimal ingredients that won't have you running to the store. And they only take 5 minutes to put together.
These oats travel well, so if you're in a rush, you don't have to skip the most important meal of the day.
All you do is mix the ingredients in an airtight container and place it in the fridge overnight (or at least 8 hours).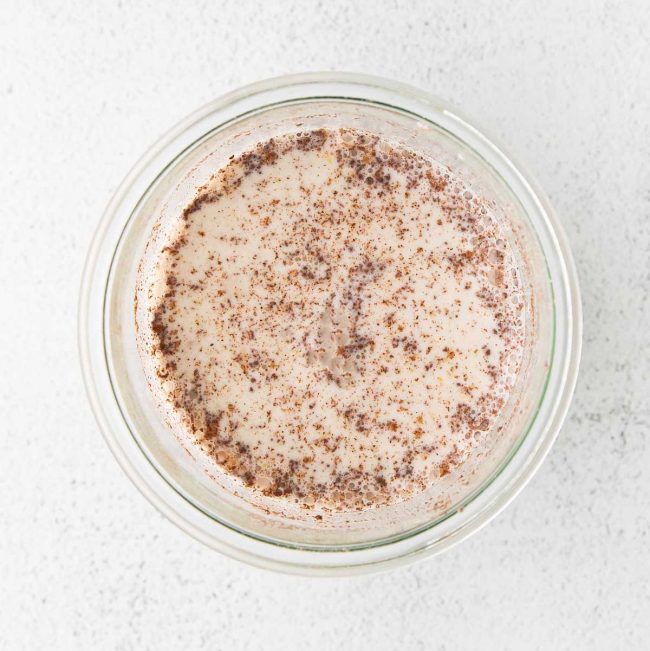 Add-ins and toppings
If you like your overnight oats thin, you can make them as written without any add-ins. That's what you see in the photos.
If you like them a bit thicker and creamier, you can add 2 tablespoons of nut butter or yogurt. Extra protein is a great option for sustaining your energy, and I have several nut butter recipes to choose from.
These oats are also great with fresh fruit or jam, like this honey- or maple-sweetened Strawberry Jam.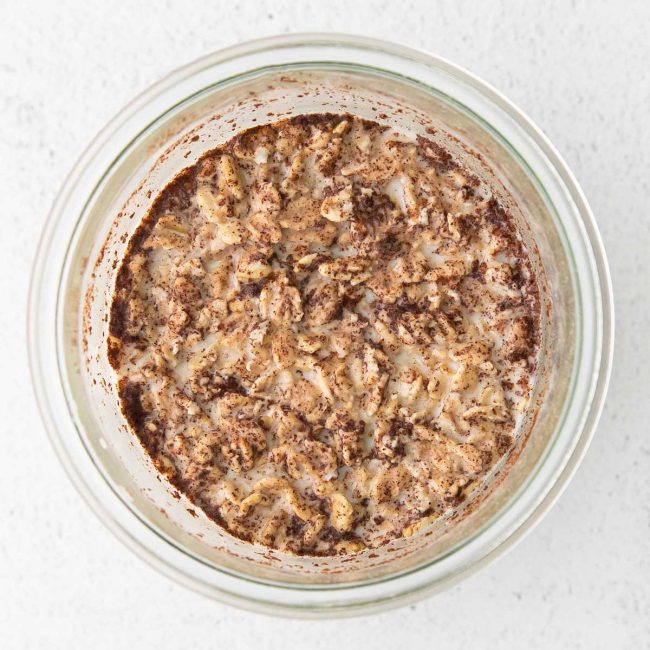 Gluten-free & vegan
If you're wondering, Are Oats Gluten-free? – the short answer is yes, but if you're sensitive to gluten, you'll want to buy oats that are labeled as gluten-free.
To keep it vegan, you only need to use plant-based milk.
And you need to make sure that any toppings or add-ins are gluten-free or vegan, if needed.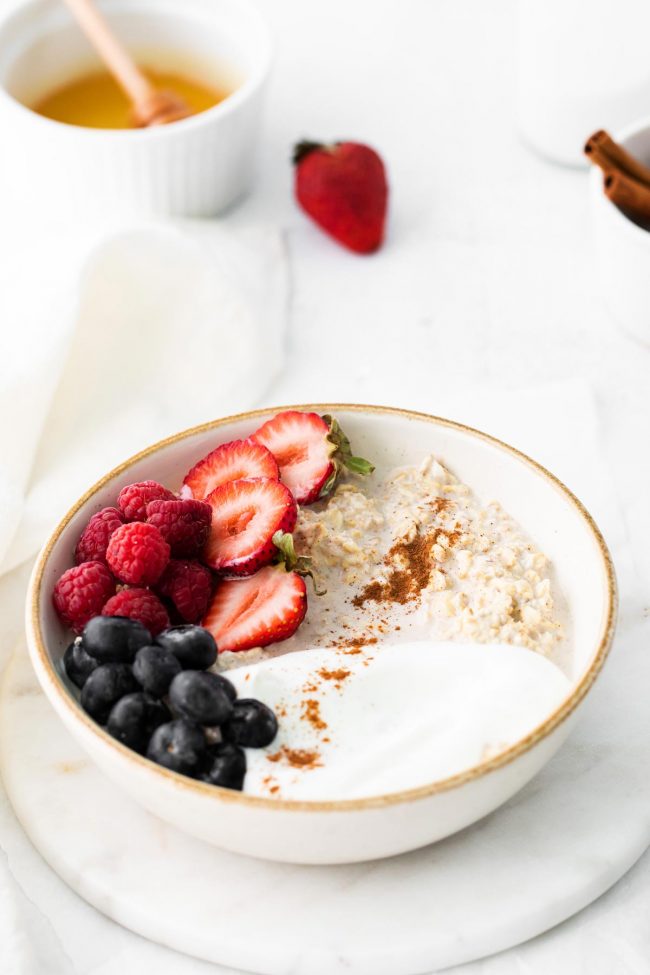 Sweeteners
You can use any sweetener you'd like. If you're not vegan, you can use honey.
Brown sugar also pairs well with cinnamon and maple, so whatever you have in the pantry will work in these overnight oats.
Do I need salt?
Salt really helps bring out all the flavors because it's a flavor enhancer. That being said, if you're cutting down on salt, you can leave it out.
They'll be blander, though, for sure.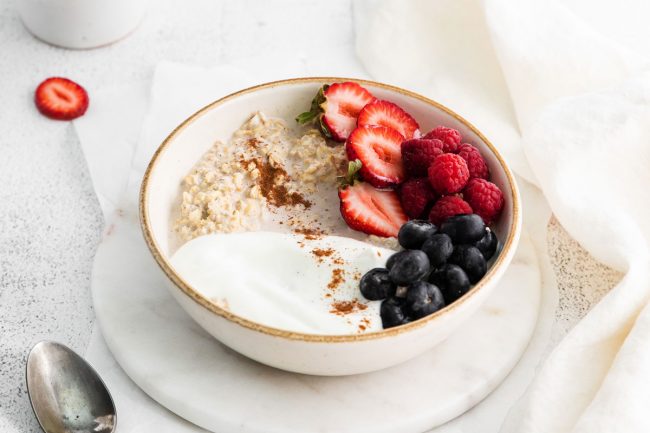 How to store or heat up
These overnight oats can be stored in the fridge for up to 4 days. Here's more on How Long Do Overnight Oats Last.
Can you Freeze Overnight Oats? Yes! Which makes it even better for a quick on-the-go breakfast.
And if you're not sold on cold oats, here's How to Heat Up Overnight Oats.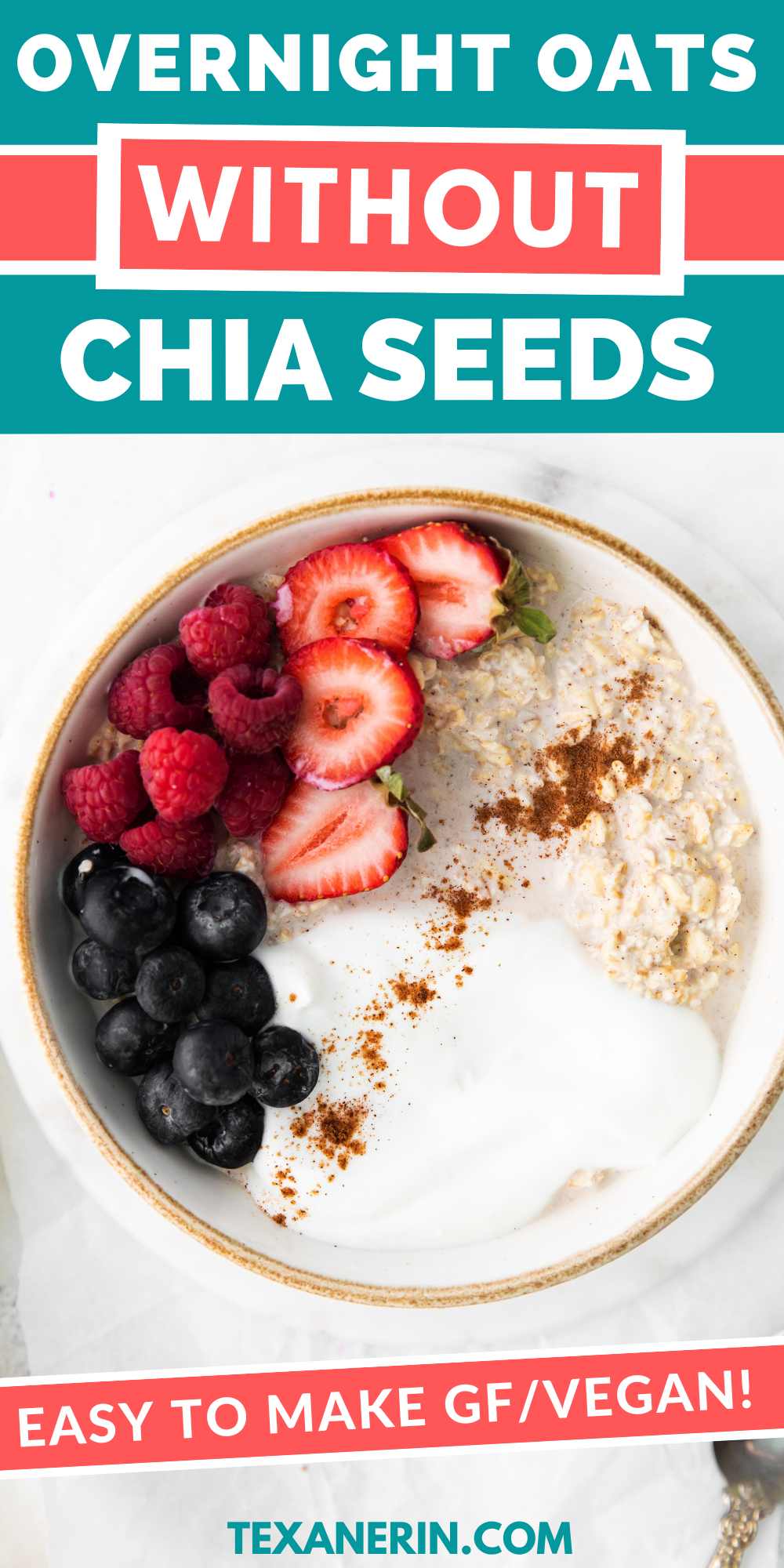 I hope you enjoy these overnight oats without chia! If you try them, we'd love to hear your thoughts. Just comment below or tag #texanerin if you share on social media. Thanks. :)
More tasty oat-based treats
❀
Overnight Oats Without Chia Seeds (gluten-free, vegan)
Prep Time:
Cook Time:
Ready in:
Yield:

2
Ingredients
Overnight oats:

1 cup (92 grams) rolled oats (use gluten-free oats if you're GF)
3/4 cup (180 ml) milk of choice1
1-2 tablespoons maple syrup
2 teaspoons vanilla extract
1 teaspoon ground cinnamon
pinch of salt

Before serving:

Optional add-ins: 2 tablespoons nut butter or yogurt2
Optional toppings: fruit, jam, chocolate chips
Directions
In a medium bowl, stir together the overnight oats ingredients (using 1 tablespoon of maple syrup). Taste and add the remaining tablespoon of maple syrup, if desired.
Cover and refrigerate for at least 6 hours and up to 4 days.
Remove from the fridge, stir, and divide between two bowls. Stir in 1 tablespoon nut butter or yogurt per bowl, if desired, and add toppings, if using. I do.
Refrigerate leftovers for up to 4 days.
Notes
I use unsweetened cashew milk for a vegan/dairy-free version.
I use coconut milk yogurt for a vegan version. Make sure any other topping/add-in is vegan or gluten-free if needed.