In one more week, I'll be back in Germany. I've been having a great time over here and have definitely been enjoying the food! Today Heidi of Food Doodles is sharing some awesome chocolate muffins with you. I've been struggling to come up with a great chocolate muffin recipe so I was super excited when I saw what she came up with! I've made and loved several of her recipes, like this raw oatmeal raisin cookie dough bars, chocolate no-bake energy bites and whole wheat cranberry orange shortbread. We have a similar baking style so if you like my stuff, you should definitely go check her out!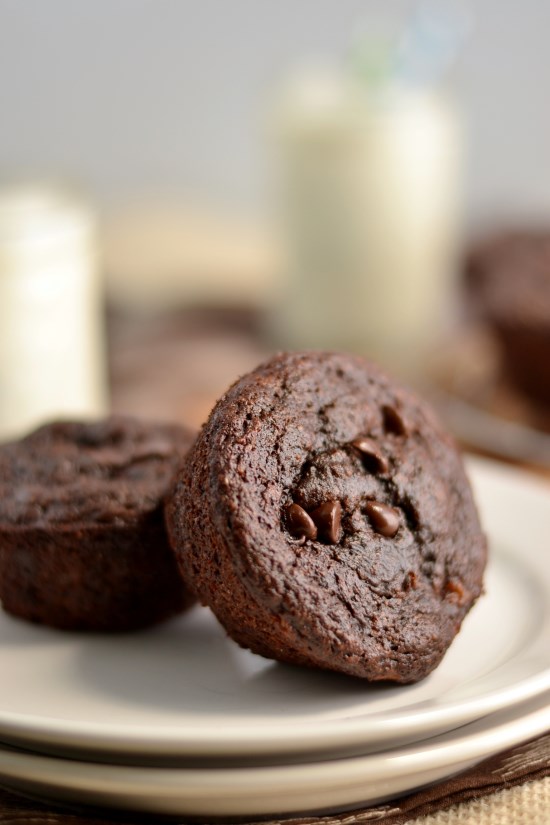 Hello everyone! My name is Heidi and I blog over at Food Doodles. I'm so happy to be guest posting for my friend Erin today! Let me start by saying I've been a fan of Texanerin Baking for years now. I do all my baking with 100% whole grains as well so of course I absolutely love everything Erin makes. Her goodies, not to mention her pictures are always gorgeous, so I'm so excited that Erin gave me the chance to share one of my own recipes with you while she's away.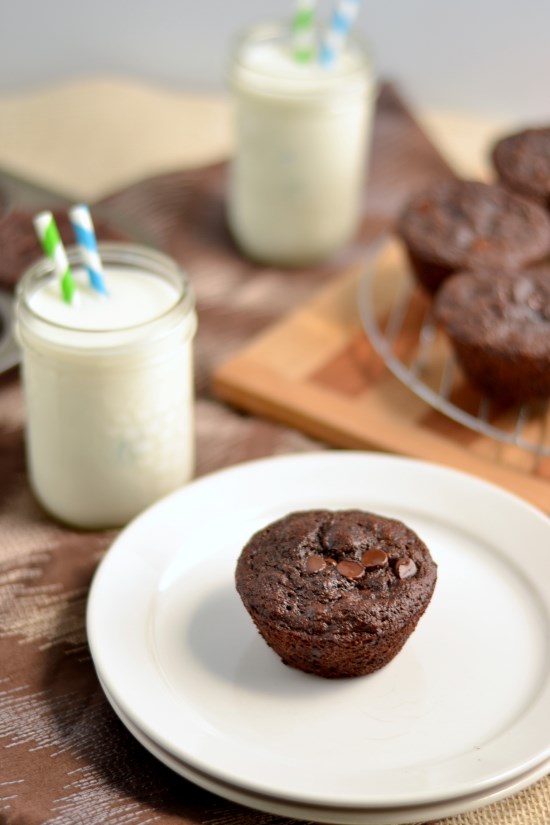 Introducing… 100% Whole Wheat Double Chocolate Chip Muffins!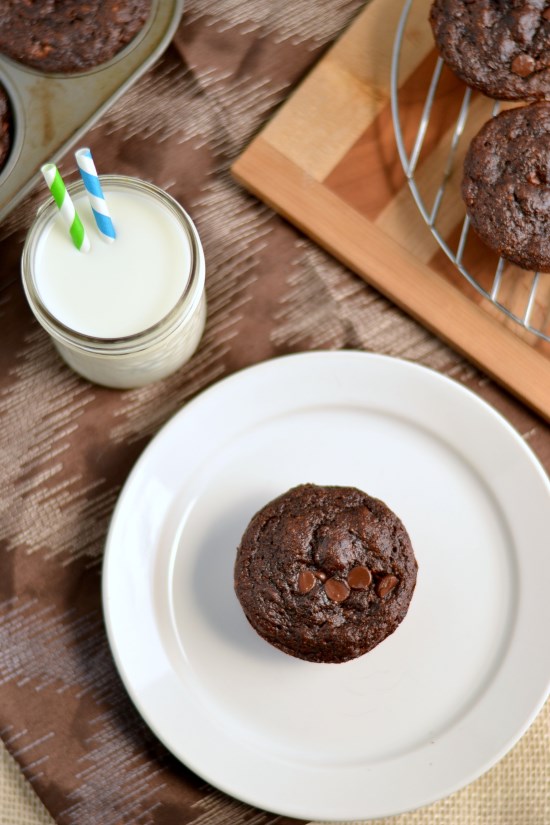 Don't let the plain appearance of these muffins fool you, they are incredible! They are perfectly moist inside, but not too much so that they get sticky and messy all over your fingers. And did I mention they're healthy? Check out the ingredients: bananas, plain yogurt, pure maple syrup and of course all whole grain goodness.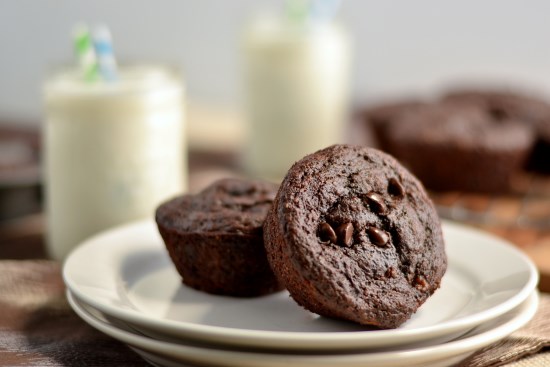 These are the kind of treats I don't mind letting my kids have on a regular basis. And I don't mind enjoying these for breakfast either. You can always omit the chocolate chips to make them a little more breakfast friendly… But why would you? ;)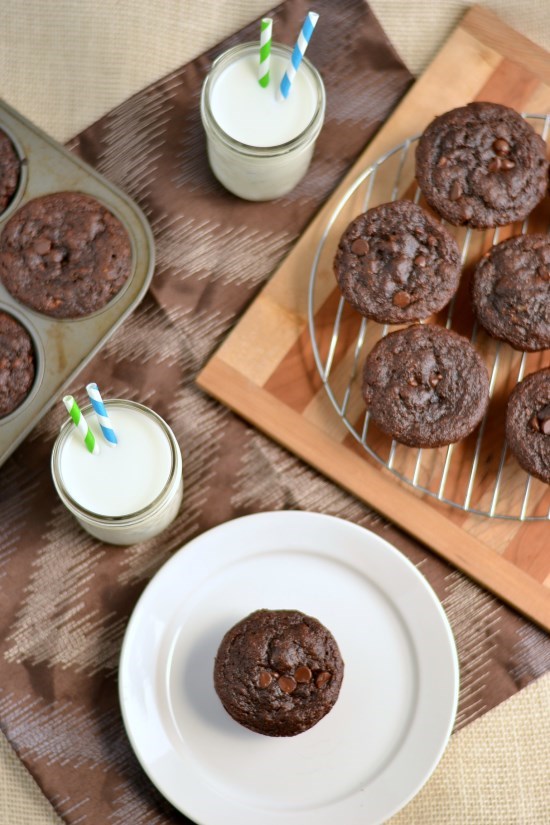 I'm so happy with how these turned out, I hope you enjoy them! Thanks again to Erin for letting me post on her wonderful blog! And I hope you'll drop in at Food Doodles sometime!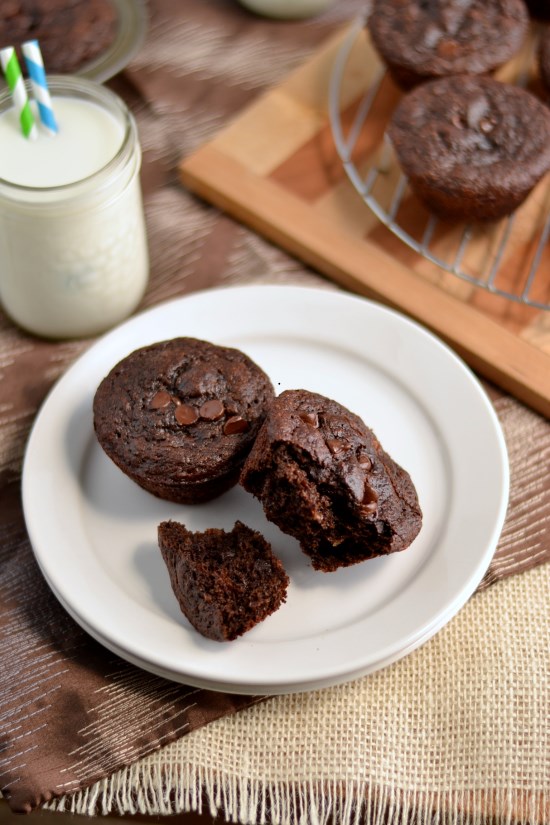 ❀
100% Whole Wheat Double Chocolate Chip Muffins
Prep Time:
Cook Time:
Ready in:
Yield:

12 muffins
Ingredients
3 tbsp grapeseed oil (coconut oil or another mild flavored oil will work)
3/4 cup mashed banana, about 2 small bananas1
1/2 cup sucanat (or brown sugar)
1/4 cup pure maple syrup (or honey)
1 large egg
3/4 cup plain yogurt (low fat is fine)
2 tsp vanilla
1 cup white whole wheat (from soft wheat) or whole wheat pastry flour
1/2 cup unsweetened Dutch-process cocoa powder
1/2 tsp salt
1 tsp baking soda
1 tsp baking powder
3/4 tsp cinnamon
1/2 cup semi sweet chocolate chips
Directions
Preheat oven to 425 °F (218 °C). Grease a muffin tin and set aside.
In a bowl stir together the oil, mashed banana, sugar, maple syrup, egg, yogurt and vanilla. Set aside.
In another bowl combine the flour with cocoa powder, salt, baking soda, baking powder and cinnamon. Add the wet ingredients to the dry and stir just until combined. Fold in the chocolate chips being careful not to over mix.
Divide the batter evenly between 12 muffin cups and place in the oven. Bake for 5 minutes and reduce the oven temperature to 375 °F (191 °C). Continue to bake for 12-14 minutes or just until done. Do not over bake! A toothpick inserted in the middle to test for doneness may still be slightly gooey but the muffins will continue to cook while they cool so do not continue to bake any longer. You really can't wait for the toothpick to be totally clean, it'll be just slightly sticky.
Remove from the oven and cool for 5 minutes in the muffin tin before gently removing and placing on a cooling rack until completely cool. These will last in an airtight container at room temperature for 4-5 days.
Notes
Applesauce should work in place of the mashed bananas, but they might be less sweet so consider adjusting the sugar slightly as well.
Recipe adapted from Skinny Double Chocolate Chip Muffins and Spelt Banana Oat Muffins