Raspberry muffins with a nice lemon flavor! Super moist, naturally vegan and can be made gluten-free, whole wheat or with all-purpose flour. Thanks to Silk for making today's post possible!
Like I mentioned in my blueberry coffee cake recipe, I'm partnering with Silk for some posts this summer for their #TastesLikeBetter campaign.
Their Unsweetened Almondmilk was perfect in these raspberry muffins! I first made an almond version and while we loved them, my blueberry coffee cake was almond flavored so I thought I'd go with lemon this time.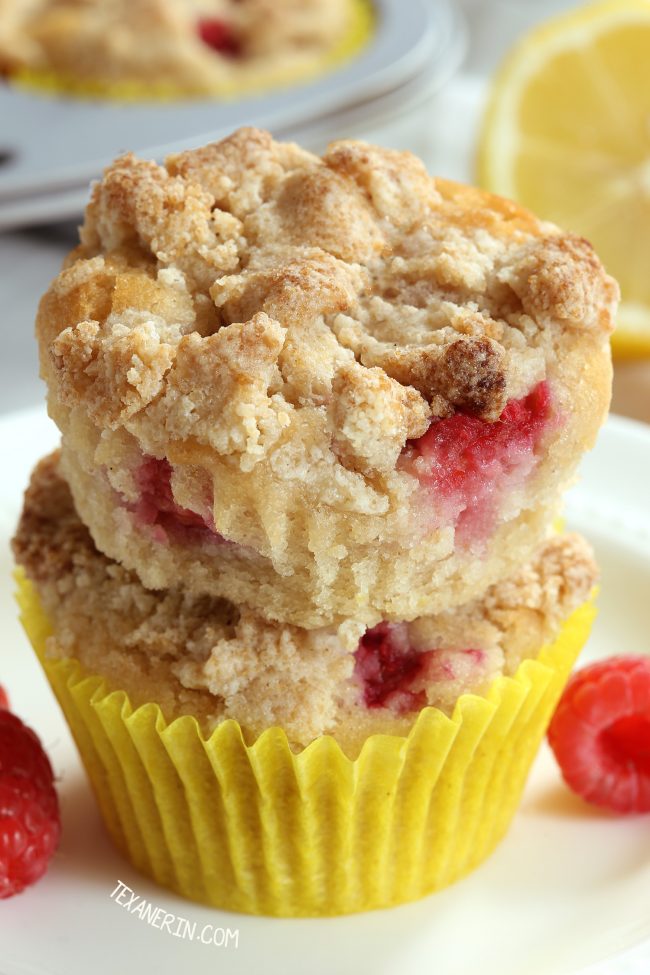 Raspberries, or any berries + lemon is such a happy combination. I love it year-round and with raspberries on sale for 99 cents, it seemed like the right thing to do.
Like the coffee cake, you can make these raspberry muffins with gluten-free 1-to-1 flour, white whole wheat or all-purpose flour. And they're vegan!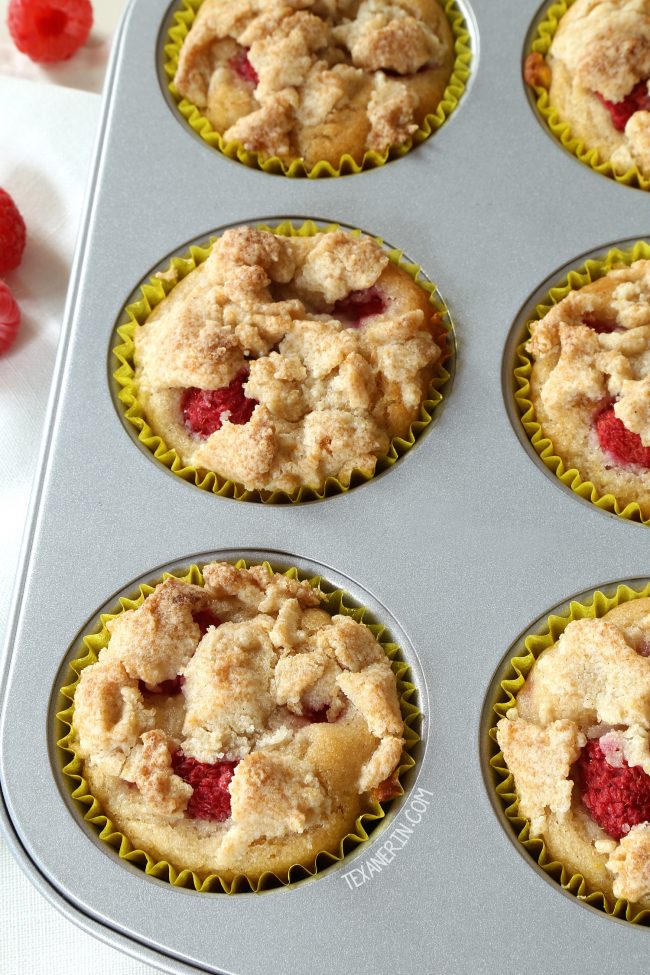 For all my paleo friends, there's no way to make these grain-free. To make it up to you, I have the richest and creamiest paleo vegan chocolate ice cream recipe coming up soon. And no ice cream maker is needed! Woohoo.
But back to these muffins. The texture is just perfect. They're not at all light and fluffy like cupcakes but nice and dense – but not a bad dense! They're filling. And very, very satisfying.
Especially with the streusel on top! The streusel isn't necessary but I figured… why not. :)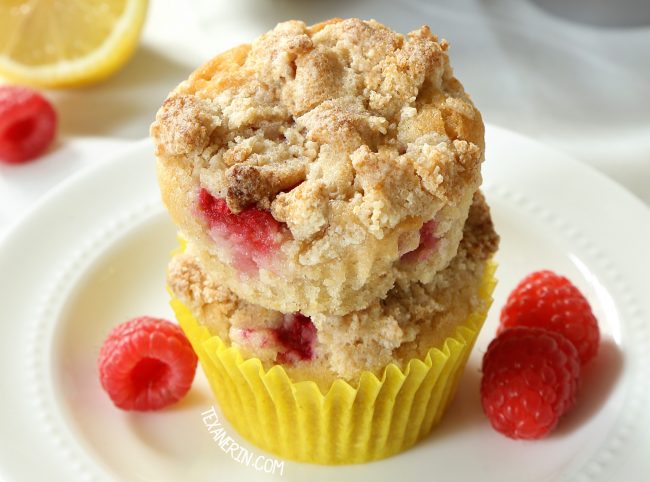 One thing I don't recommend doing is adding more raspberries. I've tried them with more raspberries and the muffins came out too moist and kind of gummy in the areas surrounding the raspberries. They were still insanely delicious, and I actually liked the gooey parts, but I'm guessing most people wouldn't be wild about that.
For this reason, I also don't recommend frozen raspberries. But who knows, they could work! Fresh blueberries would also be awesome in these muffins.
Looking for something a little different? Try these cinnamon swirl gluten-free muffins!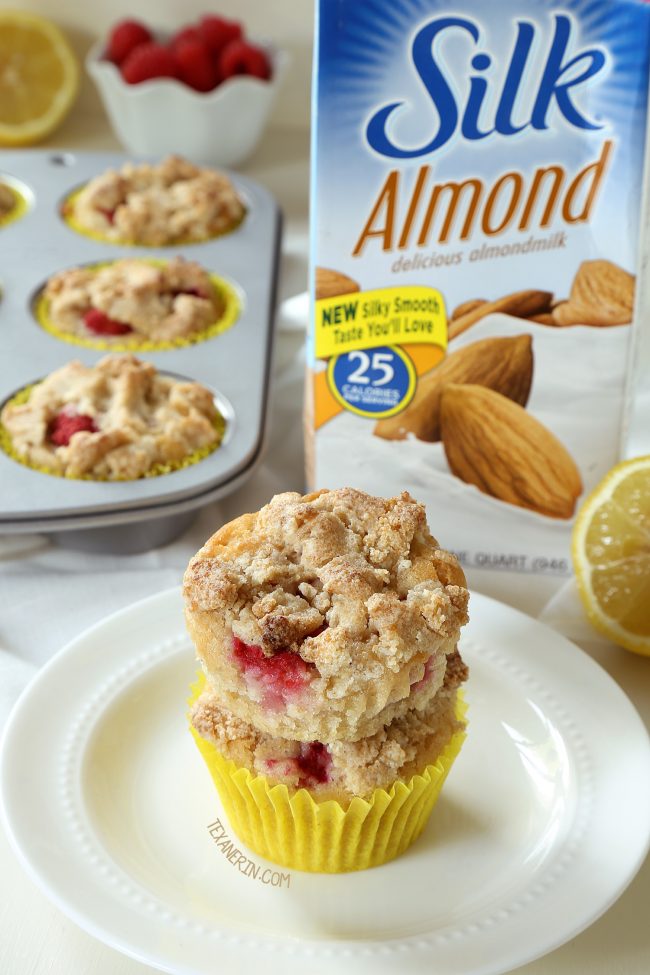 To get a Silk coupon, sign up here for Silk's email list! Also be sure to follow along on Facebook, Twitter, Instagram, Pinterest and Youtube.
This is a sponsored conversation written by me on behalf of Silk. The opinions and text are all mine.
This is a sponsored conversation written by me on behalf of Silk. The opinions and text are all mine.
❀
Raspberry Muffins (gluten-free, whole wheat, all-purpose flour options)
Prep Time:
Cook Time:
Ready in:
Yield:

16 muffins
Ingredients
For the streusel:

3/4 cup (101 grams) gluten-free 1-to-1 baking flour1 or 3/4 cup (94 grams) all-purpose flour or white whole wheat flour
1/4 cup (50 grams) brown sugar
1/8 teaspoon salt
1/4 cup (56 grams) refined2 coconut oil, chilled for a bit or at least firm (just shouldn't be liquid)

For the muffins:

1 3/4 cups (235 grams) gluten-free 1-to-1 baking flour1 or 1 3/4 cups (219 grams) white whole wheat flour or all-purpose flour
2/3 cup (166 grams) granulated sugar or raw sugar
1 tablespoon baking powder
1/4 teaspoon salt
2 tablespoons lemon zest
1 teaspoon lemon extract
1 cup (230 grams) applesauce
1/2 cup (118 milliliters) Silk Original Unsweetened Almondmilk
1/2 cup (112 grams) refined coconut oil (another neutral-tasting vegetable oil would also work)
2 tablespoons maple syrup
1 1/2 cups (180 grams) fresh raspberries, rinsed and patted dry
Directions
Preheat the oven to 400 °F (205 °C) and grease a muffin tin (or two) with 16 liners.
Prepare the streusel. In a small bowl, mix together the flour, sugar and salt. Using a fork or your hands, add the coconut oil and mix until thoroughly combined with the dry mixture. Place in the refrigerator while you prepare the muffins.
In a medium mixing bowl, mix together the flour, sugar, baking powder, and salt. Set the bowl aside.
In a large mixing bowl, mix together the lemon zest, lemon extract, applesauce, milk, oil and maple syrup.
Add the dry mix to the wet and stir just until combined! Over-stirring will result in tough muffins.
Very gently fold in the raspberries.
Fill the liners about 2/3 full, sprinkle with the streusel, and bake for 17-20 minutes or until a toothpick inserted in the center of a muffin comes out clean. Let cool in the pan for 5 minutes and then place on the wire rack to cool completely.
Serve immediately and store leftovers in an airtight container for up to 3 days or refrigerate for up to 5.
Notes
I used this gluten-free 1-to-1 baking flour.
I didn't want any coconut taste so I used refined coconut oil. If you use unrefined coconut oil, this cake will likely have some coconut taste to it.
I used this gluten-free 1-to-1 baking flour.