Once you try these 100% whole wheat vegan graham crackers, you'll never go back to store-bought!
First of all, we have to talk about the history of the graham cracker. In 1829, Reverend Graham invented graham crackers to help suppress "unhealthy carnal urges." Yeah. The original graham crackers were apparently quite bland and it was thought that bland food could curb ones desires. Dr. Harvey Kellogg and his brother held the same beliefs and went on to invent cornflakes. Fun stuff! [source]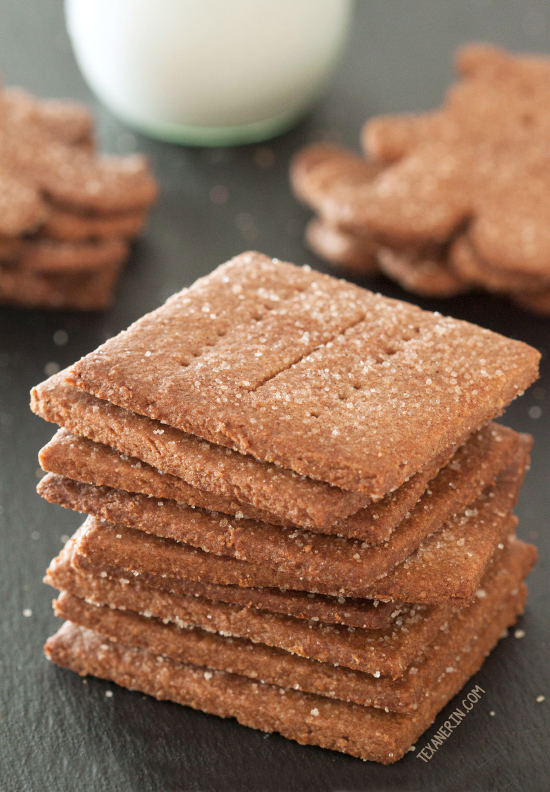 I was never really into graham crackers. I used them in pie crusts but that was about it. We don't have graham crackers over here in Germany and my lazy self picked them up every time I visited the US to bring them back with me. Lame, right? I wish I had known the wonders of homemade graham crackers prior to all that hauling over! Y'all have no idea how valuable that luggage space is. ;)
Graham crackers are so, so easy to make. You pretty much just dump everything into a bowl and mix it together. The time consuming part is the rolling out of the dough and then if you're like me, you'll waste a lot of time watching your crackers bake. I burned way too many of these bears at the beginning of my graham cracker baking career and I won't let it happen again!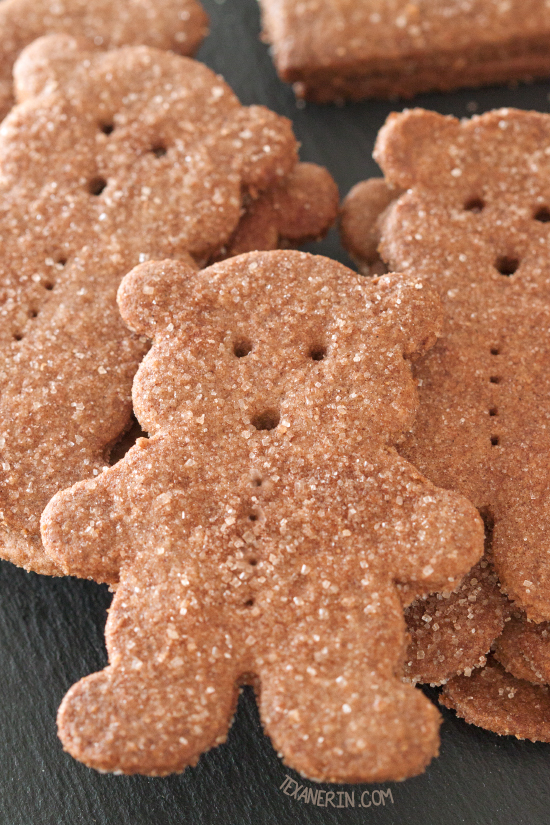 I'm kind of bummed it took me so long to try homemade graham crackers because they are honestly SO much better than anything you can buy. I only made them from scratch because I needed a graham cracker recipe for my book. I had a few recipes with graham cracker crusts and I didn't want to call for store-bought graham crackers since I wanted to avoid processed ingredients.
Kelly from Hidden Fruits and Veggies tested these graham crackers out (along with several other recipes!) while I was having the cookbook recipes tested. When I asked her how they compare to the kind from the store, she told me that mine are more shortbread-like. Since then, I've gotten my hands on some store-bought graham crackers and she was right! These are more flavorful, have a better texture, and are terribly addictive.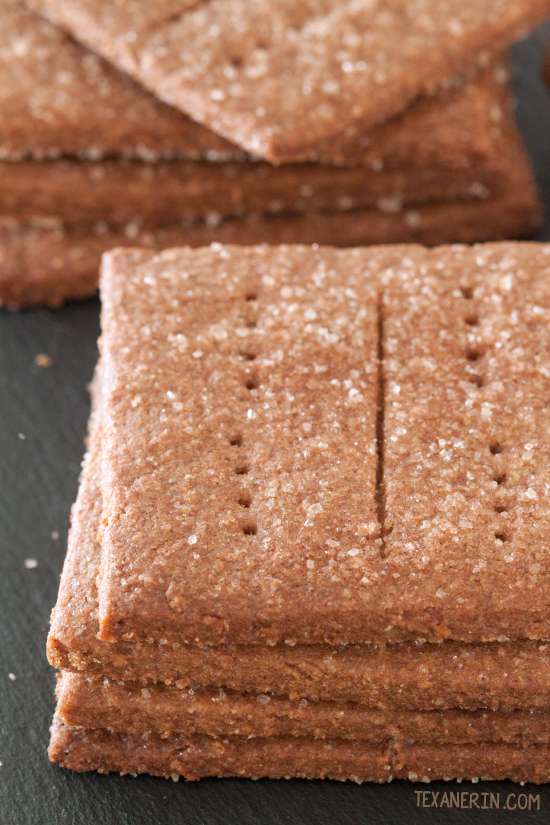 This vegan version is a bit different than the one in the book. One of my graham cracker-loving friends recently had a baby and I wanted to make her a treat. She's dairy-intolerant so I used coconut oil instead of butter (and reduced the amount) and since I was halfway to veganizing the recipe, I swapped out the milk for water and honey for brown rice syrup. Taste-wise, the only difference between the two versions is that the original version with honey has a slight honey taste. The brown rice syrup version obviously doesn't. ;)
In the book I used a mix of white whole wheat and traditional whole wheat but as I have one remaining bag of white whole wheat (another thing we don't have in Germany!) to last me until January, there was no chance I was going to use such a precious commodity on graham crackers. You can tell that the crackers are made with whole wheat flour but there's so much cinnamon in them that I think any kid will love these, even if they generally dislike whole grains!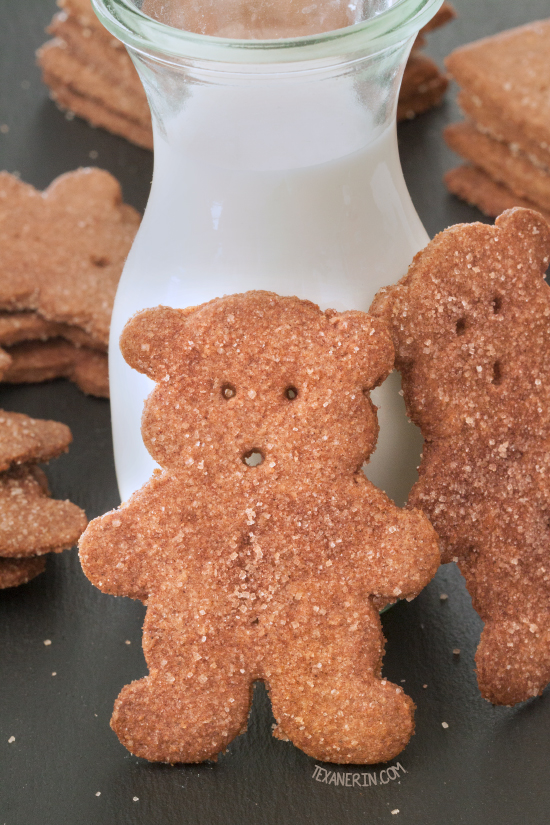 And aren't these bears cute?! I feel so guilty whenever I burn a few or toss them into the food processor to make crusts. It just feels wrong.
Another thing I love about this recipe is how long the graham crackers stay fresh. If you keep them in an airtight container, they should stay crisp and delicious for a few months! I read that it's almost back to school time in some Southern states so I recommend making these homemade graham crackers now so you'll have one less thing to worry about when it comes to school lunches. :D
❀
Whole Wheat Vegan Graham Crackers
Prep Time:
Cook Time:
Ready in:
Yield:

15 crackers
Ingredients
Dough:

2 1/2 cups (313 grams) whole wheat flour
1/2 cup (28 grams) wheat bran
1/2 cup (100 grams) raw sugar or granulated sugar
3/4 teaspoon baking powder
1/4 teaspoon baking soda
2 teaspoons ground cinnamon
1/2 teaspoon salt
3 tablespoons (60 grams) brown rice syrup (or honey for a non-vegan version)
1 tablespoon (22 grams) molasses
3 tablespoons water
3/4 teaspoon vanilla extract
3/4 cup (169 grams) room temperature coconut oil1

Cinnamon sugar coating:

2 tablespoons raw sugar
1 teaspoon ground cinnamon
Directions
In the bowl of a stand mixer fitted with the beater blade, mix together the dry ingredients (flour through salt). Add in the brown rice syrup, molasses, water, and vanilla. Gradually add the coconut oil.
Mix on low until thoroughly combined and a dough forms.
Divide the dough in half and form each half into a disk. Wrap the disks in plastic wrap and refrigerate for 1 hour. If you refrigerate it longer, the dough may get very hard due to the coconut oil. If this is the case, let the dough sit at room temperature for a few minutes until easier to manage.
Preheat the oven to 350°F (175°C) and line a baking sheet with a piece of parchment paper. While keeping one disk refrigerated, roll the other disk between two pieces of parchment paper until 1/4-inch (2⁄3 cm) thick. You'll have to use quite a bit of force the first few rolls as the dough will be very firm. You shouldn't need to flour the parchment paper if the dough is cold enough. Try to roll the dough as evenly as possible so that some parts don't bake more quickly than others. Cut the dough into 5 × 2 1/2-inch (12 2⁄3 × 6 1⁄3 cm) rectangles or use a cookie cutter to cut into your desired shapes. If using cookie cutters, it's best to use one shape per pan so that the crackers are all of similar size and shape (teddy bears on one tray, ducks on another, etc.)
Mix together the cinnamon sugar coating and sprinkle some over the crackers.
Place the crackers on the prepared baking sheet.
Prick holes in the crackers with a fork, if desired.
Bake for 12 to 16 minutes or until the crackers have lightly and evenly browned. The time will depend on how thick you rolled out the dough and the shapes used. Pay close attention towards the end as they go from underdone to burnt in only moments. Let the crackers cool on the baking sheet for about 2 minutes before removing to a wire rack to cool completely. The crackers will harden as they cool, but if they're still soft when they've totally cool, return the tray to the oven and bake for another 2-3 minutes.
Store in an airtight container for up to 2 months. If you leave the crackers out for too long before placing in a container or forget to close the container, they might get a little bit soft. Bake them at 350°F (175°C) for about 3 to 7 minutes to crisp them up again.
Notes
If using refined coconut oil rather than unrefined, these graham crackers may have some coconut taste to them.