Things have been slow around here for the past month! We returned from three weeks in the US on Saturday and I've slept most of the time since then. I caught a nasty cold and infection at the beginning of the trip and I'm still sick. That coupled with sleeping a few fewer hours every night than normal during the trip + some terrible jet lag has me all kinds of messed up. Up until this morning, I couldn't even pull it together to watch a movie sitting at my desk.
Luckily, I wrote this gluten-free Almond Joy granola post for Food Fanatic before we even left so at least I have something to share with you while I try to get some energy back! Before it's back to bed for me, I'd like to wish everyone a happy start (1 week late) to 2016. :)
I'm not actually a fan of Almond Joy candy bars, but I do love the coconut, chocolate and almond combination. I thought about making a cake with those flavors but after the holidays, I'm just not in the mood for baking anything too complicated. And so this Almond Joy granola was born!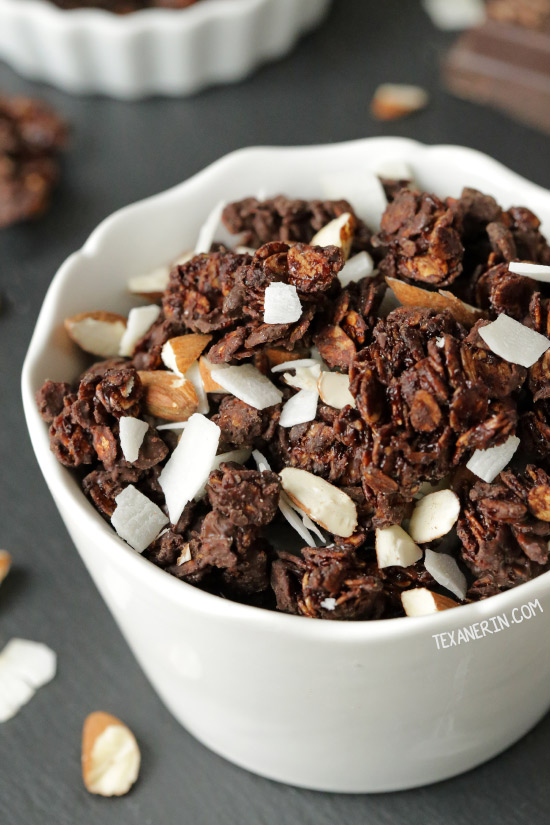 In addition to chopped almonds, this granola has a generous amount of almond extract, which I just can't get enough of these days. I'm putting it into everything that has berries, chocolate or maple, like these almond butter maple cookies.
While the granola was baking, my husband asked me if I was making marzipan granola. The almond flavor definitely isn't subtle here! But that's fine because I don't like subtle. If you're not big on almond extract, you can sub coconut extract or add in more vanilla extract.
I started adding shredded coconut to the granola when I remembered that I had some roasted coconut chips that I bought at Trader Joe's 2 1/2 years ago. I'd been saving them for something special and finally found the perfect use for them in this granola! Never mind that they expired in 2014.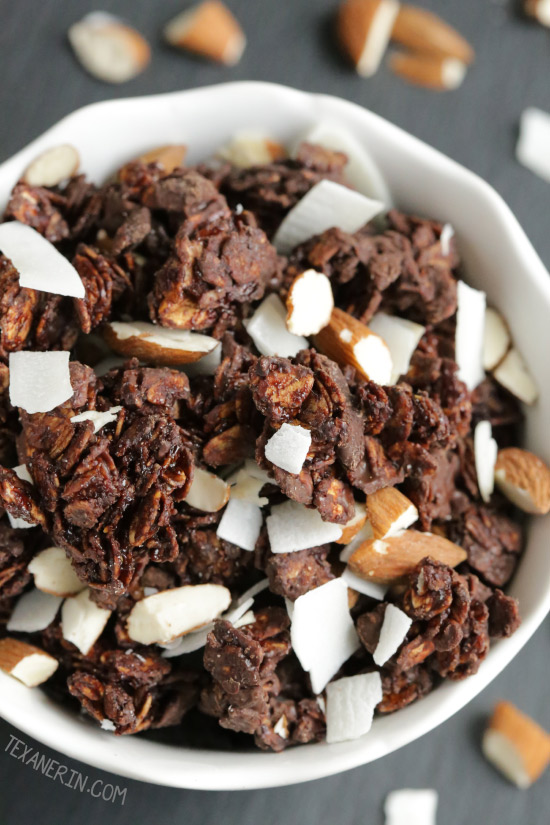 This granola is unlike any other granola you've ever had. It's probably a bit of a lie to even call it granola. It's more like candy with oats in it that just happens to be prepared the same way granola is. I don't eat it over yogurt or with milk – I just snack on it. Can you see the size of those clusters?!
The almond extract makes it completely irresistible, at least to me. I made the granola three days before taking the pictures and you wouldn't believe how difficult it was to reserve at least a cup for the photo shoot. My husband had to hide it from me after it was clear I was not to be trusted with the granola. Seriously. Make this!
For a vegan option – use brown rice syrup in place of the honey.
And for another chocolaty breakfast treat, try these Chocolate Overnight Oats! They look great.