This Gluten-free Mac and Cheese is super cheesy and creamy. It's quick, it's easy and it makes a great side dish. It's made with gluten-free macaroni and flour, and I've included tips and tricks so you'll never have gummy or mushy gluten-free pasta again!
I originally wanted to make a healthy mac and cheese recipe. My goal was a one-pot recipe because fewer dishes are always good, right?
I tried a few highly reviewed recipes like that. You boil the pasta in broth, water, milk – whatever – and then you add the rest of the ingredients once the macaroni is done cooking. They claimed you could use gluten-free macaroni.
The problem is that gluten-free pasta varies so much, depending on brand and type (corn vs. rice vs. chickpea, etc.) And it's generally so much starchier than regular pasta! No wonder it didn't work.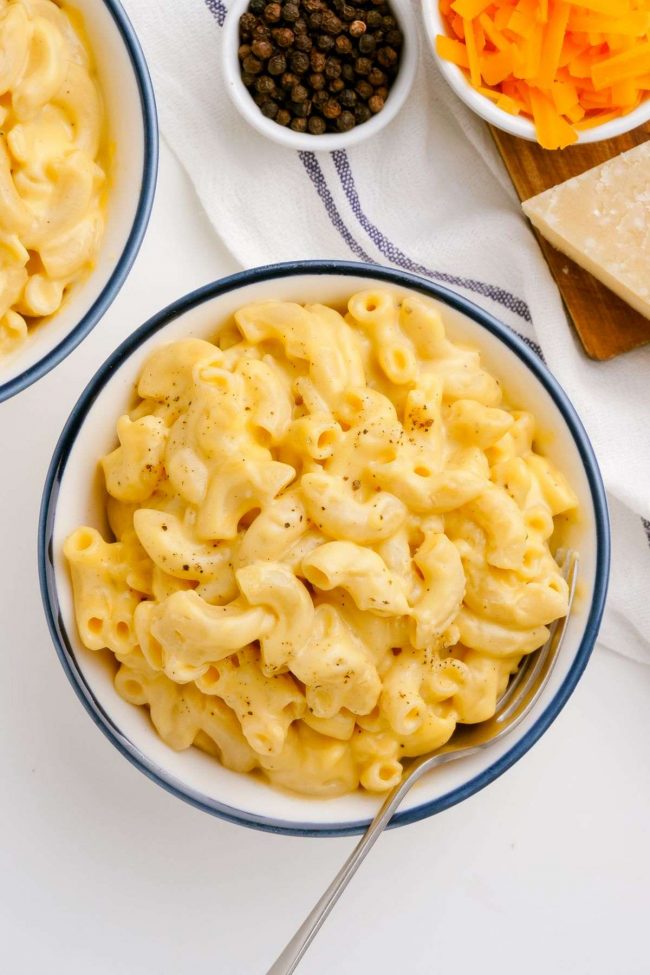 I tried one recipe where I had to use 4x the amount of liquid called for in the recipe.
I'm obsessed with exactness not just in baking but also cooking, and that is way too huge of a variable.
My dream of posting a healthy mac and cheese recipe isn't dead. I do have a few over on Food Doodles that are a little healthier with added veggies! Check out this Sweet Potato Mac and Cheese and this Pumpkin Mac and Cheese.
So up today we have a classic mac and cheese recipe that simply uses gluten-free flour and pasta. It is ultra creamy, perfectly cheesy and an essential dish for Thanksgiving!
Ingredients:
Gluten-free elbow macaroni
Butter
Bob's Red Mill 1-to-1 Gluten-free Baking flour
Salt
Black pepper
Garlic powder
Whole milk
Cheddar cheese
Parmesan or Pecorio Romano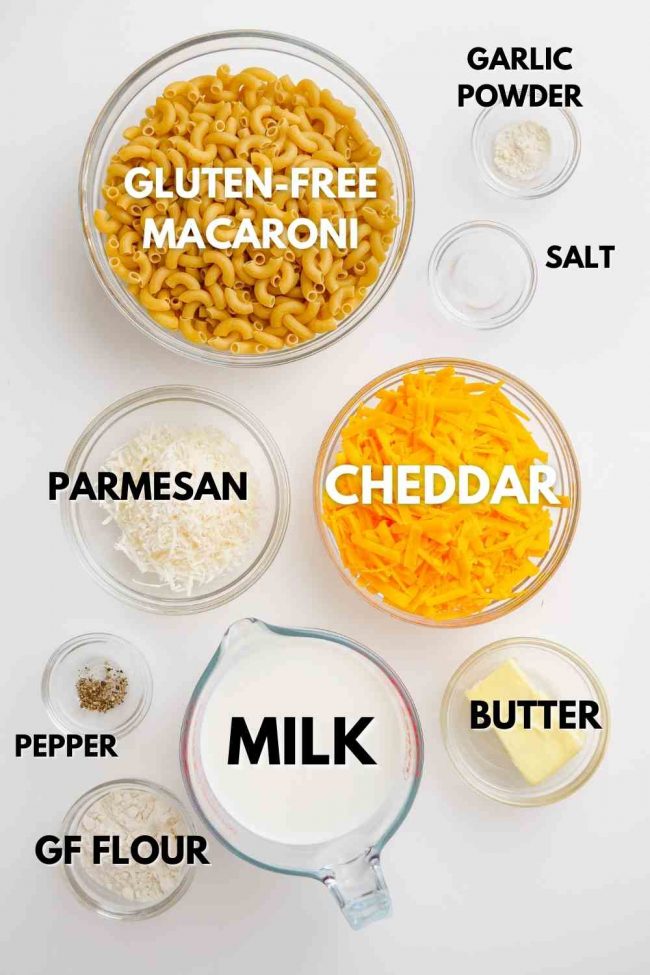 How to make gluten-free mac and cheese:
Cook the pasta.
In a saucepan, melt in the butter.
Stir in the flour, salt, pepper and garlic until combined.
Add milk.
Once it starts to boil, let simmer while continuing to stir constantly.
Slowly add the cheese then add the pasta, stir until totally coated.
Serve and enjoy!
Tips for cooking gluten-free pasta
Gluten-free pasta can be difficult to get just right. It can be gummy or mushy if it's cooked too long, and the directions on the package never seem to be accurate. So here are some helpful tips to get the best gluten-free pasta.
It's important to not overcook the pasta. Gluten-free pasta can get really soggy if it's overcooked.


Before you even start, read the package for the cooking time and subtract 2 minutes! Go ahead and set the timer. At this point, you want to start checking it often because it can be the difference between perfect al dente or a mushy mess.


Fill a large pot ⅔ full of water. Gluten-free pasta foams a lot, so it's best to give it some room.


Salt with any pasta is important. There's an old Italian saying, that the pasta water should be as salty as the Mediterranean sea. That's pretty salty, so don't be shy because adding salt will definitely help flavor the pasta.


How much salt is necessary? So here is the recommended amount: 1 liter of water add 10 g of salt for every 100 g of dry pasta (1 cup). 10 g of coarse sea salt is about 2 teaspoons. If you want to easily convert grams to teaspoons go here.


When to add the salt is a deeply contested debate, but going with the Italians, salt should be added once the water reaches a hard boil, just before you add the pasta.


Once the salt and pasta are in the pot keep stirring, so it doesn't stick together. Gluten-free pasta needs to be stirred from the start and throughout the cooking process, like every 20 to 30 seconds until the pasta isn't sitting at the bottom of the pot.


Remember 2 minutes before the packaged cooking time directions, start checking the pasta.


Once it's done, spoon out 1 cup of the water to add to the sauce in case the pasta starts to clump together.


Transfer immediately to the saucepan with the sauce and stir it all together.


Gluten-free pasta loves to absorb the sauce, so if you need a little extra moisture just add a bit of the pasta water to help liquefy it if needed.


Because gluten-free pasta is so starchy you can rinse the pasta, but only for a few seconds. Otherwise, it will cool the pasta too much.
You may have to experiment with different types of gluten-free pasta to find your favorite, but using the tips above will help to get the best taste and best texture of the pasta.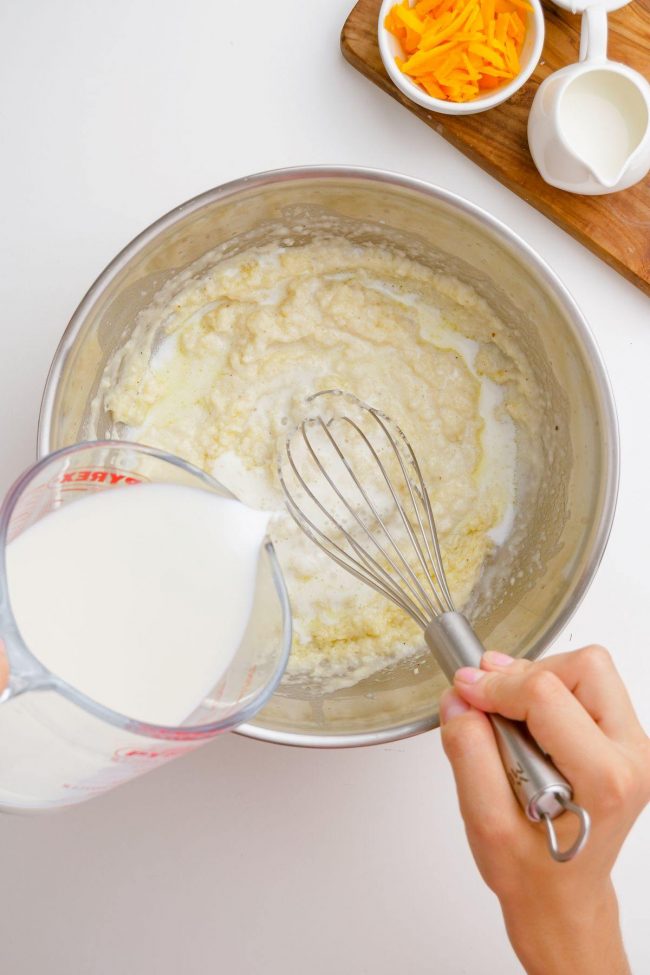 Mac and cheese toppings
If you want to bake in some crunch you can use breadcrumbs, french onions, saltines or oyster crackers. Just crush the toppings, top the mac and cheese and bake (see below).
If you're using potato chips or crackers for a crunchy topping, just place them in a sealable plastic bag, squeeze out the air, seal and roll it out with a rolling pin. It's an easy and no mess method.
Can I bake this?
Yes, actually! But you need 1/3 less macaroni. So use only 8 ounces of macaroni instead of 12.
Take about 4 minutes off of the cook time for your specific brand of pasta. That's because it'll continue cooking in the oven. Top with breadcrumbs, croutons or whatever you like to top baked mac and cheese with.
Bake at 350 °F (175 °C) for 25-30 minutes.
Best cheese for mac and cheese
I love cheddar and parmesan, but there are plenty of others to choose from.
Smoked gouda, brie, gruyere, fontina, cream cheese or goat cheese melt terrifically and add modern flavor profiles.
What I wouldn't use is pre-shredded cheese because the additives that are added keep it from melting and the mac and cheese will most likely be gritty.
Feta is too dry and crumbly. It won't melt smoothly and will leave clumps of cheese. So that's not good.
Freshly grated cheese vs. pre-packaged shredded
Freshly grated is the way to go! But why?
Pre-packaged shredded cheese is convenient, it's helpfully measured and it's fuss-free, but that's about it.
For this mac and cheese, it's a big no because there are ingredients like potato starch that keep the cheese from clumping together in the package, and consequently making it where the cheese doesn't melt.
Along with potato starch is natamycin, a mold inhibitor, that keeps shredded cheese fresh. Whole Foods list natamycin as an unacceptable food ingredient, and I definitely agree.
And then there's the antifungal ingredient. It's a natural soil bacteria, but it's a byproduct of an insect. It doesn't absorb well into the body, so there aren't any serious side effects, but kind of gross.
Another component in some shredded cheese is cellulose which keeps the cheese from absorbing moisture. Cellulose is a non-digestible plant fiber and although it absorbs moisture, it's yet another additive. Though a bag of shredded cheese is easy, it isn't as natural as I would like.
Grating fresh cheese, for me, is the best option. You know what it is in it, it costs less than pre-packaged cheese, and it's a little effort to ensure the best taste and texture for this mac and cheese.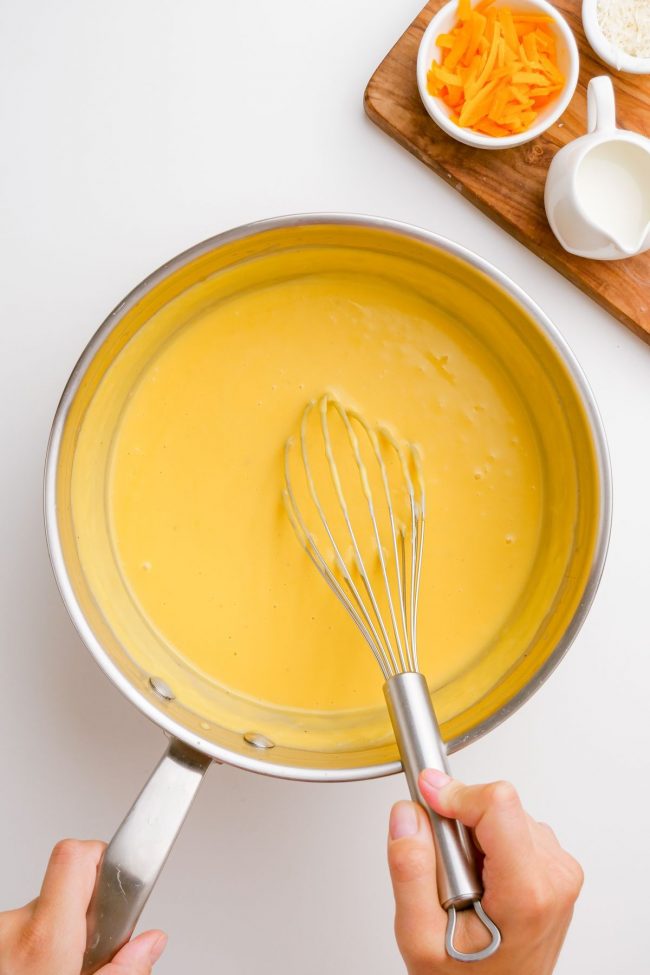 To rinse or not rinse?
That's a good question. Normally, I would say no because it doesn't prevent the pasta from clumping, it makes it difficult for the sauce to stick to the noodles, and it cools down the pasta and cold gluten-free pasta isn't very tasty.
But because gluten-free pasta is a lot starchier than normal pasta, I rinse it. Very quickly – less than 5 seconds. Then transfer immediately to the sauce.
Ways to add protein or make it healthier
If you want to add protein to this mac and cheese or make it healthier, you've got options!
Meat lovers:
Diced Air Fryer Ham, grilled or Air Fryer Chicken Breasts, canned tuna, sausage, crispy bacon, and ground beef are all worth adding to mac and cheese. If you want to up the game you could try shrimp, lobster, crab meat, pepperoni, or even Air Fryer BBQ chicken.
Veggie lovers:
To add in some extra nutrition, add in: tomatoes, carrots, corn, pico de gallo, broccoli, cauliflower, red peppers, peas, black olives, black beans, mushrooms, sauteed onions, scallions, jalapenos or canned green chilis.
Also, don't forget your big leafy greens! Just sautee spinach, collar greens, swiss chard or kale and add it to the dish.
If you're looking to sneak in some nutrition, you can add sweet potatoes or pumpkin for a great fall dish. If you're looking for recipes, scroll to the top of this post as I listed two recipes from FoodDoodles that are great. Just use the gluten-free pasta of your choice and follow the tips.
If you're serving a crowd, put out a little of everything and make your own mac and cheese bar and let your guests load it up with their favorites.
Can you make it paleo?
Because of all the cheese, no, you can't make it paleo. You'd need to find an already paleo mac and cheese recipe that uses cashew cream (or something like that) as a base. Actually, that sounds like a great idea that I want to work on!
How to make it primal
If you're not familiar with it, primal is like paleo, but with dairy.
So, if you use grain-free flour and use grain-free, primal-friendly pasta, then you have yourself some primal mac and cheese!
You can get Jovial brand cassava flour pasta, and it tastes great. A bit similar in taste and texture to whole-wheat pasta, I think.
Capello's is almond flour-based and supposedly super tasty. I haven't had the pleasure of trying it yet! (I live in Germany and haven't been back to the US since 2015)
For the flour, cassava flour works great. I used Otto's.
Does it freeze well?
No, cooked pasta never does. I'm not a fan of freezing pasta dishes. The issue is the pasta coupled with dairy just doesn't come out like freshly cooked pasta. Pasta is so easy to make that I just haven't had a reason to freeze it.
Some say you can assemble the dish and put it in an air-tight container or a sealable plastic bag and freeze it for up to three months.
If you're looking to reheat it for lunch then put the mac and cheese in individual serving containers.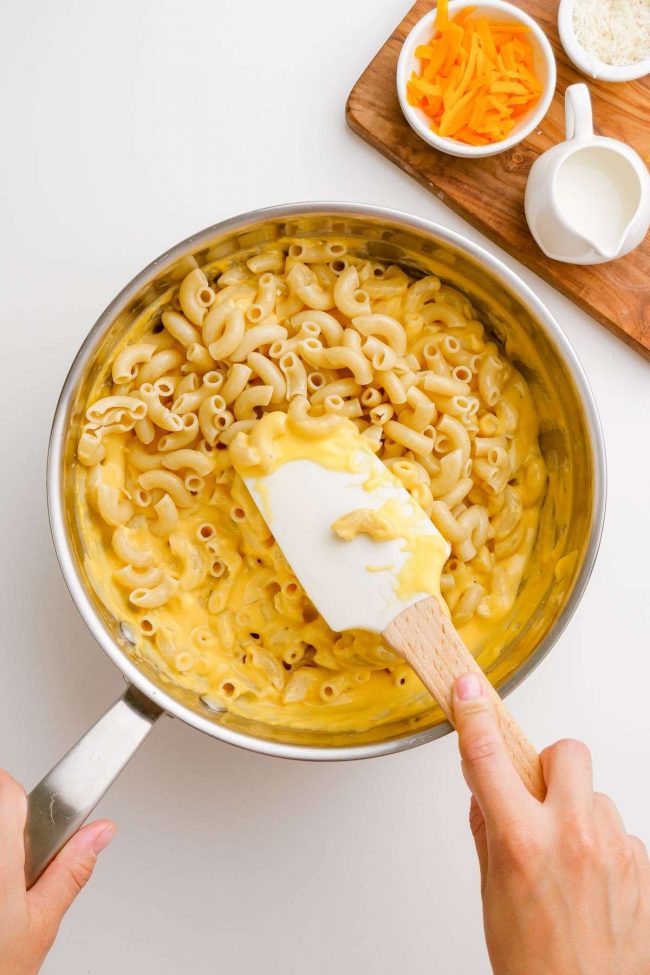 How to reheat it
First, it's best to gobble it all up while it's hot! That way you know it's good.
If you plan to make it ahead, it's best to keep the macaroni and the cheese sauce separate if you know you'll be reheating it later.
Some types of gluten-free pasta get soggy or weird when mixed with sauce and then refrigerated.
If you know that your macaroni won't get soggy, then you can reheat this gluten-free mac and cheese just like any other mac and cheese.
I really don't recommend reheating gluten-free pasta, and neither does Barilla because it can go south pretty quickly. Gluten-free pasta when heated a second time has a reputation of turning tasteless and mushy, so keep that in mind.
If you have a fabulous gluten-free pasta that you reheat with success, please let me know which brand, so I can try it out and update this post.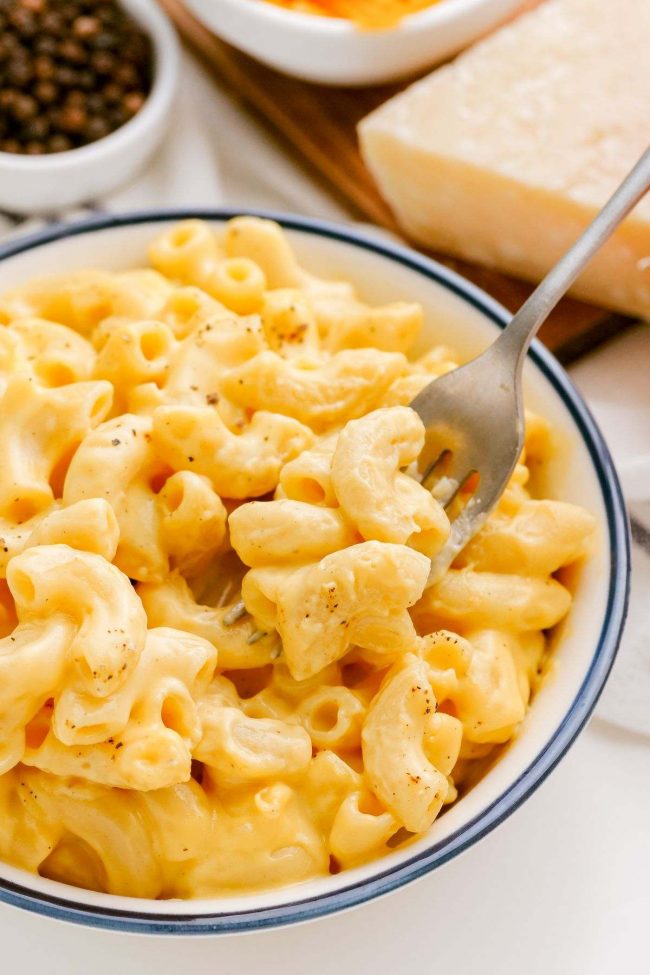 Questions section
Can I use something other than cow's milk?

This might seem like a weird question since mac and cheese is loaded with cow's milk cheese. But there are people out there (like me!) who can't have plain cow's milk but can have cheese, cream, and other dairy products.

Cow milk, of course, works great here. But I usually use cashew milk. I find it to be way more neutral than almond milk.

I'm guessing you can use any type of dairy-free alternative you'd like, but I haven't tried it.

Can I use dairy-free cheese?

If you have a brand that you know and love that you know melts the way cheese should then go for it! If you're new to the dairy-free life and just go to the store and pick up some dairy-free cheese, I'm betting that you will be disappointed.

I think it's safe to say that there are a lot more bad brands than good ones out there.

Do I have to use cheddar + Parmesan?

No, it's not an obligation, but using both cheddar and Parmesan is what I call for in the recipe. If you would like to try other types of cheese, there are certainly plenty to choose from. I listed them above, so be sure to check it out.

Can I use different gluten-free flour?

Other gluten-free baking blends would likely work, but I'm not positive without trying them.

Almond flour, coconut flour, and other alternative gluten-free flours will not work in this recipe. You need something that's a 100% sub for all-purpose flour.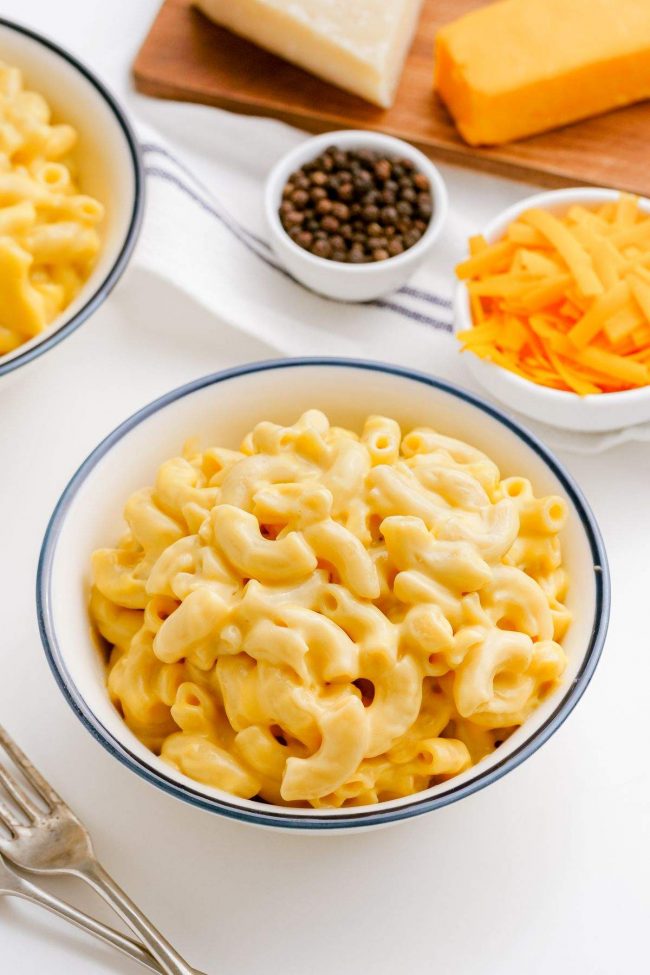 Other gluten-free pasta dishes:
If you love pasta as I do, then you should check out some of these other recipes, each one has a gluten-free option.
I hope you enjoy this gluten-free mac and cheese recipe. If you make it, I want to hear about it in the comments below. Or feel free to snap a pic and post it to social media with #texanerin so I can easily find it. Enjoy!
❀
Gluten-free Mac and Cheese
Prep Time:
Cook Time:
Ready in:
Yield:

6-8 servings
Ingredients
12 ounces (3 cups) gluten-free elbow macaroni
1/4 cup (56 grams) butter
3 tablespoons (26 grams) gluten-free baking flour (I used Bob's Red Mill 1-to-1 Gluten-free Baking Flour)
1/4 teaspoon salt
1/4 teaspoon garlic powder
1/8 teaspoon black pepper
2 cups (473ml) whole milk (or another milk of choice, except for coconut milk)
1 2/3 cups (188 grams) shredded cheddar cheese
1/3 cup (33 grams) shredded Parmesan or Pecorino Romano
Directions
Cook the pasta according to the package directions. It's important to not overcook it. Gluten-free pasta can get really soggy if overcooked. I rinse it less than 5 seconds under cold water.
Meanwhile, in a medium saucepan over medium heat, melt the butter.
Stir in the flour, salt, pepper and garlic until combined.
While stirring constantly, gradually add the milk.
Once the mixture starts boiling, turn down the heat to low and let simmer for 1 minute, while continuing to stir constantly.
Slowly add the cheese and stir until totally combined.
Add the pasta and stir until totally coated.
Serve immediately.
If you plan to make it in advance, it's best to keep the macaroni and the cheese sauce separate if you know you'll be reheating it later.