This Bienstich (bee sting cake) is dairy-free and can be made gluten-free, whole wheat or with all-purpose flour. Plus a review of Hotel OTTO in Berlin!
I rarely post German recipes but I was inspired after having some Bienenstich at a hotel this weekend. Bienenstich is a German brioche-based cake filled with pastry cream and a lovely honey almond topping. I also learned that it's well-known in South Australia, thanks to the people who commented on my Instagram picture of this cake. I'm not a huge fan of bee sting cake – it's usually a bit too dry for me and lacking flavor. So I came up with my own inauthentic, more flavorful, yeast-free version!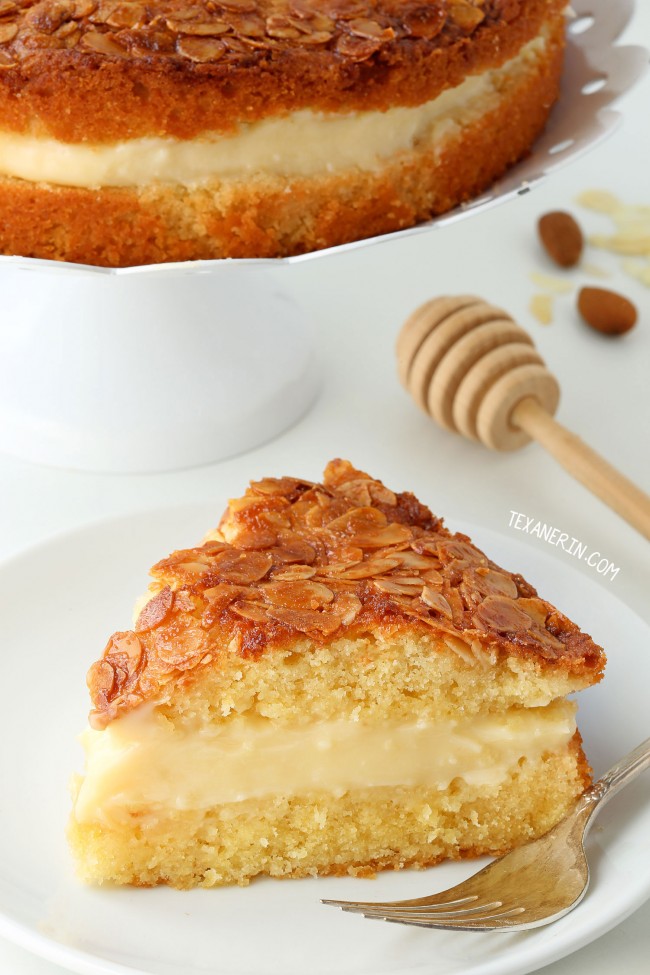 I'm not fond of yeasted cake recipes (the one exception being King Cake!) so I didn't use brioche dough, but regular cake batter. To make the dough more flavorful, I added some almond extract and a bit of orange juice. The cake base I used yields a super moist cake when baked without the almond topping, but when baked with it, the texture is similar to the traditional Bienenstich cake.
I panicked when I first cut into the cake as the pudding didn't stay as well put as I had hoped. I looked at some other bee sting cake recipes and found that pretty much everyone had the same issue when it came to cutting the cake. The top layer consists of a caramelized honey and almond topping so it makes sense that it doesn't cut easily. Then I saw one commenter suggesting that you pre-cut the top almond layer before placing it on the cake. Genius! So I took the top off the top layer of the cake, cut it into pieces and placed it back on the pudding filling. Then it cut perfectly.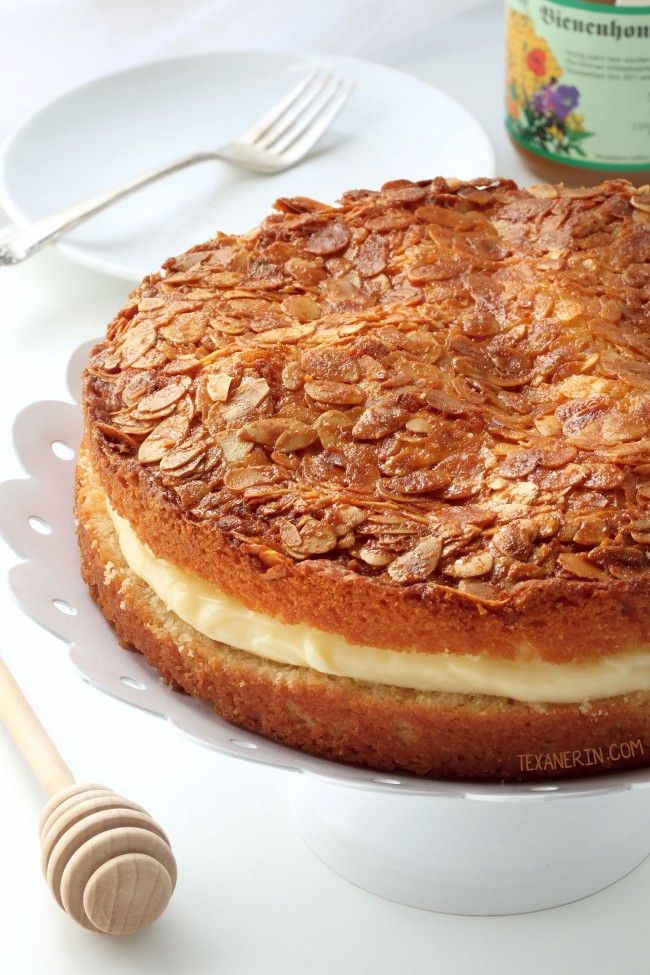 One issue is that this cake does not keep well. After refrigerating, it becomes quite dense. I recommend filling the cake with pudding right before serving and then devouring it all. :D Truth be told, it's kind of annoying. This is one of the reasons why I rarely make cake. I prefer cookies, brownies and bars that stay good for days and are super easy to make. We really did like this so I will make it again, but probably only for a special occasion! And now I'll tell you a little bit about the hotel stay that inspired me to make this bee sting cake.
Hotel OTTO
A lot of friends and readers have asked me for hotel recommendations and since I've never stayed at any hotels in Berlin, I'm pretty useless. All I can do is recommend districts, which is about as helpful as suggesting that you stay in Manhattan for your NYC visit.
So I did some research and found Trip Advisor's 2016 Travelers' Choice Top 25 Hotels in Germany list. The second on the list is Hotel OTTO. Not only did I love the clean and modern design, but there were rave reviews about the breakfast (which I knew my food-loving readers would be interested in!), and I loved its central location. As a bonus, Hotel OTTO was less than half the price of the next least expensive hotel on the list, which I'm sure everyone can appreciate! The X9 bus from Tegel airport (TXL) brings you right to the hotel in a mere 16 minutes. And the ride is only 2.90€.
We arrived on Saturday evening and left Monday morning. I actually wouldn't recommend this itinerary because the shops in Germany usually close around 5 or 6 on Saturday and stay closed until Monday morning. Plus if you come to Berlin, you should stay much longer than 1 1/2 days. :)
The rooms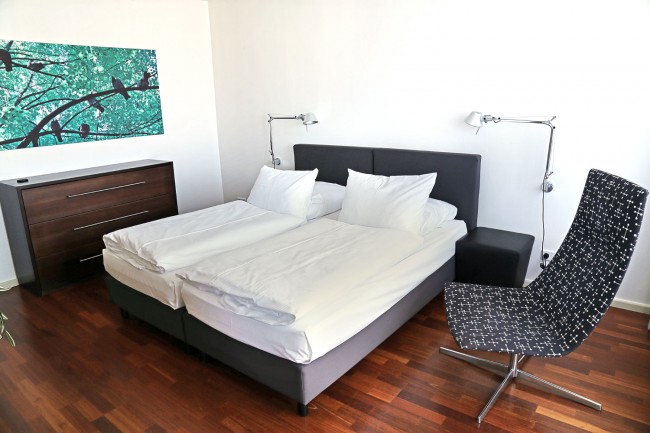 If you're from the US, or even if you're not, you'll probably be positively surprised by the room rates at Hotel OTTO! At the time of writing, the studio which you see here starts at 120 euros ($136) and they also have standard rooms starting at 80 euros ($91). And this is for a super central, awesome location. It's such an incredible value for the money!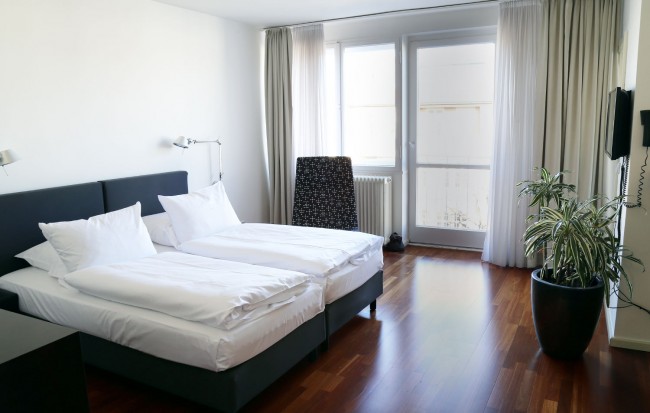 The room was spacious, light and meticulously clean. It was also pretty quiet considering how close it is to the busy Ernst-Reuter-Platz. Our room overlooked a quiet residential street and you could hear the birds singing in the morning.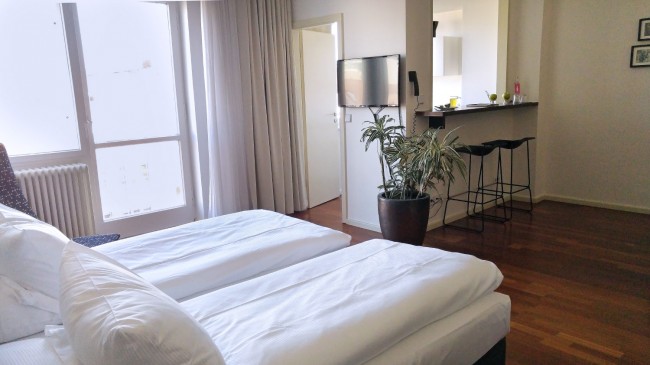 The room has a small living area where you can lean back and kick up your feet after a long day of sightseeing. As a bonus you get to watch what's going on in the kitchenette! :)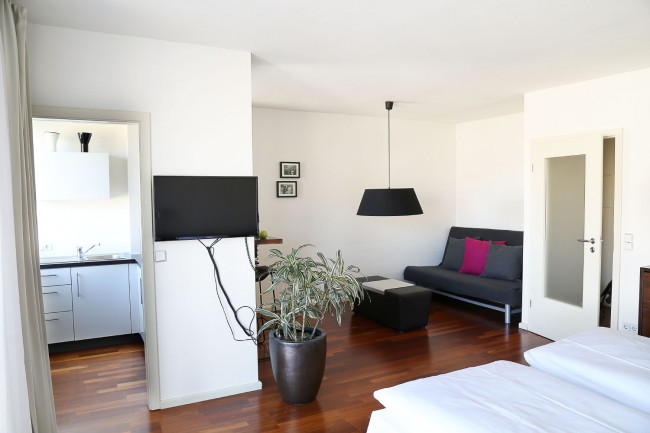 Said kitchenette has a small refrigerator with freezer compartment, a stove with two burners, a microwave and the cleanest stainless steel sink I've ever seen! Seriously, not a single spot! There's also an espresso machine, electric tea kettle and a nice selection of coffee and tea.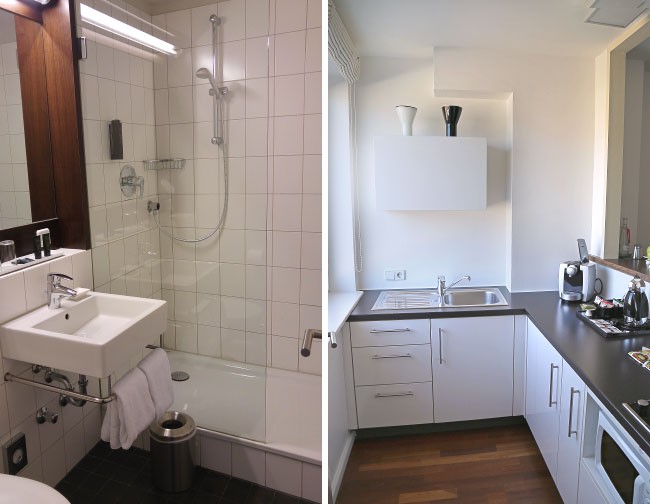 There are 46 rooms in Hotel OTTO and the atmosphere is cozy and relaxed. The staff was incredibly friendly and welcoming, even early on Sunday morning. ;)
The food
We both agree that Hotel OTTO has the best hotel breakfast we've ever had. Hands down.
It's served in the top floor lounge, where there's a terrace and panoramic views of Berlin. You can also, of course, eat indoors!
For the sweets-loving people, they've got you covered. There were pancakes (with real maple syrup), all kinds of homemade jams, fresh fruit cup, granola, yogurt, and pastries and homemade cake.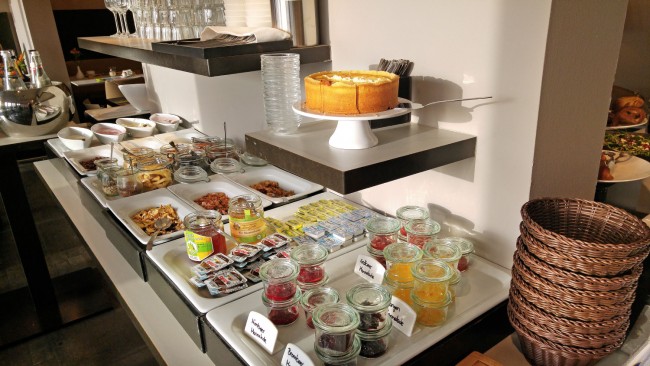 If you are more the savory type, you'll be blown away by the variety! So many types of salads, cheese, lunch meat, vegetables, healthy German bread, sausages and on and on and on. Staff kept refilling them, so there were no empty plates at any time. And everything was arranged so nicely – their attention to detail deserves special mention!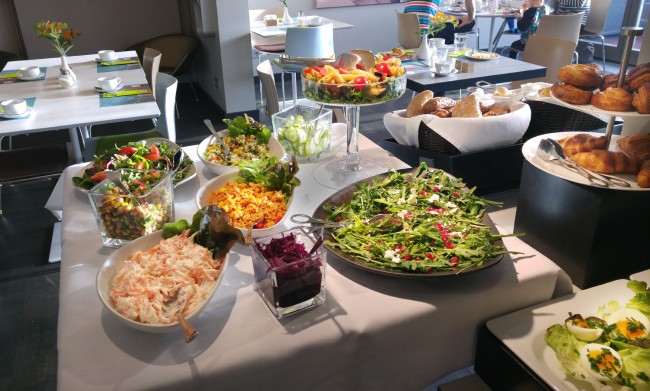 Vegans and vegetarians have lots to choose from and if you have any allergies or intolerances, they'll prepare something for you if you let them know before your arrival.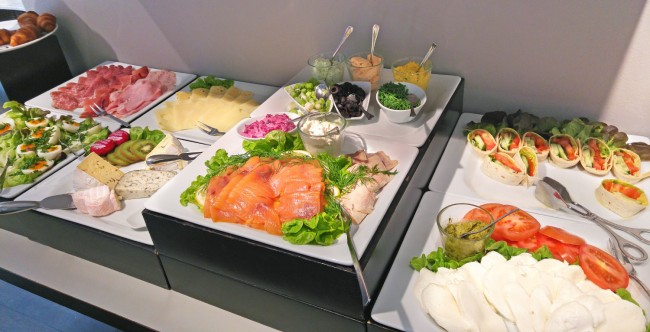 Here are two of the plates Mr. Texanerin enjoyed. He even styled them himself. I'm so proud. :D The pancake, fruit and cake you see in the background? Mine, of course!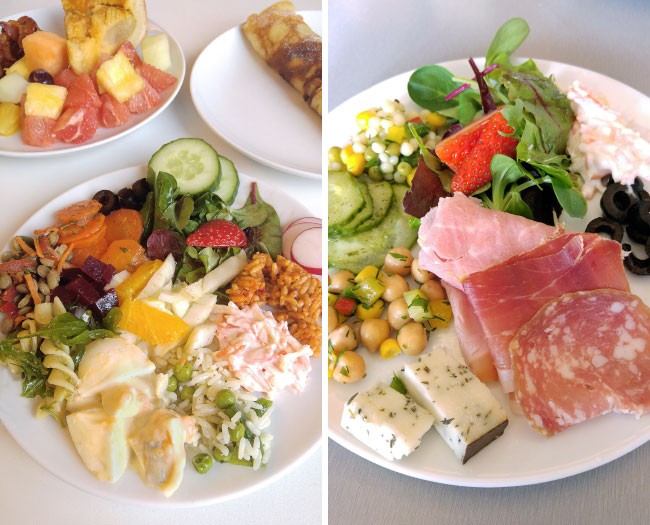 Breakfast is served from 7am-12pm and then from 2-9pm, they have complimentary cake, coffee, tea, juice and other snacks. They had some cake and pastries from the breakfast but also other cake! And you can see some pudding-less Bienenstich. :)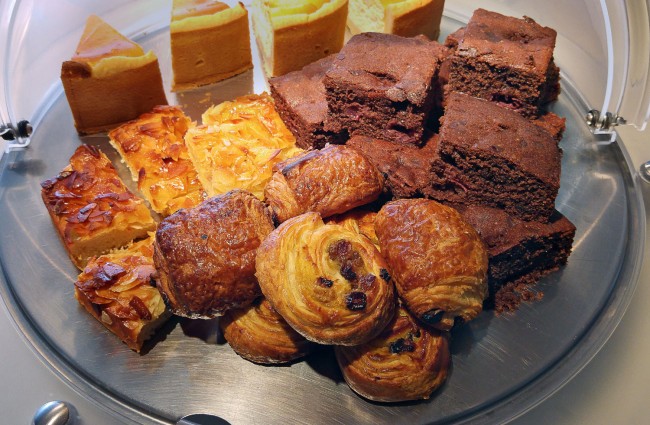 When I'm on vacation, I have to admit that I eat a whole lot of junk so I most definitely appreciated the nice big bowl of fruit.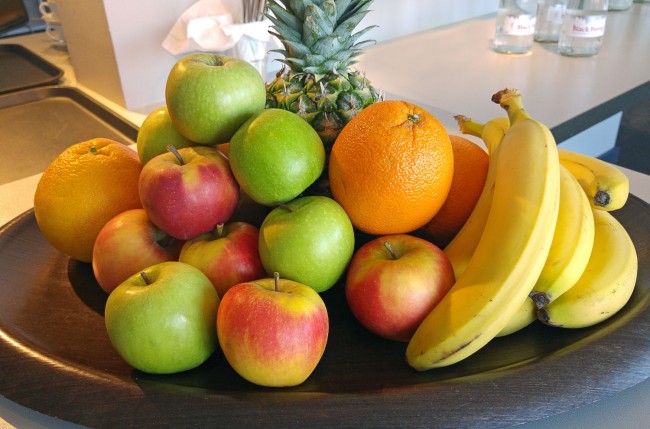 Hotel OTTO prepares the breakfast food fresh every day and instead of throwing away what's left over, they package it up into complimentary snacks. I think that's so cool!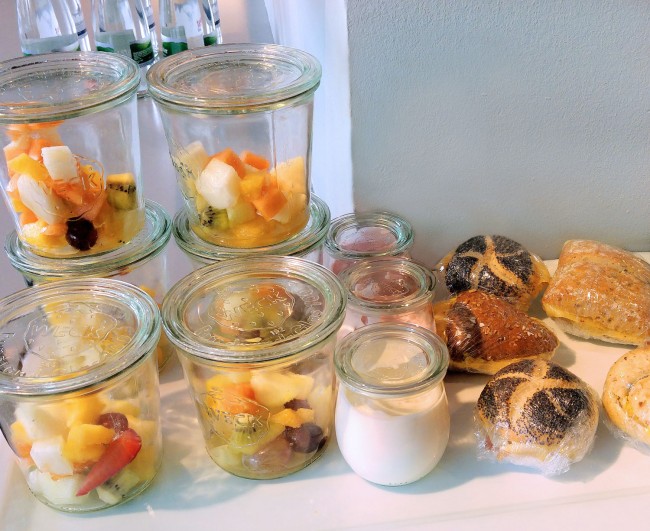 The area
Hotel OTTO is centrally located in the western district of Charlottenburg. In my opinion, there are a lot of dumpy-looking districts in Berlin. Charlottenburg, though? Definitely not! It's probably the nicest area of Berlin. There are several train, subway and bus stops within a few minutes walk of the hotel that will connect you quickly and easily to the other districts of Berlin.
The Kurfürstendamm, Berlin's famous shopping street, and the Berlin Zoo are only a 10-minute walk away. About a 15-minute walk in the other direction, you've got Tiergarten, Berlin's largest park. On Sundays, there's a flea market just outside of Tiergarten, which is perfect for finding odd memorabilia (or some beautiful old silverware in my case).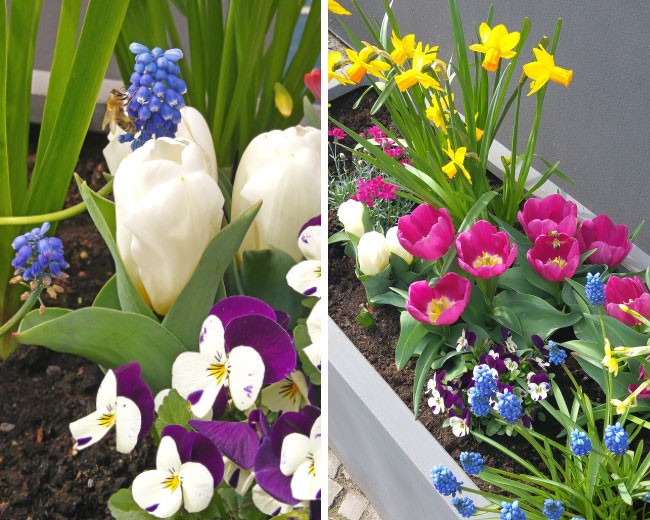 They had a bunch of flowers right outside of the hotel and I'm including a picture just because they made me so happy to see. The bees, who were hard at work, certainly loved them, too!
The hotel is located a 5-minute walk away from Savignyplatz, a nice little square surrounded by great restaurants. Kantstrasse, which runs through Savignyplatz, is well-known for its Asian restaurants. We went to Lon Men's Noodle House, Berlin's only Taiwanese restaurant and really, really enjoyed it! I recommend their noodle soups and dumplings. Do note that it's not a fancy restaurant.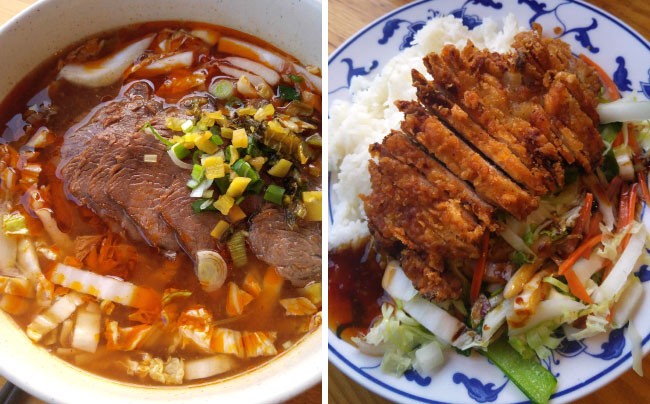 There are lots of bakeries, supermarkets, and everything else you could need nearby. Mr. Texanerin wanted me to add a little something for the beer lovers! There's a store nearby called Ambrosetti. They have a large variety of beer (standard fare, regional beers from Southern Germany that can't be found in regular supermarkets in Berlin, and a selection of fancy beers from all over the world) for a reasonable price.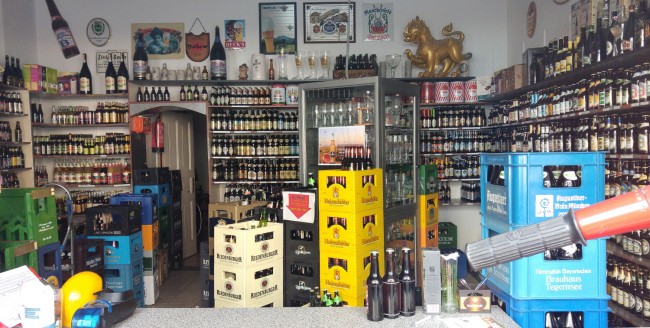 Thanks so much to Hotel OTTO for hosting us for the weekend! They have lots more pictures on their website, so be sure to check it out.
❀
Bienenstich (Bee Sting Cake) - gluten-free, whole grain, dairy-free options
Prep Time:
Cook Time:
Ready in:
Yield:

8 slices
Ingredients
For the almond topping:

5 tablespoons (70 grams) coconut oil1, melted
5 tablespoons granulated sugar or raw sugar
3 3/4 teaspoons honey
3 3/4 teaspoons milk
pinch of salt
3/4 cup + 3 tablespoons (73 grams) sliced almonds

For the cake:

1 cup + 6 tablespoons gluten-free 1:1 all-purpose mix2, or 1 cup + 6 tablespoons (172 grams) white whole wheat flour3 or all-purpose flour
1 1/2 teaspoons baking powder
1/2 teaspoon salt
1/2 cup (113 grams) melted coconut oil (or another neutral-tasting vegetable oil)
3/4 cup (150 grams) granulated sugar or raw sugar
2 tablespoons orange juice
1/2 teaspoon vanilla extract
3/4 teaspoon almond extract (or orange extract)
2 large eggs, room temperature

For the pudding:

1 1/4 cups (296 milliliters) milk of choice (soy, almond, cow's milk for a non-dairy-free version, etc. but not canned coconut milk)
1 large egg
5 tablespoons granulated or raw sugar
1/4 cup (32 grams) cornstarch
pinch of salt
2 teaspoons vanilla extract
Directions
Preheat the oven to 350 °F (175 °C) and place a piece of parchment paper over a 8" round cake pan (dark and glass pans aren't recommended). Do not line just the bottom of the pan! Place a full piece of paper over the pan so that the entire thing is lined.
Prepare the topping. Mix together melted coconut oil, sugar, honey, milk and salt. Once combined, add in the sliced almonds. Set aside.
Prepare the cake. In a medium bowl, stir together the flour, baking powder, and salt. Set aside.
In a large mixing bowl, stir together the melted coconut oil, sugar, orange juice, vanilla, almond extract and eggs. Add the dry cake mixture to the wet and stir just until combined.
Pour into the prepared pan, top with the almond honey mixture and bake for 28-33 minutes or until a toothpick inserted in the middle comes out clean.
Let the cake cool for 5 minutes in the pan and then invert onto a wire rack to cool completely.
Prepare the pudding. In a medium saucepan, whisk together all pudding ingredients, except for the vanilla. Turn the heat on medium and cook, stirring frequently, until thickened – about 8-11 minutes. After about 5 minutes, start to stir constantly. It will go from thin and watery to thick in a matter of seconds. Do not let the pudding boil! It's okay if it boils for a few seconds, but not more. Stir in the vanilla. It will be quite a bit thicker than regular pudding and will thicken even more as it cools. Set aside to cool while the cake continues to cool. If you want to prevent a film from forming, cover with a piece of plastic wrap. I skip that step and just give it a good stir after it's cooled. There will still be some lumps, but you don't notice them in the finished cake.
Assemble the cake. Once the cake has cooled, slice it in half horizontally using a sharp serrated knife. Put the bottom half on the serving plate and top with the pudding. Place the sliced cake pieces on top of the pudding. Serve immediately. This cake gets quite dense once refrigerated so I recommend not assembling it in advance. You can prepare the pudding the day before serving, but then assemble the cake right before serving.
Notes
I used refined coconut oil, which doesn't have any coconut taste. If you use unrefined coconut oil in this cake, it will likely have some coconut taste to it.
You can use your favorite gluten-free flour mixture that's a 1:1 substitute for regular all-purpose flour or use the mix I used listed below

129 grams white rice flour
47 grams potato starch
18 grams tapioca flour / starch
1/2 teaspoon xanthan gum

If you use white whole wheat flour, there will be some whole wheat taste to the cake!