These fudgy strawberry cheesecake brownies are made healthier with 100% whole grains and Greek yogurt!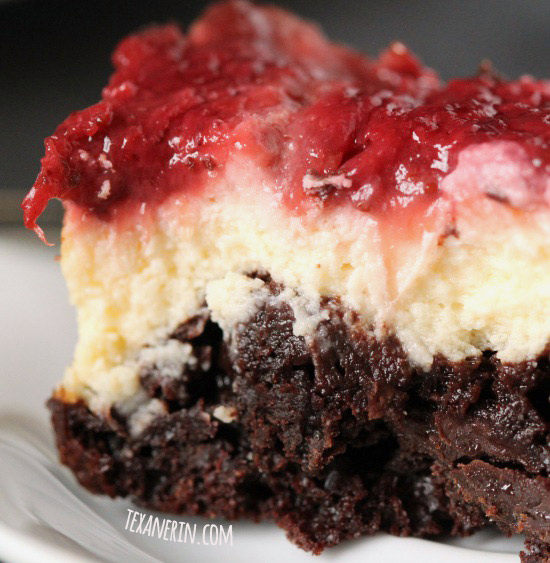 When Jessica posted these skinny fudgy brownies the other day, I knew I had to make them.
But I wanted a strawberry cheesecake topping to jazz them up for Valentine's Day. I did some googling and had to giggle when Jessica's strawberry cheesecake brownies popped up in the results. I thought it'd be a good move to combine the two.
And this was a very, very good idea. They're not gooey like I normally prefer my brownies, but fudgy is good. And fudgy with cheesecake topping is more than acceptable! They were fantastic and I can't wait to try the brownies with different fillings and toppings.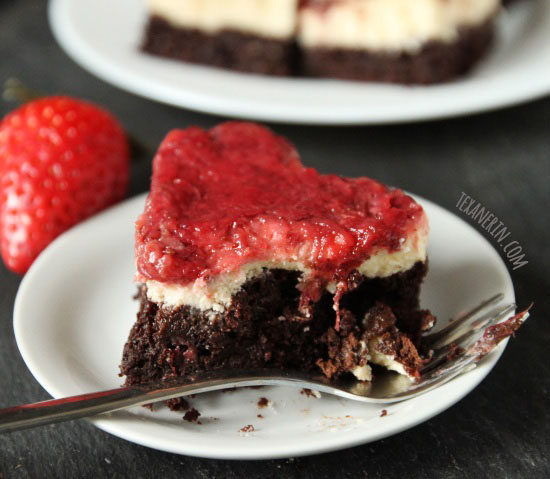 A half-cup of Greek yogurt replaces all the fat (okay, I'm not counting the tiny bit in the egg, flour, etc.) in the brownies and there's another whole cup in the cheesecake topping. We only have 10% fat "Greek-style" yogurt over here, which makes me want to cry, but for those of you in North America, this results in a pretty darn low-fat brownie!
You can use any type of jam or fruit sauce on top. On one half, I used some leftover-from-the-summer strawberry jam I fished out from the fridge. And while I was rooting around in there, I found some of my strawberry sauce. Yay! I'm no good at marbling, swirling, whatever it is, so I just covered one side with the sauce. And I think I preferred it that way. More strawberry sauce is always good!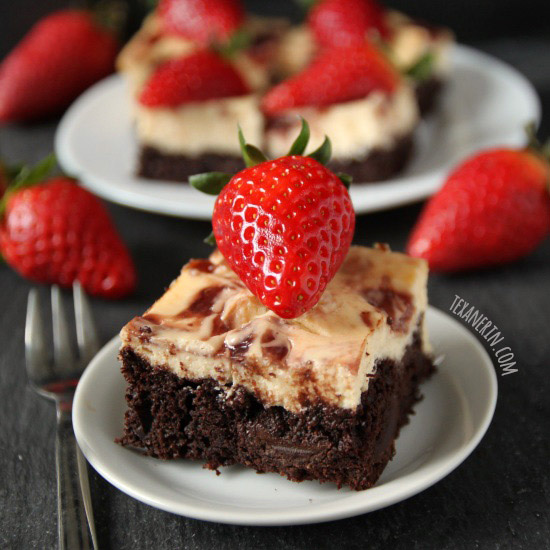 The only downside is that it's not as pretty.
And aww… would you look at that?! The night I made these, Mr. T was going to a late evening movie with a friend, who is a girl, and I thought I might as well make him a brownie heart to take his "date." ;)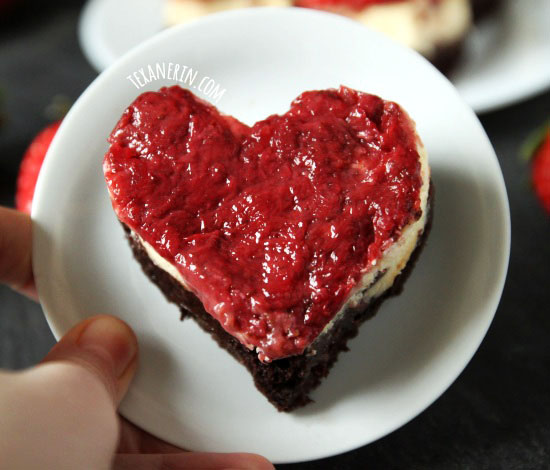 But then I ate it. Muahaha. I decided that only I should be receiving chocolate hearts from him and… he refused to take it. More strawberry cheesecake brownies for me.
So what are you all doing for Valentine's Day? I know a lot of people dislike it but I think it's fun. It's an excellent excuse for the men out there to make their ladies dinner. So. That's what we'll be doing. :)
For another Valentine's Day treat, try these Double Thumbprint Heart Cookies!
❀
100% Whole Grain Strawberry Cheesecake Brownies
Prep Time:
Cook Time:
Ready in:
Yield:

24 brownies
Ingredients
Strawberry Cheesecake Topping:

8 ounces (225 grams) cream cheese, room temperature
2 eggs
1/2 cup sugar
1 1/2 teaspoons vanilla extract
1 cup plain Greek yogurt

Brownies:

1/2 cup (60 grams) whole wheat flour
1/2 cup + 2 tablespoons unrefined or coconut sugar
1/4 teaspoon salt
1/4 teaspoon baking soda
1/2 cup unsweetened Dutch-process cocoa powder
1/2 cup plain Greek yogurt
1 egg
3 tablespoons milk
1 teaspoon vanilla extract
1/4 cup chocolate chips, optional

Berry Topping:

1/4 - 1/2 cup berry jam or sauce
Directions
Preheat your oven to 350°F / 175°C. Line an 8x8in pan with parchment paper or spray lightly with cooking spray.
To make the cheesecake topping, beat together the cream cheese, eggs, and sugar until creamy. Beat in the the vanilla and then slowly add in the Greek yogurt. Set this aside.
In a large bowl, whisk together the dry ingredients. In a small bowl, whisk together the wet ingredients. Add the wet ingredients to the dry and mix just until combined. Do not over mix!
Spread the batter evenly into the pan and then pour on the cheesecake batter. Try to distribute it evenly.
You can either completely cover the cheesecake filling with strawberry sauce or jam, or you can cover the cheesecake with teaspoons of jam, leaving about a centimeter between each jam-blob, and then use a knife to create swirls.
Bake for 20 minutes. Lower the heat to 325°F / 162°C and bake for another 20 minutes. Remove from the oven and let cool before cutting. Store covered in the refrigerator for up to 5 days.
Notes
If you live in Europe, you probably don't have bricks of cream cheese like in the US. If you only have the spreadable type meant for toast, drain the content of a 300 gram container with a cheesecloth or a kitchen towel until it's thicker, like the consistency of the American stuff. Just wring it out. It should be 225 grams when you're done.
Adapted from Skinny Fudgy Brownies and Dark Chocolate Drizzled Strawberry Cheesecake Brownies