Soft, moist, super rich and loaded with chocolate and cinnamon, this healthier whole grain chocolate babka is the ultimate babka. Don't let the long instructions fool you! If you can make cinnamon buns, you can make this. Promise!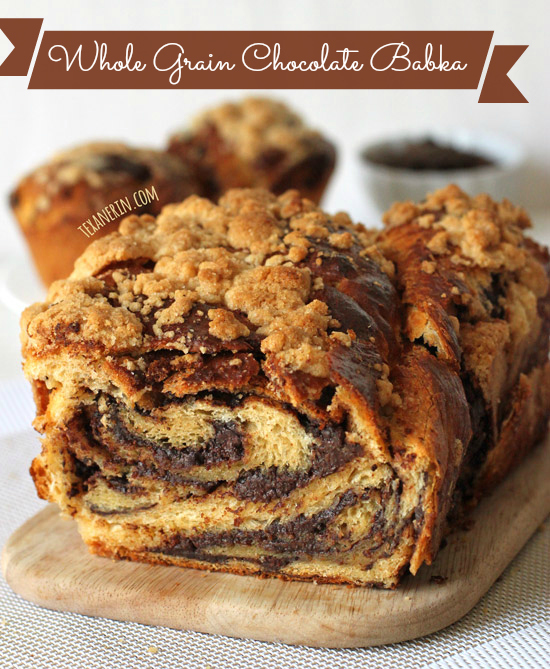 This whole wheat chocolate babka is the best bread I've ever made! I'm sure the amount of butter and chocolate has something to do with that but I don't mind. It's so worth it. And it's pretty time consuming. But I promise: you won't care once you take that first bite. Babka is a type of enriched, sweet, and yeast-raised bread originating in Eastern Europe. Sometimes it looks like cake and doesn't have any filling but what we have is the way more exciting and delicious (in my opinion!) Jewish chocolate babka. This type of babka is filled with chocolate and cinnamon and even has streusel on top! It's like… goodness overload.
I used Red Star Platinum yeast because I didn't want to take any risks with my precious babka. I had read that it's especially effective for creating larger volume and airier whole grain loaves and I was sold! If you use active dry yeast or instant yeast, the babka will most probably still be delicious – but I have a feeling it wouldn't be as airy. You'd also need to adapt how you mix together the dough by following the directions on the yeast packet.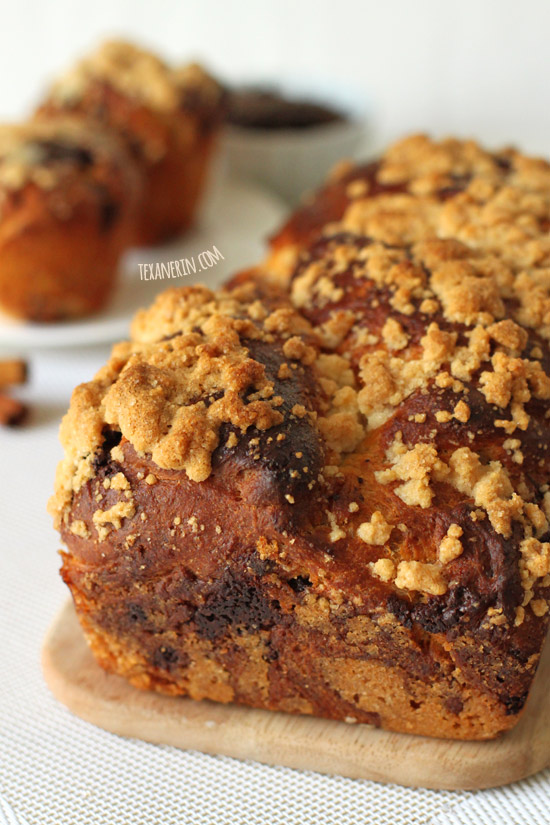 And now I'm going to beg you not to make substitutions. This babka recipe (and I guess yeast recipes in general) aren't like a cookie or muffin recipe where you can get creative. You could change one little thing, not thinking it may be a big deal, but it could ruin the entire babka. And then you'd have wasted a ton of time and ingredients and I can almost guarantee you that you'll cry.
The first time I made this babka, I only used a mix of regular flour. It was amazing on the first day, but by the next morning, it was super dry and hard. Not good at all. It needed a few seconds in the microwave to become edible again.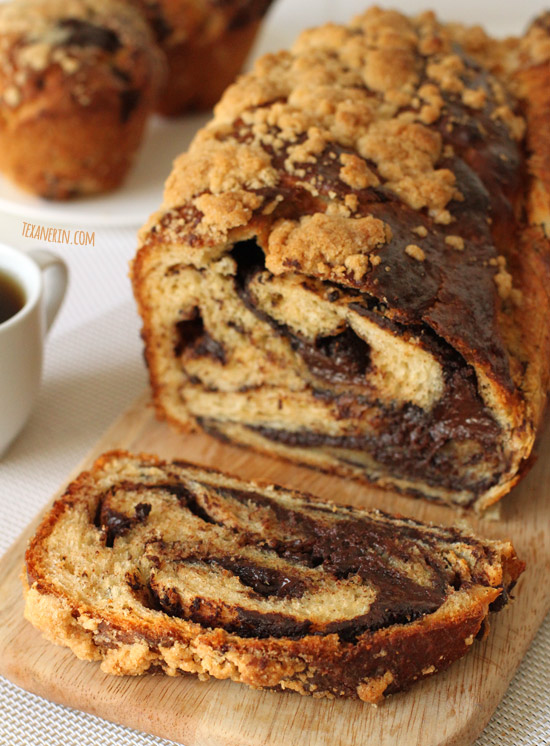 So I went about trying to find ways to make the babka stay soft for days. My first change was to take away some of the regular flour and add some potato flour. I know potato flour is kind of a strange ingredient to have around but I found that it does wonders. Potato flour extends the shelf life, adds to the moisture and softness of the final product and makes dough easier to handle. And when you're making a dough like this, you want the dough to be easy to handle!
The next time I made this chocolate babka, I added a few tablespoons of vital wheat gluten. Vital wheat gluten is another one of those ingredients most people just don't have around but it does awesome things to whole grain yeasted recipes (like these soft and fluffy dinner rolls!)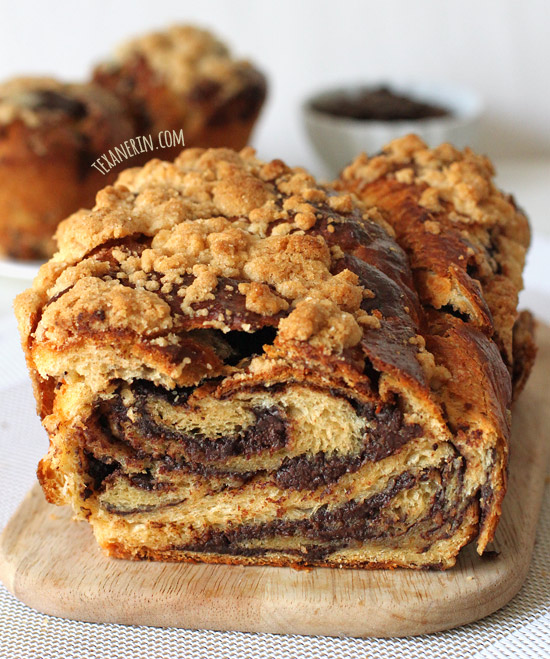 Also, for the second time ever on here, I used a mix of all-purpose flour and white whole wheat flour. There's nothing in the dough itself to cover up the whole grain taste and I didn't want to take any risks. After all this work, I just didn't want my babka to taste whole grain, and it didn't! So if you really want to up the white whole wheat, you could try it, but I wouldn't recommend increasing the percentage too much.
By the way, Red Star Yeast has an amazing troubleshooting guide for baking with yeast. Before I read that, I didn't actually know it was necessary to punch down the dough after the first rising.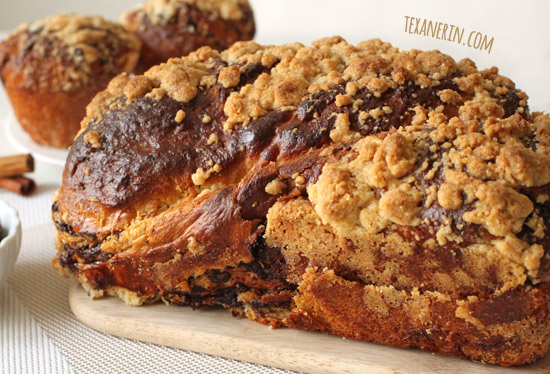 If two loaves of chocolate babka are too much for you, you can easily halve the recipe. But since the amount of work is basically the same for the full recipe, why not make one chocolate babka to enjoy immediately and freeze the other? :)
And if cinnamon is more your speed, check out this great Cinnamon Babka!
And because I know people will ask – no, this can't be made gluten-free. I'm sorry. If you use a GF baking mix, I'm almost positive it won't work out. Yeasted recipes are a tricky thing.
❀
Whole Grain Chocolate Babka
Prep Time:
Cook Time:
Ready in:
Yield:

2 loaves
Ingredients
For the dough:

1 tablespoon Red Star Platinum yeast
1/3 cup (66 grams) granulated sugar
1/4 cup (40 grams) potato flour
2 tablespoons vital wheat gluten
3/4 teaspoon salt
2 cups (250 grams) white whole wheat flour, divided1
1 3/4 cups (218 grams) all-purpose flour, divided
3/4 cup (168 grams) butter
1 cup + 2 tablespoons (265ml) milk
2 eggs (reserve at least 1 egg white for brushing on top)
2 egg yolks
2 teaspoons vanilla

For the filling:

1/4 cup (50 grams) granulated or unrefined sugar
20 ounces (540 grams) semi-sweet chocolate, chopped finely
2 tablespoons cinnamon
5 tablespoons butter

To brush on top:

1 egg white mixed with 1 tablespoon of water

For the streusel:

1/4 cup + 2 tablespoons (46 grams) white whole wheat flour
1/4 cup + 2 tablespoons (75 grams) granulated or unrefined sugar
1/4 cup (56 grams) butter
Directions
For the dough:

In the bowl of a stand mixer, blend the yeast with the sugar, potato flour, vital wheat gluten, salt and 1 cup white whole wheat flour and 3/4 cup all-purpose flour.
In a medium saucepan over medium heat, melt the butter and then add the milk and stir. Turn the heat to low and stir in the eggs and egg yolks. Heat the mixture, stirring occasionally, until it reaches 120–130°F (49–54°C). Do not walk away! The eggs will cook if you let the mixture get too warm. Remove from the heat and stir in the vanilla.
Add the liquid mixture to the bowl of the stand mixer and use a rubber spatula to stir it in.
Stir in the remaining 1 cup of white whole wheat flour and the remaining 1 cup of all-purpose flour. The dough will be very sticky.
Fit the stand mixer with the dough hook attachment and knead the dough for 10 minutes. The dough will still be quite sticky when finished.
Place the dough in an oiled bowl, cover it with plastic wrap that has been sprayed with cooking spray or lightly oiled. Turn on your oven to the lowest setting for 1 minute and then turn it off. Place the bowl of dough on the center rack, close the oven door, and let the dough rise for 1 hour or until doubled.

For the filling and streusel:

Meanwhile, prepare the filling by mixing all the ingredients together in a large bowl. I found this easiest to do with my hands. Set the filling aside.
Mix together all the streusel ingredients in a small bowl and set aside.

Shaping the dough:

Prepare two 9" x 5" loaf pans with parchment paper. Using parchment paper allows for easy removal of the loaves. If you just grease the pans, you'll probably have difficulties removing the loaves if some of the chocolate melts against the pan.
Prepare a Silpat or piece of parchment paper by sprinkling flour over it.
Once the dough has doubled, remove the bowl from the oven. Gently punch the dough down and then pull the edges of the dough to the center, making a ball.
Divide the dough in half (about 21 ounces each half) and place one ball back in the bowl. Cover it up until ready to use.
Place the other ball on the prepared Silpat and knead the dough a few times to help release additional air bubbles. The dough should not be sticky at this point. If it's not very workable, add a little flour and knead it in.
Sprinkle a little flour on top of the dough and lay another Silpat, piece of parchment paper or a piece of plastic wrap on top of the dough. Use a rolling pin to roll it out to a 16" x 10" rectangle (this is approximately the size of a Silpat).
Reserve 1/2 cup of the filling and sprinkle half of the remaining filling evenly over the dough, leaving about a 1" border on all sides.
Starting on one of the short sides, tightly roll up the dough, but only halfway.
Roll the other half of the dough almost until the center (note that in my picture, I should have rolled it a little more!)
Sprinkle 1/4 cup of the reserved filling on top of the side you just rolled up (noting that I added way too much in the picture!)
Carefully place the first side you rolled up on top of the other side and pinch the two sides together to seal it well. It's okay if some chocolate crumbles escape.
Gently twist the roll as if you were wringing out a towel. Cut off 1" of dough on both sides. This is to guarantee that the ends of the loaf are chocolatey and not just doughy. Roll the dough you cut off into a small ball and set aside.
Form a 'u' shape with the dough.
Take the closed end of the 'u' in one hand and the other end in the other hand and twist it as you did before. If it rips a little and a little chocolate falls out, don't worry. The streusel will cover it up!
Place the babka in the prepared loaf pan (noting that it's better to use a piece of parchment paper than oiling the pan, unlike the picture!) and brush the top with the egg white mixture. Evenly distribute half of the streusel on top of the babka.
Repeat with the other half of the dough and let the loaves sit, lightly covered with plastic wrap, for 30 minutes.
Fifteen minutes into the sitting time, preheat the oven to 350°F (175°C).
Place the small balls of dough that you cut off earlier in a small baking dish, a sturdy muffin liner or whatever you'd like to bake them on and bake for only about 17–25 minutes. Bake the babkas for 40–45 minutes or until they sound hollow when tapped and the tops are golden brown. If they brown too quickly in the oven, cover the loaves with foil.
Remove the loaves from the oven and let them cool for 10 minutes in the pan and then remove, with the help of the parchment paper, to a wire rack to cool completely.
Let the loaves cool completely before slicing into. If you cut into them too early, you're likely to end up with dry babka on the next day.
Wrap the loaves in plastic wrap and store in an airtight plastic bag at room temperature. Keeps fresh for 3-4 days.
Notes
I've only made this recipe with white whole wheat and am not sure how it'd come out with another type of flour. I'm guessing not as well.
Be sure to follow Red Star Yeast on Facebook and Pinterest for some more yeasted goodies from your favorite bloggers!
I was compensated by
Red Star Yeast
for the development of this recipe but as always, my opinions are my own! By the way, Red Star Yeast is one of the must-haves that I bring over here to Germany with me. I always thought yeast was yeast but apparently it's not. Weirdly enough, German yeast doesn't work at all for American recipes. Anyway. Enjoy the babka! :)