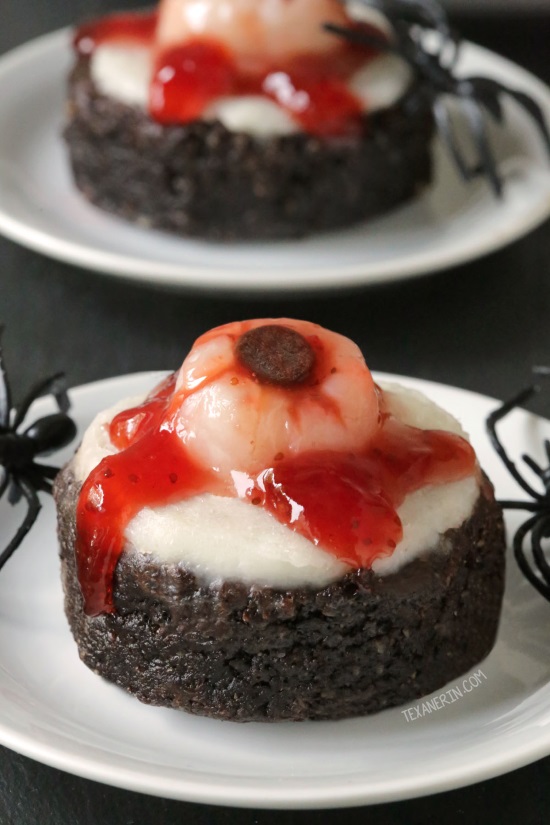 9/2020 note: I've changed the brownie base. It now uses my famous almond flour brownies as the base instead of the previous recipe, which used almond flour + a little coconut flour.
I've teamed up with Taylor from Food Faith Fitness and Lindsay from Cotter Crunch today to bring you some fun and healthy Halloween ideas! We'll get to my brownies in a minute, but first…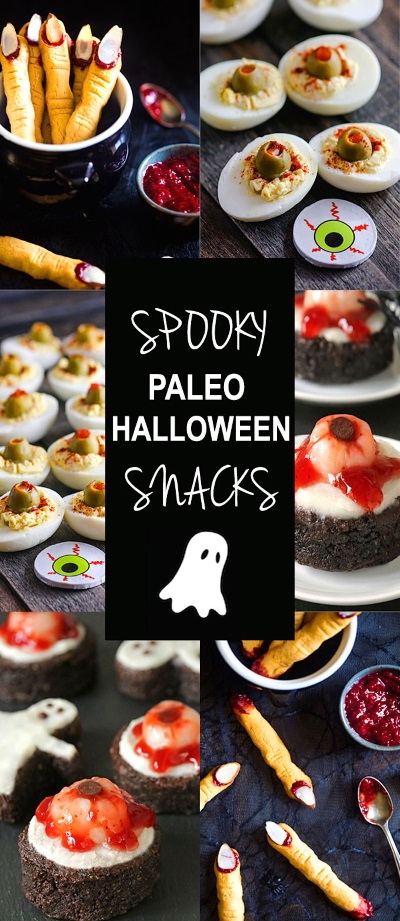 Spooky Halloween Paleo Snacks!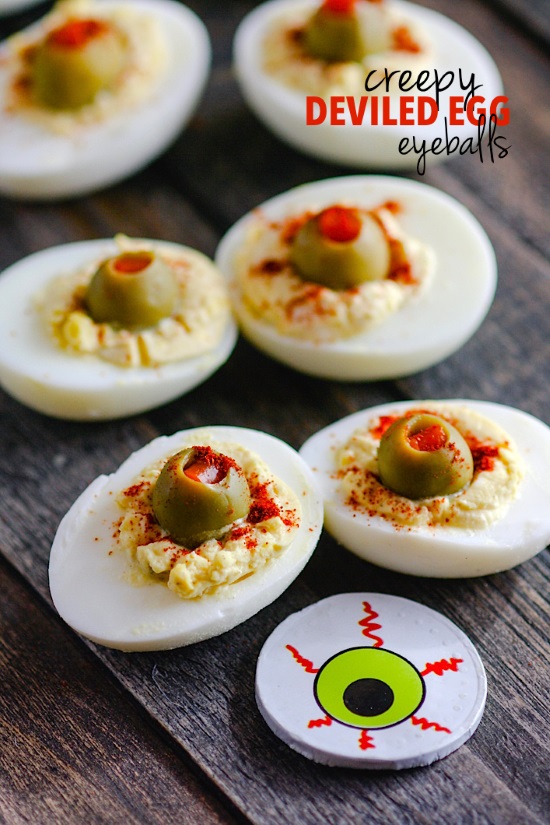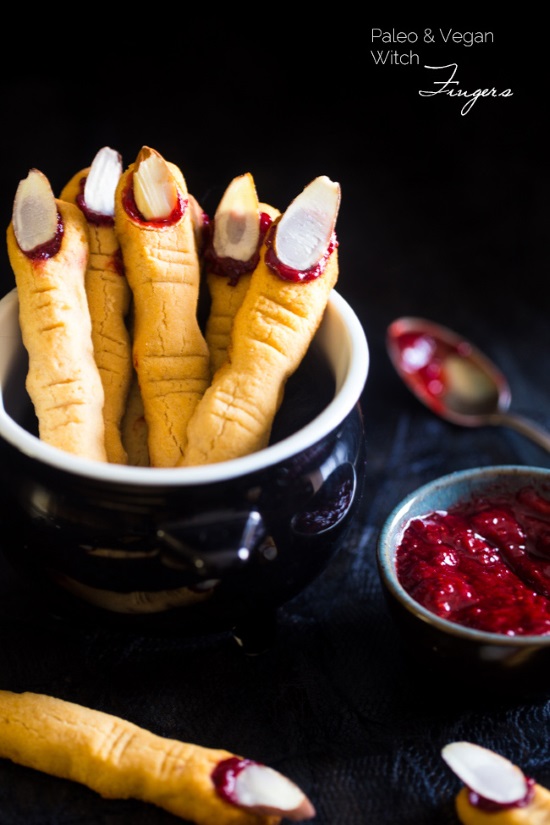 And now for my contribution! I originally wanted to make a paleo brownie version of these grain-free spiderweb cupcakes. In those, white chocolate is used to make spiderwebs but since white chocolate is pretty far from paleo, I tried making the same spiderweb effect using a coconut butter based frosting. It just doesn't flow like white chocolate, making spiderwebs impossible.
So I came up with these bloody eyeball brownies which I think are way more fun than spiderwebs! Don't you just love it when something like that turns around for the better?! I first made the eyeballs with bananas but they didn't look all that convincing.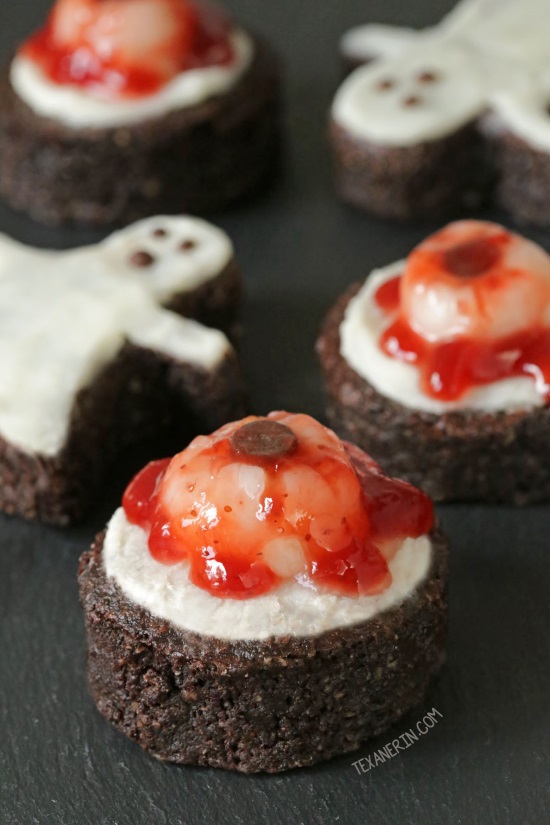 Then I remembered Shanna's creepy eyeball martinis from last year and got myself down to the store to get some canned lychees! They look SO much better than bananas. Lychees + chocolate + strawberry is admittedly a weird combination but I went with it because it looks so creepy. I recommend eating the eyeball first before going to town on the brownie!
The coconut butter frosting is super simple but I prefer to avoid added steps and ingredients when possible. So I assembled a few eyeball brownies without the frosting but the red didn't pop at all. If you don't have coconut butter, you can use any firm frosting you'd like. What was great about this one was that it hardened in the refrigerator and when it came time to decorate the brownies in the morning, it was like a canvas. If I didn't like how the strawberry jam blood fell, I could just start over.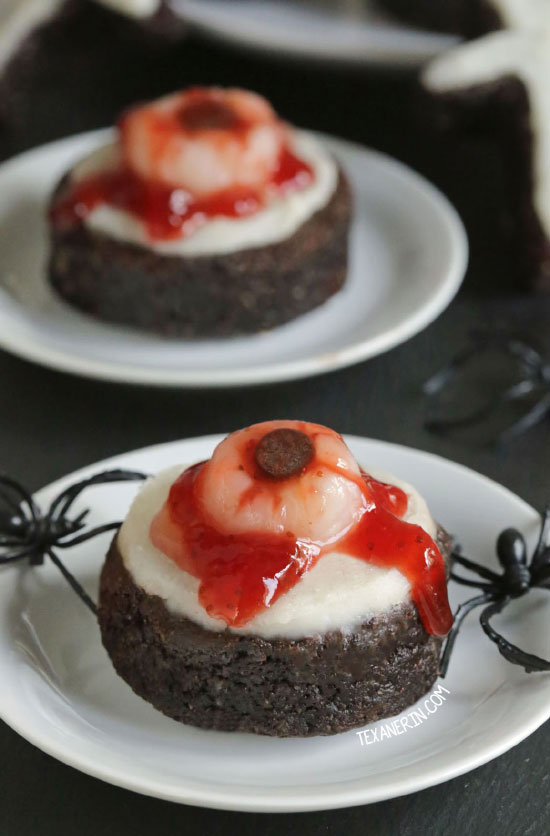 I assembled my brownies in the morning and when I looked at them again around 10pm, they still looked perfect. But I can't guarantee yours will! I think it'll probably depend on your jam.
As written, this recipe only makes 9 brownies. If you want to use a 9″x13″ pan, you can double the recipe and bake them for about 30 minutes. That results in some ridiculously thick brownies which you can see in the second picture. If I needed a ton of eyeball brownies, I'd probably double the recipe and bake them in TWO 9″x13″ pans and reduce the baking time. These are so dense and fudgy (you can't tell by the pictures, but they're almost like straight up fudge!) that it may not be the best idea for little ones to be eating such huge brownies. Or you could simply use a smaller circular cookie cutter! And if you hate this whole bloody eyeball thing, you can enjoy the brownies as is. They don't need any add-ins, frosting, or anything.
If you'd like a different base, try these Paleo Delicata Squash Brownies from Fearless Dining!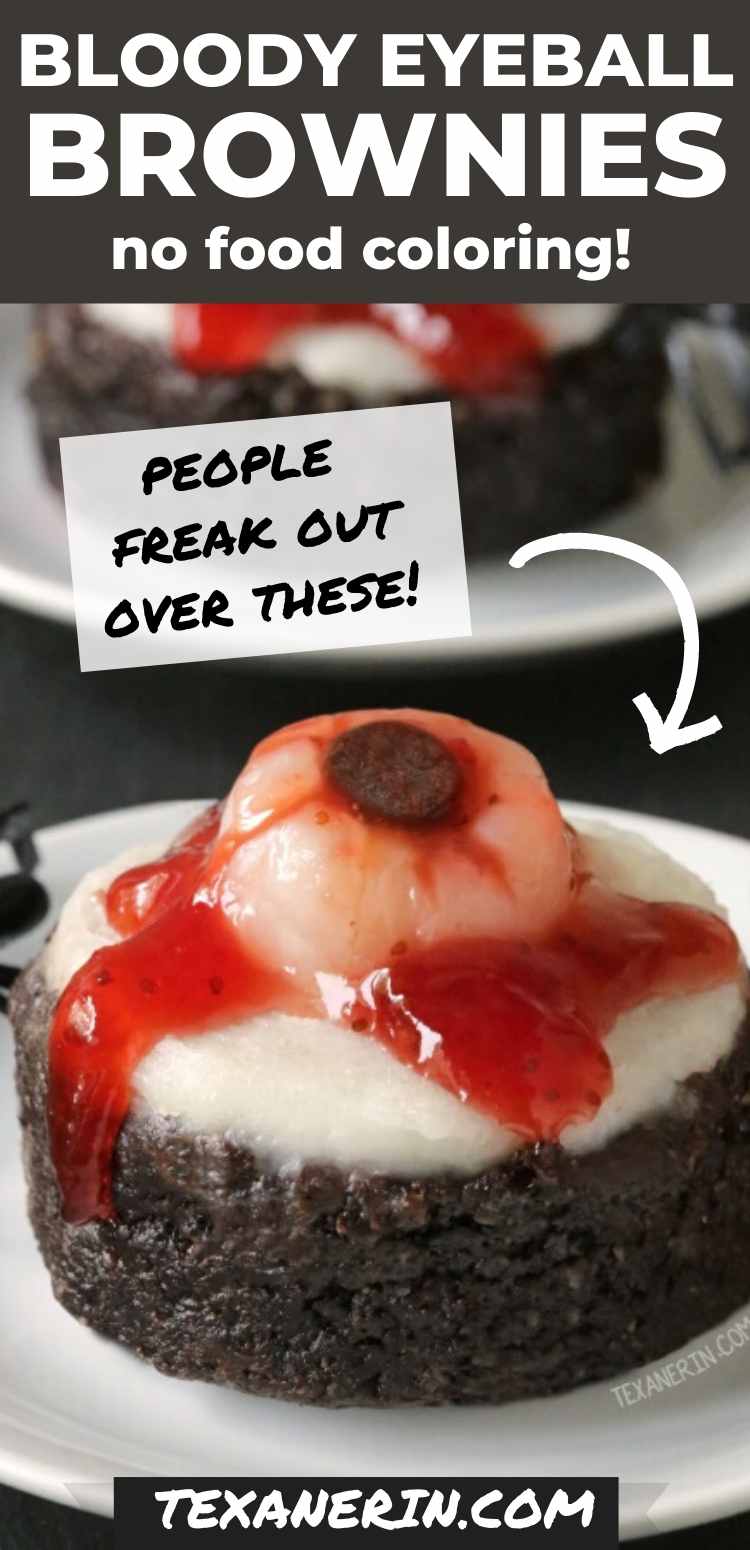 ❀
Bloody Eyeball Brownies (paleo, grain-free, gluten-free, dairy-free)
Prep Time:
Cook Time:
Ready in:
Yield:

9 brownies
Ingredients
For the brownies:

1 1/3 cups (133 grams) finely ground blanched almond flour (this is called ground almonds in many countries)
3/4 cup (86 grams) Dutch-process cocoa powder, sifted if lumpy
1/4 teaspoon salt
3/4 cup + 2 tablespoons (196 grams) refined coconut oil, melted (you can use unrefined if you don't mind the coconut taste) or butter for a non-paleo version if you can have dairy
1 1/2 cups (300 grams) coconut sugar - it's best to weigh this! (granulated sugar for a non-paleo version)
1 tablespoon vanilla extract
3 large (50 grams each, out of shell) eggs, room temperature

For the frosting:

6 tablespoons (90 grams) coconut butter (not coconut oil!)
1 tablespoon (20 grams) honey
3 tablespoons canned coconut milk
a dash of salt, optional

To assemble:

Canned lychees
Blueberries1
1/4 - 1/3 cup strawberry jam
Directions
For the brownies:

Preheat the oven to 350 °F (175 °C) and line an 8"×8" (20cmx20cm) pan with parchment paper.
In a medium mixing bowl, stir together the flour, cocoa powder, and salt. Set aside.
In a large mixing bowl, stir together the melted butter or coconut oil, sugar, and vanilla extract. Once combined, add the eggs one at a time, and stir just until combined (don't use a hand mixer like in the video!).
Add the dry mixture to the wet and stir just until almost no streaks of flour remain. Do not overmix!
Bake for 23 minutes. The brownies will puff up a little bit and may crack a little bit around the edges and the top will appear dry and crisp (not at all wet). When you remove it from the oven and tilt the pan, it may appear to move a little but shouldn't look super jiggly. A toothpick inserted into the center will come out wet. A toothpick inserted into the sides will come out with some moist crumbs on it, but not totally raw batter. The brownies will continue to bake as they sit in the pan and will firm up as they cool.
Let cool completely and then chill until they firm up and they become fudge-like. This makes cutting out circles easier.
Notes!For the frosting:
If your coconut butter is hard, very gently heat it until it's soft enough to combine with the other ingredients. I did mine at 30% power in the microwave for a few seconds. It just needs to be soft! Not melted. Add the remaining ingredients and stir until combined. If your coconut butter melted a little bit, the frosting may look clumpy and greyish. Don't worry as it it'll turn white and solid looking once it comes to room temperature!

To assemble:

Cut out circles using a biscuit cutter (mine was 2.5"). Spread about 1 tablespoon of frosting over the top of the brownies. Place the brownies in the refrigerator for at least an hour so that the frosting firms up. This isn't necessary but it makes the decorating process easier. Refrigerate until almost ready to serve.
Rinse the lychees and pat them dry with paper towels. Place a blueberry in the center of the lychee and place on a paper towel lined plate until all the eyeballs are ready. Place the eyeballs on the frosted cupcakes. Spread about 1 - 1 1/2 teaspoons of jam over the eye.
Keep refrigerated until ready to serve.
Notes
I used chocolate chips but the openings in the lychees were too big for them. I had to fill the lychees with a little banana to keep the chocolate chips propped up.