These healthier peanut butter cheesecake brownie bars are 100% whole grain, use natural peanut butter and are totally naturally sweetened!
When I first made these bars, I was really doubtful. Doubtful because I hadn't really found any peanut butter cheesecakes out there with natural peanut butter. I thought that there had to be a reason – that they came out runny or not-so-peanut-buttery or something. Even when I took them out of the oven, I wasn't hopeful. The topping looked rubbery! I didn't even want to taste them because I was sure I had another disaster on my hands.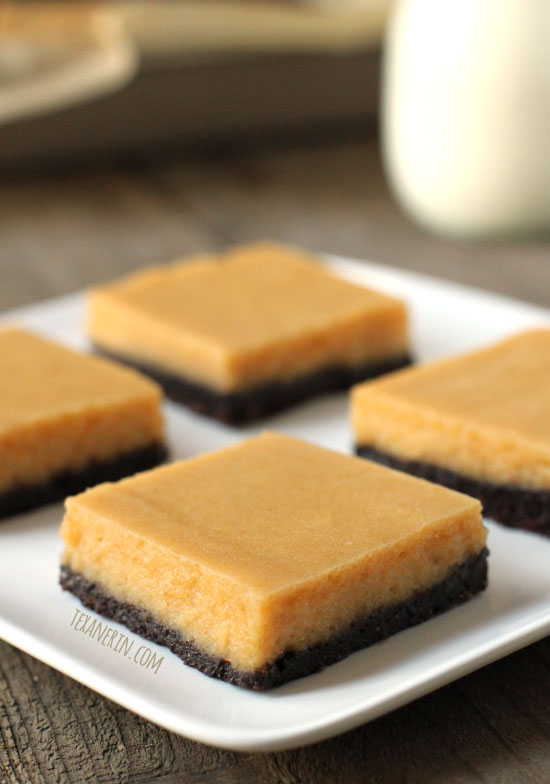 Luckily, it was all silliness. They were perfect! The topping just doesn't look very cheesecake-y. I knew I'd have my typical control issues with these so I tossed them in the freezer. On Friday night, I was fortunate enough to have Ali and Marta, two lovely food bloggers, over to dinner. I pulled these out for dessert along with some peanut butter brownies I've been working on for the book (and yes, I fed them almost identical dishes despite having half a dozen other goodies sitting around. I'm a very forgetful / bad hostess). I think it's safe to say that they enjoyed them even with the crushed egg shell in the cheesecake portion (whoops :D))
So the cheesecake layer was plenty peanut butter-y and the part that I really like is that I sweetened it with honey. Use some coconut sugar for your brownie portion and these are totally naturally sweetened. Yay! Right? :) It was my first time to naturally sweeten cheesecake. I always thought it was impossible! Hence the lack of cheesecake recipes on here.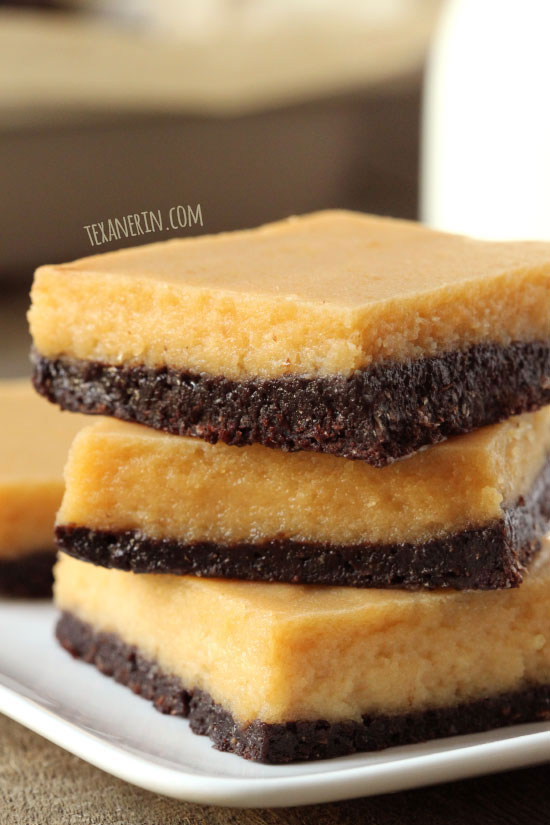 They're also 100% whole grain. You can use whole wheat or whole spelt. What you can not use is my arch nemesis, whole einkorn. I've tried out oodles of recipes with whole einkorn and I've determined that we're not compatible. I want to be friends with einkorn but it doesn't want to be friends with me. :( I love the three recipes I've come up with it – but I'm not so in love with the 20+ einkorn failures I've had.
But back to the cheesecake! These brownie base of these cheesecake bars is super fudgy. And also super thin as you can hopefully see in the above picture. The top bar with the thicker layer is just that way because I didn't do a very good job patting it into the pan. You can ignore those little specks of bran, though. After 5 years of whole grain baking and trying 15+ different brands of whole wheat flour, I came across the first one that didn't seem to care to grind the flour very finely, resulting in very noticeable pieces of bran.
The cheesecake layer is a little softer than your typical straight-up classic cheesecake but awesome nonetheless. I'm sure your taste testers will be able to deal with it. ;)
❀
Healthier Peanut Butter Cheesecake Brownie Bars
Prep Time:
Cook Time:
Ready in:
Yield:

12 bars
Ingredients
For the brownie base:

2/3 cup (133 grams) granulated or coconut sugar
1/4 cup (56 grams) unsalted butter or coconut oil, melted1
2 teaspoons vanilla extract
1 large egg, room temperature
1 egg large yolk, room temperature
2/3 cup (83 grams) whole wheat or whole spelt flour
1/4 cup (29 grams) Dutch-process cocoa powder, sifted if lumpy
1/4 teaspoon salt

For the peanut butter cheesecake layer:

1 8-ounce (225 grams) package cream cheese2, room temperature
1/2 cup (128 grams) natural peanut butter
1 teaspoon vanilla extract
1/4 cup (80 grams) honey
1/8 teaspoon salt
1 large egg, room temperature
Directions
Preheat the oven to 350°F (175°C). Line an 8"x8" (23cmx23cm) pan with parchment paper.
In a large mixing bowl, stir together the sugar, melted fat and vanilla until well combined.
Add the egg and egg yolk and stir just until combined. Set aside.
In a medium mixing bowl, stir together the flour, cocoa powder and salt.
Add the dry mix to the wet and stir just until no more streaks of flour remain. Spread on the bottom of the prepared pan. It will be very thin.
In a medium mixing bowl using an electric mixer, beat together the cream cheese, vanilla, honey and salt until well combined. Add the egg and beat until combined.
Spread over the brownie base and bake for 14-16 minutes or until the middle is no longer jiggly.
Let cool completely and then refrigerate for 2 hours before servings.
Refrigerate in an airtight container for up to 4 days.
Notes
If you use unrefined rather than refined coconut oil, these might have a slight coconut taste to them.
If you don't live in North America where they have bricks of cream cheese and you only have the kind that's meant for spreading on bread, you need to drain the whey out of your cream cheese before baking with it. Place 300 grams of cream cheese in the center of a cheesecloth or a thin kitchen towel and wring out the liquid until you have 225 grams of cream cheese.