These no-bake peanut butter and jelly thumbprint cookies are naturally vegan with a paleo and nut-free option. Thanks to Bob's Red Mill for making today's post possible!
I used to hate natural peanut butter. The flavor was never as strong or as tasty as with the junky commercial kind or the "natural" variety with added fat and sugar (that I don't consider natural at all).
And I'm still not happy with it in peanut butter cookies. I've tried at least a dozen different grain-free peanut butter cookie recipes and although I enjoyed the dough, I was always disappointed with the outcome.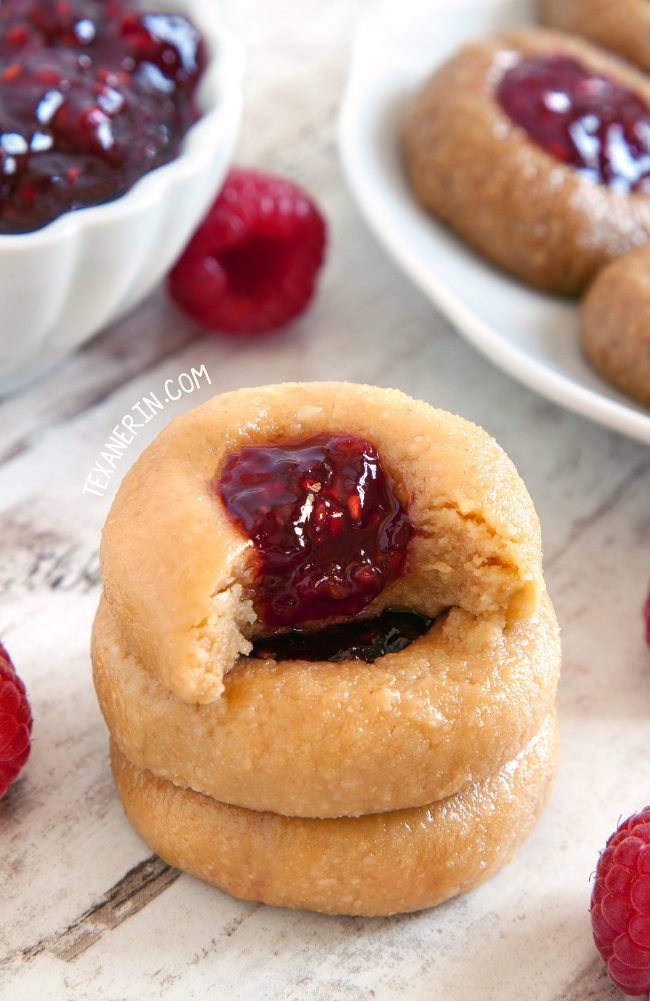 Then I realized I was being dumb and that I could just not bake the dough! So here we are. No-bake peanut butter "cookies" with lots of peanut buttery taste! And because it's summer and I'm feeling fruity, I added some raspberry jam to turn them into thumbprint cookies.
For the paleo and nut-free alternative, you can use unsweetened sunflower seed butter (the kind with just seeds and salt – no added sugar of fat!). Just like in my healthier peanut butter fudge recipe, I had to add additional sugar that the peanut butter version didn't need.
And in this recipe, I also had to reduce the amount of sunflower seed butter (down to 2/3 cup from 3/4) and add extra coconut flour. It was just too greasy without it.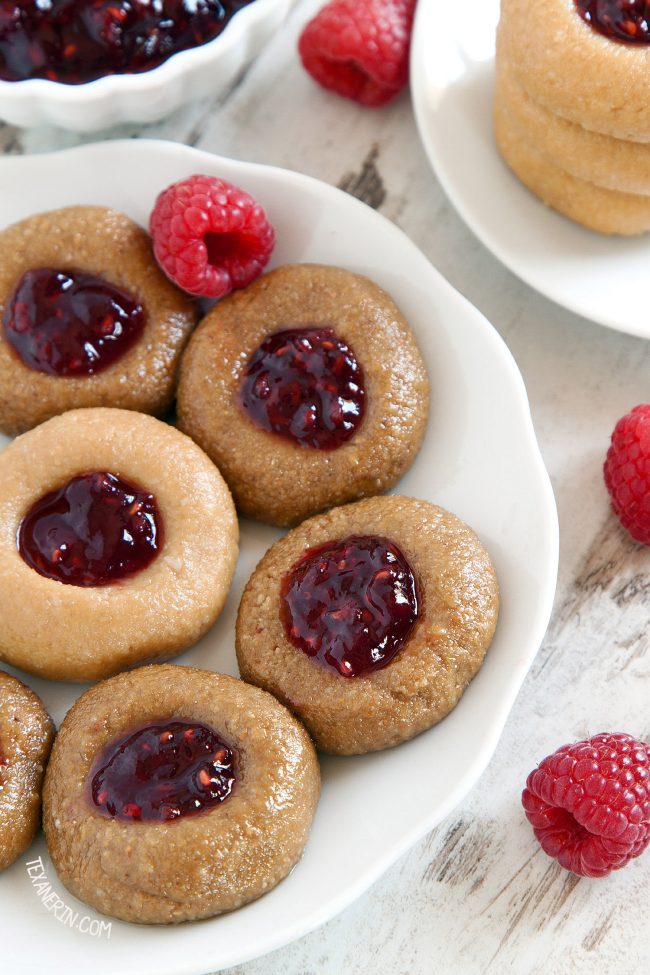 I tried a cashew butter version but that didn't work out at all. If you want to try using another nut butter other than peanut butter or sunflower seed butter, be prepared to experiment. :)
And is often the case with nut butter + coconut oil no-bake treats, you've got to keep these refrigerated or frozen. You can still at least pick up the peanut butter version when kept at room temperature but the same isn't true of the sunflower seed version.
Like I mentioned in my perfect paleo chocolate chip cookies post, flour brands can vary a lot. I used Bob's Red Mill super-fine blanched almond flour and coconut flour in the recipe listed below but I also tested it with a random German brand, just to see if there'd be any difference.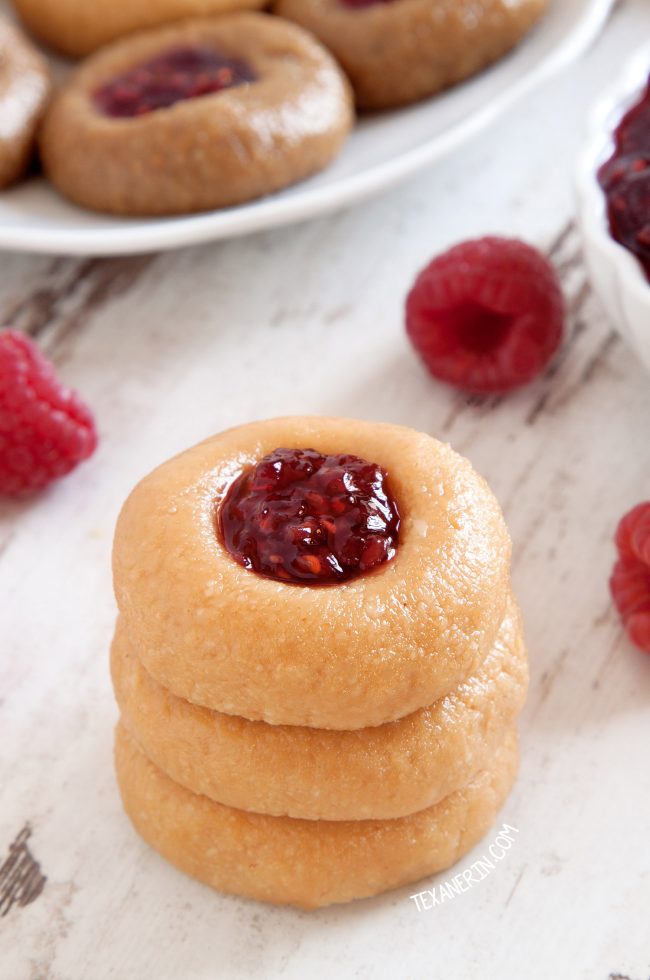 I did in fact have to use more flour in that version because the flour was less finely ground and was therefore less absorbent. So check out the Bob's Red Mill website for some $1 coupons and save yourself the frustration of experimenting. :D
By the way, have you seen that they now carry paleo baking flour?! I can't wait to get my hands on some of that!
Thanks again to Bob's Red Mill for sponsoring today's post. As always, all opinions expressed are my own. If you're not already familiar with Bob's Red Mill, they have a huge selection of gluten-free flours you should check out! They also have loads of organic flours that don't cost that much more than the conventional kind. I can't afford to buy all organic food but Bob's Red Mill makes the decision to go organic easy when it comes to flour. :)
❀
No-bake PB&J Thumbprint Cookies (vegan with paleo / nut-free options)
Prep Time:
Cook Time:
Ready in:
Yield:

18-22 cookies
Ingredients
3/4 cup + 2 tbsp (224 grams) natural peanut butter or 2/3 (171 grams) sunflower seed butter1
2 tablespoons + 1 teaspoon maple syrup
if using sunflower seed butter: add 1 1/2 - 2 tablespoons coconut sugar in addition to the maple syrup
2 tablespoons (28 grams) coconut oil, melted
1/2 teaspoon vanilla extract
3/4 cup (75 grams) blanched almond flour
1 tablespoon (8 grams) coconut flour if using peanut butter or up to 2 tablespoons (16 grams) if using sunflower seed butter
a pinch of salt
3-4 tablespoons raspberry, strawberry or another jam of choice
Directions
In a small mixing bowl, stir together the nut / seed butter, maple syrup, coconut sugar (if using sunflower seed butter), coconut oil, and vanilla extract. Add the almond flour, coconut flour2 and salt and stir until combined. If it's too soft to roll into balls, place in the refrigerator for about 30 minutes. If you used sunflower seed butter, you'll likely need to do this.
Roll into 20-gram balls (about 1") and place on a parchment-lined plate. Create an indentation with the back of a 1/2 teaspoon measuring spoon (or create whatever size indentation you'd like).
Fill each with 1/2 teaspoon jam (or however much you'd like).
Refrigerate for about 2 hours until firm and then serve. These need to be kept refrigerated or frozen.
Notes
Use the kind with just salt and peanuts or sunflower seeds.
If using sunflower seed, add 1 tablespoon to start with and add the rest, if needed, once everything is combined. It should be almost firm enough to roll into balls.
For the nut-free + peanut-free version using sunflower seed butter, use 6 tablespoons (48 grams) - 1/2 cup (64 grams) coconut flour in place of the listed almond flour + coconut flour. You may also want to add a little more coconut sugar. Start off with 6 tablespoons and add a little coconut flour at a time until it's almost thick enough to roll into balls.