Lemon cream cheese filling is sandwiched between soft and chewy grain-free and gluten-free ginger cookies! Don't like lemons? Check out the dairy-free chocolate version!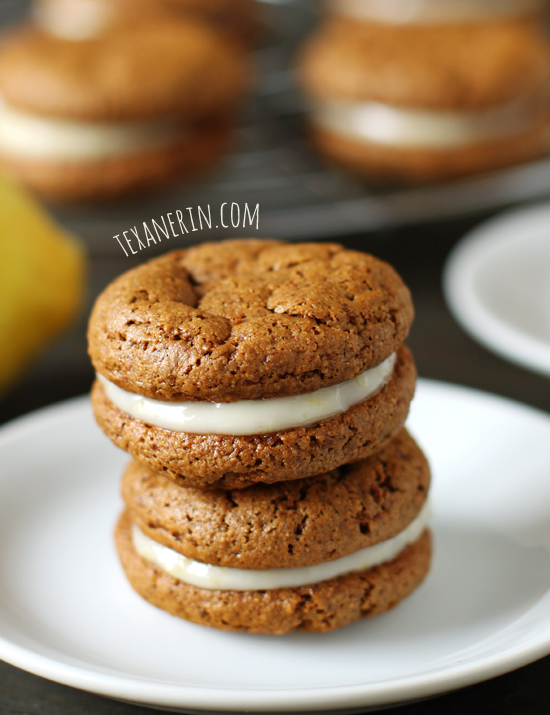 I hope that you're enjoying my week of giveaways because after Sunday, there won't be any more giveaways for a good long while. :) And I'll go back to my normal schedule of posting about twice a week, just in case you're overwhelmed with all the new posts! Today I have a $500 Amazon gift certificate to give away just in time for Christmas.
And now for the cookies! I think these are my favorite grain-free cookies to date and my favorite ginger cookies, gluten-filled or not! I wish I could take credit for the recipe, but it was adapted from Sylvie's chewy ginger molasses cookies. Instead of using oil or butter, the recipe uses almond butter. It's pretty genius. I reduced the spices, molasses and sugar a little, but the rest is all Sylvie.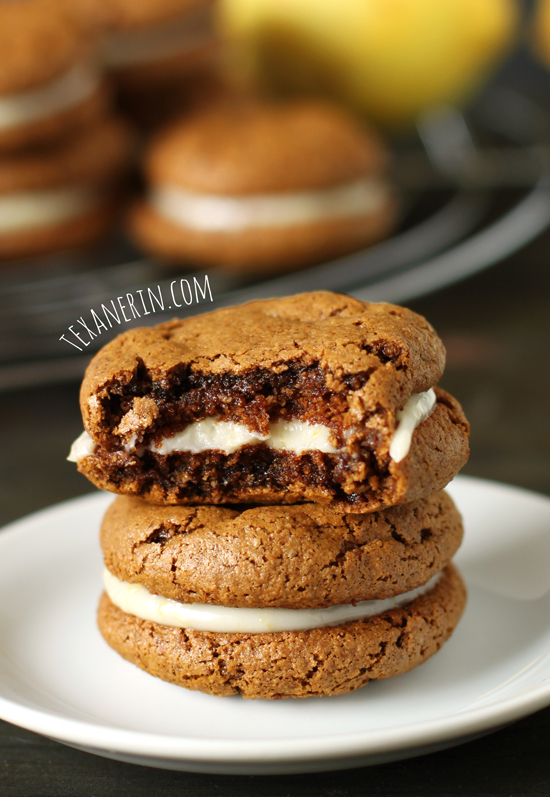 I've made these cookies as "just" ginger cookies, but I think the lemon cream cheese filling makes them a little more special. And more festive! :D If you can't or don't want to eat powdered sugar, I suggest turning these into ginger chocolate cookies! Add 2/3 cup semi-sweet or dark chocolate chips to the batter. I've made them that way and even my ginger- and molasses-hating husband loved them. If you use Enjoy Life chocolate chips, you've got yourself a dairy-free version!
These ginger sandwich cookies really do have the best texture. They're so perfectly chewy, which I don't think I've ever accomplished without a load of fat and sugar. If you don't like almond butter, don't worry! I don't like it or the taste of almonds, but I love these. There's so much wintry goodness in there that it covers up any almond flavor.
My mind is running wild with variations of these almond butter based cookies! Do you have any favorite cookies recipes using almond butter? I'd love to hear about them if so! Feel free to leave links in the comments. :)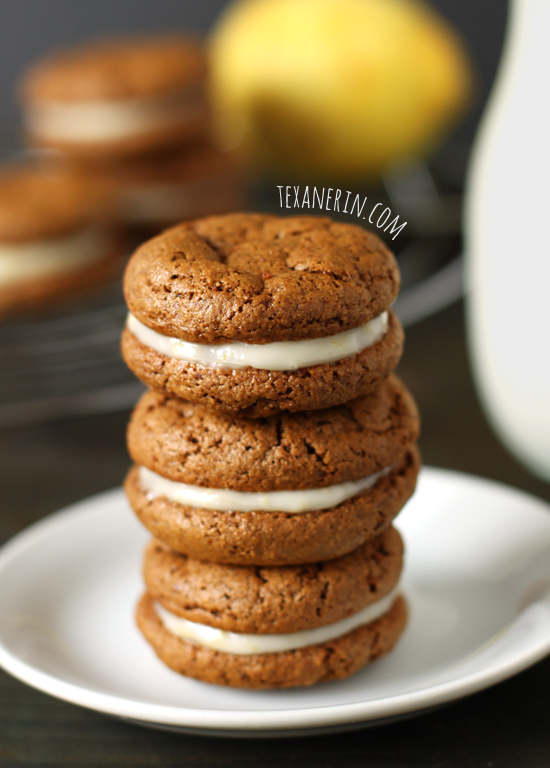 You must be 18 years old or older and have a valid US mailing address to enter the giveaway. It ends on December, 11th at 11:59PM so enter now before you forget. ;) This giveaway is sponsored by a lot of great healthier food bloggers so definitely be sure to check them out!
Adventures of MJ and Hungryman | Ari's Menu | Beard + Bonnet | Healthy Green Kitchen | Healthy Seasonal Recipes | Real Food Whole Health | Running to the Kitchen | Tasty Yummies | With Food + Love | Yeah… Imma Eat That
❀
Chewy Ginger Sandwich Cookies with Lemon Filling
Prep Time:
Cook Time:
Ready in:
Yield:

22 sandwich cookies
Ingredients
For the cookies:

1 cup (256 grams) roasted and unsalted almond butter
2 tablespoons (44 grams) unsulphured molasses (I used blackstrap)
2 eggs, room temperature
2/3 cup (94 grams) coconut sugar
1/4 cup (30 grams) coconut flour
1 teaspoon baking soda
1 teaspoon ground ginger
1/2 teaspoon ground cinnamon
a pinch of salt

For the filling:

4 ounces cream cheese, room temperature
1/2 teaspoon lemon extract, optional
1/2 teaspoon vanilla extract
2 teaspoons lemon zest
1 cup powdered sugar (84 grams)
Directions
Line a baking sheet with a Silpat or a piece of parchment paper.
In the bowl of your stand mixer fitted with the paddle attachment or with an electric hand mixer, beat together the almond butter, molasses, eggs, and coconut sugar.
In a medium bowl, sift together the remaining cookie ingredients.
Slowly add this dry mixture to the wet mixture and mix on low just until combined.
Cover the bowl and refrigerate until the dough is firm enough to roll into balls, about 30 – 45 minutes, or wrap the dough in some plastic wrap, press flat, and freeze for about 5 – 10 minutes.
Preheat the oven to 350°F (176°C) and line a baking sheet with a Silpat or a piece of parchment paper.
Remove the cookie dough from the freezer and roll into small balls (mine were 3/4").
Place the cookies 2 inches apart on the baking sheet and bake for 6 minutes. The cookies will have started to crack a little and will look puffy.
Remove the cookies from the oven. The cookies will continue to crackle just a little more and then "deflate."
Let the cookies cool for about 3 minutes on the cookie sheet and then remove to a wire rack to cool.
Meanwhile, prepare the lemon cream cheese filling.
Mix all the filling ingredients together, except for the powdered sugar, with an electric hand mixer until well combined.
Gradually mix in the powdered sugar.
Place the filling in the refrigerator until the cookies have completely cooled.
To assemble the cookie sandwiches, place 1 teaspoon of lemon cream filling in the middle of each cookie and place another cookie on top. There should be just enough filling for a thin layer of icing.
Place the cookie sandwiches in an airtight container and refrigerate for up for 1 week. Do not stack the cookies as they might stick together! If you need to stack them, separate each layer with a piece of plastic wrap, wax paper, etc.
Adapted from Chewy Ginger Molasses Cookie Recipe from Gourmande in the Kitchen
As an Amazon Associate, I earn from qualifying purchases. For more info, see my disclosure.